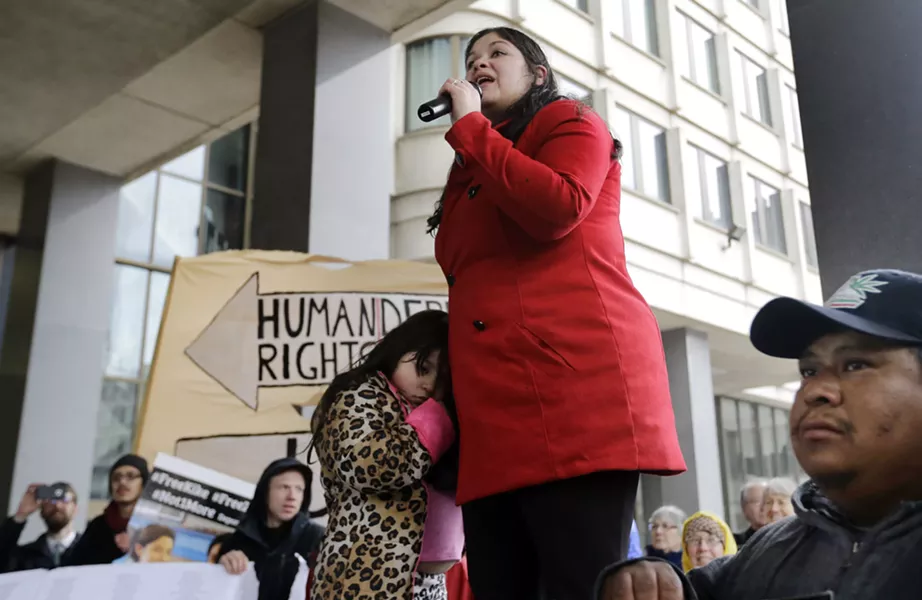 Elise Amendola/AP
Lymarie Deida holds her daughter, Solmarie Carrillo, as she speaks about her husband, Alex Carrillo, at a rally outside a Boston court on Monday.
A crowd of activists protested outside a federal courthouse in Boston on Monday as a judge considered setting bail for three detainees associated with Burlington-based Migrant Justice.
Protesters sang and chanted in gloomy weather. Their voices could be heard inside the courtroom in the John F. Kennedy Federal Building where Judge Paul Gagnon presided.
Gagnon set bail for
two of the defendants, Enrique Balcazar, 24, and Zully Palacios, 23,
at $2,500. They were expected to post bail and be released on Tuesday morning.
Boston immigration attorney Matt Cameron, who represented the three detainees, argued that their ties to the community, activism work and lack of a criminal record made them eligible for minimal bond.
Cameron also presented the judge with a stack of more than 200 letters on their behalf, including ones from the board of Ben & Jerry's and a host of citizens.
Still, Gagnon decided that a third defendant, Cesar Alex Carillo, 23, would be held without bond. Carrillo, he said, must be considered a threat to public safety, owing to his misdemeanor DUI arrest in November.
When Gagnon announced the decision, Carrillo's wife, Lymarie Deida, wept quietly in the first row of the courtroom.
Last week, Deida, a U.S. citizen, described to Seven Days
how her husband's arrest had upended her life.
All three have been held in the Strafford County detention facility in Dover, N.H. The detainees were not in court Monday, but participated in the hearings remotely via video teleconferencing from that facility. One by one, they appeared in brown jumpsuits on the flat screen TV in front of the judge.
At one point, muffled songs from outside grew louder and Gagnon paused.
"They're a little distracting," he said unsmilingly.
Katie Jickling
Protesters outside the federal building
Cameron nodded. "They're exercising their First Amendment right," Cameron said. "I appreciate the energy myself."
As the cases proceeded, Department of Homeland Security attorney Marna Rusher painted all three detainees as a threat to public safety. She described Carrillo's November DUI citation, which he got after his car ended up off the road and his airbag deployed. According to Rusher, he was too weak to blow in the Breathalyzer, though police were later able to determine that his blood alcohol content was 0.120.
"He certainly is a danger to the community," she said.
Cameron pointed out that Carrillo had just finished a 14-hour workday at his construction job, and that the charge was later dismissed.
Carrillo had been on his way to a court hearing in Burlington related to his DUI case when Immigration and Customs Enforcement agents arrested him.
The DUI case was dismissed later that day. Chittenden County State's Attorney Sarah George said that Carrillo had completed a program through the DUI reparative board in exchange for the dismissal. His driver's license was suspended for three months.
Balcazar and Palacios were charged later that same week. Migrant Justice, which advocates for undocumented workers in Vermont, organized protests in St. Albans, Burlington and Montpelier.
Rusher also argued both Palacios and Balacazar were uncooperative with ICE agents and she called Balcazar "combative and noncompliant."
Palacios and Balcazar didn't pull over quickly when ICE attempted a traffic stop, she said. Once they did stop, an ICE officer had to lean over Balcazar to put the car in park and unbuckle his seatbelt. Balcazar refused to get out of the car before he called his attorney, Rusher said.
In the end, Gagnon agreed to lower their bond amounts to $2,500 each, but issued warnings to Palacios and Balcazar. "Be sure not to behave the way you did, because it's very dangerous for you and officers," he said, as a translator conveyed the message. "These things don't get resolved in the street, except, perhaps, sadly."
Cameron called the situation surrounding the arrests "extremely unusual."
He contended that Palacios and perhaps Balcazar as well were the "targets of a sustained investigation" by ICE's Counterterrorism and Criminal Exploitation Unit, in spite of the fact that neither has a criminal record. The unit typically targets those with terrorist or gang connections, said Cameron, pointing out that Rusher did not present any explanation why such measures were necessary.
"I am outraged," Cameron said in a press conference following the hearing. "This was a political arrest and the target is Migrant Justice."
Katie Jickling
Attorney Matt Cameron
It wasn't the outcome Deida had sought for her husband, Carrillo. On the bus ride down, she sat with her 4-year-old daughter and grandmother and fretted. "I'm a bucket of nerves," she said. "I just hope it ends up okay."
Before the hearing, Deida mounted a stage in front of the crowd with her daughter clinging on her leg. Through the challenges of the past two weeks, she said, "I was reborn into a warrior." Then she launched into a chant: "
Si se puede
!"
Behind her, protesters unfurled a 60-foot poster with the names of 10,000 people who signed a petition for the release of the detainees. The American Civil Liberties Union, various Massachusetts workers and immigrant groups also demonstrated.
Cameron mentioned the protests when he spoke to reporters after the hearing.
"This building has never seen the kind of response being shown," he said.
For Migrant Justice cofounder and organizer Brendan O'Neill, the protests marked the latest in the organization's effort to raise awareness and support immigrant workers nationwide.
"We have to keep shining the light on this unfair, broken immigration system," O'Neill told the protesters. "The net impact of this is it creates a labor force in fear … In Vermont, we're not going to accept that."
Migrant Justice workers planned to post the $5,000 bond for Balcazar and Palacios Tuesday morning. An anonymous donor from Massachusetts had agreed to post up to $10,000 in bond through the Pioneer Valley Workers Center in Northampton, Mass., according to Rose Bookbinder, who works with the organization.
The deportation process will proceed for all three. It will be expedited for Carrillo, who remained in custody, though the proceedings can still take months or years.
Katie Jickling
Protesters in Boston