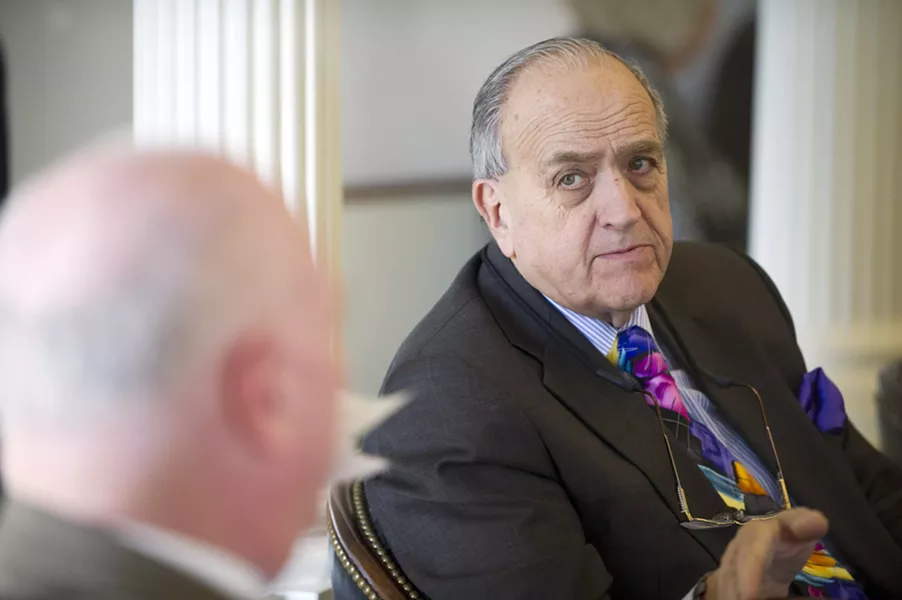 File: Jeb Wallace-Brodeur
Sen. Dick Mazza
These are uncomfortable days in the Vermont Senate, after its
most senior and powerful member
became tangentially involved in a major drug bust.
Last weekend, federal agents arrested two suspected drug dealers and seized more than a kilo of heroin — street value as high as half a million dollars —outside Almighty Peaks Painting, a business located in a Colchester strip mall owned by Sen. Dick Mazza (D-Grand Isle).
The mall is across the street from Mazza's renowned general store, and includes nine storefronts. Mazza
told VTDigger.org
that business owner Darrick Holmes, who has also been arrested by the feds, had been his tenant for about seven years.
Word hit the Senate like a big ol' blanket drenched in cold water. Mazza's colleagues were uniformly discomfited by the news. They clearly sought to minimize Mazza's responsibility, and wanted the story to just go away.
Senate President Pro Tempore Tim Ashe (D/P-Chittenden), whose quick rise to leadership was due in part to his assiduous cultivation of a relationship with Mazza, replied with studied innocence when I asked him about Mazza's "entanglement."
"By 'entanglement,' you mean?" he asked.
"The drug arrest at his rental property," I said.
"I'm not sure I understand what you mean," he replied.
Uh-huh.
"It's very unfortunate, and I know Dick just feels terrible about it," said Sen. Dick Sears (D-Bennington), a steadfast fighter against Vermont's drug scourge. "I don't know that Dick had any idea that there was heroin being dealt there."
And when asked if a landlord should be accepting a $1,300 monthly rent payment in cash, as Mazza acknowledged, Sears said, "I'm not going to go there."
As for Mazza himself, his face fell when I asked about the arrests.
"I'm so embarrassed," he said. "I've been out there 62 years. Lemme tell ya, I have a pretty clean slate. The last thing I want to have [is] any activity."
Mazza professed a blend of ignorance and suspicion regarding his tenant.
"I had never seen any nighttime activity," he said. "[Holmes] brought his crew in the morning." They'd get in their trucks, leave for work and return around 5 p.m., he said. "I was there across the street; never saw any activity. I got there at night; looked across the street, never."
On the other hand, Mazza acknowledges that Holmes had been the subject of official inquiry for quite some time.
"The police had been there on numerous occasions and investigated. Never found anything," he said. And later in the interview, he upped the ante on his concern.
"I said to the police department a year or so ago, 'If anything ever happens, I want you to know he pays occasionally in cash.'"
That sounds less like a vague whiff of wrongdoing and more like an expectation of trouble on the way. Which is exactly the sense you get from street level.
Colchester police and neighbors that live near Holmes' Pine Lane residence said it was no secret he was dealing drugs.
One neighbor, who asked not to be identified out of fear for her safety, said people would come and go from the dead-end street at all hours of the day and night — by foot, bicycle or cars. She told
Seven Days
that she called police several times during the last three years but never got much of a response.
Break-ins increased; neighbors reported things stolen from their yards, homes and cars, she said. Several children live in the area and the neighbor said she no longer felt safe.
"It was a huge concern for years and it was clearly obvious what was going on. Everybody in the neighborhood knew it," she said. "I don't have any law enforcement training but I can tell you I knew what was going on."
It must be noted that these complaints centered on Holmes' residence, not his business. And Mazza had no connection to his home.
Questions have also been raised in the Statehouse over Mazza's failure to list his rental properties as a source of income on his official disclosure form, an oversight he rectified after news of the arrests broke. Mazza blamed it on the vagueness of the form, which includes a mere three questions.
"The form said, 'What's your source of income?' I put 'grocery store.' That's my source for 62 years," he said. "If they wanted [more information] specifically, give us boxes to check off."
His complaint seems a bit ironic, considering that as a member of the Senate Rules Committee, he helped write the form.
Sen. Phil Baruth (D-Chittenden) is a supporter of tougher standards on disclosure and ethics. He pointed out that there's no consequence for failing to disclose "unless the Rules Committee [imposes] a penalty. But that's not spelled out. It's left to individual senators on the honor system."
It should be noted that there is no evidence that Mazza did anything wrong, besides fumbling his disclosure form. Yet we're talking about a man who depicts himself as a humble shopkeeper — but who has a building full of vintage Corvettes and other memorabilia behind his store. That's the kind of circumstance that practically begs for fuller disclosure, if only to eliminate uncomfortable speculation.
Mazza defended himself by saying "everybody knew" about his rental property. And yes,
Seven Days
has reported on his finances.
"What's the secret?" he added. "It's exposed on my taxes. Anybody want to see it? It's there."
Well, yeah, but there's the rub. Officeholders are not required to disclose their tax returns, and it's doubtful that Mazza will voluntarily reveal his own.
Ashe makes rhetorical gestures toward increased transparency, but makes no promises. He notes that this is the first year of the Senate's disclosure process.
"There was discussion that it was not a warts-free system and we would learn as we go," he said. "I actually think that in some ways, it's an opportunity to say, 'It's a good thing that we have these forms because now it's calling attention to the fact that people have to be more disclosing than perhaps they thought.'"
Mazza's embarrassment is just the latest in a series of incidents that, if nothing else, drive home the point that You Never Really Know. The Senate has lived through the spectacle of former senator Norm McAllister being arrested on the Statehouse grounds, and then-attorney general Bill Sorrell being subjected to an unprecedented independent investigation.
But still, after these object lessons and more, baby steps are the order of the day when it comes to ethics and transparency. The Senate passed an ethics bill earlier this session, but supporters acknowledge its weaknesses. It would establish a powerless ethics commission that would be woefully underfunded, and whose funding source will expire in two years.
That's not going to do much to restore Vermonters' trust in government. Nor will it do anything to address the lingering cloud in Colchester, where the police department suffered a major scandal less than three years ago.
Colchester police Lt. Doug Allen said Holmes had been on their radar for at least the last 18 months. Allen said that the 2014 scandal involving former detective Tyler Kinney, who stole drug evidence from the Colchester police headquarters, decimated the department's ability to conduct thorough, in-depth drug investigations.
Instead, he said, the department learned of an investigation under way by the Drug Enforcement Administration, which was able to eventually arrest Holmes.
According to WCAX, the feds were able to get Holmes to squeal on his New York City drug supplier.
Federal agents and local law enforcement nabbed two alleged suppliers, Shawn Alonso and Tamara Moody, during a sting Saturday outside Almighty Peaks.
All three now face federal drug charges, though Holmes, according to court documents, "is cooperating with the hopes of receiving leniency at sentencing."
Court documents indicate Holmes has two prior federal convictions. Allen said he'd been arrested by Colchester police in 2014 on a felony charge of possession of stolen property.
Two confidential informants performed controlled heroin buys from Holmes in November at the behest of federal agents, court documents say. They said he first sold just cocaine but "started selling heroin because many of [his] employees used heroin and it was an easy way to pay them," the documents say.
Allen said disgruntled former employees had come to police to "say there's drug stuff going on there." Though there seemed to be plenty of anecdotal evidence, Allen said, the investigation was slow to develop.
"It's difficult in any investigation to have people who are willing to provide enough information that is actionable," Allen said. "For whatever reasons, they don't want to get involved."
Allen, who leads the department's investigative unit, said officers knew of "short-duration visits" at Holmes' house.
Allen would not confirm the number of calls the department received from neighbors about drug activity at the Pine Lane residence, saying that the information was part of the DEA's ongoing investigation.
The neighbor who spoke with
Seven Days
says she's relieved Holmes is off the street.
"I'm happy they finally nabbed him," the neighbor said. "For a long time it was extremely frustrating."
The reluctance of lawmakers to address continuing questions about ethics and transparency is equally frustrating, although it certainly doesn't make anyone feel unsafe in their homes.
Sasha Goldstein contributed reporting.

Disclosure: Tim Ashe is the domestic partner of
Seven Days
publisher and coeditor Paula Routly. Find our conflict-of-interest policy here: sevendaysvt.com/disclosure