Sasha Goldstein
Protesters marching on Saturday
The members of Vermont's congressional delegation on Monday evening said they have expressed "serious concerns" to U.S. Immigration and Customs Enforcement about the recent arrests of Migrant Justice activists.
Sen. Patrick Leahy (D-Vt.), Sen. Bernie Sanders (I-Vt.) and Congressman Peter Welch (D-Vt.) questioned ICE's actions and the
potential impact on a crucial state industry.
Their statement says: "Instead of focusing on removing those people who pose a threat to public safety or national security, the Trump administration is targeting all undocumented persons, including the people that help keep our dairy farms and rural economy afloat."
It also says, "Instead of common sense reform, we now have a divisive and xenophobic executive order issued unilaterally by President Trump that is tearing families and communities apart, and endangering our dairy farms here in Vermont."
Activists took to Twitter and the streets Friday and Saturday to denounce the arrests of Enrique Balcazar, Zully Palacios and Cesar Alex Carrillo, who were all detained within a three-day period in Burlington.
Some Vermont leaders, including Senate President Pro Tempore Tim Ashe (D/P-Chittenden), suggested the arrests targeted activists.
State Rep. Selene Colburn (D/P-Burlington), who is also a city councilor, questioned ICE's motives. "It seems like such a clear targeting of people who have been real leaders," she told
Seven Days.
Activists including Bill McKibben alleged that ICE was, in fact, going after people for their political engagement.
ICE has previously issued brief statements attributing the arrests to immigration law violations. ICE did not respond to requests for comment Monday.
Carrillo, 23, was on his way to the Chittenden County courthouse in Burlington last Wednesday when
he was detained by immigration agents
. He was headed to a hearing for a misdemeanor DUI charge, which was later dropped.
Two days later
, four marked vehicles blocked a car carrying Palacios, 23, and Balcazar, 24, on Shelburne Road in Burlington, shortly after they left Migrant Justice's office, according to Migrant Justice spokesman Will Lambek. By the time Lambek arrived on the scene, the two were being shuttled into separate ICE vehicles.
Neither Palacios nor Balcazar had any criminal charges or record, according to Lambek.
Courtesy of Migrant Justice
Enrique Balcazar and Zully Palacios
Following the arrests, Lambek and others spent the weekend organizing a response. Around 50 people picketed in front of the St. Albans ICE office on Friday night, and hundreds marched in downtown Burlington and rallied for their release in front of the federal courthouse on Saturday afternoon.
Petitions to release the activists have garnered 2,500 signatures, Lambek said. According to a Migrant Justice press release, by the time Boston ICE director Todd Thurlow came into the office Monday morning, he had received 4,000 emails calling for the release of Balcazar, Palacios and Carrillo.
The arrests seem to mark a departure from the Trump administration's approach to undocumented immigrants. While Trump initially said he would deport all
11 million undocumented immigrants
, he has since scaled back his rhetoric to focus on those with criminal backgrounds.
"What we are going to do is get the people that are criminal and have criminal records, gang members, drug dealers," Trump said in
an interview with "60 Minutes" in November
. When ICE conducted raids in Dallas, Los Angeles, and other U.S. cities in February,
immigration officials maintained that the raids targeted
those with criminal histories.
Still, Lambek said, the arrests of vocal immigrants aren't wholly unprecedented. In March,
Daniela Vargas, 22, was detained by ICE in Jackson, Miss.,
after she told her story at a news conference. Vargas was released following public protest.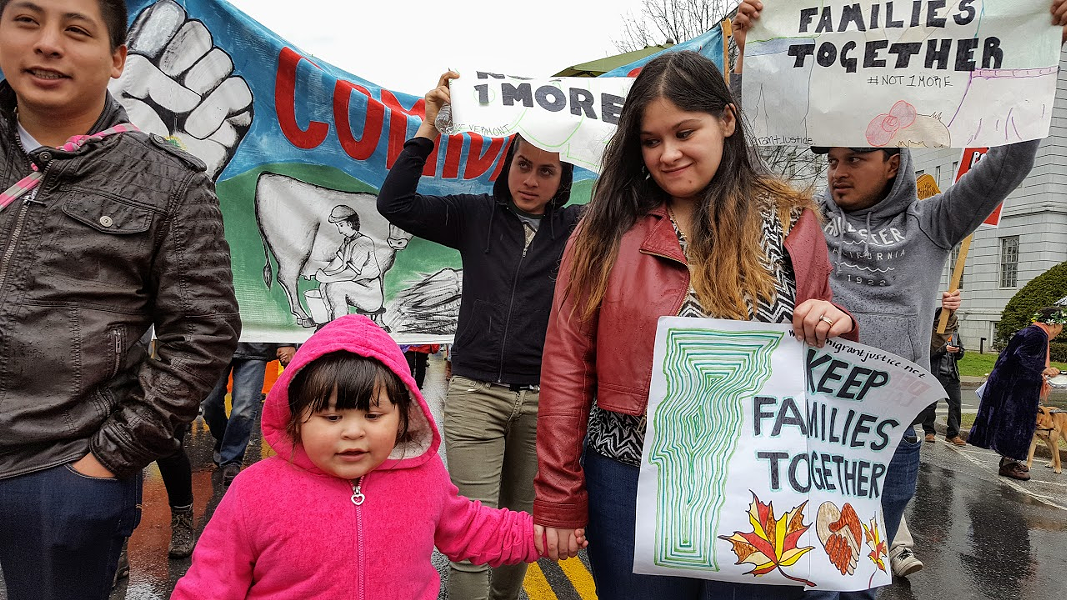 Courtesy of Migrant Justice
Cesar Alex Carrillo marches with his wife and daughter in May 2016.
Last May, Victor Diaz, a Vermont farm worker and Migrant Justice activist, was arrested after he was convicted of a DUI charge.
He was released following a public outcry
. He appeared at the protest in Burlington on Saturday.
All three recent arrestees were being held in a detention facility in Dover, N.H., according to Lambek. Bail has been set at $14,000 for Balcazar and $21,000 for Carrillo, Lambek said. Palacios was being held without bail.
All three have immigration attorneys, and all will be seeking a bail hearing within the coming weeks, Lambek said.
"People are rightly and justifiably outraged by what they're seeing," Lambek said.
Vermont's congressional delegation noted that they had reached out to ICE officials to express their concerns about Vermont's farmworkers.
"We are seeing the result of the failure of Republican leaders in the House of Representatives to even consider comprehensive immigration reform, including provisions for undocumented agricultural workers," their statement says.
In spite of the vocal response, political leaders have been reluctant to promise action. There's little the state can do, said Attorney General T.J. Donovan.
"The federal government is well within its legal purview, and what they've done is legally permissible," Donovan said.
Last week, the Vermont House passed a bill requiring the governor's approval before local or state police could enter into a contract to aid with border or immigration enforcement. It also would prohibit sharing data on people's religion, national origin or immigration status.
The bill may not change much in situations like these, Donovan acknowledged.
But, he added, "We have to work with our federal delegation, and we have to continue to lobby. These are Vermonters, regardless of who they are or where they're from. It is in our collective interest for people to access our judicial system, for people to access emergency services, for people to access our health care system."
John Walters contributed reporting for this story.

Disclosure: Tim Ashe is the domestic partner of
Seven Days
publisher and coeditor Paula Routly.
Find our conflict-of-interest policy here: sevendaysvt.com/disclosure.