Todd Balfour
Edward Snowden chats with professor Allison Stanger.
Two weeks, two controversial speakers.
Middlebury College welcomed infamous National Security Agency whistleblower Edward Snowden to campus via a live video feed Thursday for a discussion on mass surveillance. The talk followed a disastrous in-person appearance by controversial author Charles Murray on March 2.
Professor Allison Stanger, who was confronted by a crowd of people and injured
after moderating the Murray lecture
, returned to campus to question Snowden. She wore a neck brace and dark sunglasses throughout the two-hour event. She told a reporter she's been slow to recover from what she has described as a harrowing ordeal. Security officers blanketed the event, including one security guard who shadowed Stanger as she walked around Wilson Hall inside the McCullough Student Center, where the event was held.
Stanger made a lighthearted reference to the Murray appearance when a student asked how the college got in touch with Snowden.
"I had nothing to do with this, just like I had nothing to do with the Charles Murray event," Stanger told the crowd, to knowing laughs.
Snowden spoke from an undisclosed location somewhere in Russia, where authorities granted him asylum after he left the United States in 2013. He proved a capable storyteller who needed little in the way of prompts to dive into his dark tale of government surveillance and what it means for citizens of the United States — and the world.
Media and students were prohibited from photographing or recording any part of the conversation.
Snowden is a former NSA contractor who gained infamy after he stole and released to journalists thousands of pages of highly classified documents that revealed a U.S. government surveillance network. Snowden has remained a staunch advocate for the fourth estate, despite being in hiding thousands of miles away. He's held several Google Hangouts video chats with universities around the country and is an active Twitter user for an audience of some 3 million followers.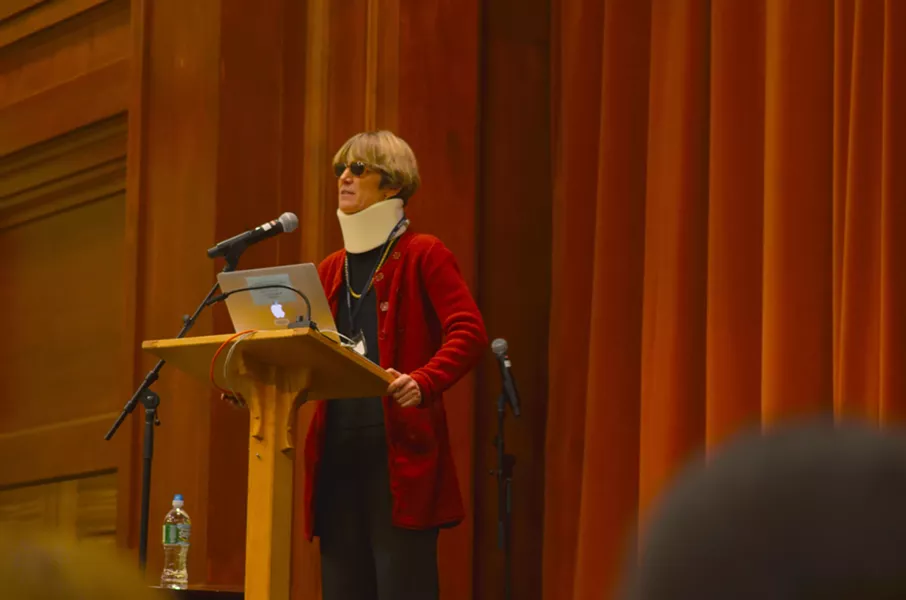 Sasha Goldstein
Professor Allison Stanger
A goateed Snowden wore earbud headphones and stylish eyeglasses that he frequently adjusted. He gestured as he spoke in front of a black, nondescript background. The discussion had an intimate feel, with Snowden projected on a screen on stage in front of approximately 220 people at the campus hall and another 400 to 500 watching remotely via live stream.
Stanger stood at a podium onstage and posed questions to Snowden, who proved as elusive an interview as he is for the U.S. government to catch. He frequently returned to what appeared to be well-versed talking points and slides he had prepared.
The auditorium audience sat in rapt attention as Snowden, undeniably an engaging and charismatic speaker, expounded on the dark world of mass surveillance that he exposed in concert with several journalists.
He made frequent reference to the important work of such scribes, saying they face new threats and attempts at secrecy from the administration of President Donald Trump.
The president, for his part, has previously called Snowden a "traitor" and a "disgrace" and implied Snowden should be killed for treason.
"No one will fix us but us," Snowden told the young adults. "This is the burden of our generation. Standing up matters, saying something matters … Really, that's the story and I think that's why I was invited here tonight: One voice can change the world, and that can be yours."
In the not-so-distant past, Snowden said, surveillance was constrained by budgets, by manpower and by other limitations that no longer exist.
"The problem we're facing is, this has become easy for anyone with any sort of resources. Surveillance technology has outpaced democratic controls," he said. "Today, one guy sitting in front of a monitor can track an unimaginably large amount of people. And that was me, that was my position at the NSA."
Snowden described how our phones and devices throw off "pollution" and "evidence" from our daily lives called metadata that the government collects and stores in a "bucket" at one of the massive data storage repository sites like one in Utah that he showed an image of. That information is collected all the same, whether it's a civilian sending "grandma's cookie recipe or whether you're the head of al-Qaeda," he said.
"This affects every aspect of our lives," Snowden said. "Surveillance is not about hiding something or preventing terrorism, surveillance is about control; it's about stability; it's about the expression of power and being able to maintain a status quo. This is not a modern invention."
Todd Balfour
Snowden speaks.
Snowden's point was that this warrantless, mass surveillance skips important checks and balances that should be a staple in American democracy. Rather than query a court for a warrant, which he said is exceedingly easy for law enforcement agencies to do, the government chooses to blanket watch all of its citizens. Such an arrangement makes people subjects, rather than partners, in government, he opined.
"If you are arguing about not caring about privacy because you have nothing to hide, that is like saying you don't care about freedom of speech because you don't have anything to say," Snowden said. "We do care about privacy because privacy is the foundation of all other rights. If we lose that, we're losing more than a right — we're losing ourselves."
Students got a chance to ask Snowden questions directly. One student got some laughs when he told Snowden he's better looking than Joseph Gordon-Levitt, the actor who played the NSA contractor in the eponymous 2016 film,
Snowden
.
Snowden wrapped up by reiterating the newsworthiness — and necessity — of leaks such as his. While he's had his Russian asylum extended until 2020, Snowden said that the fact that people continue to leak information to outlets like WikiLeaks — even in the face of a virtual life sentence in prison for a conviction — shows that a rebellious nature continues to foment in the American populace.
And, he said, the documents prove that the government's arguments for such surveillance programs — that they save lives and prevent terrorism — are bogus.
"These programs were never about terrorism. They are about economic espionage, diplomatic manipulation and social control," he said. "We should never permit them to say they are saving our lives if they can't show evidence that they are."