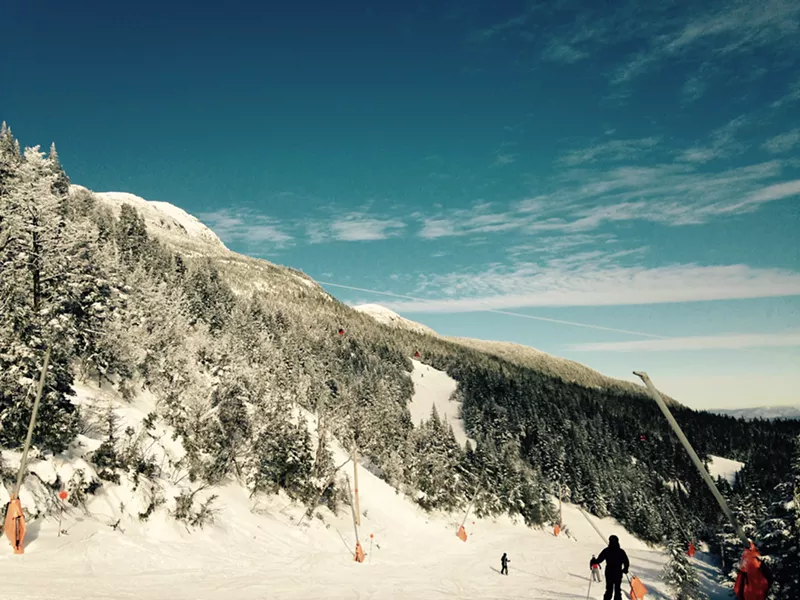 Molly Walsh
Skiers at Stowe in January
Updated at 3:45 p.m.

The rumor mill was right.
Vail Resorts is buying Vermont's most iconic ski area, Stowe Mountain Resort, from the American International Group, the two sides announced Tuesday.
The Colorado-based company will pay $50 million for the Mt. Mansfield ski area, which began as a Depression-era trail cutting project and became known as a luxury winter resort.
"We're thrilled to add Stowe Mountain Resort to our family of world-class mountain resorts. With the investments in both mountain infrastructure and base area facilities that AIG has made over the years, Stowe Mountain Resort has become the premier, high-end resort for East Coast skiers and snowboarders," said Vail chairman and CEO Rob Katz. "We look forward to working with AIG to continue enhancing the guest experience and to ensure the resort's long-term success."
The purchase includes "base area skier services (food and beverage, retail and rental, lift ticket offices and ski and snowboard school facilities) at Mount Mansfield and Spruce Peak," Vail said in a statement. Other related facilities — including the Stowe Mountain Lodge, Stowe Mountain Club and Stowe Country Club — will remain in AIG's hands.
According to Vail, it "will be retaining the vast majority of the resort's year-round staff. Future summer and winter season hiring "will continue in the ordinary course," it said.
Chatter about a sale has circulated all winter on chairlifts and barstools in Stowe, but the deal was not finalized until Friday.
Vail is the largest ski resort company in North America. It owns more than 10 resorts, including Vail and Beaver Creek in Colorado, Park City in Utah, and Kirkwood in the Lake Tahoe region of California and Nevada. The portfolio also includes three small Midwestern ski areas.
Last year Vail made its biggest deal ever: The purchase of the Whistler Blackcomb ski area in western Canada for $1.1 billion.
The Vermont transaction for the first time gives Vail Resorts a foothold in the East. The acquisition could possibly help the sprawling company grow sales of its multi-resort Epic Pass by making inroads into the lucrative New York and metro Boston markets. Many weekend skiers at Stowe who hail from big East Coast urban areas also take ski vacations to Western resorts.
The company announced that Stowe would be part of its Epic Pass option for the winter 2017-18 season. The pass sold for $809 early last season.
One of Vail's strategies has been to grow sales of the Epic Pass with purchases of ski areas near urban centers, including Wilmot Mountain outside of Chicago, Mt. Brighton near Detroit and Afton Alps near Minneapolis.
This winter, Vail hoped to sell 650,000 Epic Passes.
Stowe, located on the eastern shoulder of Mt. Mansfield, is owned by a subsidiary of AIG, a giant in the insurance industry. The company's founder, Cornelius Vander Starr, was an avid skier who began investing in the ski area in the 1940s. He bought up thousands of acres of land and helped turn the rugged mountain landscape into a popular tourist destination.
AIG transferred the resort to Chartis, a subsidiary, in 2009.
The $50 million price tag would have been higher if Vail were buying the mountainside lodging, said Parker Riehle, president of the Vermont Ski Areas Association. It's somewhat out of the norm for a ski resort transaction to be structured without the potentially lucrative resort "bed-base," he added.
"I wouldn't say it's unheard of, but it's a little unusual," Riehle said.
Still, AIG had been "shopping" Stowe around to potential buyers for some time and likely crafted the deal as it suited them, according to Riehle.
"Whether $50 million is too high or too low, I would just offer that you had two very significant negotiators at the table, between Vail and AIG," Riehle said. "I'm sure there was a lot of hammering back and forth to arrive at that price."
Vail has significant capital to address parking challenges and improve the ski operation, he predicted.
"It's almost like the sky's the limit with the backing of Vail,'' Riehle said.
Vermont has averaged about 4.1 million skier visits annually over the past decade, according to the Vermont Ski Areas Association. Last winter was a dud – with low snowfall and only about 3.2 million visits.
This year is swinging in the opposite direction with heavy snow and pent-up demand leading to large crowds, including over the recent Presidents' Day holiday.
"This weekend we saw amazing numbers all across the state," Riehle said.
Even after a thaw over the weekend, snow depth at the stake on Mt. Mansfield is well above normal. It measured 94 inches on Monday.
One of the big questions about the deal relates to capacity for cars heading to Stowe. Vail's Epic Pass is cheaper than many of the season pass options at Stowe this year. Some are worried that a burst of Epic Pass sales to East Coast skiers could lead to epic traffic jams and lines at the Vermont mountain.
As it is, this winter has been the scene of unprecedented parking problems at Stowe. The phase-in of a new alpine village on the Spruce side of the resort has added hundreds of units of lodging and many new amenities that attract overnight guests as well as day skiers. Ticket sales have been "off the charts" this season, said Mike Colbourn, Stowe's vice president of marketing, sales and communication.*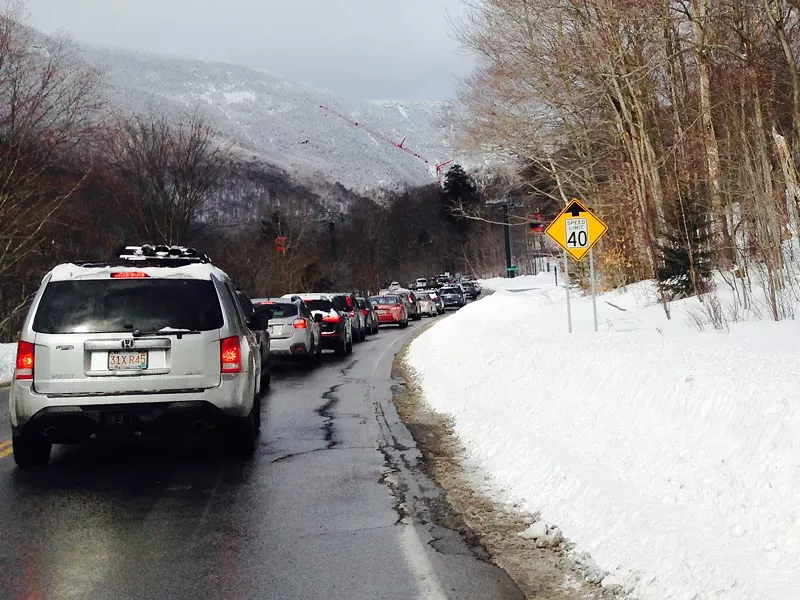 Molly Walsh
Cars sit on Vermont 108 waiting to get into a parking lot at Stowe Mountain Resort on January 28.
During Christmas week, the resort apologized on Facebook to customers after some would-be skiers bought tickets online and could not use them because all the parking lots were full at the ski area.
"This week we have been experiencing unprecedented holiday week traffic levels," read the apology, which was published on the resort's Facebook page. "Combined with this week's snow storm and our two-lane state highway, we have been experiencing delays in both the morning arrivals and afternoon and evening departures. We sincerely apologize for the delays and traffic levels."
Some visitors responded angrily on Facebook. "They've allowed too much development. Poor planning. The almighty $."
Traffic jams and full parking lots have continued to be an issue on some regular weekend days this winter, which has seen deep mountain snowfall. Vermont 108, a two-lane state highway, is the only way to and from the ski area during the winter.
Parking and traffic have been an issue this winter, said Stowe town planner Tom Jackman. The current owners of the resort have told him verbally they want to increase skier visits from somewhere in the 300,000 range to the 400,000 range over time, Jackman said.
"But in order for them to able to do that, they are going to need to provide more parking for people and they know that," he added.
There's been speculation that the resort would apply for permits to expand parking at the Mt. Mansfield Toll Road property or the resort's cross country ski area. Both are within a quick shuttle bus ride to the main downhill ski area.
Meanwhile, the town may ask the state Agency of Transportation to fund a corridor study for Vermont 108, Jackman said. It would look at possibilities to improve traffic flow with turn lanes, different signaling and increases in road shoulders.
Vermont 108 leads to the Smuggler's Notch pass. In warmer months, it twists and winds over the mountain. In winter, the section of the road that goes over the Notch is closed — creating a dead-end and giving cars only one way into and out of Stowe ski area.
Could another road be built to the resort? Probably not, due to the alpine geography and to sensitive natural areas, Jackman said.
"There's just no place for it to go basically. You're talking about a real mountainous area," he said. "You'd be talking about state forest land, you'd be talking about bear habitat ... I don't see that there'd be any feasible way of getting another road up there."
Part of the rumor swirling this winter — that Vail would also buy Smuggler's Notch Resort, the ski area just over the mountain from Stowe, in Jeffersonville — was pure fiction.
"I can officially squash that rumor right now," Mike Chait, public relations director at Smugglers' Notch, said last month as the rumor gained traction.
The owner of Smuggler's, Bill Stritzler, authorized Chait to dispel the rumor.
"He said anything you hear about Smugglers' in negotiation with Vail can be considered sincerely fake news," Chait explained.
The purchase of Stowe is a "good thing overall for Vermont," Chait said. "Any kind of investment into resorts in Vermont is good because it helps drive tourism for the state."
Smugglers' represents a different market than Vail's typical market, he added. Smuggs will keep delivering the "the same ski product that focuses on the fun and less [on] the glitz and glamour."
Part of the speculation about Vail purchasing both Stowe and Smuggs likely had to do with their proximity and the potential to make them one big ski area. Although they are separate resorts, skiers can walk from the top of the Stowe Sensation Quad chairlift on the Spruce side of the resort to the trails at Smuggs in about 15 minutes.
Connecting the two resorts with a lift would be a relatively easy construction project. But like other ski development, it would likely need to undergo significant environmental review.
*Correction, February 21: A previous version of this story misidentified Mike Colbourn.