Courtesy of Bob Pierno
Vermonters gathered on the steps of the Cannon House Office Building on Capitol Hill prior to the rally and march.
Some of the estimated 3,000 Vermont women marching in Washington on Saturday said they had journeyed 500 miles or more with the aim of transforming their anger and despair into affirmation and hope.
"The election result was so negative," lamented Nina Brundage, an 18-year-old student from Waterbury. "But now there's a positive movement coming out of it."
Jane Barlow of Vergennes added, "I came here for inspiration. This march is going to unify people. This and the rallies for saving the Affordable Care Act are the first time I've felt hope since the election."
Susan Schoenfeld cited a similar motivation in traveling from the Queen City to the capital city. "I needed to be with a large group of people reinforcing my reaction to what has happened," she said.
And what a large group it was.
Organizers said at least half-a-million people — more than double the number anticipated — took part in the spirited, even joyous, demonstration against Donald Trump's presidency and agenda.
Scores of Vermonters strode down Capitol Hill toward the rally area from a meeting spot at one of the U.S. House office buildings. Many got caught in a gentle crush near the National Museum of the American Indian — not far from the stage but at an angle that made it impossible to hear the speakers.
Women accounted for about 90 percent of the turnout. And most of them, it seemed, were wearing knitted pink "pussy hats." The cat-eared headwear has become "a symbol of women's solidarity," explained Kim Clark, a Bennington seamstress, who said she'd knitted her own.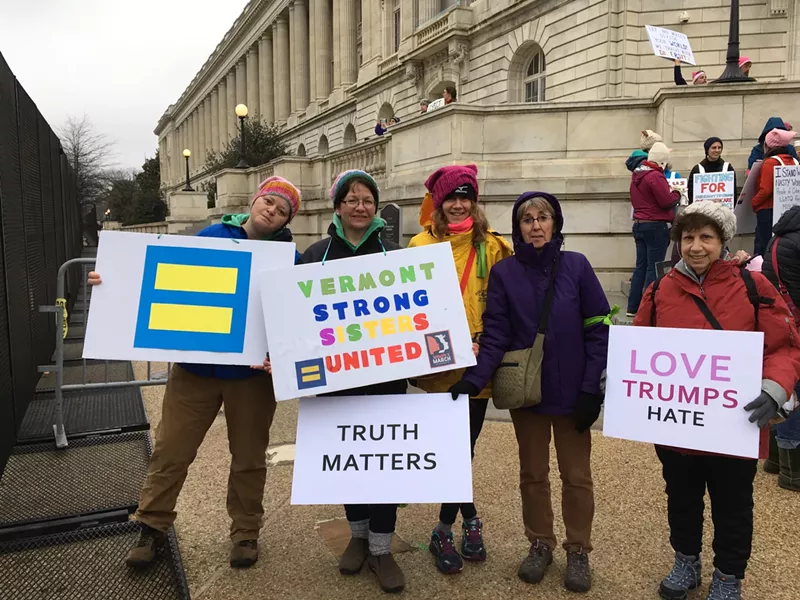 Rachel Jones
Doris Rukat of Dorset with her sister and other southern Vermonters in D.C.
"Yes, we do have pussies, and the hat shows we're proud of them," added Gayle Goodwin, a Williston resident who works at National Life Group in Montpelier.
Chants and placards made frequent, defiant reference to female genitalia as rebukes to Trump's shameless accounts of sexual predation. A sampler:
"We don't want your tiny hands/anywhere near our underpants!"
"Viva the vulva!"
"Make America Menstruate Again."
Many of the Vermonters had pinned green cloth patches to coats worn on a damp and cloudy day. "Vermont Fights Fascism," the badges read. Rachel Siegel, executive director of the Peace & Justice Center, said her organization made 600 of the emblems, which feature an outline of Camel's Hump and a silkscreen image of protesters by Burlington artist Bonnie Acker.
About 800 Vermonters rode to Washington overnight on a total of 15 chartered buses, Siegel said. "I figure at least four times as many went by car, van, trains or planes," she added.
Rachel Jones
More Vermont pride in D.C.
Hundreds of members of the Green Mountain marching brigade gathered early in the morning at the Mott House, a Capitol Hill mansion that's home to a foundation established by the late liberal philanthropist Stewart Mott. Coffee, bagels, juice and fruit were available, courtesy of Sen. Patrick Leahy (D-Vt.) and his wife, Marcelle. The senator said the couple had rented the home and its spacious patio with "my credit card" and leftover funds from his 2016 campaign kitty.
Leahy struck a note of foreboding in an interview as lines of Vermonters curved down the front steps of Mott House. At Friday's inauguration ceremony, the senator related, Democratic Senate leader Chuck Schumer of New York had been booed by Trump supporters as he called for national unity. "Even Republicans sitting near me said they were embarrassed and shocked by that," Leahy reported.
How bad might things get under Trump? Leahy was asked. "Unless they [Republicans in Congress] rein him in, it'll be very bad," he predicted.
Marcelle Leahy was no more upbeat in brief remarks she made to the gathering. Referring to the consequences of Trump's potential to appoint three or four Supreme Court justices, she warned, "Most of us aren't going to live long enough to see the damage that will do." It's essential, she added, that Democrats "take back the Senate in two years" in order to stem the alt-right onslaught.
Rachel Jones
D.C. marchers
For some Vermonters, the Women's March was a family outing. Mothers and daughters stepped out arm-in-arm.
Jennifer Lalor, a Manchester teacher, was accompanied by her sister, Abby Lalor, and their respective daughters: Bree, a 20-year-old Harvard University student, and Sage, a 16-year-old who attends Burr and Burton Academy.
"We're here to show our resistance," Jennifer Lalor declared. "Trump's a billionaire — what's he going to do for any of us or for the environment? I think this march will get the attention of those who didn't come, maybe make them say, 'I really should get involved.'"
Fellow students at Burr and Burton who didn't attend "were all so proud of me for coming," Sage Lalor said. "It's like 99 percent of them are against Trump."
Other young Vermonters taking part in the protest included a contingent of six students from Hazen Union High School in Hardwick, all of whom belong to a group called Stand Up for Social Justice. "I want to spread love and compassion to counter all the hate and anger," said Daisy Reyes, a Filipina member of the group.
Rachel Jones
Marchers
Women of color were underrepresented in the march in relation to their share of the U.S. population. Betty Mfalingundi, whose father is Tanzanian, is from Minnesota but has relatives in Waterbury. She attends American University in Washington, D.C., and stopped in at Leahy's Mott House gathering. "I campaign for the rights of black women," Mfalingundi said. Noting Trump's Friday post on his website of a promise to end "the anti-police atmosphere" in the U.S., Mfalingundi said, "That tells me there's probably going to be more militarization of the police. And many black women already have a fear of the police."
As the throng tromped along the National Mall in mid-afternoon, Gillian Klein of Essex sent
Seven Days
a text: "My mom and I are marching," it read. "This is awesome!"