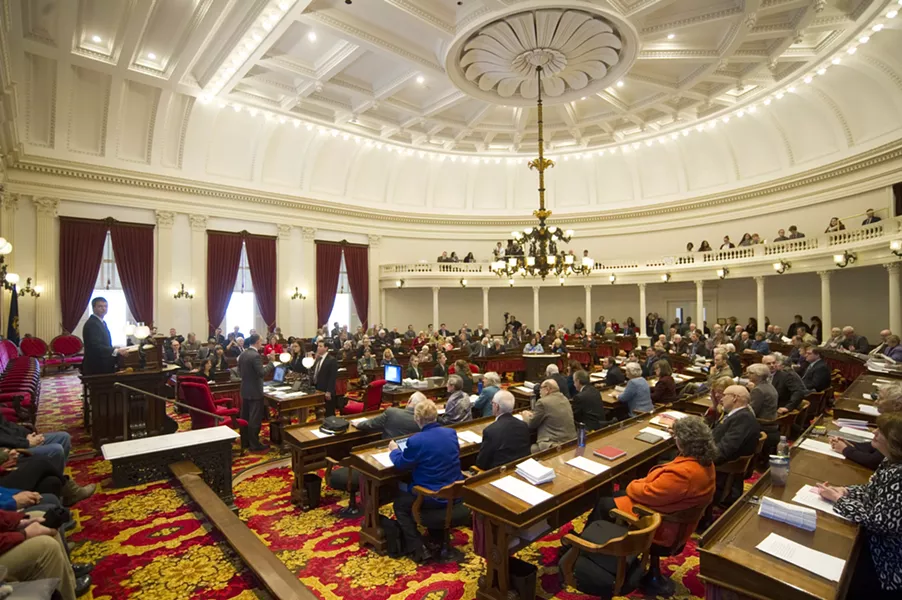 File: Jeb Wallace-Brodeur
The Vermont House in January
The fate of the free world may hang in the balance Tuesday. Not so control of the Vermont legislature.
Democrats, who have run the Vermont House since 2005 and the Senate since 1997, are almost certain to keep their mitts on both when they return to Montpelier in January. They currently hold 85 of 150 seats in the House and — including Democratic/Progressive hybrids — 21 of 30 seats in the Senate.
But there are a
few
legislative races to watch in Vermont. And depending on how they turn out, Republicans could conceivably make some gains in the House — and Democrats could end up with an even tighter grip on the Senate. Then there's the Vermont Progressive Party, whose focus on legislative races seems likely to bear fruit this year.
Here's what to watch on election night:
The Senate:
Most Vermont political observers agree that Franklin County is the one true battleground in this year's state Senate races. Republicans currently hold both seats in the two-member district, though one incumbent, Sen. Norm McAllister (R-Franklin), was suspended in January over sexual assault allegations — and subsequently lost his August primary. The other is Sen. Dustin Degree (R-Franklin).
As Seven Days' Terri Hallenbeck reported last month
, Franklin County was once reliably Democratic. But as Vermont has turned blue, this northwest corner of the state has grown red.
Hoping to update that narrative are two Democratic challengers: former senator Sara Kittell and Friends of Northern Lake Champlain executive director Denise Smith. They'll face off against Republicans Degree and Rep. Carolyn Branagan (R-Georgia), the latter of whom has spent 14 years in the House and defeated McAllister in the primary.
"I don't think it's any secret," says Sen. Phil Baruth (D-Chittenden), the Democratic majority leader. "Franklin is
always
the top priority."
"I still think it's a Republican county," posits Sen. Joe Benning (R-Caledonia), the Republican minority leader. "I think there were people who were angry about [McAllister], but I don't think that will translate to Republicans taking it on the chin."
Even if Degree and Branagan pull off wins Tuesday, Republicans are almost certain to lose at least
one
seat in the Senate — thanks to the mid-session retirement of Chittenden County's sole Republican senator, Diane Snelling. (Fellow Republican Helen Riehle was appointed to fill out her term but is not running this fall.)
Rep. Chris Pearson (P-Burlington) and Williston Selectboard member Debbie Ingram, a Democrat, are expected to fill the seats vacated by Snelling and Sen. David Zuckerman (P/D-Chittenden), who is running for lieutenant governor. (The four incumbents in the county's sprawling, six-member district face little competition.)
So if Republicans lose both Franklin County seats, they'd be down to just six seats in the Senate, while Democrats and Progressives would hold 24.
Here are a few other Senate races with at least a glimmer of competition:
Windsor County
— Senate President Pro Tempore John Campbell (D-Windsor) is retiring, leaving a rare opening in this three-member district. In the August primary, Rep. Alison Clarkson (D-Woodstock) won the third berth on the Democratic ticket, joining incumbent Sens. Dick McCormack (D-Windsor) and Alice Nitka (D-Windsor). The race also features three Republicans — Mark Donka, Randy Gray and Jack Williams — and independent Scott Woodward.
Rutland County
— The three incumbents — Sens. Peg Flory (R-Rutland), Kevin Mullin (R-Rutland) and Brian Collamore (R-Rutland) — appear secure, but Rutland occasionally serves as Vermont's
other
swing district. Democratic challengers include Korrine Rodrigue, Cheryl Hooker and Scott Garren.
Washington County
— All three members of this county's tripartisan Senate delegation — Sen. Bill Doyle (R-Washington), Ann Cummings (D-Washington) and Anthony Pollina (P/D-Washington) — are running for reelection. The Democrats are also fielding former state representative and sergeant-at-arms Francis Brooks, while Republicans are putting up Mike Doyle (no relation) and Josh Fitzhugh.
Orange County
—
According to the Valley News
, Sen. Mark MacDonald (D-Orange) and former Senate president pro tempore Stephen Webster, a Republican, are running against each other for the sixth time. Webster prevailed in 1994, but MacDonald has beaten him every time they've faced off since.
The House
For Republicans to take back the Vermont House, they would have to hold every one of their 53 seats and pick up an additional 23 (unless a few independents had their back). Even Rep. Don Turner (R-Milton), the House minority leader, acknowledges that's unlikely. But, he says, "I'm feeling confident we're going to defend our incumbents and pick up a few seats."
One dynamic working in Turner's favor? Twenty-two Democrats are stepping down from the House, while only two Republicans are.
On the flip side, House Democrats continued to out-recruit Republicans this year. There are 109 Democrats and Democrat/Progressives on the ballot and only 94 Republicans. That's not counting another 20 Progressives and Progressive/Democrats.
"You don't ever want to jinx it, but if you look just dispassionately at the numbers, when you have a presidential election, turnout tends to favor Democrats," says Rep. Sarah Copeland Hanzas (D-Bradford), the House majority leader. "So I think we could expect to pick up a net gain of some seats."
With between 25 and 30 competitive House races to watch, here are some ways to look at the field:
Retirements
— Republicans may do best this year in moderate districts where incumbent Democrats are stepping down. In the two-member Lamoille-2 district, for example, Reps. Linda Martin (D-Wolcott) and Mark Woodward (D-Johnson) are both retiring. Republicans are optimistic that Riki French and Lucien Gravel could prevail over Democrats Matthew Hill and Daniel Noyes.
Republicans
are
defending two open seats: Branagan's Franklin-1 district in Georgia and retiring Rep. Patti Komline's (R-Dorset) Bennington-Rutland seat.
2014 Comebacks
— Democrats lost nine seats in the last election, and they'd like to win them back. That year, Democratic incumbents Michelle Fay and Bob South fell to Republican challengers in the two-member Caledonia-3 district. The 2014 victors, Reps. Scott Beck (R-St. Johnsbury) and Janssen Willhoit (R-St. Johnsbury) are now playing defense against Democrats Scott Campbell and Corey Raynor and independent Philip Aldridge.
Democrats lost one of their two seats in the Chittenden-8-2 district last time around when Rep. Paul Dame (R-Essex Junction) beat Democratic incumbent Linda Waite-Simpson. This year, the other incumbent Dem, Rep. Tim Jerman (D-Essex Junction) is retiring. Newcomer Democrats Lori Houghton and Dylan Giambatista are hoping to displace Dame and fellow Republican Michael Plageman.
Further south, former Democratic representative John Moran of Wardsboro is hoping to take back the Windham-Bennington seat he lost to Rep. Laura Sibilia (I-Dover) in 2014.
Perennial Battlegrounds
— Some seats are just always competitive. Take Franklin-3-1, the two-member St. Albans district where Rep. Corey Parent (R-St. Albans Town) defeated incumbent Democrat Mike McCarthy in 2014. This year, McCarthy's running again, alongside Rep. Kathy Keenan (D-St. Albans City), who has served in the House for decades. They'll face Parent and fellow Republican Claude Bouchard on Tuesday.
Chittenden-6-1, in Burlington's New North End, is perennially up for grabs. Currently representing the two-member district are Reps. Kurt Wright (R-Burlington) and Joanna Cole (D-Burlington). Democrat Carol Ode is hoping to displace Wright, while Republican Mike McGarghan is hoping to defeat Cole — though McGarghan's chances appear to have diminished thanks to
some inappropriate tweeting
.
Another split district, Addison-3, features incumbent Reps. Diane Lanpher (D-Vergennes) and Warren Van Wyck (R-Ferrisburgh), plus Democratic challenger Fritz Langrock and Republican challenger Monique Thurston.
Musical Chairs
— Vermont Republicans' biggest win in 2014 came in the two-member Addison-4 district, where Rep. Fred Baser (R-Bristol) knocked off incumbent Democrat Mike Fisher, who was then serving as chair of the House Health Care Committee. This time around, the GOP would like to take down the district's other Democrat, Rep. Dave Sharpe (D-Bristol), who chairs the House Education Committee. Monkton Republican Valerie Mullin is making a second go at the seat, but Lincoln Progressive/Democrat Mari Cordes is seen as a strong contender.
Other Democratic committee chairs in the crosshairs include Rep. Ann Pugh (D-South Burlington), who runs the House Human Services Committee, and Rep. Mitzi Johnson (D-South Hero), who chairs the House Appropriations Committee. Both Johnson and Sharpe are contenders to replace retiring Rep. Shap Smith (D-Morristown) as House speaker.
Prog Pickups
— Progressives, who moved from five to six House members in 2014, are hoping to make further gains this year. They're already guaranteed one pickup in Chittenden-6-4, the two-member district in Burlington's Old North End where Progressive/Democrats Selene Colburn and Brian Cina won the Democratic primary and are the only ones on the ballot. They'll replace Pearson and Rep. Kesha Ram (D-Burlington), who both vacated their seats to run for higher office.
In the single-member Franklin-7 district, former Progressive representative Cindy Weed is hoping to take back the seat she lost in 2014 to Rep. Larry Fiske (R-Enosburgh). And in the two-member Chittenden-6-7 district, Progressive Rob Millar is hoping to beat Rep. Clem Bissonnette (D-Winooski) to join Rep. Diana Gonzalez (P-Winooski) in the House.
Progs
are
playing defense down in the Rutland-Bennington district, where Republican Jonas Rosenthal is challenging Rep. Robin Chesnut-Tangerman (P-Middletown Springs).
Prog-Dem Drama
— House Democrats aren't all that thrilled with a couple of Progressives who lost in Democratic primaries but continue to run in the general. That's true of Progressive Jill Charbonneau, who lost to Rep. Amy Sheldon (D/P-Middlebury) and Democrat Robin Scheu in the Addison-1 primary.
It's even more true of Progressive Marci Young, who lost the Democratic primary in the two-member Lamoille-Washington district to Rep. Avram Patt (D-Worcester) and Democrat David Yacovone. Ds are worried that Young could throw a seat currently held by retiring House Speaker Shap Smith (D-Morristown) to Republican Gary Nolan or independent Don Valentine.
Candidate Recruitment
— Some races are competitive simply because they feature well-known, hardworking challengers. Take Democrat/Progressive Katherine Sims, who stands a good chance to beat Rep. Mark Higley (R-Lowell) in the single-member Orleans-Lamoille district.*
Then there are the familiar names: A race in Swanton features former Democratic senator Don Collins. Nearby, in Fairfield, Republican Penny Dubie — an anti-wind activist who just happens to be married to former lieutenant governor Brian Dubie — is challenging Rep. Dan Connor (D-Fairfield). And in Barre, Republican Karen Lauzon — wife of omnipresent Mayor Thom Lauzon — is challenging Reps. Tommy Walz (D-Barre City) and Paul Poirier (I-Barre City).
The Oddball
— Finally, there's Bennington-4, where the Washington, D.C.-based Republican State Leadership Committee initially targeted
both
incumbent Democrats: Reps. Cynthia Browning (D-Arlington) and Steve Berry (D-Manchester) in a bid to help Republican challenger Brian Keefe. What's weird about that is, though Browning calls herself a Democrat, she's one of the most conservative members of the House.
The RSLC has since backed off.
*Correction, November 14, 2016: An earlier version of this story misidentified Rep. Mark Higley's district.