Screenshot
Sen. Patrick Leahy at a Channel 17 debate Tuesday in Burlington
In the first debate of Vermont's U.S. Senate race Tuesday afternoon, Sen. Patrick Leahy's (D-Vt.) four opponents wasted little time before lighting into the 42-year incumbent.
Asked what they saw as "the single biggest issue" of the campaign, Leahy's challengers instead listed their biggest problems with
him
.
Republican Scott Milne called him a "career" politician. Independent Jerry Trudell criticized him for supporting Hillary Clinton over Sen. Bernie Sanders (I-Vt) in the Democratic presidential primary. And U.S. Marijuana Party nominee Cris Ericson assailed him as a "bully," "sexist," "totalitarian," "fascist," "undemocratic" and, for good measure, "un-American."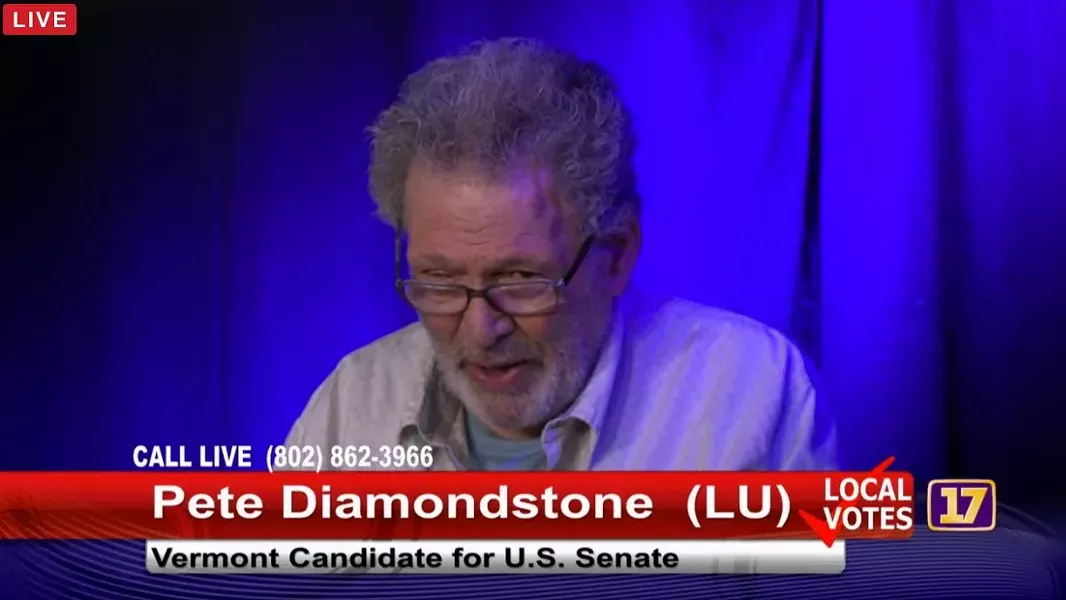 Screenshot
Peter Diamondstone at a Channel 17 debate Tuesday in Burlington
Liberty Union Party nominee Peter Diamondstone showed up seven minutes late to the debate, which was held at Channel 17's Burlington studios and simulcast on C-SPAN, but after catching his breath he managed to call the incumbent a "war criminal."
Leahy took the earlier allegations in stride.
"It's kind of hard to respond to them," he said with a chuckle. "As the person who wrote the Violence Against Women Act and greatly expanded it, I don't think there's any group of women in this country that call me sexist."
As for the Sanders flap, Leahy noted that his junior colleague
would be joining him at a Montpelier rally Friday
"to endorse me and to endorse the rest of the Democratic ticket."
"I admire him," Leahy said of Sanders. "I admire the issues that he raised. If he had been the nominee, I would've gladly been supporting him."
Presidential politics remained in the spotlight as Leahy criticized Republican nominee Donald Trump for denigrating Muslims, the disabled and veterans — and Milne explained why he
waited until last weekend to denounce Trump
.
"I have not decided who I'm voting for for president," a nervous-looking Milne said. "I will say that I came out and said for many months that I'm not supporting anybody. I did come out recently and said I will not be voting for Donald Trump." (Milne later seemed to channel Trump — or, perhaps, Sanders — by complaining about a "rigged" political system.)
Screenshot
Scott Milne at a Channel 17 debate Tuesday in Burlington
The Republican also criticized Clinton's comment that some Trump supporters belong in a "basket of deplorables" — and intimated without explanation that Leahy was somehow culpable for the remark.
"I've had direct conversations with over 1,000 Vermonters over the last several months who are supporting Donald Trump," Milne said. "I would not describe one of them as deplorable, so everybody's got fingerprints on this mess. But I would argue Patrick Leahy's fingerprints are deeper and more relevant to the mess that we're in than myself or anybody on this side of the table."
Milne later blamed Leahy for Senate Republicans' unwillingness to schedule confirmation hearings for U.S. Supreme Court nominee Merrick Garland.
"My opponent has a 42-year track record of essentially being in the bag for Democrats when they've got a nominee up and being an obstructionist when there's a Republican president," Milne said, adding that he would give "great deference" to a Democratic president's choice for the court and would "most likely" vote for Garland to be confirmed.
Leahy chuckled again.
"Sometimes with Mr. Milne, he's so used to attacking me that the attacks are more important to him than the facts," Leahy said, noting that it was
Milne's
party that actually blocked Garland's nomination.
While Milne leveled the most charges against Leahy, Trudell gave him a run for his money.
"I've got ideas and he does not — and that makes me mad!" the perennial candidate declared, his voice rising to a yell. "Yes, senator, it makes me mad that you sit there in your condescension, as if you are the king of the road when I haven't heard one original idea out of you. The only substantial plan happens to be the EB-5 gravy train, which the Real Deal refers to as 'a deep dive into the crack cocaine of real estate financing!' Now what do you say about that, senator?!"
Screenshot
Jerry Trudell at a Channel 17 debate Tuesday in Burlington
Leahy later defended his longtime support for the federal EB-5 investor visa program, which confers permanent residency on foreigners who invest more than $500,000 in qualified economic development projects. The program has come under fire in Vermont since federal authorities accused two Northeast Kingdom developers in April of defrauding investors to the tune of $200 million.
"I'm as outraged as everybody at what happened up in the Northeast Kingdom," Leahy said. "I saw good men and women in the Newport area getting jobs — excellent jobs. I think they and all of us were defrauded. I'm glad the [Securities and Exchange Commission], the Justice Department is in there — and they will get to the bottom of it."
Trudell didn't let up on Leahy.
"On April 17, you said that this was the first time you heard of this big mess," Trudell said, referring to an April 15 press conference during which Leahy said he had been given no advance notice about the federal raid on the Northeast Kingdom properties. "Isn't that what you said when you were interviewed? Remember? It's all in the public record."
"I don't want to take your time," Leahy responded.
"Well, anyway, you did say that. It's in the public record," Trudell said. "To me, what that is, is proof that there was zippo oversight, even though they
claimed
that they were checking the books once a year ... So I just think it's inexcusable that you knew nothing about this, or you claim you knew nothing about it."
When moderator Mark Johnson of VTDigger.org pressed Leahy on whether he bears "any responsibility" for a "lack of oversight" in the EB-5 program, the senator said, "Well, the oversight, of course, was done here in Vermont and by the state."
In fact, there is no provision in federal law providing an oversight role for the states. Vermont did not implement a rigorous regulatory structure until February 2015 — eight years after the fraud allegedly began. It was
federal
authorities that first caught wind of the scheme.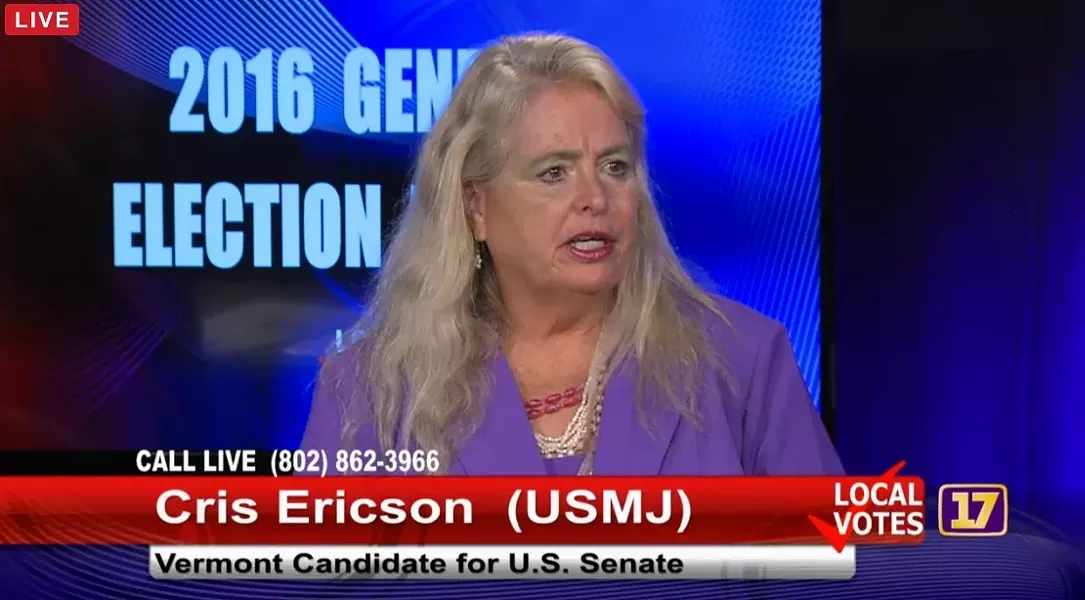 Screenshot
Cris Ericson at a Channel 17 debate Tuesday in Burlington
Leahy also dismissed Milne's allegation that he voted to shut down the government last month
when he opposed a stopgap funding bill that extended the EB-5 program against his wishes
.
"No, I did not vote to shut down government, but it's a nice talking point," the senator said.
"You did
not
vote in favor of the continuing resolution," Johnson corrected him, referring to the government funding bill.
"No, I did not," Leahy said.
"That would have resulted—" Johnson began.
"It already passed, and I made very clear to people — it already had enough votes to pass," Leahy said. "A number of people voted against it for one reason or another. We were making our point — my point being we gotta come back to this for a long term, and you're going to have to pay attention to both Sen. [Chuck] Grassley and myself in the next one."
Milne revisited the subject later, arguing that it was disingenuous for Leahy to blame others for EB-5's failings.
"It's like somebody designing and building a bridge and blaming it on the maintenance people when it falls down," he said.