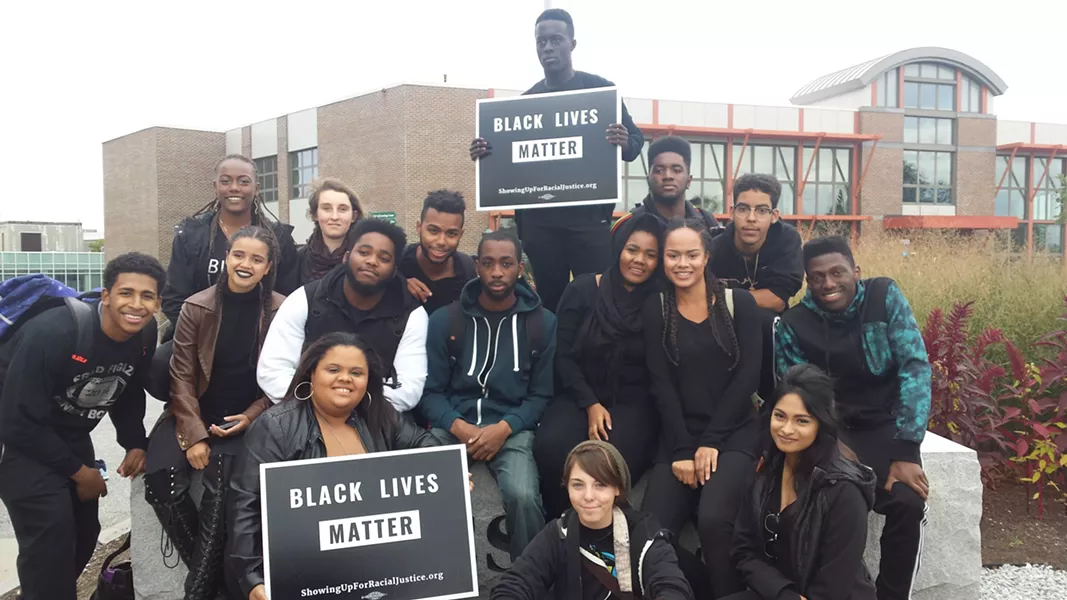 Kyme Sari
Student participants at the Black Lives Matter rally
Updated at 10:45 p.m. September 26, 2016, to add details from the rally.

A diverse sea of students, and even faculty, at the University of Vermont gathered Monday afternoon on campus to express solidarity with the Black Lives Matter movement — at the very spot where a flag with the group's motto was stolen.


More than 200 people, most dressed all in black, turned out for the "UVM Blackout," an event planned before the weekend theft of a Black Lives Matter flag from where it flew outside the university's Davis Center.


Student organizers Haydee Guadalupe Miranda and Akilah Ho-young set the tone of the rally by urging a message of peace. The group held a moment of silence and offered condolences to the families of victims of gun violence such as Trayvon Martin and Keith Lamont Scott, who was killed by police last week in Charlotte, N.C. The crowd went on to take pictures with the Black Lives Matter flag fluttering in the wind beside the Vermont and American flags on campus.


Before the event kicked off, attendees spotted at least one counter-protester carrying a placard with a thin blue line across it — a symbol associated with the "Police Lives Matter" group. But the lone dissenter maintained a distance from the crowd and didn't cause any trouble at the peaceful rally. Campus police patrolled the gathering.


The event, planned last week, came after a tumultuous few days on campus.

The university's student government association sponsored the raising Thursday of a Black Lives Matter flag, which was meant to fly through the weekend. SGA president Jason Maulucci said he received a lot of response, including some backlash, from across the country. He noted that the reaction from the UVM student body was overwhelmingly positive.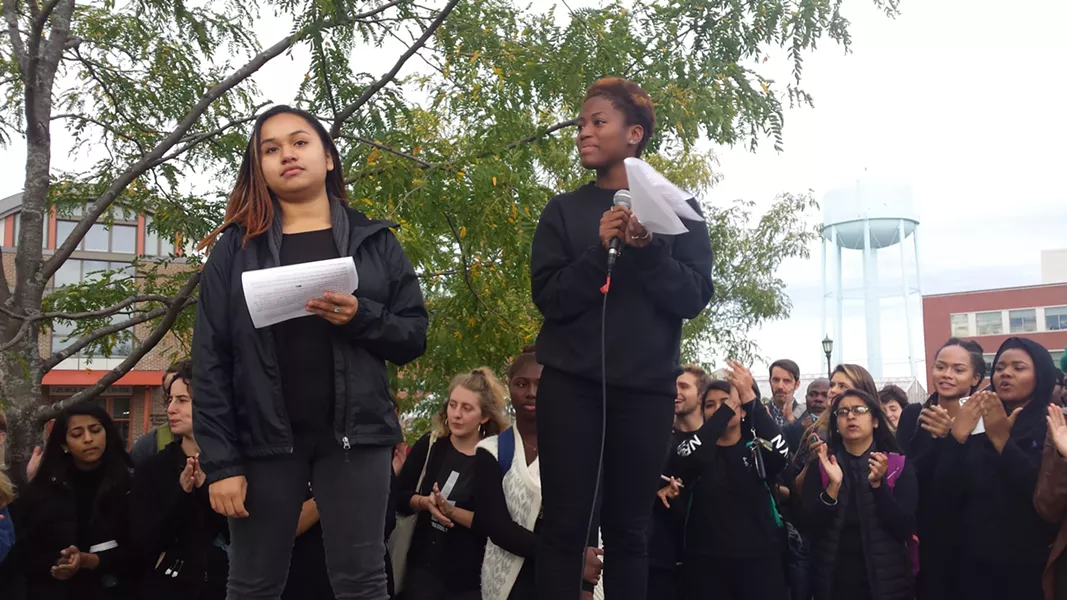 Kyme Sari
Haydee Guadalupe Miranda and Akilah Ho-young lead the rally.
But the flag was discovered missing Sunday morning. Within a couple of hours, student life director Patrick Brown and his wife, Amy, sewed the BLM's motto on a Pan-African flag that he typically flies during Black History month. It was Brown who came up with the idea to fly the flag in the first place, said Maulucci, who praised Brown for encouraging open discussion among students.

UVM police are investigating the theft as a misdemeanor case of petty larceny. No one has been charged, UVM deputy police chief Tim Bilodeau told Seven Days early Monday afternoon.


"It is under investigation," he said. "We don't have any leads."


There's no video, at least so far. "We have cameras all over UVM but not in that specific area," Bilodeau said. When Seven Days visited the site, evidence remained where the flagpole had been dusted for fingerprints.


The flag was probably lowered sometime between 3:30 a.m. and 8:30 a.m. Sunday. It's still missing.


Students said they were disappointed when they learned the flag had been stolen. "I wasn't expecting someone to go up and take the flag away," sophomore Rumana Rafeek said.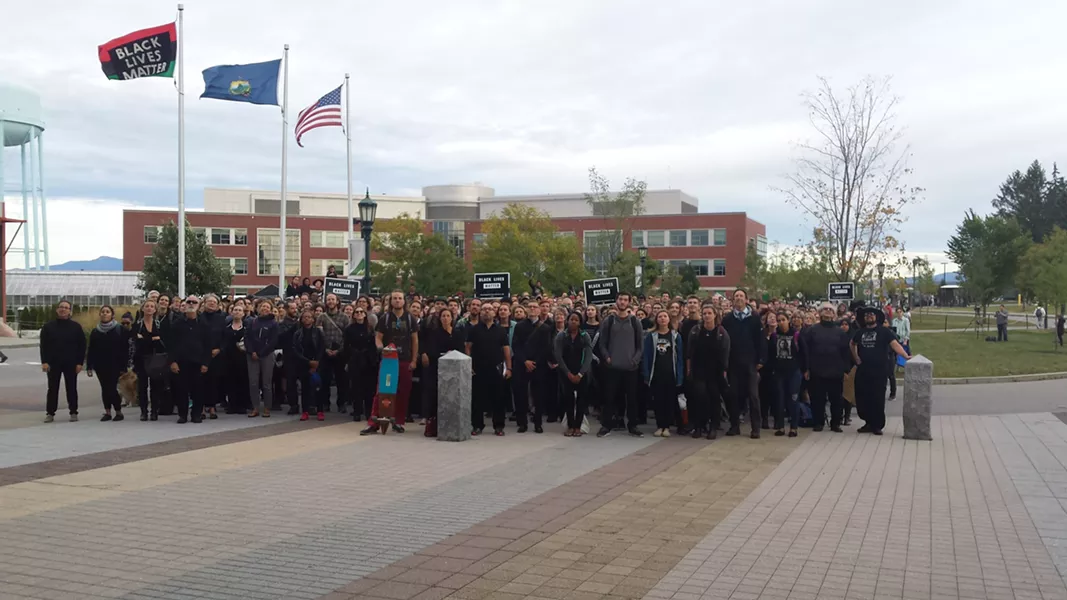 Kyme Sari
The crowd outside the Davis Center
But the fact that the flag was replaced almost immediately was a sign that the university was committed to giving students a voice and acknowledging the presence of on-campus supporters of the Black Lives Matter cause, said Lule Aden. Organizers said Monday's event would have gone on, even if the stolen flag had not been replaced.


Outgoing state Rep. Kesha Ram (D-Burlington), a 2008 UVM grad, attended Monday's event and praised the university for raising the BLM flag, calling it a "symbolic act of courage and compassion." Ram, whose father was an Indian immigrant, shared that she experienced numerous incidents of micro-aggression during her time at the university. Once, during a race relations discussion group, one of her classmates wore an item of clothing bearing Ku Klux Klan insignia — shocking students and professor alike.

"There was a lot of silence. I was silenced," Ram recalled. As a student and later as an alumna, Ram worked closely to help create a diversity curriculum at UVM.


The flag will be lowered by Tuesday morning. But Maulucci, the SGA president, said the flag kick-started conversations around racial justice that he hopes will continue on campus. "We should continue to have these discussions for as long as it takes us to achieve a more equitable society," he said.


Molly Walsh contributed reporting.
i