Screenshot
A Vermont Democratic Party website targeting Lt. Gov. Phil Scott
The Vermont Democratic Party slammed Republican Lt. Gov. Phil Scott Thursday for taking campaign contributions from "corporate interests" and "far-right" donors. It launched a new website — called
PhilScottPaidForBy.com
— making the case that the GOP gubernatorial nominee's positions would be influenced by his contributors.
"Vermonters deserve to know who 'Phil Scott for governor' is paid for by, so they can understand just what he will stand for if elected," VDP spokeswoman Christina Amestoy said during a conference call announcing the site.
But the party doesn't seem to think that its own candidates, including Democratic gubernatorial nominee Sue Minter, will be influenced by
their
donors, which include many of the same corporations.
"There are going to be national interests on both sides playing," Amestoy conceded during the call. "But I think it's important to recognize that Vermont values are much more closely aligned with national Democratic interests."
Screenshot
A Vermont Democratic Party website targeting Lt. Gov. Phil Scott
On its new website, the VDP focuses on contributions Scott has received from two for-profit prison companies: $1,000 from Corrections Corporation of America and $2,000 from GEO Group. Vermont previously housed its overflow prison population at CCA facilities, but it replaced that company with GEO in June 2015.
In an interview later Thursday, Amestoy argued that "private prisons have not been effective" and that CCA's work "doesn't quite align with what Vermonters are facing."
But Scott is hardly alone in accepting money from CCA. Since the start of Gov. Peter Shumlin's administration, when the company
donated $1,000 to his inaugural ball
, the Democrat has repeatedly accepted money from the state contractor. When he ran for reelection in 2012, Shumlin
took at least $1,000 from CCA
, and when he ran again in 2014 he
took another $500
.
During Shumlin's two-year tenure as chairman of the Democratic Governors Association, the organization accepted hundreds of thousands of dollars from CCA:
$150,000 in 2013
and another $160,000 in 2014, according to Internal Revenue Service records. On Wednesday, the DGA
launched its first television advertisement supporting Minter
.
File: Paul Heintz
Andrew MacLean, a Montpelier-based lobbyist for Corrections Corporation of America, and former state representative Mike Fisher at a May 2014 fundraiser for House Democrats in Montpelier
The prison company was so invested in Vermont Democrats that it sent two lobbyists — CCA senior director Dan Kaman and Montpelier-based Andrew MacLean —
to a $500-a-person fundraiser hosted by the Vermont Democratic House Campaign
in May 2014. The Montpelier event, which came as lawmakers were finalizing that year's state budget, featured House Speaker Shap Smith (D-Morristown) and much of his leadership team. CCA
donated $1,500 that year
to a political action committee run by House Democrats.
But according to Amestoy, that's old news.
"I'm focusing on this election cycle and the contributions made in 2016," she said in the interview.
OK. What about the $500 the VDP took from Walmart in July?
"That doesn't tell me anything about the Democratic Party," Amestoy said, noting that the company had donated to Republicans as well. "If they looked at the Vermont Democratic Party platform, they would recognize that we are strong advocates for unions — and we will continue to fight for that, no matter who is donating."
Well, what about the $500 that Reynolds American, Inc. — the second largest tobacco company in the country — gave the VDP last December?
"Phil Scott and the Vermont Republican Party have received drastically more funds from RAI and other big tobacco in the past," Amestoy said.
Because Vermont only recently mandated electronic filing of campaign finance reports, it would be difficult to prove or disprove that assertion. What's clear from
Seven Days
'
previous reporting
is that RAI and rival Philip Morris have given generously to Vermont politicians of
both
parties. During Shumlin's 2014 reelection race, Philip Morris gave him $3,000, while RAI gave him $2,000.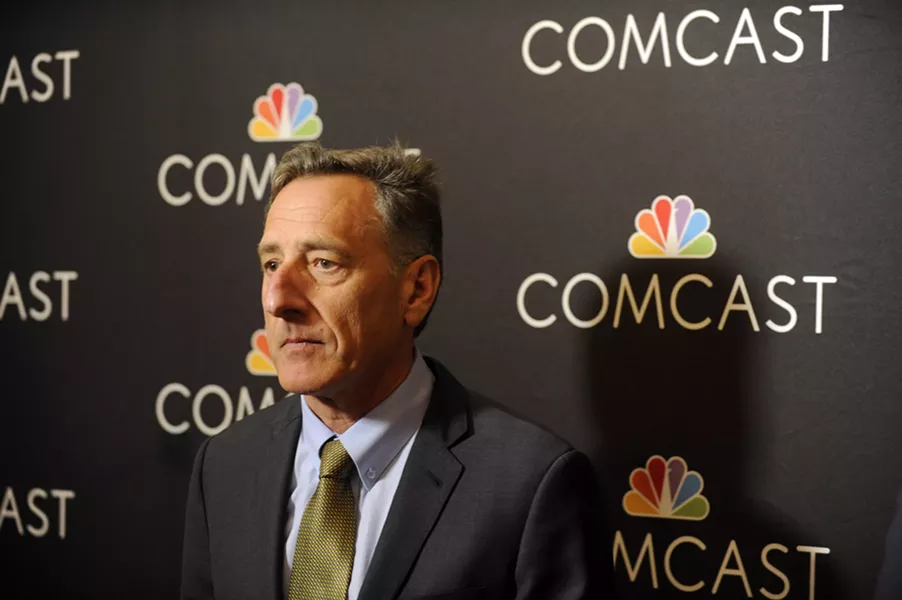 File: Jeb Wallace-Brodeur
Gov. Peter Shumlin in March 2015. Comcast has donated thousands of dollars to Shumlin and the Vermont Democratic Party.
The DGA,
which has promised to do "whatever we can"
to elect Minter, has already accepted
$305,000 in contributions
from RAI this election cycle, according to the Center for Responsive Politics. That's a good deal less than the $520,000 it's taken from Walmart, $477,500 from the Pharmaceutical Research and Manufacturers of America and $475,000 from Duke Energy.
Asked if
those
contributions reflected on Minter and her values, Amestoy changed the subject to the DGA's counterpart, the Republican Governors Association,
which has spent at least $523,000 backing Scott
.
"What the RGA stands for and what
their
top donors stand for ideologically — that is what I'm concerned about," she said.
Shouldn't she be equally concerned about what the DGA's top donors stand for?
"The DGA has continually elected strong Democratic candidates who stand up for working families, minority communities, women's reproductive rights and strong education systems across this country," Amestoy responded. "That's what the DGA stands for, and those values are in line with Vermont values."
While Amestoy seemed keen to talk about Scott's corporate contributions, she was less interested in discussing those received by the party's two delegates to Congress: Sen. Patrick Leahy (D-Vt.) and Congressman Peter Welch (D-Vt.). In the past six years, Leahy has accepted $1.34 million from special-interest political action committees. Welch, meanwhile, has raised more than $512,000 in PAC money since he last faced reelection two years ago.
Amestoy declined to comment on whom Leahy and Welch were "paid for by."
She
did
confirm that the party is holding on to money it raised from Florida real estate developer Ariel Quiros, whom federal and state authorities accused in April of orchestrating a $200 million "Ponzi-like" scheme in Vermont's Northeast Kingdom. In the past four years, Quiros and his wife, Okcha,
donated at least $32,000 to the Vermont Democratic Party
.
Courtesy of Bill Stenger
Left to right: Congressman Peter Welch, Bill Stenger, Sen. Patrick Leahy, Sen. Bernie Sanders, Gov. Peter Shumlin, Ariel Quiros and William Kelly in Newport in September 2012
After the U.S. Securities and Exchange Commission filed civil charges against Quiros and his business partner, Bill Stenger, Leahy and Welch immediately pledged to donate to charity the contributions they had received from the alleged fraudsters. Shumlin at first resisted but later followed suit. At the time, Amestoy
said the party "will be discussing"
whether to do the same.
Apparently, the answer was no.
"At this point, nothing has been done with the contributions received in 2014," she said Thursday. "It was a contribution from a past cycle. The contributions we receive this cycle were given with the understanding that they would go to elect Democrats up and down the ballot."
Asked whether Quiros' values "align" with those of the Vermont Democratic Party, Amestoy provided a one-word answer: "No."