File: CALEB KENNA
The headquarters of the Rutland Herald
Updated at 7:29 p.m.
The longtime owners of the
Rutland Herald
and
Barre-Montpelier Times Argus
have agreed to sell the Vermont newspapers to a company headed by a Maine publisher and a semiretired New Hampshire printing executive.
Herald Association president R. John Mitchell, whose father bought a stake in the
Herald
in 1947, announced the sale on the paper's website late Wednesday in
a story written by his son
, editor in chief Rob Mitchell. It appeared on the front page of the
Herald
and
Times Argus
Thursday morning.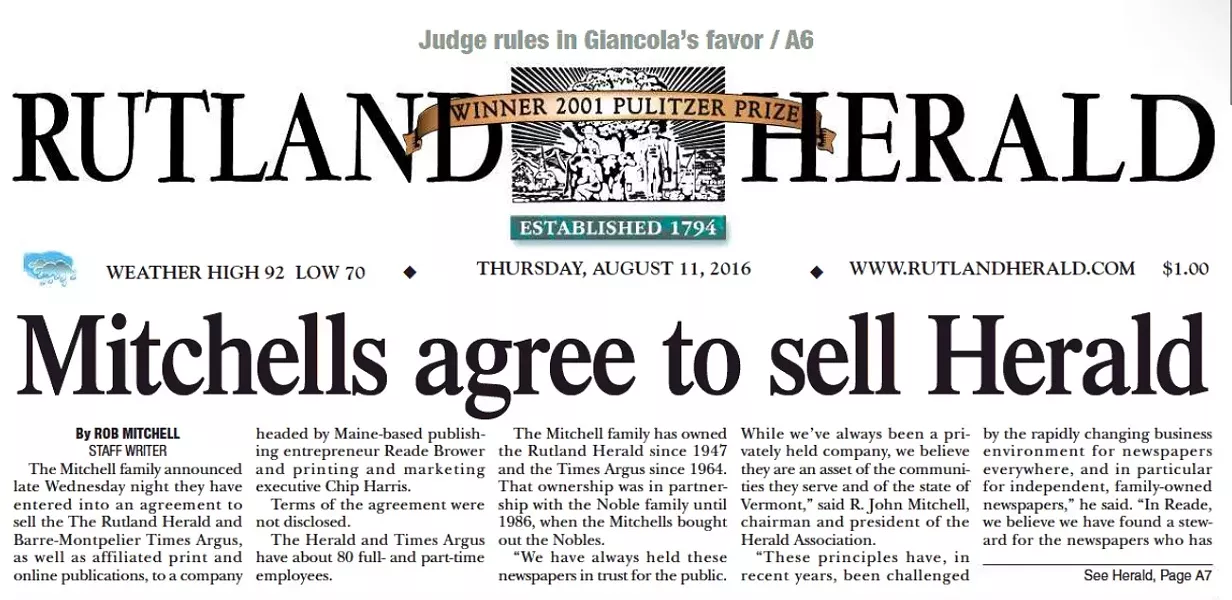 Screenshot
The front page of the Rutland Herald on August 11, 2016
"We have always held these newspapers in trust for the public," the son quoted his father as saying. "While we've always been a privately held company, we believe they are an asset of the communities they serve and of the state of Vermont."
If completed, the sale would bring to a close 222 years of local ownership. The
Herald
was founded in 1794 and has billed itself as "the oldest continuously family-owned newspaper in the United States published under the same name in the same city."
The buyers — Reade Brower of Camden, Maine, and Chip Harris of Center Harbor, N.H. — said they are committed to turning the papers around.
"I don't have a cut and slash personality," Brower told
Seven Days
Thursday afternoon. "I believe that you can't save your way to prosperity. People are willing to pay for something if it's good. I'm only interested in properties that I believe still serve their communities and are viable — and these two papers sort of fit the mold."
Brower, 59, has been in the newspaper business since 1985, when he founded the weekly
Free Press
in Rockland, Maine. In June 2015, he bought the newspaper group that owns the
Portland Press Herald
and several other major Maine papers. Harris, a 67-year-old former reporter, cofounded Upper Valley Press, a New Hampshire company that prints the
Herald
,
Times Argus
and
Seven Days
, among other newspapers.
"I'm excited," said Harris, who remains chairman of the Upper Valley Press board but is mostly retired. "We're saving a number of jobs in the process. And I do think the papers over the years have been excellent, quality papers — and I hope that we can keep the papers going, certainly, in that direction."
Neither buyers nor seller would disclose the terms of the sale. Brower and Harris both said they expected the deal to close quickly.
According to Harris, the two sides did not initiate discussions until last week, when word of the
Herald
's financial condition began to spread. Harris said he connected Mitchell, a longtime acquaintance, with Brower — and the parties began negotiating in earnest late last week.
"This was a very, very quick decision," Brower said. "The idea is there's a lot of stories and rumors going around. This is a good, easy way to quell them and start moving forward quickly."
As
Seven Days
first reported last Wednesday
, management has for weeks been late in compensating employees and freelancers. After
Herald
editor Alan Keays
published a story about the company's financial turmoil
in Friday's paper and advocated a follow-up for Saturday's edition, R. John Mitchell
fired him late Friday afternoon
. Employees briefly walked out and later threatened to quit if he was not rehired.
The Mitchells and publisher Catherine Nelson held a companywide meeting Monday morning to apologize for the late pay. They hinted at the time that they would have more to report soon. But when they were asked directly whether the
Herald
would be sold, Rob Mitchell said it would not, according to sources who attended the meeting. He did not respond to a request for comment.
Later that day, managing online editor Patty Minichiello tendered her resignation. She had worked at the paper for all but an eight-month period since 2004.
"I did not agree with the decision to fire Alan," she told
Seven Days
Thursday. "And that's why I resigned."
In
an interview with Vermont Public Radio's Patti Daniels
on Thursday, Rob Mitchell described his family's decision to sell as difficult but necessary.
"I think my greater fear in all this was that it would all come to an end," he said. "And I think we have managed to find a way forward, which is a great relief."
Brower described the situation in similarly dire terms.
"When somebody says, 'I'm in need of help,' and you say, 'I'm gonna study this for a month,' as they starve — by the time you take over, there's nothing left," he told
Seven Days
. "So we wanted to get in very quickly to start helping them create a sustainable model."
Brower said it was "just too early to tell" what changes he and Harris might make to their new acquisitions, but he suggested they might reevaluate the Mitchells' decision
earlier this summer to drop print publication on Mondays, Tuesdays and Wednesdays.
"We're definitely looking at that — that we'll definitely look at returning some days of the week to print," he said. "We will definitely look at that. Honestly, we have to look at the numbers. It's hard when a decision was made before our involvement."
Harris said that he and his partner planned to "go slowly" and avoid "radical changes," but he echoed the desire to return to the daily model.
"It may need to come out more than four days a week," Harris said. "To me, a daily is a paper people can see darn close to daily."
Brower would not specifically commit to retaining all current employees, but he suggested that layoffs were not on his mind.
"We're not like some of the big corporations that will come in and take 400 jobs and slash them to 250," he said. "That's just not the way we've done things."
He added that he did not know whether the Mitchells would remain involved in the paper's production, but he suggested that Nelson would stay in place as publisher. R. John Mitchell relinquished that role last December, but continued to serve as the company's president. Rob Mitchell, who previously ran the papers' online operations, was named editor in chief at the time.
The family bought the
Herald
in 1947, along with partner Leroy Noble. They purchased the
Times Argus
in 1964. In 1986, the Mitchells bought out the Nobles.
"Literally my entire life my family has owned these newspapers — and almost my father's entire life," Rob Mitchell told VPR Thursday. "I think over the last couple of years, it just has been increasingly apparent to us and many other families like us that it is really difficult to be an independent family-owned newspaper in this day and age."
Brower, who also owns a printing press in Brunswick, Maine, has a history of purchasing distressed news organizations. In 2012, he swooped in to buy three Maine weeklies that had recently been shut down. Three years later, when the
Press Herald
was grappling with a printing problem, he bought its parent company, MaineToday Media, which also owns the
Maine Sunday Telegram
, Waterville's
Morning Sentinel
and Augusta's
Kennebec Journal
.
After buying the three weeklies, Brower said, he made small changes to make them more sustainable, such as putting up pay walls for online readers.
"The first thing I did was stop giving away content on the internet for free," he said. "It's like Dunkin' Donuts giving away coffee, hoping they'll buy more donuts!"
Lisa DeSisto, who had been CEO and publisher of the
Press Herald
for nearly three years before Brower bought the MaineToday group, called that ownership change "a very positive experience and a very smooth transition."
"He has been a great owner, because he doesn't get involved in the day-to-day operations. He has this great saying: 'If you touch it, you own it,'" DeSisto said. "So he lets us do what we do, which is produce great journalism and work hard to find a business model to sustain us for the long haul."
Brower seconded DeSisto's assessment of his hands-off style.
"I don't interfere much in the business," he said. "I mean, I have been in the Portland building five times in the last year — and sometimes it's just to get my parking stamp."