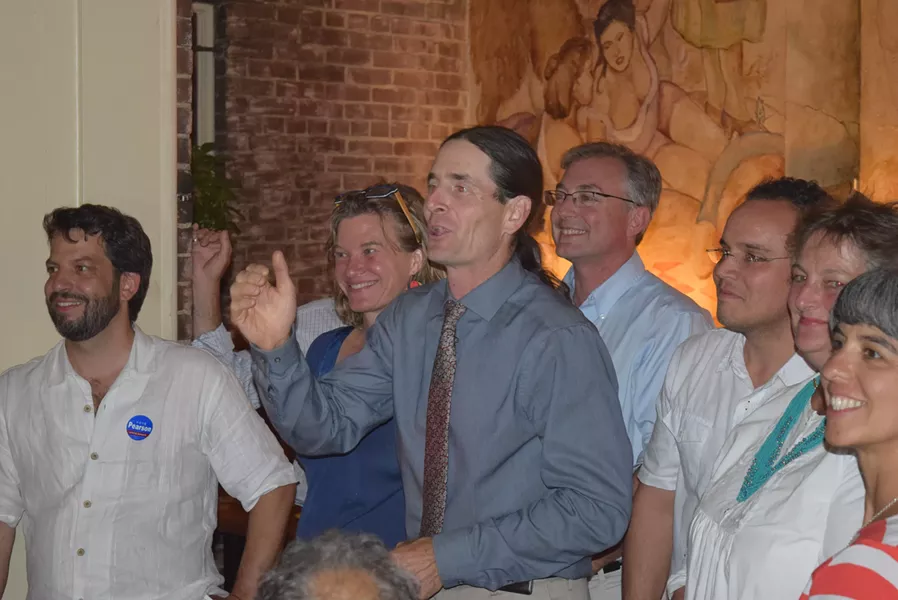 Terri Hallenbeck
Sen. David Zuckerman (P/D-Chittenden) celebrates winning the Democratic nomination for lieutenant governor Tuesday.
Sen. David Zuckerman (P/D-Chittenden) pulled off a surprisingly strong win Tuesday in the Democratic race for lieutenant governor.
After securing a late-in-the-game endorsement from U.S. Sen. Bernie Sanders (I-Vt.) last week, Zuckerman went on to defeat House Speaker Shap Smith (D-Morristown) and Rep. Kesha Ram (D-Burlington) in the Democratic Party primary.
Zuckerman was quick to credit his political mentor Tuesday, after the Associated Press declared him the winner around 10:30 p.m.
"Bernie inspired so many people in this room," Zuckerman said as jubilant supporters surrounded him at Sweetwaters restaurant in downtown Burlington. "We have real opportunity and an obligation to carry this message forward in Vermont's policy."
The 44-year-old organic farmer from Hinesburg led the field of three with 43 percent of the vote. Smith earned 37 percent, followed by 17 percent for Ram.
Terri Hallenbeck
Sen. David Zuckerman (P/D-Chittenden) votes Tuesday in Hinesburg with daughter Addie.
Zuckerman will face Republican Randy Brock of Swanton, a former state auditor and senator, in the November general election. Brock ran unopposed in his party's primary. Incumbent Lt. Gov. Phil Scott, a Republican, is giving up his seat to run for governor.
The newly minted Democratic nominee acknowledged Tuesday that Brock has more experience running statewide campaigns — first for auditor and then, in 2014, for governor — and will be a tough opponent.
Zuckerman has spent 18 years in the House and Senate, but this is his first statewide race.
He won by a margin that even he didn't predict. In Hinesburg on Tuesday afternoon, he told supporter Diane Derrick, "It's going to be neck and neck."
Zuckerman said Sanders' endorsement helped, but he thought voters also responded to his early backing of such issues as same-sex marriage, universal health care and economic equality.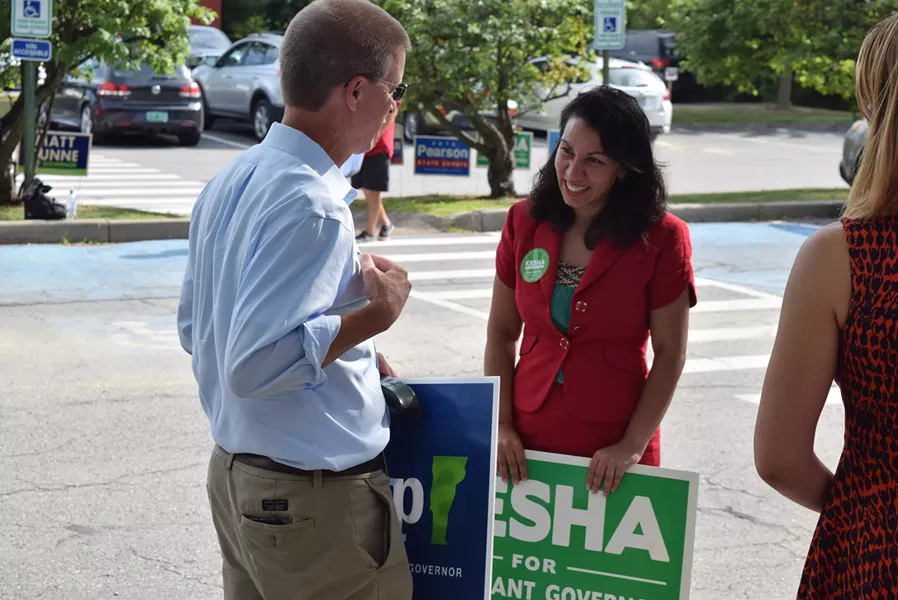 Terri Hallenbeck
House Speaker Shap Smith (D-Morristown) and Rep. Kesha Ram (D-Burlington) chat Tuesday as they campaign outside the Burlington Electric Department polling station.
"I really stuck my neck out on a number of progressive — with a small p — issues over the last 20 years," he said.
Indeed, Derrick said she voted for him because, "I think he's progressive enough for me, with a good balance."
Smith, a more moderate politician who served the last eight years in the high-profile position of House speaker, sought to distinguish himself in the race as the experienced leader who could deliver on tough issues. It was with Smith leading the House in 2009 that Vermont's same-sex marriage law passed by a single vote.
But Smith acknowledged Tuesday that he joined the race late — in May — and had to play catch-up on fundraising and building a field staff. He had started the 2016 campaign season running for governor, but dropped that bid in November after his wife was diagnosed with cancer. With her on the mend, he opted to run for lieutenant governor.
"I got in the race because I really wanted to be involved in the difficult decisions over the next couple years," Smith said as he campaigned in Burlington on Tuesday afternoon.
Smith, 50, said he deliberately spent his time and campaign money building a ground game to identify supporters and get them out to vote — rather than invest in statewide television ads. He had fewer lawn signs than his opponents, he said, because, "lawn signs don't vote."
"We made 60,000 calls," he said. "We called every single person who had an absentee ballot." But, he conceded, "You don't know whether it will work."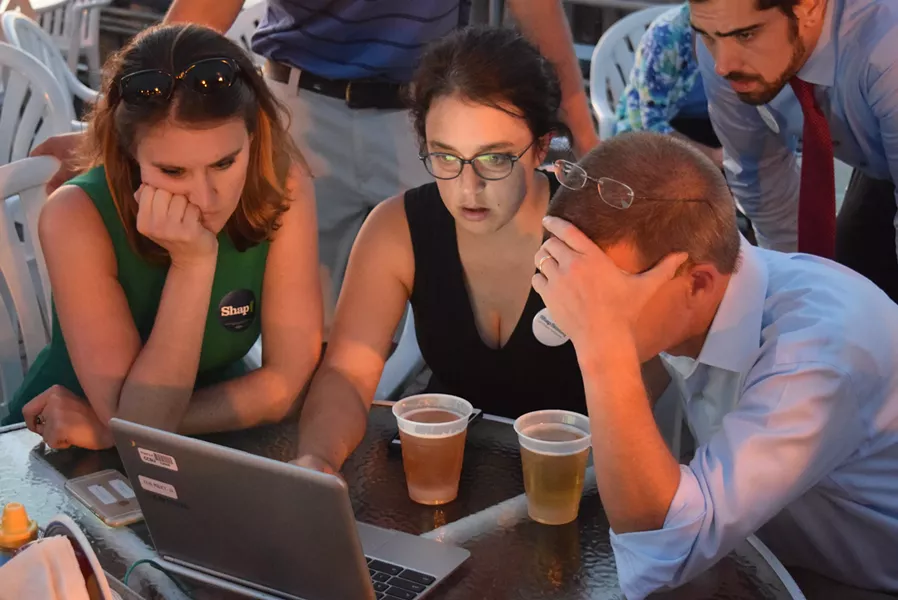 Terri Hallenbeck
House Speaker Shap Smith (D-Morristown) looks over results early Tuesday evening at Breakwater Café & Grill with campaign manager Erika Wolffing (left) and supporter Candace Morgan.
At 8:30 p.m., Smith huddled over a laptop with his campaign staff and his wife at Breakwater Café & Grill on the Burlington waterfront as disappointing results streamed in. Around him, longtime supporters told him it was early and he'd pick up support as the night went on. Smith's glum silence suggested he knew otherwise.
Earlier in the day, he said, "I really would like to win," but added, "I have a nice life if I lose."
Ram, who at age 30 was the youngest and least experienced candidate in the race, said name recognition was her biggest challenge. She focused her efforts on telling her story — born to a father from India and a Jewish mother — as someone who has already served as a legislator, as a childcare worker and as an advocate for domestic violence victims.
"I do think we have the biggest mail media program," she said of fliers she blitzed voters with. "We wanted to tell my story. We made the decision this was the best way to do it."
Zuckerman, meanwhile, hit social media, handed out his own farm-grown carrots at parades and managed to reach voters without the help of the Vermont Democratic Party's contact list. The party denied him access after he declined to declare himself a "bona fide" Democrat, as he put it, "if it means putting the Democratic Party above policy."
Now, Zuckerman is the Democratic Party's candidate for lieutenant governor. It remains to be seen whether the party will fully embrace him.
Zuckerman continues an electoral strategy that he used to win a Senate seat and that other Progressives have used in recent years to run for higher office in the Democratic Party primary. If elected, he would be the highest-ranking Progressive to hold state office. Auditor Doug Hoffer, who also employed the hybrid party strategy, is the only Progressive ever elected to statewide office.
Longtime Vermont Progressives, including Sanders aide Phil Fiermonte and former Progressive Party chair Martha Abbott, filled the bar at Sweetwaters as Zuckerman basked in his victory. Zuckerman gave them a nod for building a base over many years that helped him win Tuesday.
Abbott said Zuckerman's win is important not so much for the party but for the Progressive movement that Sanders started 40 years ago as Burlington mayor — and advanced as a presidential candidate this year.
"It means Bernie's revolution can really proceed in Vermont. That was in danger of not happening," Abbott said. "You need someone who can put the bold ideas out there before they're popular."
Check out photos from the primaries