James Buck
Democratic gubernatorial nominee Sue Minter embraces former governor Madeleine Kunin Tuesday night in Burlington.
Former transportation secretary Sue Minter defeated two Democratic rivals Tuesday to claim her party's gubernatorial nomination. The Waterbury resident won nearly 50 percent of the Democratic primary vote, while former senator Matt Dunne picked up 37 percent and former ambassador Peter Galbraith 9 percent.
The newly minted nominee will face Republican Lt. Gov. Phil Scott of Berlin in November's general election. The two are competing to succeed three-term Democratic Gov. Peter Shumlin, who is not running for reelection.
Scott, the co-owner of a Middlesex excavation company, handily defeated retired Wall Street banker Bruce Lisman for the GOP nod. Lisman spent nearly three times as much money — largely on negative advertising — but Scott prevailed, 60 percent to 39 percent.
Molly Walsh
Lt. Gov. Phil Scott addresses supporters Tuesday night in Barre.
"Tonight we can say with certainty that this campaign settles an important debate: Negative campaigns don't work in Vermont," Scott told supporters Tuesday night during a victory party at Barre's Vermont Granite Museum. "No matter who you are, no matter how much you spend, the high road leads to victory."
Scott cleaned up in the central Vermont towns where he's spent most of his life. He won more than 80 percent of the vote in Barre Town, Barre City, Northfield, Montpelier, Waterbury and Berlin. Lisman, a Burlington native and resident of Shelburne, did best in populous Chittenden County. He prevailed in South Burlington, Charlotte and Shelburne — and ran even with Scott in Williston.
On the Democratic side, Minter pulled off a stunning defeat of Dunne, a three-time statewide candidate whom many viewed as her political equal.
"This is really overwhelming," Minter said Tuesday night as she addressed jubilant supporters at Burlington's Main Street Landing.
In its final weeks, the previously polite Democratic primary turned touchy as Minter accused Dunne of flip-flopping on renewable energy siting; Dunne tied Minter to Shumlin and the Montpelier "establishment"; and Galbraith slammed both his rivals for benefiting from outside campaign spending. But at her victory rally Tuesday, Minter sought to downplay their disagreements.
"I grew up with three big brothers, and during my childhood we had a lot of tussles. We pushed each other — and, I'll tell you, this last year has kind of reminded me of those days," she said. "Because, you know, we played some tug-of-war. We challenged one another. But we've also had a lot of laughs together, throughout this whole process. And in the end we also know that, as Democrats, we are one family."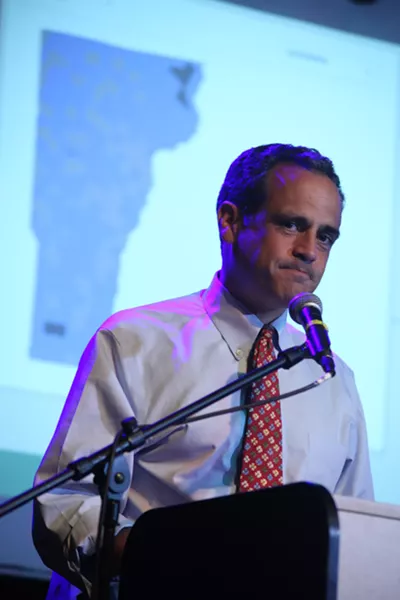 Matthew Thorsen
Democratic gubernatorial candidate Matt Dunne addresses supporters Tuesday night in Burlington.
At his own gathering at Burlington's ArtsRiot, Dunne said he would "absolutely" campaign for his former rival.
"I'm certainly going to work hard to make sure Sue Minter is the next governor of Vermont," he said.
In an emotional address to friends, family and supporters, Dunne said he was proud of "empowering" young people who worked on his campaign.
"What I've noticed in my career, in a bunch of different sectors … is that what's powerful is not whether or not you succeed in that particular moment, but whether or not you can leave a legacy of people who believe in a cause, who felt that they are more powerful than when they started and that they can make a difference in the world in their own way," he said.
Dunne declined to say whether he wished he'd done anything differently in his campaign, saying, "There's no point in second-guessing decisions."
Like Scott, Minter ran up the numbers in central Vermont. She took 78 percent of the vote in her hometown of Waterbury and two-thirds of it in Montpelier and Stowe. But she also performed well in Chittenden County, winning Burlington, the state's largest city, with nearly 60 percent of the vote.
Dunne, who spent years representing Windsor County in the Vermont Senate, won many Upper Valley towns, including Hartford, Windsor and his hometown of Hartland, which voted 76 percent in his favor. But his strongest showings were mostly limited to the less populated regions of the state. In the vast majority of Chittenden County, he failed to win more than a third of the vote.
Galbraith won a plurality in just eight precincts — mostly Northeast Kingdom and southern Vermont towns where wind power has been a hot-button issue, such as Newark, Grafton and Irasburg. The former state senator has long opposed large-scale wind projects.
In a statement responding to the results, Galbraith said that he had joined the race to force a discussion on issues ranging from raising the minimum wage to banning corporate campaign contributions.
"I always said that I was running not just to be governor but [to] do something for Vermont as governor," he said. "I won't be governor, but with the help of hundreds of Vermonters all over our wonderful state our campaign made the Democratic primary more progressive."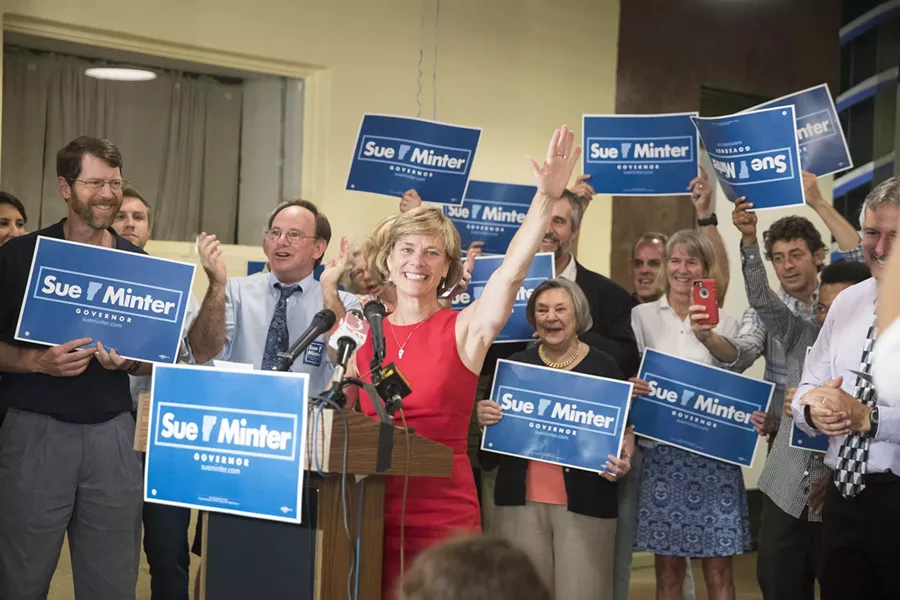 James Buck
Democratic gubernatorial nominee Sue Minter celebrates Tuesday night in Burlington.
Lisman joined roughly 100 supporters at the Hilton Burlington on Tuesday night to await the results. Twenty minutes after the AP declared that he'd lost, the ex-banker emerged from behind closed doors with a dour expression on his face.
"We lost," he said, simply, after taking the stage. "I feel like I let you down."
"No, you didn't!" an audience member yelled.
Though he came up short, Lisman said he was proud his campaign had put Scott through the paces.
"We were 60 points behind when we started," he noted.
Scott and Minter both sounded themes in their victory speeches that are likely to become familiar in the general election.
The lieutenant governor, who was introduced by his mother, Marian Scott, spoke of his humble roots growing up in Barre and attending Spaulding High School. He said he knew what it's like, as a small business owner, to worry about making payroll and to live paycheck to paycheck while trying to raise a family. And he pledged to make Vermont more affordable by lowering its tax burden.
"Taxes and fees are rising faster than our ability to pay," Scott said, pledging to create "a government that is by your side and not on our back."
Scott also pledged to run a fair and high-minded campaign in the general election.
"Let's make this an exchange of ideas and not an exchange of attacks," he said.
The crowd responded with cries of, "Absolutely!" and, "Yes!"
Molly Walsh
Lt. Gov. Phil Scott addresses supporters Tuesday night in Barre.
Minter touched on her own biography in her Tuesday speech — particularly her time as Tropical Storm Irene recovery officer in the Shumlin administration.
"I really learned the meaning of what it means to be 'Vermont strong,'" she said.
Minter dispensed hugs to her mother, Evelyn Minter,* and to former governor Madeleine Kunin, whom she hopes to follow as Vermont's second female governor. The candidate called Kunin "the leading light, the star that leads the pack" and left the podium to embrace her.
The Democratic nominee's speech was filled with optimism — and a clear response to Scott's argument that state government should do less, not more.
"All I know is that we have a great state. Vermont has never stopped being great," she said. "And we do not need to slow down. We need to charge forward to the future."
Asked in an interview later that evening how she differed from Scott, Minter said, "I'm a person who has experience actually delivering."
*Correction, August 10, 2016: An earlier version of this story misidentified Sue Minter's mother. Her name is Evelyn Minter.

Check out photos from the primaries