Terri Hallenbeck
Republicans on Wednesday rallied for party unity. From left to right: Scott Milne, U.S. Senate candidate; Randy Brock, lieutenant governor candidate; Phil Scott, candidate for governor; and Bruce Lisman.
Over the last nine months, Bruce Lisman spent more than $2 million trying to persuade voters that Phil Scott was unworthy of their votes. Wednesday morning, Lisman sat next to Scott in Montpelier, trying to make peace as Vermont Republicans celebrated Scott's victory.
"Phil Scott is going to be a great governor," Lisman told the audience at the party unity rally.
The remarks were a marked departure from what had gone down just days earlier: Lisman had accused Scott of election fraud, of an inability to resolve a "blatant" conflict of interest and of being unwilling to challenge Democrat Peter Shumlin's policies.
But hours after the primary election results came in, the GOP on Wednesday was all about coming together. Over a breakfast of scrambled eggs and hash browns, 125 Republicans made every outward indication that they were ready to set aside their differences and work together.
Lisman, a retired Wall Street executive, had never been active in the Vermont Republican Party before waging his failed run to be the party's 2016 gubernatorial nominee. He attended the rally Wednesday hat in hand — his bluster a thing of the past.
"I don't like losing," Lisman said after the event, adding: "These things happen. When you lose, you lose … No regrets about anything."
Scott, who's been lieutenant governor for six years, won the primary handily with 61 percent of the vote. He and many other political observers thought it would be much closer.
Scott accepted Lisman's peace offering without a hint of resentment — not far removed from what had been, at times, a nasty campaign.
"This is really time for our party to reunite," Scott told the crowd. "I'm looking forward to working with Bruce to restore balance in Montpelier."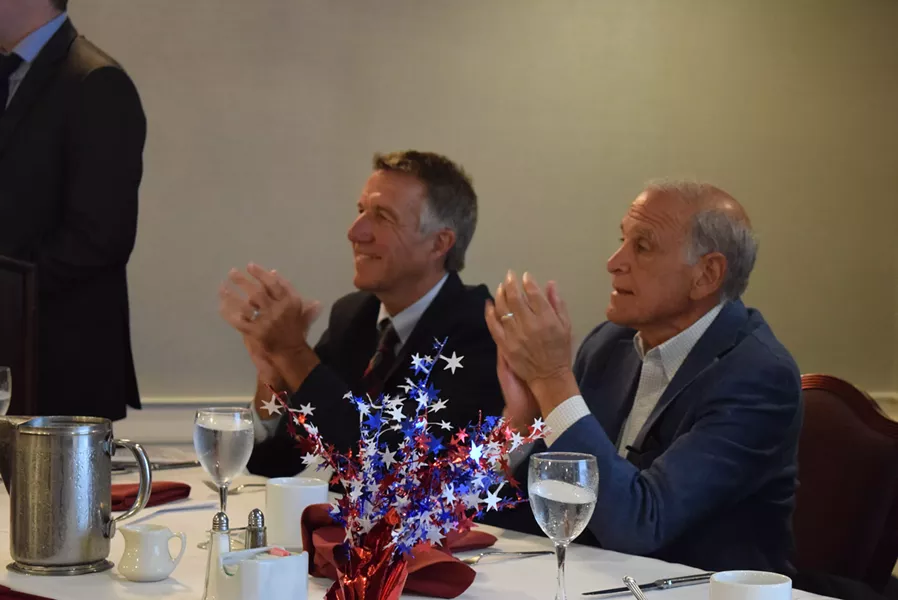 Terri Hallenbeck
Phil Scott (left) and Bruce Lisman sit side by side Wednesday.
Party chair David Sunderland, who late last week stepped between the two candidates
as things grew increasingly testy
, described the race politely as "certainly one of the most vibrant gubernatorial primaries in recent memory."
Wednesday, he thanked Lisman for raising valid issues about the state's economy. "We're here today to show we are coming together," Sunderland said.
Even Darcie Johnston, a longtime Scott critic, offered no outward hint of a lingering rift. "I am for Republicans up and down the ticket," Johnston, the state director for Donald Trump's presidential campaign, said after the rally.
Though Scott has disavowed her candidate, Trump, Johnston insisted, "I'm happy to be here."
If all the unity sounded like just talk, Republicans also offered some evidence of action. The party's candidates plan to work together on the campaign trail, Scott said. Such a solution — cohesion on the stump — has eluded Vermont Republicans in recent elections.
"The more we can work together on messaging, the more it will resonate," Scott said, noting that he's been working on a united front with Randy Brock, the Republican candidate for lieutenant governor. "Randy's team and I have already begun the conversation. We'd be happy … to expand on the coordination with all Republican candidates."
Brock said later that he and Scott plan to make campaign appearances together, acknowledging that the failure to do that in recent years has hurt the party. "Our campaigns are coordinating on every front," Brock said.
Terri Hallenbeck
Bruce Lisman and Darcie Johnston, who have both been vehement critics of Republican Phil Scott, backed off the criticism Wednesday.
Two years ago, when little-known Scott Milne was the Republican candidate for governor, many in the party kept their distance. Most weren't at an election night watch party when Milne nearly defeated incumbent Democratic Gov. Peter Shumlin.
Sunderland said that after the 2014 near upset, he no longer questions Milne's candidacy. On Wednesday, the party embraced Milne, who this year is the Republican candidate to challenge U.S. Sen. Patrick Leahy (D-Vt.).
Milne called on Republicans to remember theirs is the party of Lincoln. In 1858, Abraham Lincoln lost a race for U.S. Senate, he noted. The loss "didn't discourage him," Milne said, and two years later, Lincoln was elected president.
There was not much talk Wednesday about specific Democratic candidates whom Republicans will face in November. Instead, Republicans focused on a more general message of bringing balance back after six years of Democratic Party rule in Montpelier.
Party executive director Jeff Bartley fired up audience members by urging them to fight Democratic proposals for a carbon tax. He also said the party is launching a website —
racetomontpelier.com
— that aims to sign up 10,000 Vermonters pledging to vote Republican on early absentee ballots ahead of the November election.
National Republicans are joining the race, too. Shortly after Wednesday morning's unity rally, the
Republican Governors Association announced
it is launching a television ad in support of Scott.
Correction August 11, 2016: This story was updated to correct the name of the new GOP website.
View photos from the primaries