Jill Stein, the Green Party's likely presidential nominee, has come to Philadelphia to crash this week's Democratic party.


The Harvard-trained physician is working to recruit disgruntled Bernie Sanders supporters, several hundred of whom have traveled to the City of Brotherly Love to protest the Democrats' likely nomination of Hillary Clinton. The 66-year-old Stein is urging them — as well as their hero — to abandon the party of the Clintons and to carry on the political revolution under the Greens' banner.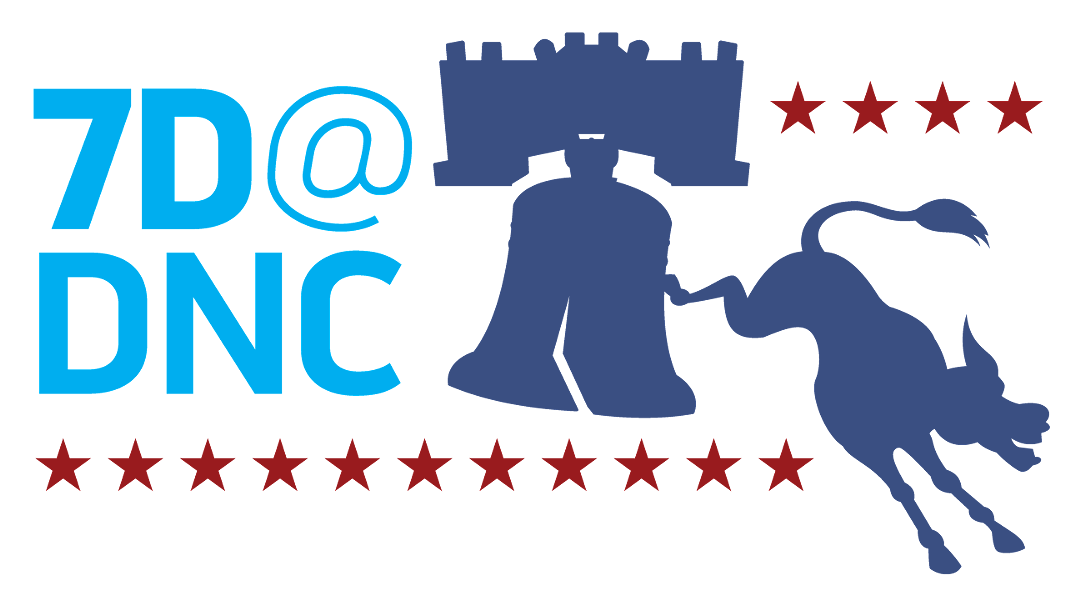 Most members of the "Bernie or Bust" brigade share Stein's view of the Democratic Party as a corrupt institution that conducted a rigged primary election. Hacked emails written by Democratic National Committee staffers "confirm people's worst suspicions that the DNC in fact sabotaged Bernie's campaign," Stein said in an interview Sunday at the Green Party's modest office on a working class residential street in West Philadelphia.



She said she believes that the Democrats engaged in what amounted to vote fraud in some primary states, including two of the largest — California and New York. The party's nominating rules were designed to ensure that an insurgent such as Sanders could not overtake the anointed candidate of the Democratic vicars, Stein maintained.

She pointed to the superdelegate device that the party devised in the aftermath of the successful nomination campaign of another maverick: Sen. George McGovern (D-S.D.), in 1972. Bunching southern-state primaries on a single day, Super Tuesday, was also a way for the party to snuff out a leftist uprising, she added.



"We saw the playing field being tilted over and over again," Stein declared.


But, Seven Days asked, doesn't this view unfairly discount the strength of African Americans' support for Clinton, which they flexed mightily on Super Tuesday? "It's very hard to say with a corrupt process where the corruption begins," Stein replied. She suggested that the press implicitly conspired with the Democratic hierarchy by giving Sanders cursory coverage in the run-up to Super Tuesday.



What happened to the Sanders campaign conforms to the Democratic Party's historic pattern of blunting and then trying to co-opt "people's movements," Stein said. The Democrats "feint to the left and march to the right," she observed, citing the examples of Jesse Jackson's progressive campaigns in 1984 and 1988.


Sanders is making a strategic error by choosing to behave like a good Democrat, Stein warned. "He climbed the mountain but he's not going to get to the Promised Land by staying inside the Democratic Party," she prophesied.


The Vermont senator demurred on TV talk shows Sunday when asked whether he would accept Stein's invitation to join the Greens. "As the longest-serving independent in the history of the United States Congress, as somebody who came into office by defeating an incumbent Democratic mayor in Burlington, Vt., I know something about third party politics. And I respect Jill," Sanders told an interviewer on "Meet the Press."



But, he emphasized, the primary political task for progressives is to defeat Donald Trump. And Sanders implied that voting for Clinton is the essential means of reaching that end.



Stein did acknowledge during the 25-minute interview that Sanders would not have had so profound a political impact had he run for president as an independent or as the nominee of a third party. Now, however, "a breaking point has been reached," she said. "Now we go forward as best we can. The revolution is a movement, not a man. And that revolution will be all the stronger for being liberated from the Democratic Party which sabotaged it."



Seven Days asked: While the Democratic Party may have a history of co-opting radical movements, don't third parties have a long record of futility in the United States?



Not always, Stein responded. The Republican Party was itself created in the 1850s as a third party on the basis of its opposition to slavery, Stein noted. And it elected a president — Abraham Lincoln — a few years later.



"Abolitionist parties were called spoilers for threatening the lesser evil with truly transformative change," Stein said. "We're at another time when we need transformative change."



The 1960s was also a time of great potential for transformative change, this reporter noted. Several attempts were made then to form effective third parties, but all fizzled into obscurity. Why would the Greens be any different?



"This moment is fundamentally different," Stein answered. "A day of reckoning is on its way, whether you're looking at climate catastrophe, endless war, nuclear Armageddon. There is a finality now that's never been matched in history. So many people have nothing to lose by bringing about transformative change."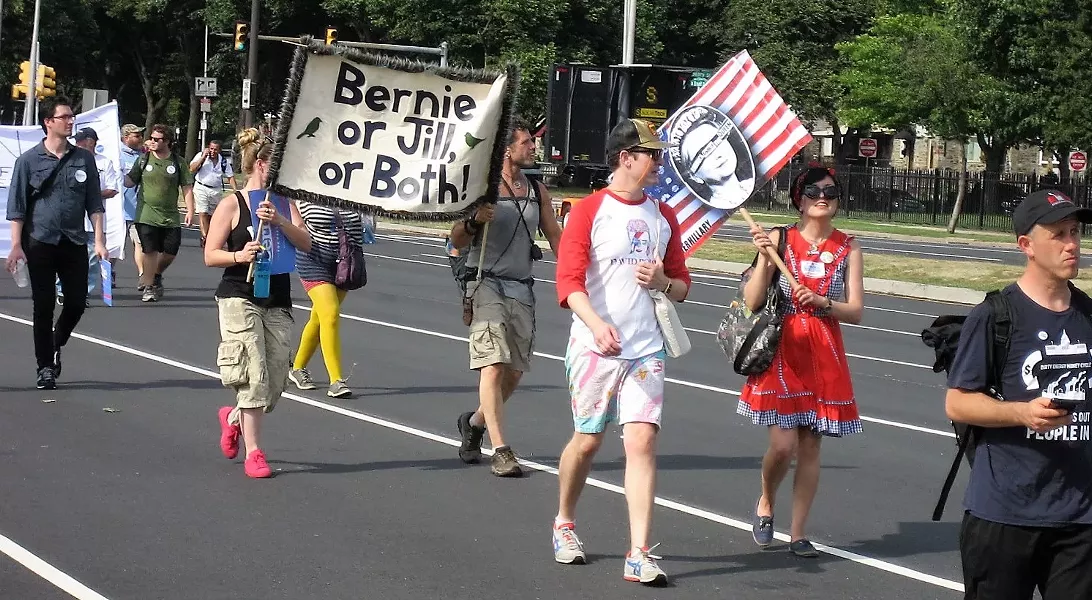 Kevin J. Kelley
Some Sanders backers marching in Philadelphia Sunday showed support for Green Party candidate Jill Stein.
Millennials will lead the way, Stein added. Many young adults are victims of "predatory student loans," Stein said. Because those billions of dollars of indebtedness represent a "gateway issue," she is making their cancellation the main plank in her campaign platform.



The potential of the internet and social media as organizing tools will also enable progressives to transcend the performance of their antecedents in the 1960s, Stein asserted.



In urging the 40 million or so millennials to vote Green, Stein rejects the argument that her candidacy could benefit Donald Trump by whittling away support for Hillary Clinton. "The question is, do we want to fix this screwed up political system by silencing political opposition? That's tyranny. And we go to war against tyrannies," she said.



"We don't need to split the vote," Stein added. "We can flip the vote." The American electorate is primed to support radical change, she insisted.



Putting Clinton in the White House will not eliminate the menace that Trump represents, she added. "You can't fight fascism with neoliberalism," Stein declared. "The Clintons created this groundswell for Trump through NAFTA and through Wall Street deregulation."



Stein suggested that Trump is to the left of Clinton on some key issues, such as opposing free trade agreements.



What would constitute victory for the Green Party in November? Would a 5 percent share of the national vote count as a historic breakthrough?



Stein did not answer directly. She said: "I consider a victory to be acting on our moral responsibility. I could not forgive myself if I didn't fight as hard as I can. I am a mother — on fire and really aware of what the stakes are right now for my own kids and all kids."