Paul Heintz
Hillary Clinton and Bernie Sanders campaign together Tuesday morning in Portsmouth, N.H.
Updated at 8:39 p.m.
Sen. Bernie Sanders (I-Vt.) brought his insurgent presidential campaign to a close Tuesday morning and offered a robust endorsement to Democratic rival Hillary Clinton.
Standing beside her in a Portsmouth, N.H., high school gymnasium, Sanders thanked his supporters for delivering more votes, states and delegates "than almost anyone thought we could win."
"But it is not enough to win the nomination," he conceded. "Secretary Clinton has won the Democratic nomination."
The campaigns worked hard to project a message of unity, hanging blue and white banners throughout the gym reading "Stronger Together." The candidates emerged together, waved to audience members and stood arm in arm, whispering to one another.
But they were quickly reminded of the deep divisions that marked their protracted campaign. Sanders supporters held his campaign placards aloft and chanted his name. Some booed when he announced his endorsement — and at least a dozen walked right out of Portsmouth High School. Others in the crowd responded with cheers of "Hillary!" and "Unity!"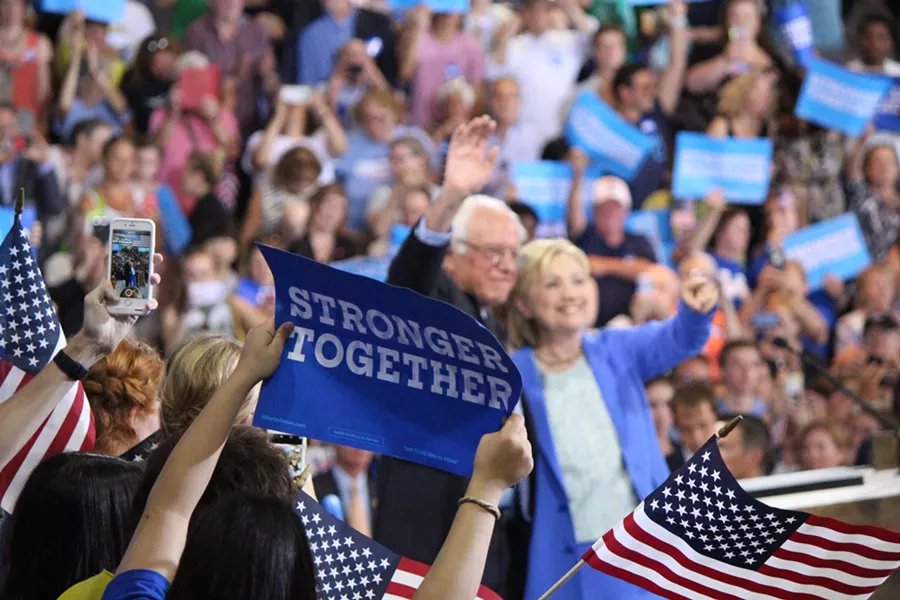 Paul Heintz
Hillary Clinton and Bernie Sanders campaign together Tuesday morning in Portsmouth, N.H.
Though some of his most fervent followers said they hoped that he would fight on to the Democratic National Convention, Sanders left little ambiguity about his intentions.
"She will be the Democratic nominee for president — and I intend to do everything I can to make certain she will be the next president," he said, vowing later "to campaign in every corner of this country to make certain that happens."
Sanders' endorsement came more than five weeks after Clinton clinched the Democratic nomination — a period during which he veered between defiance and acceptance. On Tuesday morning, he acknowledged the differences that animated their competition for more than 14 months.
"It is no secret that Hillary Clinton and I disagree on a number of issues," he said. But he pointed to the concessions she made drafting the Democratic Party platform, calling it "the most progressive" in the party's history.
Though he was endorsing Clinton, Sanders proceeded to deliver a lengthy stump speech of his own, inserting the words "Hillary understands that" in front of many a declaration. Clinton stood behind him with a nervous look on her face, clapping with the audience.
When it was her turn to speak, the presumptive nominee hailed Sanders' "lifetime of fighting for justice."
"His reputation for passionate advocacy hasn't always made him the most popular person in Washington," she said. "But you know what? That's generally a sign that you're doing something right."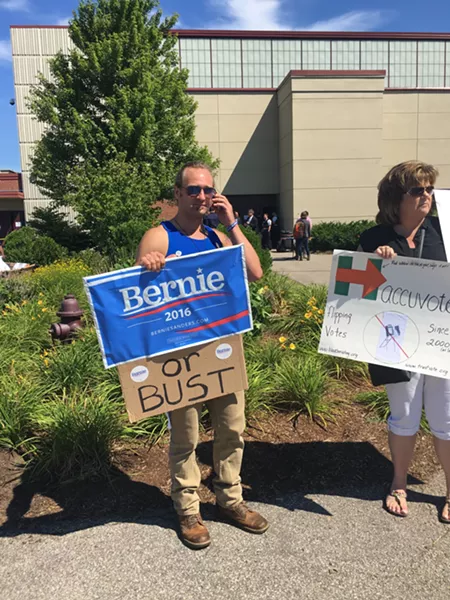 Paul Heintz
Clay King, left, protests Bernie Sanders' endorsement of Hillary Clinton Tuesday in Portsmouth, N.H.
Clinton acknowledged that many Sanders supporters remained reluctant to join the fold. She thanked them profusely for pouring their "heart and soul" into the Democratic primary.
"I was proud of the campaign we ran. It was a campaign about issues, not insults. And our country desperately needs your voices and involvement — and so does this campaign," she said. "You will always have a seat at the table when I am in the White House."
What comes next for Sanders remains to be seen. Though he conceded to Clinton, he did not immediately shutter his campaign, presumably so that he can continue to raise money. In an email to supporters, he said he would announce a "successor organization to carry on the struggle that we have been a part of these past 15 months." That organization would seek to "advance the progressive agenda" by electing "like-minded candidates," he wrote.
Sanders did not formally release his delegates to Clinton, though he still might before the convention begins in less than two weeks. Clinton's campaign is expected to grant him a prime-time speaking slot.
If Sanders' goal is to convince his supporters to rally behind Clinton, he has some work to do.
Outside the high school, a small group of Sanders backers made clear they had no intention of voting for Clinton. Clay King, a 35-year-old massage therapist from Kittery, Maine, held a sign that read, "Bernie or Bust."
"I hope that she endorses him," he said shortly before the program began. "He's the only one who truly represents me and my struggle and the middle class."
Endorsement or not, King vowed to write in Sanders' name in November, vote for Green Party candidate Jill Stein or simply abstain from voting altogether.
Stein seemed ready to seize on the discontent.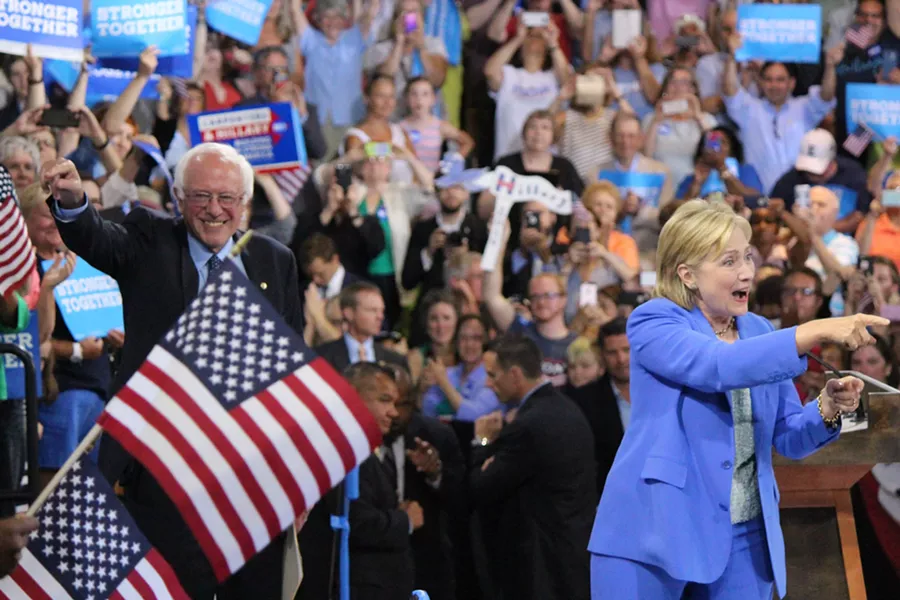 Paul Heintz
Hillary Clinton and Bernie Sanders campaign together Tuesday morning in Portsmouth, N.H.
"If you don't want to vote for a warmonger or racist billionaire, there are more options," she wrote Tuesday morning on Twitter. "The political revolution will keep going."
Inside the high school, Kathleen West of Gorham, Maine, said she attended the event because she "wanted to make sure to hear it from Bernie himself — not the media, the internet, all that crap." Wearing a blue Sanders T-shirt, the 53-year-old barn manager bemoaned the Vermonter's decision not to fight on through the convention.
"I understand Bernie's move. The poor guy is probably worn out," West said. "But I don't trust Hillary."
At least one Sanders supporter seemed to be coming around to the idea of voting for Clinton: Collin Young, a 23-year-old resident of Lanesborough, Mass., who works for a bulletproof glass manufacturer.
"To be honest, I wish it was the other way around," he said. "But I knew it was coming — and everything's better than Donald Trump."