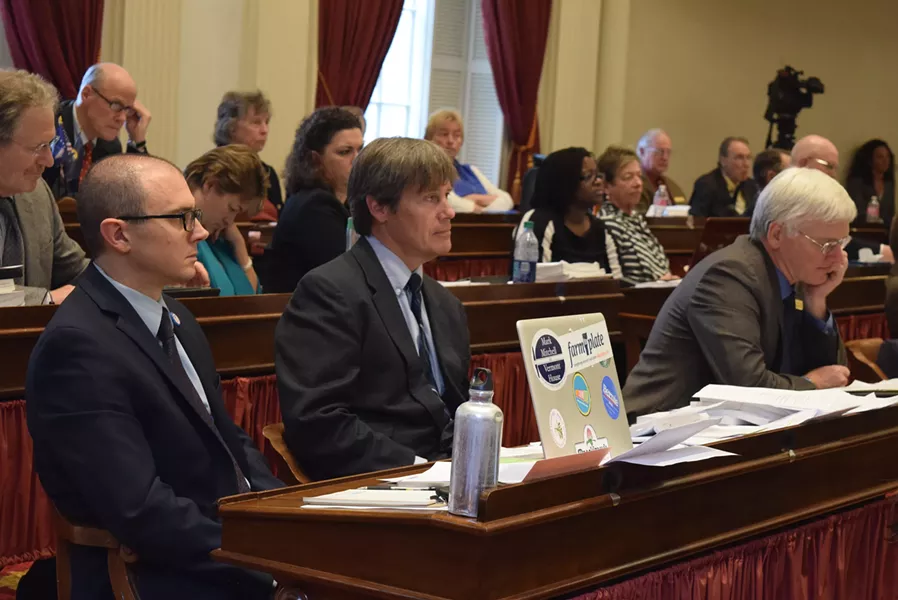 TERRI HALLENBECK
Rep. Chip Conquest (D-Newbury), center, listens to the debate about marijuana decriminalization Tuesday on the House floor.
More than two months after the Senate voted to legalize the sale and possession of marijuana, the House resoundingly declined to go along Tuesday.
An even more scaled-back bill to decriminalize home-growing of up to two marijuana plants also failed on the House floor.
In the end, the chamber barely agreed to create a commission to study legalization. With the legislative session expected to end this week, marijuana legalization supporters conceded they've run out of time to try for more.
"This obviously is not what we were asking for," said Matt Simon, New England political director for the Marijuana Policy Project, who watched from the sidelines through the seven-hour-long debate Tuesday.
"This is a nothing," said Senate Judiciary Committee chair Dick Sears (D-Bennington), who had championed the Senate's legalization bill.
Sears said he didn't know whether he would recommend the Senate embrace the creation of a study commission, which did pass the House. "I'd need 24 hours to sleep on it," he said.
Gov. Peter Shumlin, who pushed for legalization in his January State of the State address, sent out a statement almost immediately. "It is incredibly disappointing … that a majority of the House has shown a remarkable disregard for the sentiment of most Vermonters who understand that we must pursue a smarter policy when it comes to marijuana in this state," he said.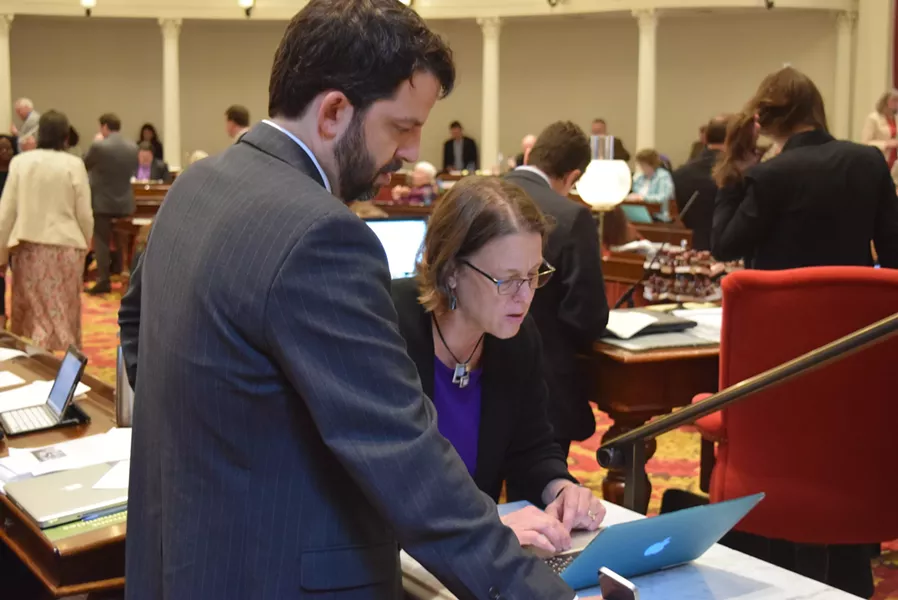 TERRI HALLENBECK
Reps. Chris Pearson (P-Burlington) and Kate Webb (D-Shelburne) discuss marijuana legislation during a break Tuesday.
The House vote against the Senate's legalization plan
, which would have taxed the sale of marijuana at state-permitted stores, wasn't close: 121-28
.
House Speaker Shap Smith (D-Morristown), who said he would have voted against the Senate legalization bill but would vote for decriminalization of home cultivation, had warned that legalization lacked support in his chamber. Tuesday's vote affirmed that.
What had been less clear until Tuesday's vote was whether the House would support a scaled-back measure to remove criminal penalties for cultivation and possession of two pot plants. That went down by a
77-70 vote
as Tuesday afternoon turned to evening.
Vermont has already decriminalized possession of up to an ounce of marijuana. Supporters said removing criminal penalties for home-growing would allow users to avoid buying from drug dealers.
"I think it's time we recognize the present system does put people into contact with some kind of criminal element," said Rep. Chip Conquest (D-Newbury), lead sponsor of the decriminalization measure.
House members peppered Conquest with questions. If lawmakers decriminalize two plants and a person harvests 16 ounces, is he or she in violation of the law, asked Rep. Cynthia Browning (D-Arlington).
Not as long as the marijuana is kept in a secure place, Conquest said.
Still, Browning questioned the quantity, calling 16 ounces "not a small amount of marijuana."
Shortly after 6:30 p.m., the House cast its last roll-call vote on the issue of creating a commission to study legalization and directing state agencies to expand drug prevention programs for youth and to increase drugged-driving training for police.
It passed 77-68.
The bill includes no money to fund those efforts, however.
TERRI HALLENBECK
Rep. Chip Conquest (D-Newbury) speaks about marijuana legislation Tuesday on the House floor.
Simon took some solace in passage of the commission, saying, "I'm pleased the conversation is going to continue, if the commission does materialize."
As the day started, some House members urged their colleagues to embrace legalization. Rep. Chris Pearson (P-Burlington) questioned why it's OK to drink a glass of chardonnay but not consume cannabis. He said it was time to treat marijuana more like alcohol.
"I think people are ready to take this conversation out of the shadows," he said.
Rep. Maxine Grad (D-Moretown), chair of the House Judiciary Committee, countered that the Senate legalization bill,
S. 241
, would allow for a large-scale commercial marijuana market to take root in Vermont. "S. 241 is not the Vermont way," she said.
After the House voted down the legalization measure, members turned their attention to decriminalization of growing two plants at home. House leaders had indicated the vote would be close. The 77-70 defeat included most Republicans, but also a few Democrats.
"I spent a half-hour last night with my chief of police," said Rep. Kevin Christie (D-Hartford). "One of his direct comments was, 'We're not ready … This is not a solution.'"
House Minority Leader Don Turner (R-Milton) was opposed to both legalization and decriminalization. He failed, by a
97-51 vote
, to pass an amendment to put the question of legalizing marijuana directly to voters on the August statewide primary election ballot. The question would be non-binding, as Vermont lacks a procedure for voter initiatives.
"I call this out pretty plainly as a Trojan horse," House Majority Leader Sarah Copeland Hanzas (D-Bradford) told fellow Democrats. If Turner wanted an accurate gauge of public opinion, he would have chosen the November general election for a referendum, she said.
In 2012, 54,533 Vermonters voted in the primary and 301,793 voted in the general election, noted Assistant Majority Leader Kate Webb (D-Shelburne).
Turner said he chose the state primary election because it brings out a greater percentage of longtime Vermont residents, rather than college students who just register for a presidential election.
Marijuana legalization supporters said Tuesday that voters will get their say on the issue. "There will definitely be reverberations of this," said Eli Harrington, founder of
Vermontijuana
, a cannabis reform information hub. "The roll-call votes taken today will not be forgotten."