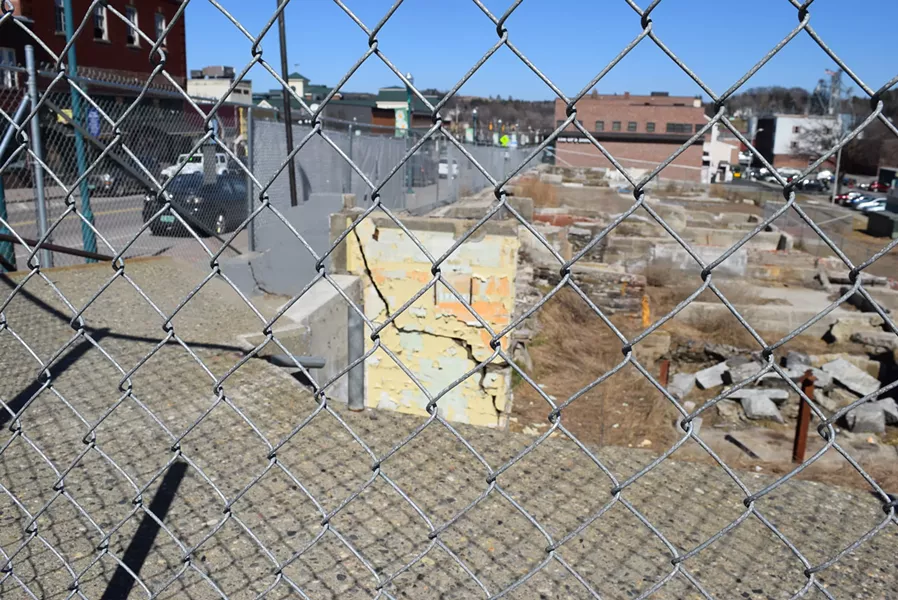 Terri Hallenbeck
A large gap remains along Main Street in Newport, where the Renaissance Block may never be built.
At Newport Jewelers on Main Street, owners Lincoln and Jo-Ann Brooks grappled Thursday with the news that was rocking their small Vermont city.
"He's a nice man," Jo-Ann Brooks said of Jay Peak president Bill Stenger, a Newport resident and loyal customer.
Stenger of
taking part in a massive fraud scheme
. State officials followed suit and a federal prosecutor said he was investigating possible criminal charges.
"I don't want to believe that," Jo-Ann Brooks said. "I want to believe it's his partner."
Indeed, Stenger's Miami-based partner, Ariel Quiros, is more seriously implicated in the civil charges, but both are accused of misallocating hundreds of millions of dollars and misleading investors.
Terri Hallenbeck
A sign touting the Renaissance Block project covers a fence on Main Street in Newport.
In Newport, the case strikes particularly close to home. It involves two development projects long promised to this hardscrabble city: the downtown Renaissance Block, which has left a gaping maw on Newport's Main Street, and the unfinished AnC Bio stem cell research plant on the city's outskirts. It involves two of the region's largest employers: Jay Peak Resort, 18 miles west, and Burke Mountain Ski Area, 40 miles southeast.
Federal and state authorities say Quiros and Stenger misallocated $200 million worth of foreign investment intended for projects in Newport, Jay and Burke — some $50 million of which allegedly went to pay personal expenses racked up by Quiros.
At a press conference Thursday afternoon in Montpelier
, Gov. Peter Shumlin indicated that Jay Peak and Burke Mountain would likely stay in business, under federal receivership, but he did not sound optimistic about the developments slated for Newport.
"I think we can assume that AnC Bio and the downtown Newport [Renaissance] project — the projects that have never gotten off the ground — will not happen," Shumlin said.
File: Paul Heintz
Jay Peak president Bill Stenger last August at Newport's Renaissance Block site
The Brookses were among those in Newport who had believed the Renaissance Block would breathe new life into the city.
"It's coming. Bill said he was going to do it," Lincoln Brooks
told Seven Days last August
.
Now, they feel differently as they look out the front door of their jewelry shop at the open pit across the street that was supposed to become a hotel, retail center and office space.
"I call that 'Beirut in downtown Newport,'" Jo-Ann Brooks said. "I'm disgusted with it. Wouldn't you be, if you had to look at it every day?"
What's left looks like a bombed-out cellar, she said. A construction fence is covered with signs depicting a stately row of buildings that will probably never be built.
"This could kill Newport," Lincoln Brooks said.
"I hope not," his wife responded.
Terri Hallenbeck
AnC Bio on the outskirts of Newport is unlikely to be completed following accusations that developers misused investments.
Last August, Newport Mayor Paul Monette also told
Seven Days
that he believed Stenger would come through, even as concerns were growing about the project's funding.
"I believe in Bill. I'm not worried," Monette said at the time. "I don't think he would do anything to hurt the community."
Thursday, Monette reacted to the news with caution. He responded to a request for an interview with a written statement.
"Like Gov. Shumlin, I am stunned and disappointed with the SEC report on the allegations of fraud in the Northeast Kingdom EB5 projects," he said. "We will continue to monitor these developments to evaluate the impact on the Newport City projects."
The Newport initiatives were not without skeptics, even from the start.
Jocelyn Bourassa, co-owner of Jocelyn and Cinta's Bake Shop on Main Street, said she thought, 'I'll believe it when it see it,' when plans emerged more than two years ago for a large hotel, retail space and office building.
"That's why it wasn't a big surprise," she said of Thursday's news.
Now that it appears the project is dead, Bourassa said, "A nice parking area with good signs would be very good."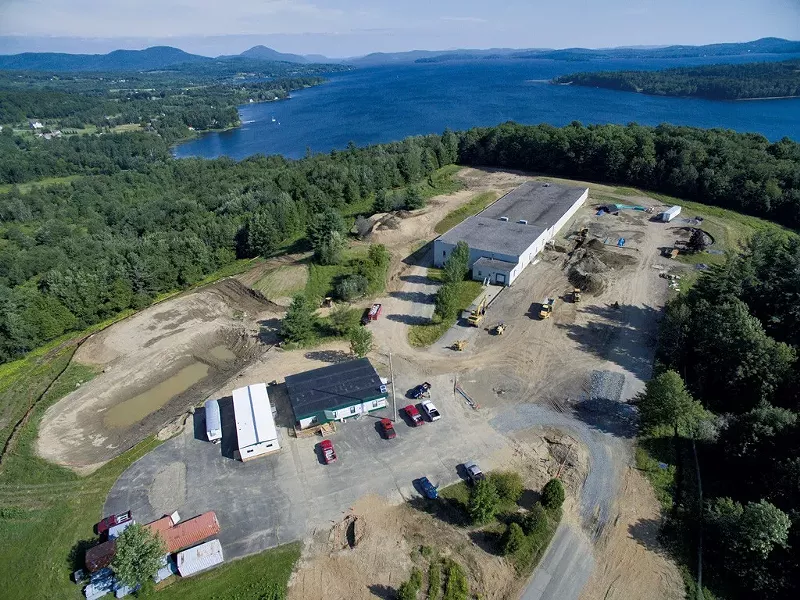 File: Don Whipple
The AnC Bio construction site in August 2015
At Thursday's press conference in Montpelier, Secretary of Commerce Pat Moulton said that permits obtained for the Renaissance Block required the area to be turned into a park if construction hasn't commenced by September 1, 2017.
Around the corner, at the Pick & Shovel hardware store, owner Greg Hamblett said he'd like to see parking and a smaller retail building fill the hole.
Hamblett said that when the project was proposed he wondered how it could be profitable in downtown Newport.
"Main Street's a tough place to do business," he said.
That, and the sheer size of all the projects Stenger and Quiros were proposing, raised doubts, Hamblett said.
"I guess everyone was a bit skeptical," he said. "Most of us thought that if you have that much money floating around, some of it is going to end up missing."
Paul Heintz contributed reporting to this story.