File: Jeb Wallace-Brodeur
Senate President Pro Tem John Campbell
Updated at 8:24 p.m.
After 16 years in the Vermont Senate and six as its president pro tempore, Sen. John Campbell (D-Windsor) will not run for reelection this fall.
"We've done a lot of good for the state of Vermont and, I think, for my constituents in Windsor County, but I think it's time for there to be a new view on where this state is going," Campbell said Monday afternoon. "It's time to get a new set of eyes and ears here."
The 62-year-old Quechee lawyer said he was stepping down to take a new job as executive director of the Department of State's Attorneys and Sheriffs. In that role, he will report to and advocate for county prosecutors and law enforcement officials.
"It's a good fit," said Campbell, who got his start as a Florida police officer and currently serves as a deputy state's attorney in Windsor County.
Campbell said he plans to leave his old job and start his new one next month, once the legislature adjourns for the biennium. He said he intends to serve out the remainder of his two-year term, which expires in January, and continue on as president pro tem until then.
VTDigger.org's Mark Johnson
broke the news of Campbell's plans Monday morning
.
The pro tem's departure will complete a highly unusual changing of the guard in Vermont politics. Gov. Peter Shumlin, Lt. Gov. Phil Scott and House Speaker Shap Smith (D-Morristown) all previously announced they would not seek reelection.
"There's going to be a lot of changes after this session," Scott said, comparing it to 2011, when Shumlin, Scott and Campbell assumed new leadership roles.
Already, the jockeying for Campbell's position has begun. Sen. Tim Ashe (D/P-Chittenden) and Sen. Chris Bray (D-Addison) both announced Monday that they would run for pro tem. Sen. Claire Ayer (D-Addison) and Sen. Ann Cummings (D-Washington) said they were considering it. Another likely contender, Sen. Phil Baruth (D-Chittenden), said it was too soon to say whether he would seek the position.
File: Jeb Wallace-Brodeur
Sen. Tim Ashe
Campbell praised Ashe and Ayer on Monday but declined to endorse a potential successor.
"Even if I did have a preference, I would probably hold back on that one because I don't think it would be fair to them," he said. "I think each one of them would have to and does have to make their case to the body as to why they would be best suited to be in charge."
The pro tem's retirement also opens up a rare seat in Windsor County's three-member delegation, which currently includes Sen. Dick McCormack (D-Windsor) and Sen. Alice Nitka (D-Windsor). Campbell
did
offer up an endorsement of one potential replacement: his 26-year-old assistant, Conor Kennedy.
"Quite honestly, I have never been as impressed with someone's ability to pick up on issues as quickly as he," Campbell said. "He's a young man with an older statesman's view of things. So I think he'll be a great statesperson."
Kennedy, who divides his time between his parents' house in Hartland and an apartment in Montpelier, said he was focused on the legislative session and had not decided whether to run.
"It's great to have the endorsement of the pro tem," said Kennedy, whose official title is Senate calendar secretary but who identifies himself as Campbell's deputy chief of staff. "I think it's certainly something I will consider and something that's always interested me, but at this point it would be too early to say that I am running for a Windsor County Senate seat."
Campbell points to Vermont's 2009 legalization of gay marriage as his proudest achievement during his eight terms in the Senate. At the time, he was serving as majority leader.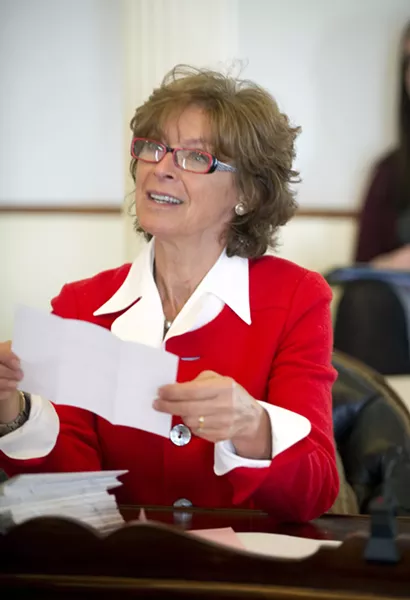 File: Jeb Wallace-Brodeur
Sen. Claire Ayer
"That, to me, was one of those moments and one of those issues that will only come along once in a lifetime," he said. "Of all the things we've done here, that was one that had a dramatic change on so many people's lives — not only here but also across the country."
Having led the Senate throughout Gov. Peter Shumlin's six-year tenure, Campbell helped usher countless other Democratic priorities through the legislature. He said he was particularly proud of two new laws last year aimed at cleaning up the state's lakes and reforming its child protection system. But throughout his tenure, Campbell has often appeared to play second or even third fiddle to the governor and Speaker Smith.
"John's effectiveness as a leader and a legislator is often undervalued because he does not seek the limelight," Shumlin said in a written statement. "Instead, he quietly builds consensus, working to bring people together to get things done."
Unlike his two most recent predecessors, Shumlin and Congressman Peter Welch (D-Vt.), Campbell was seen as a hands-off legislator who generally empowered — and deferred to — his committee chairs.
"I think he's worked really, really well and fluidly with his chairs, and so I think he has a deliberately shared legacy with the chairs that have been running the major committees," said Baruth, who clashed with Campbell during his first term as pro tem and subsequently became Campbell's majority leader. "He ran it that way rather than the way the House runs, where I think [Smith] does have a somewhat more top-down approach."
As chair of the Senate Appropriations Committee, Sen. Jane Kitchel (D-Caledonia) benefited from the arrangement.
"I'm really going to miss him," she said. "He's got good values. He tries to be fair. He started out, everyone knows, rocky — but he persisted."
File: Jeb Wallace-Brodeur
Sen. Chris Bray
Indeed, Campbell faced widespread criticism during his first two years in the post. Critics called him disorganized, impetuous and disconnected. In December 2012, Cummings and then-senator Diane Snelling, a Republican, both challenged Campbell for the pro tem position.
"Obviously, he and I had some differences," Cummings said. "I think he got the message and has just improved immensely. He definitely did what needed to be done and put himself out and worked really hard at it. And I think he's done a great job."
According to Scott, Campbell came "a long ways" since he first took charge of the Senate.
"I think that Sen. Campbell tries to please many, and that's maybe to his detriment — but he's done the best he could," the lieutenant governor said. "And I think, again, he tries to do what is best for all, from his perspective."
Campbell said Monday that he engaged in serious introspection after his first term and set about changing his ways.
"I think I learned to listen better," he said. "It's one thing to listen to a lot of people, but if you don't hear them it doesn't work."
He said he hoped to be remembered as someone who was "compassionate, considerate" and "looked out for the little guy."
Campbell said he decided to step down, in part, to allow others to tackle the state's most pressing challenges, such as the rising cost of health insurance and property taxes. Personal financial considerations also played a role. The position is a year-round job with part-time pay, he noted, and one that carries "financial repercussions."
"It gets tiring after a while," he said.
"I know in the past it's been very difficult for him financially, because you give up a lot to [serve]," said Sen. Dick Mazza (D-Grand Isle), a veteran of the institution. "I figured some day would come where he'd want to move on and do something with a little more [compensation] to it."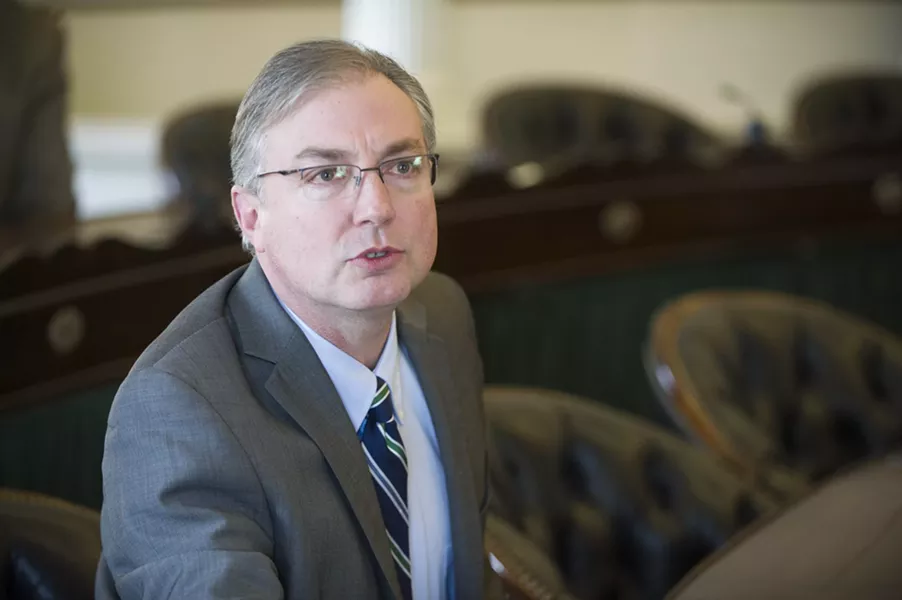 File: Jeb Wallace-Brodeur
Sen. Phil Baruth
Campbell's early announcement that he will not seek reelection could complicate the final weeks of the legislative session, as several senators jostle for advantage. Typically, the majority party convenes roughly a month after the November elections to nominate a candidate for pro tem. The Senate as a whole then formally votes on the matter as soon as the legislature convenes in January.
Several of the Senate's post powerful leaders — Kitchel, Mazza and Sen. Dick Sears (D-Bennington) — told
Seven Days
Monday that they would not seek the position. Ashe was the first to definitively declare Monday morning that he
would
.
"I am running for pro tem," the Senate Finance Committee chair said.
After eight years in the Senate and four running one of its most influential committees, Ashe argued that he was well-suited to bringing together the "30 really dynamic personalities" in the body.
"I feel at this point that I have the seasoning and have matured as a member of the Senate to the point where my skills are there to successfully lead the Senate," he said.
On Monday evening, Bray told
Seven Days
that he, too, would run for pro tem.
"I am interested in seeing a healthy, respectful, productive Senate," he said.
A former member of the House, Bray ran for lieutenant governor in 2010 and considered running for that position again this year. He is currently in his second term in the Senate and chairs the Committee on Natural Resources and Energy.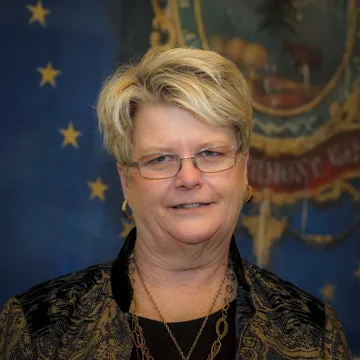 Courtesy: Vermont Senate
Sen. Ann Cummings
"I think I work respectfully with all my colleagues, and my goal is always to help the people I work with bring their best work forward," he said.
Reached Monday morning, Cummings said she had not heard that Campbell would relinquish his position. Nevertheless, she immediately said she was interested in succeeding him.
"This is a surprise, but, yeah, I think I would be," she said. "I think that the Senate really needs some strong leadership and needs some good organizational skills at the helm. I've been there a long time. I know how things work. I know people. I think I have the skills to do it."
Cummings has spent nearly two decades in the Senate — a decade as chair of the Finance Committee. She currently leads the Education Committee.
"I am definitely very interested," she said. "I'll have to talk to some folks, but I definitely would be seriously considering it."
Ayer said Monday that she had known Campbell had been thinking about stepping down, but she was nevertheless surprised by the timing.
"Most of us come to a point where we have to make a decision about our finances and how the Senate would fare without us," she said. "And none of us are indispensable."
A 14-year veteran of the Senate and chair of its Health and Welfare Committee, Ayer said she, too, was interested.
"It's a job that I will consider," she said. "I think it makes sense to have someone who's experienced and someone who knows how to work hard and someone who knows that it's a lot more than being a member or chair of a policy committee."
Baruth could also be a contender, but he said Monday that it was premature to campaign for the job before this fall's elections, when all 30 Senate seats will be up for grabs.
"At this point, I don't think anybody knows what the composition of the next Senate is," he said. "When we're in the Hilton on election night, you can come up to me as soon as we know and I will give you my specific thoughts on it."
Disclosure: Tim Ashe is the domestic partner of
Seven Days
publisher and coeditor Paula Routly.