Paul Heintz
Gov. Peter Shumlin addresses the Vermont Press Association Thursday in Montpelier.
Gov. Peter Shumlin may be leaving the building, but not before he torches the place.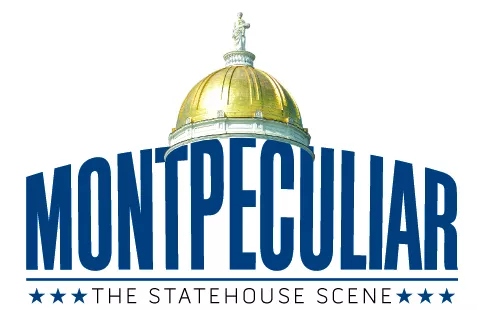 As the three-term Democrat nears the end of his rocky tenure, he appears to have abandoned any semblance of the filter he once had. Invited to address the Vermont Press Association's annual meeting Thursday, he took the opportunity to criticize the news media — and offer up a number of off-color jokes.
Those began the moment he took the podium at Montpelier's Capitol Plaza Hotel & Conference Center.
"Listen, I'm delighted to be here. Is this off the record?" he said, prompting laughter. "Is this off the record?"
"Are you buying drinks?" a member of the media called out.
"Buying drinks? Sure, we'll buy drinks," the governor responded. "I'll get you a big fatty, too, if you get that bill passed."
Shumlin was referring, presumably, to legislation that would legalize marijuana in Vermont.
"I want to thank you for all the great work you do covering Vermont — and just remind you that, uh, you're gonna miss me," he said. "Why are you laughing? Have you thought about it? I mean, you've seen the candidates running for governor — all parties. There is no way that you're going to have as much fun with the next governor as you had with me."
The audience continued to express its amusement.
"Why are you laughing? It's true!" Shumlin continued. "Have you thought about how boring it's gonna be? Seriously, this is a matter to discuss. Do you remember the last eight years before I came along?"
The laughter started to dissipate.
"You know what I'm talking about. I mean, read your own stories! It's gonna be a drag," he said. "What are you gonna do? Who are you gonna pick on? Where's the fun gonna be?"
What remaining laughter there was turned to nervous silence.
Secretary of State Jim Condos, who was seated at the far side of the room, said something inaudible.
"Secretary of state," Shumlin said. "Yeah, that's gonna be your best hope — that Condos trips going into a 'transparency tour.' Think about it: Eight years before me, what was the best quote you got?"
The incumbent did his best impression of former governor Jim Douglas, adopting a droll voice, "'Well, golly.'"
"So you've got a problem ahead," Shumlin said — rant, at long last, concluded.
He wasn't quite done with the off-color jokes.
As he ticked off what he saw as accomplishments in the energy arena, he brought up the Vermont Yankee nuclear power plant, which owner Entergy Corp. shut down in December 2014.
"I said when I ran, 'Listen, we're gonna shut down the old nuker,'" he recounted. "Nuker shut down. Not leaking anymore. Well, it's probably still leaking, but at least it's not producing power."
Jeff Potter, editor of the
Commons
, volunteered, "It's still leaking!"
"It's still leaking. Eh, they got kiddie pools," the governor said, referring to
the manner in which the plant is storing water contaminated with low levels of tritium
. "We'll be alright."
When the subject shifted to whether the Vermont State Police provided enough information to the press, Shumlin boasted that his administration "has been more transparent, done more public records request work and changed the rules, in terms of transparency for state government, than any other administration." He said he was "proud" that he would be the first governor to turn over his emails to the state archives.
Asked if he would commit to doing so immediately upon leaving office, he said, "I'm going to do what every other governor has done — whatever the time period is. You should see the stuff I put in those emails!"
"We'd like to," a reporter said. "Believe me."
"You'll be gray," he shot back.
Shumlin appeared most aggrieved by what he characterized as unfair coverage of his efforts to launch the state's federally mandated health insurance exchange.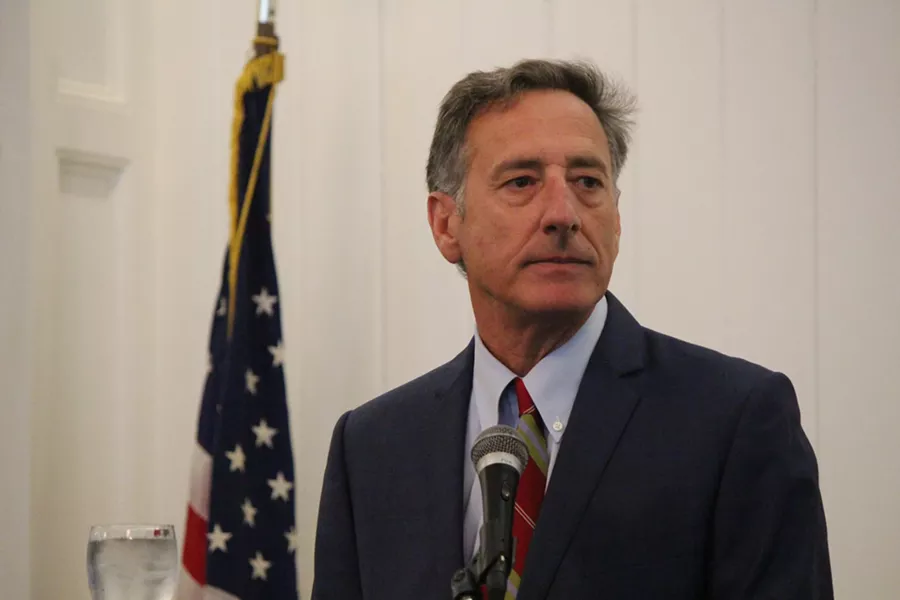 Paul Heintz
Gov. Peter Shumlin addresses the Vermont Press Association Thursday in Montpelier.
"Listen, if I had a dime for every story you've written about Vermont Health Connect that's negative, I wouldn't have to take my state retirement when I leave," he said. "I wouldn't."
Based on
the assets he disclosed during his 2014 campaign for governor
, he probably wouldn't have to either way.
Vermont Health Connect's successes, Shumlin argued, are "a pretty well-kept secret because it's good news — and I know good news doesn't get hits."
Moments later, though, he admitted that when the system's myriad technological failures were the subject of many a news story, things weren't all that hot.
"People were flipping out, and it was a disaster!" he said.
It's not anymore, he argued — not that you'd ever find out.
"I know we don't write positive stories," he said.
Shumlin sounded particularly sensitive about his low public approval ratings.
"I know that some have said, 'Hey, this governor doesn't get everything he wants.' You bet I don't. You're probably lucky," he said. "But this I can say: My strategy for being governor wasn't to hoard popularity. You mighta noticed. It wasn't to cut ribbons and claim we were making progress. It was to actually come in and get the tough things done."
Shumlin returned to the subject some time later.
"I don't think we need ribbon cutters. I think we need governors who are willing to not always be popular, but put out their best ideas and fight hard for the state that they love. That's what I've done. I'm proud of it," he said. "And I'm proud of all of you for what I think is, with a few exceptions, the most responsible and responsive press corps that we could ask for in a state. So thank you for all you do."
The governor's audience, for some reason, clapped.
Asked what he would do upon leaving office, Shumlin said he'd do what he always said he would — though "a lot of you didn't believe I would" — and return to the family business, Putney Student Travel. He noted that he had taken a "pay cut" to accept the governorship, which comes with a paltry $145,000 salary.
"I just wanna point that out," he said. "Sometimes it doesn't get reported. But, yeah, take a pay cut."
Then the gov got a little personal about his time in office.
"The part that I didn't know was going to happen was, I fell in love, got married and, you know, have been blessed with an extraordinary partner," Shumlin said, referring to his third wife, Katie Hunt, whom he married last December. "We've been together as long as I've been governor. And, I gotta tell you, I don't recommend dating a governor — if you're thinking about doing that — because you're never home and, when you're home, you're always working."
Noted.
"So in addition to going back to the private sector, I'm really looking forward to spending quality time with Katie, who I'm lucky enough to have as a partner," he said. "Full stop."
Except, it wasn't full stop. He had something else to say.
"And when you all write these things — 'Oh, he's supporting [Democratic presidential candidate Hillary Clinton] because he wants to go to Washington and be in the cabinet, blah, blah, blah' — I have no desire to go to Washington," he said.
Traveling to the nation's capital each week, Shumlin said, "is my idea of hell."
"I'm a Vermonter — and I want to sleep in Vermont," he concluded. "
With
a Vermonter."
Come to think of it, Shummy might be right. We
may
actually miss the guy.