Paul Heintz
Congressman James Clyburn and Hillary Clinton Friday in Orangeburg, S.C.
On the eve of South Carolina's Democratic presidential primary, former secretary of state Hillary Clinton and Sen. Bernie Sanders (I-Vt.) nearly collided in the city of Orangeburg.
The two held competing rallies Friday afternoon at neighboring schools — South Carolina State University and Claflin University — less than a quarter of a mile apart. Then both candidates dropped by an oyster roast and fish fry hosted by a local politician at the county fairgrounds — barely missing one another.
The close encounter was a rare moment of drama in a race that, in the past week, has become a bit of a snoozer. Since losing the Nevada caucuses last Saturday, Sanders has all but conceded South Carolina, where he has long trailed Clinton in the polls. He spent much of the week outside the state.
Speaking in Orangeburg, which is three-quarters black, both candidates sought to appeal to the African American voters who will decide Saturday's election.
"A college like this that has such a storied history deserves our help and our support," Clinton told a small crowd at SCSU's Dukes Gymnasium. "That's why, in my [higher education] plan, I have a $25 billion fund for historically black colleges and universities — public
and
private. Because I know how important the HBCUs have been to educate so many leaders, so many professionals across the years that they have been operating."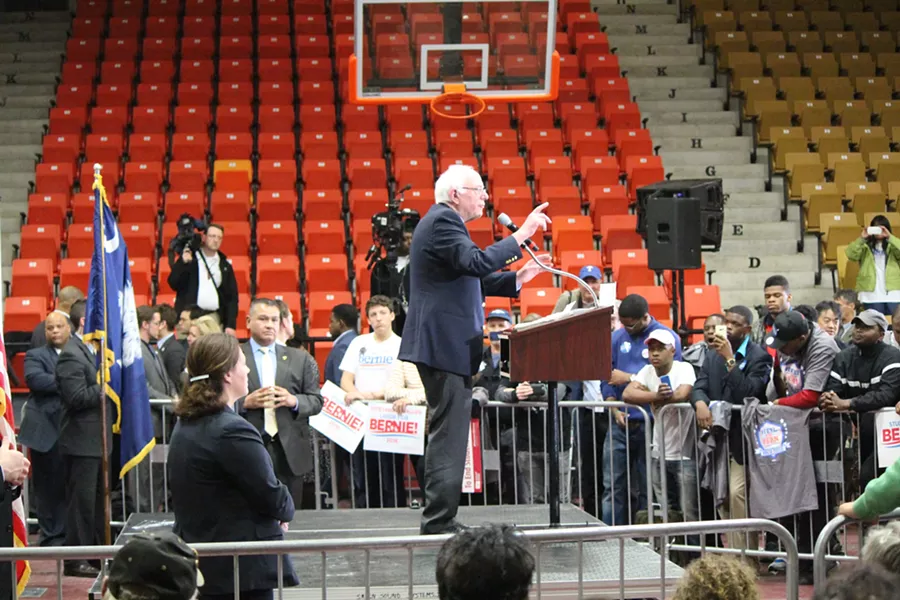 Paul Heintz
Sen. Bernie Sanders Friday in Orangeburg, S.C.
Joining Clinton at the school were a number of prominent supporters, including the singer K. Michelle and Congressman James Clyburn (D-S.C.), the third-ranking House Democrat.
"Nobody in the history of this nation has ever [run] for the presidency with the résumé that this woman has," said Clyburn, who gave Clinton his much-coveted endorsement last week. "She is a fighter. Nobody has suffered as much castigation as this lady has suffered."
A few blocks away, Sanders was joined at Claflin's sparsely filled Tullis Arena by several of his own supporters, including the rapper Killer Mike and state Rep. Justin Bamberg (D-Bamberg). Sanders made sure to name-drop nearly every other prominent African American who had endorsed his campaign, including former NAACP president Ben Jealous, the public intellectual Cornel West and Congressman Keith Ellison (D-Minn.)
"Danny Glover? Do you all know Danny Glover?" Sanders continued. "Harry Belafonte. How many of you guys remember Harry Belafonte? I've known Harry Belafonte since I was a kid."
Paul Heintz
Sen. Bernie Sanders and Killer Mike Friday in Orangeburg, S.C.
Killer Mike, whose real name is Michael Render, hailed Sanders as a champion for civil rights.
"For the first time in my life, I am seeing a politician call for true equality by way of policy and not asking me to wait," he said.
The rapper also tweaked the Clinton campaign's characterization of South Carolina as a "firewall" — or a state it could count on if it ran into political trouble elsewhere.
"That goddamn firewall got a crack in it," he said.
In addition to his usual focus on economic inequality and money in politics, Sanders addressed voting rights, criminal justice reform, the death penalty and African American unemployment. He also continued his attack on Clinton's support for the Welfare Reform Act of 1996.
"The idea behind it was that poor people were ripping off the welfare system, so they made major changes in it. The end result of that legislation was that extreme poverty — I'm talking about the poorest of the poor … the rates doubled because of that legislation," Sanders said. "I vigorously opposed that legislation. Secretary Clinton supported that legislation."
Paul Heintz
Arleather Hampton at Final Touch Bridal in Orangeburg, S.C.
Most recent polls have indicated that African Americans are far more likely to support Clinton than Sanders, but young voters tend to favor the Vermont senator. That divide was apparent in Orangeburg, where many older residents interviewed downtown said they planned to support Clinton, while students on the two campuses said they were feeling the Bern.
"She's carrying out some of the policies of President Obama," said seamstress Arleather Hampton, as she sewed a black gown in a back room at Final Touch Bridal. "The other candidates don't have a lot to offer this year."
A lifelong Orangeburg resident, Hampton said the most important issues to her were "gun control and ladies being paid the same as men." And Clinton, she said, was best equipped to fight for both.
"The children — they just don't have a chance anymore," she said, adding that, when she was younger, her peers were more likely to settle a dispute with their fists. "Now you step on my toes, you bump into me, it's a shootout. It just doesn't make any sense."
Like several people interviewed, Hampton said she'd like to see former president Bill Clinton back in the White House.
"I think she would do a good job because her husband was president," she said. "He could give her some support."
Across the street from Final Touch Bridal, 79-year-old Bobby Williams sat on a bench outside the BlueBird Theatre. He said he had been following Hillary Clinton's career since she was first lady.
"She workin' with the poor people then," he said. "I like her a lot. She a very nice lady."
Williams, who said he was looking for work and depended on Social Security, did not mince words when it came to Sanders.
"I don't like him. I just don't. I don't know why, but I don't like him," he said. "He makin' all these promises but ain't gonna get none of them done."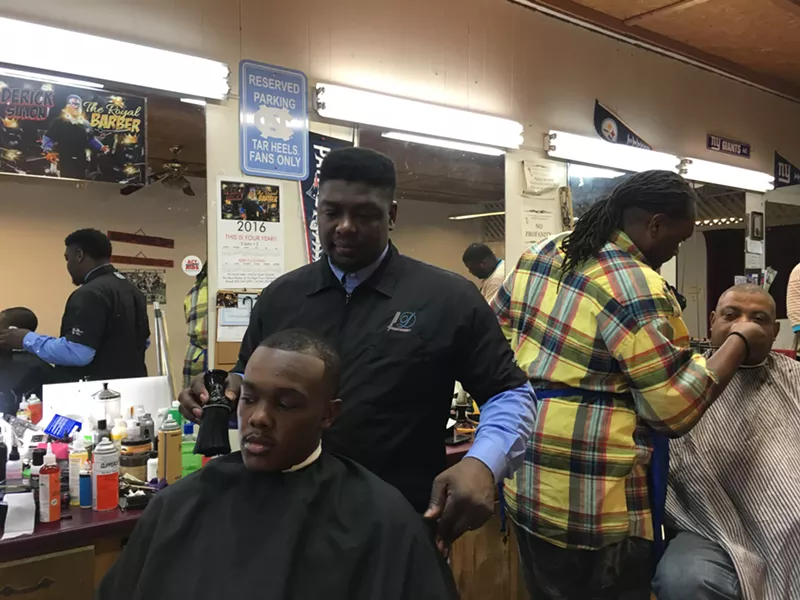 Paul Heintz
Barber Derick Simon at the Right Touch Barber Shop in Orangeburg, S.C.
Inside the Right Touch Barber Shop, Ed Rivers applied the clippers to one of a half dozen customers looking for a trim. He said he was most concerned about the cost of health insurance and college tuition.
Clinton is
"
just overall for the people,
"
the 35-year-old said.
"
She's got a lot of the values that Bill had. Really, when Bill was in office we had the best economy that we ever had in a long time, until Obama came into office. I know she gonna instill those same values if she gets into office.
"

Zachariah Johnson, a 44-year-old assistant manager at a furniture store, was among Rivers' customers. He said he hadn't quite made up his mind between Clinton and Sanders.
"I like both of them, to be honest with you," he said, adding that he'd like to see both on the same ticket. "They could work well together."
Johnson said he was sure of one thing: that he wouldn't vote for a Republican. "I don't know what the Republicans have in store, but it's scary," he said. "I'm just praying for the best."
A mile away, on the Claflin University campus, Sanders seemed a far more popular choice.
"I feel like Bernie is a really good candidate. He seems like he's making good points about trying to get college students a good education — free education — things like that," said LaQuetta Brown, a junior from North Charleston. "I'm a low-income student and it's really hard for me to get the funds to be able to stay on campus and things like that. So it would be a good thing for him to be able to get college students free tuition."
As for Clinton, Brown said she simply wasn't familiar with the former first lady.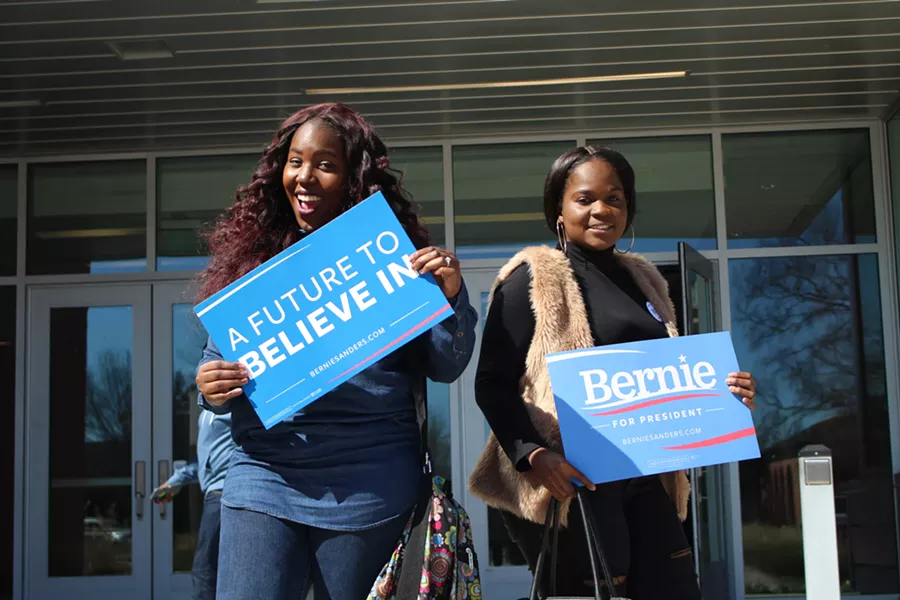 Paul Heintz
De'Asha Lumpkin and Toya McDougle at South Carolina State University
Ayanna Chadwick, a senior from Charleston, said she also expected to vote for Sanders.
"Since I am a future educator, he is giving a lot back into education, and that's really what matters," she said. "The other ones haven't talked so much on their education platforms."
Across campus, Asia Folk said she thought Clinton would bring more experience to the office and worried that Sanders' plans weren't realistic. But she sounded like she still might vote for the Vermont senator.
"I just like his sincerity," said the senior from St. George, S.C. "I'm just really interested in Bernie, for some reason."
Patrell Rogers, a junior from Florence, S.C., said he and other members of the Claflin basketball team planned to check Sanders out in person Friday afternoon.
"I feel like he is the best candidate right now, but I like Hillary, too," he said. "I heard that he's trying to raise the minimum wage. I feel like that's a good thing that needs to happen. And he's not flip-flopping, if you know what I'm saying. He's saying the same things, and I feel like he means what he says."