Paul Heintz
The Coffee Mug Family Restaurant in Elko, Nevada
Scott Crandall was minding his own business Friday morning at the Coffee Mug Family Restaurant when some unfamiliar customers filtered through the door.
"To be sittin' here, eating breakfast and seeing the Secret Service and a candidate come in," he said with a chuckle. "A little bit of a surprise. It's usually a little quieter."
The candidate, Sen. Bernie Sanders (I-Vt.), made quite a commotion. As he sat in a rear booth of the Elko, Nev., establishment — accompanied by his wife, stepdaughter and stepdaughter's husband — a horde of reporters, campaign aides and Secret Service agents overran the restaurant. Outside, Sanders' motorcade idled by the curb, ready to whisk him off to a chartered Boeing 737 when he was finished with his tea.
Crandall, a mustachioed maintenance foreman at a local gold mine, said he didn't know much about Sanders "other than kind of TV ads and stuff," but he said he was happy to see the presidential contender in his city.
"I think it's a good idea for the candidates to come," he said, sipping a cup of coffee at the restaurant's counter. "You know, Elko is one of the bigger cities within the state."
At 18,297 people, it's not
that
big. But because the Nevada Democratic Party awards a disproportionate share of delegates in its presidential caucuses to the state's rural regions, it's an important one.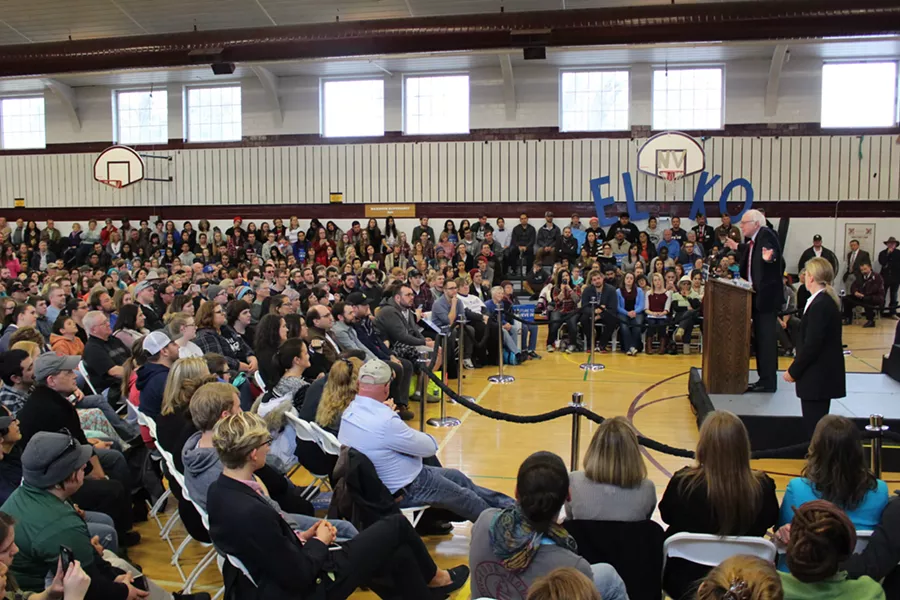 Paul Heintz
Sanders addresses supporters in Elko, Nevada.
"From what I understand, a vote here is sort of equal to 200 in Las Vegas, in terms of delegates," volunteer Becky Heiss explained earlier that morning with a touch of exaggeration. "So it is very important for Bernie to be successful here."
So important that Sanders flew 400 miles to this sparsely populated mining town just 36 hours before the Nevada caucuses began, rather than hunker down in vote-rich Las Vegas. From Elko, he would fly west to Reno for a Friday afternoon rally and then back to Vegas for a final, pre-caucus concert.
Paul Heintz
Sanders supporters in Elko, Nevada
Eight years earlier, another presidential candidate pursued a similar strategy. Then-senator Barack Obama lost Nevada's popular vote to Democratic rival Hillary Clinton, but because he cleaned up in the state's northern and western reaches, he picked up more delegates than his opponent.
"You have to make sure you're looking at your delegate counts, right?" said Joan Kato, Sanders' Nevada state director. "You have to make sure you have good representation throughout the state."
Sanders seemed to have plenty of representation in Elko. Some 700 supporters packed the city's high school gymnasium Friday morning and, at times, finished the candidate's sentences.
After boasting of the 3.5 million donations his campaign had received, Sanders asked, as he always does, "Do you know what the average contribution was?"
Paul Heintz
Sanders' chartered jet in Elko, Nevada
"Twenty! Seven! Dollars!" the crowd chanted in unison.
Even in Elko, his supporters seemed to have been spending too much time on his YouTube channel.
As he urged his audience to turn out at Saturday's caucuses, Sanders poked fun at his own Brooklyn accent.
"I hope we have a yuge — a yuuuge — get that word?" he said. "Ever since I've done 'Saturday Night Live', I keep thinking of other adjectives. I'm afraid of using that word."
Sanders tried again.
"But I hope we have a very larrrge — a very, very larrrge voter turnout tomorrow," he said. "Show the world that democracy is alive and well here in Nevada."
Paul Heintz
Sanders deplanes in Reno, Nevada.
After dropping by the Coffee Mug, Sanders boarded his jet at Elko Regional Airport and flew over 200 miles of snow-covered mountains and orange desert valleys to Reno-Tahoe International Airport. The candidate traveled by motorcade to the neighboring city of Sparks, where the actress Susan Sarandon warmed up a crowd at the Nugget Casino Resort.
"I'm happy to be here because you're making history — because I want to be part of that history," she said. "I'm a New Yorker, but I came because I wanted to see what's going on in this crazy-ass caucus thing that you're doing here."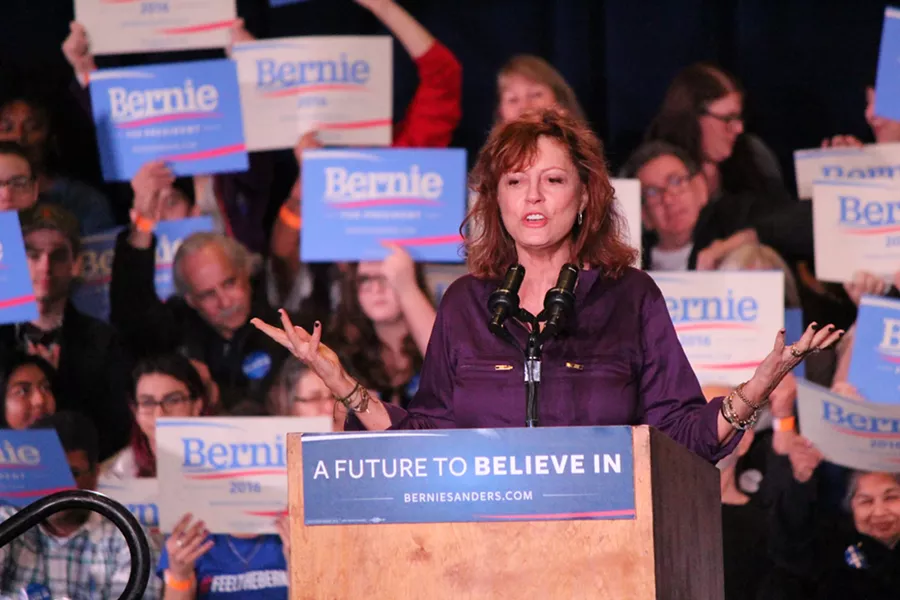 Paul Heintz
Susan Sarandon in Sparks, Nevada
A fired-up Sanders took the stage as his supporters chanted, "Bernie! Bernie! Bernie!"
"It looks to me like Nevad-er is ready to lead this country into a political revolution!" he shouted. "And tomorrow, the eyes of the country are going to be on Nevad-er, and I am absolutely confident that Nevad-er is going to say yes to moving this country in a direction where we have a government that represents all of us — not just wealthy campaign contributors!"
Sanders told the crowd that at the start of his presidential campaign he was told he could only win "by having a super PAC, by reaching out to millionaires and billionaires and Wall Street and corporate America."
"Hell no!" an audience member shouted.
"And we said, 'Hell no!'" Sanders repeated. "That is, in a succinct manner, exactly what we said."
Instead, the candidate recounted, he had decided to raise small sums of money from many individual contributors.
"And do you know what the average campaign contribution is?" he asked.
"Twenty! Seven! Dollars!" the crowd chanted as Sanders waved his arms like a conductor.
"This is a brilliant audience!" he yelled. "With people this smart, we can't lose!"
Paul Heintz
Sanders looks on as medics help an ailing audience member.
Half an hour later, as Sanders discussed his desire for immigration reform, the rally took a strange turn when an audience member near the stage fainted. Those around her called out to the candidate to alert him to the situation.
"Alright, can we get a doctor? A medic?" Sanders asked.
He stood on the stage wearing an expression of concern as a team of medics arrived with a stretcher.
"Thank you, first responders!" an audience member shouted.
"We need health care!" another one called out.
As the medics wheeled the woman away, Sanders thanked them — and then continued.
"Well, let me get back to one of the points I was going to make: This, you know, this just tells you that, as the gentleman here just said, that everybody needs health care," he said. "You don't know when it's going to be. You don't know when you're going to get sick, when you're going to have an accident. And that's why health care must be a right for all people."
Paul Heintz
Sanders and his wife, Jane, in Sparks, Nevada
Meghan Simons, a sales consultant for a telecommunications company, stood in the audience wearing a Star Wars-themed Sanders shirt and holding a signed copy of his 2011 book, "The Speech."
"I wanna see if I can get it signed again," she said.
Simons, a Reno resident, explained why she supports Sanders.
"To me, it's all about authenticity. I feel like he's the one candidate in the race who's not only interested in becoming president but interested in helping out the working class and the middle class in America," she said. "I feel like Hillary Clinton … is in it to be president, because this is the next step for her."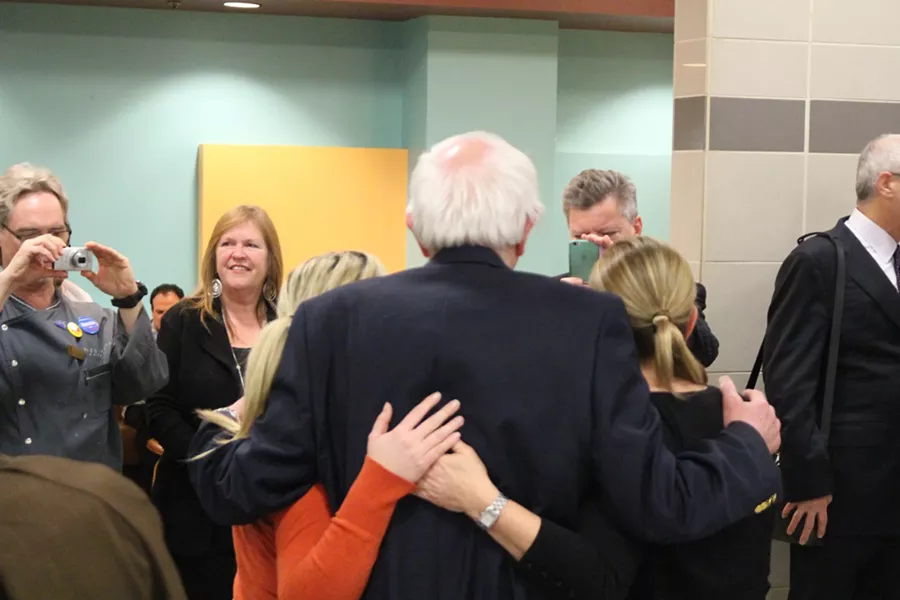 Paul Heintz
Sanders poses for selfies in the basement of Caesars Palace in Las Vegas, Nevada.
From Reno, Sanders flew south as the sun set to McCarran International Airport, just south of the Las Vegas strip. On his way to a concert in nearby Henderson, Sanders and his entourage pulled into a parking garage at Caesars Palace and entered a subterranean maze of tunnels.
In an employee cafeteria deep within the bowels of the hotel and casino, Sanders greeted workers, shook their hands and posed for selfies. Some employees in the sparsely filled room appeared nonplussed and continued eating. Others looked thrilled to meet the presidential candidate.
"Ha-lohhh," Sanders said as he worked his way through the cafeteria. "Ha-lohhh."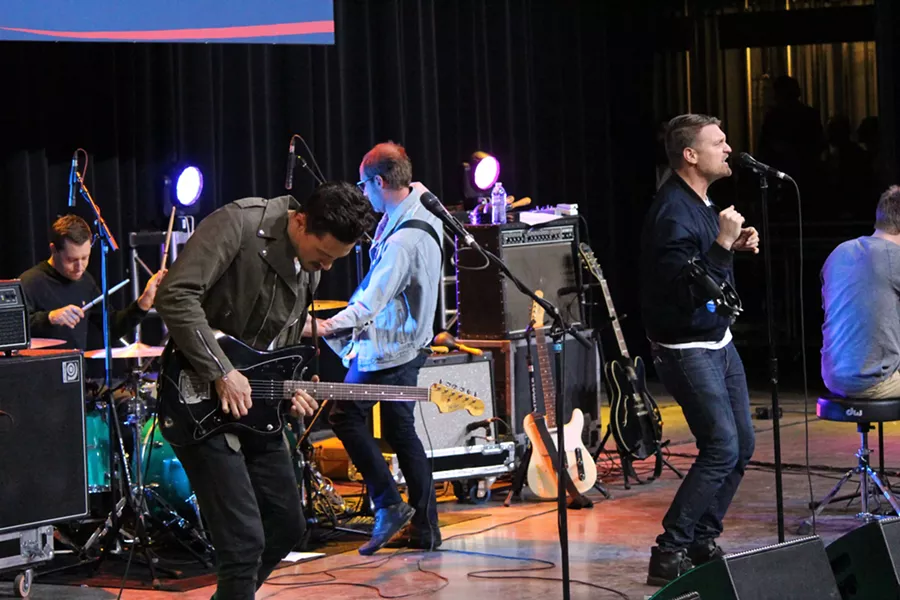 Paul Heintz
Cold War Kids performs in Henderson, Nevada.
Sanders arrived at the Henderson Pavilion midway through what his campaign had billed as "A Future to Believe In Concert & Rally." Such events have become standard fare for the campaign the night before a caucus or primary. This iteration featured music from Chicano Batman, Fantastic Negrito and Cold War Kids, along with speeches from the actors Connor Paolo and Gaby Hoffmann.
When Sanders finally addressed the crowd of 2,300, he sounded like a man expecting another favorable result in the third presidential nominating contest.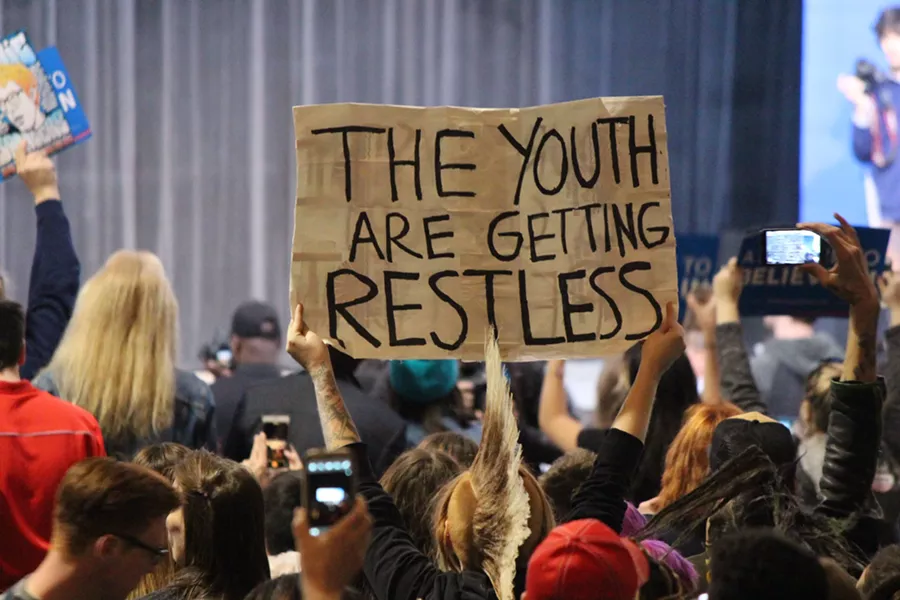 Paul Heintz
Audience members at a Sanders rally in Henderson, Nevada
"As I look around this room and as I see so many people, I have a feeling, folks, we're going to make history tomorrow," he said. "Thank you all very much for being here tonight. What's more important: You gotta be at caucus tomorrow!"
Sanders, even more fired-up than he had been in Reno, spent 25 minutes rallying the troops.
"This campaign has taken on the big-moneyed interests of the economic establishment. We've taken on the political establishment. We've taken on the media establishment," he shouted. "And we! Are! Gaining! Ground! Everywhere!"
Paul Heintz
Sanders and supporters sing "This Land Is Your Land" at a concert in Henderson, Nevada.
Then, in another staple of his campaign, the musicians returned to the stage and launched into a rendition of Woody Guthrie's "This Land Is Your Land." Sanders draped his arms around two of the performers and occasionally appeared to sing — or at least mouth — the lyrics.
As the song drew to a close, the candidate and his wife, Jane Sanders, waved to the audience and walked off stage right.