Paul Heintz
Sen. Bernie Sanders concedes the Nevada caucuses Saturday in Henderson.
Updated Sunday, February 21, at 1:43 a.m.
After falling short in the Nevada caucuses, Sen. Bernie Sanders (I-Vt.) vowed Saturday afternoon to fight on to the Democratic National Convention.
"It is clear to me and, I think, most observers that the wind is [at] our backs. We have the momentum," he told supporters at the Henderson Pavilion, 10 miles southeast of the Las Vegas strip. "I believe when Democrats assemble in Philadelphia in July at that convention, we are going to see the results of one of the great political upsets in history."
With 95 percent of precincts counted, Sanders was trailing former secretary of state Hillary Clinton 52.7 to 47.2 percent. Clinton was on track to collect 19 delegates, while Sanders was in line for 15.
In his brief concession speech delivered to a small crowd in an open-air amphitheater, Sanders argued that his strong showing in Nevada proved he could compete with a candidate long seen as the inevitable nominee.
"You know, five weeks ago, we were 25 points behind in the polls. We have made some real progress," he said. "What this entire campaign has been about is the issue of momentum."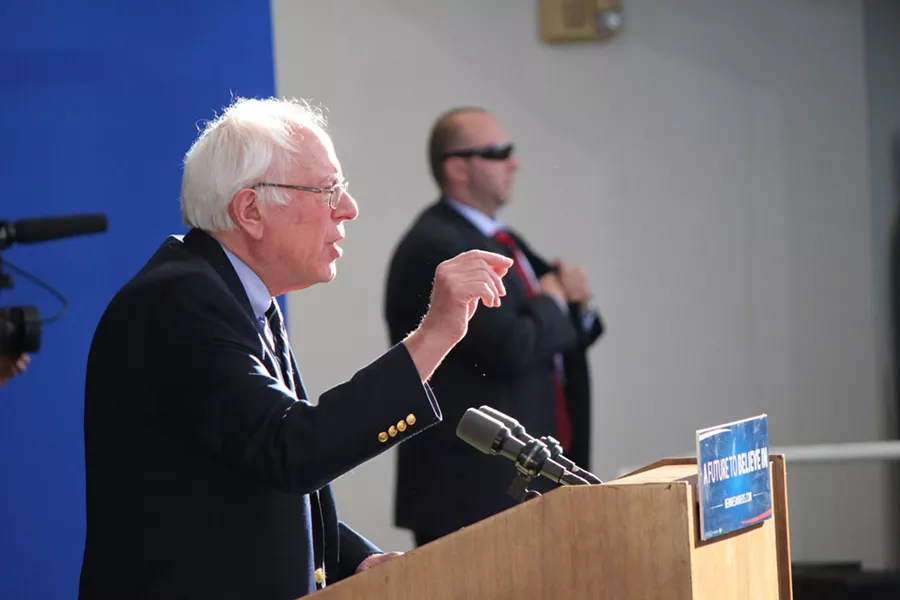 Paul Heintz
Sen. Bernie Sanders concedes the Nevada caucuses Saturday in Henderson.
As soon as he finished his remarks, Sanders boarded a chartered jet and flew to South Carolina, which hosts the next presidential primary on Saturday. But the senator appeared to have his sights set on a different target: the 11 states that vote on March 1, known as Super Tuesday. Sanders mentioned South Carolina just once in his seven-minute speech Saturday afternoon and name-dropped Super Tuesday five times.
"I believe that, on Super Tuesday, we have got an excellent chance to win many of those states," he said.
In an interview shortly after his boss left the stage, senior strategist Tad Devine sought to lower expectations for the Palmetto State, where polls show Sanders more than 25 percentage points behind Clinton.
"Listen, we've always known it was going to be a difficult challenge in South Carolina," he said. "Hillary has enormous institutional support there. You know, it's a very favorable electorate for her. But we're going to compete there."
That doesn't mean Sanders plans to hunker down in South Carolina in a last-ditch effort to catch up with Clinton.
"We've got some events there this week," Devine said. "But we can't stay there for a [full] week, because we've got 11 states three days later. That would be stupid, you know?"
After holding events Sunday in Greenville and Columbia, S.C., Sanders was planning to travel to Massachusetts on Monday and then Virginia on Tuesday. Devine said that while the schedule remained "a little bit in flux," he expected his candidate also to touch down in Colorado, Minnesota and Oklahoma within the next week.
Clinton, meanwhile, headed to Houston late Saturday and dispatched her husband, former President Bill Clinton, to Colorado.
Las Vegas Sun/Steve Marcus via AP
Hillary Clinton and Bill Clinton celebrate Saturday at Caesars Palace in Las Vegas.
Speaking Saturday afternoon at Caesars Palace on the Las Vegas strip, Clinton said she was "so, so thrilled and so grateful" to her supporters for delivering her first clear victory of the 2016 campaign. Earlier this month, she barely eked out a win at the Iowa caucuses and was pummeled in the New Hampshire primary.
"Some may have doubted us, but we never doubted each other," she said.
Clinton congratulated Sanders for "a hard-fought race here," but she also tweaked him for being long on anger but short on what she referred to as "real solutions."
"The truth is, we aren't a single-issue country," she said. "We need more than a plan for the big banks. The middle class needs a raise and we need more jobs."
As the playing field expands to the Super Tuesday states and beyond, the campaigns are likely to grow more expensive. And while Sanders overtook Clinton in fundraising last month, new reports filed Saturday with the Federal Election Commission showed that he is burning through cash at a far faster rate than she is.
Sanders spent close to $35 million in January — roughly 40 percent of it on television advertising — and ended the month with $14.7 million cash-on-hand. Clinton spent $21.2 million and came out of January with $33 million.
Paul Heintz
Caucus vice chair Miguel Martinez counts participants Saturday at the New York-New York Hotel & Casino.
Clinton drew some of her strongest support Saturday from the population center of Clark County, which includes Las Vegas. There, she defeated Sanders 55 to 45 percent. Sanders, meanwhile, outperformed Clinton in the rural north and west. In Washoe County — home to Reno, where Sanders campaigned Friday — he beat Clinton 54 to 46 percent.
Both candidates made last-minute appearances on the Las Vegas strip, shaking hands with workers in employee break rooms. But it was Clinton who won the hearts of casino cooks, cashiers and wait staff.
The Nevada Democratic Party held at-large caucuses at six casinos Saturday to enable those on the clock to take part in the electoral process. Clinton prevailed at all six sites.
Paul Heintz
Paul Ruffin waits to caucus Saturday at the New York-New York.
At the New York-New York Hotel & Casino, employees of nine establishments — including Hooters and the Monte Carlo — waited in line late Saturday morning to take an elevator to a third-floor caucus site. Among them was Maria Espinoza, a porter at the Vdara Hotel and Spa, and a staunch Clinton supporter.
"I think she has more experience," she said. "And I think that she is making promises that are more likely to happen."
Espinoza said she was also motivated to caucus for Clinton because she thinks the former secretary of state stands the best chance of defeating businessman Donald Trump, should he win the Republican nomination.
"I'm just scared to death that he's going to put us in jeopardy with the way he communicates," she said. "He's not diplomatic. He's going to piss everyone off and we're going to be in a war."
Paul Ruffin, a doorman at the Vdara, said he was looking forward to caucusing for Sanders.
"He's been more consistent with his message for the vast amount of years," he said. "And I agree with the fact of breaking up the big banks and so on and so forth. And I'm not too hot on Hillary getting money from Wall Street."
Ruffin, who is African American, said he was also inspired by Sanders' involvement in the civil rights movement in the 1960s.
"Everyone I've talked to is more likely to support Bernie," he said.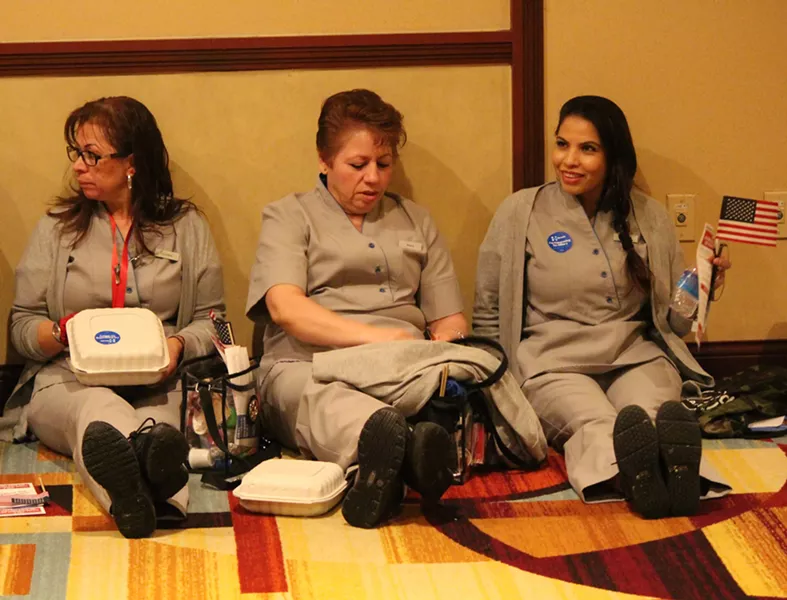 Paul Heintz
Casino workers wait for the Nevada caucuses to start Saturday at the New York-New York.
Upstairs, in the Staten Island Room, caucus organizers spent nearly two hours checking in the site's 299 participants. After determining that the Clinton and Sanders campaigns both met the viability threshold of 15 percent, making them eligible to collect delegates, caucus chair Maureen Monahan called on the six undecided voters in the room to make up their minds.
One of them was Joyce Lewis, a guest room attendant at the Mandalay Bay resort. She said she was trying to determine which candidate would do the most to protect Social Security and Medicare.
"I'm at the age of retirement and I want to make sure I'm secure in my benefits," Lewis explained.
Precinct captains for the Clinton and Sanders campaign spent 12 minutes lobbying the six to join their respective camps. In the end, three chose Clinton and three chose Sanders. Lewis sided with the Vermont senator.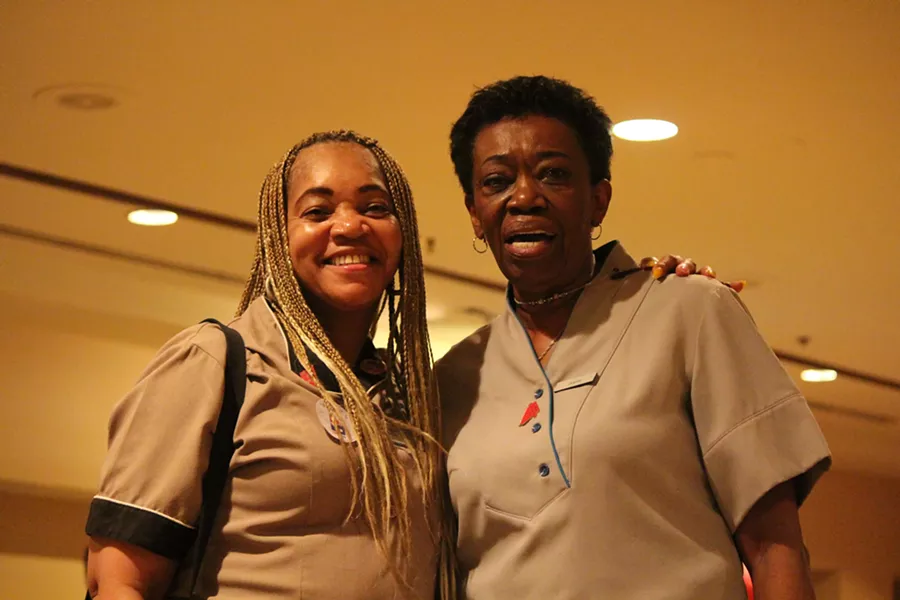 Paul Heintz
Vivian Gray and Joyce Lewis were undecided until the last minute Saturday at the Nevada caucuses.
"Because of my future, my Social Security, my welfare in the future and also for my children and my coworkers, because they're the ones younger than me and they're going to need the same thing I need now," Lewis said, explaining her choice. "And if I can retire when [Sanders] comes in and he fixes everything like he says, I'm fine."
Lewis was in the minority at the New York-New York. In the end, 196 people caucused for Clinton and 97 did so for Sanders. The former secretary of state picked up 23 county-level delegates there, while the senator from Vermont took home 11.