Paul Heintz
Sen. Bernie Sanders in Wolfeboro on Thursday
Updated at 11:49 p.m.
An ascendant Sen. Bernie Sanders (I-Vt.) told New Hampshire voters Thursday that his was "the campaign of excitement, energy, momentum" — and that nominating him would result in "victories for Democrats from the top on down."
Speaking at a performing arts center in the Lakes Region town of Wolfeboro, Sanders brushed back concerns that he would lead his adoptive party to defeat.
"When you come within … two and a half weeks of an election, suddenly you start hearing a lot of strange things being said," Sanders said Thursday night. "And one of the things that my opponent, Secretary [Hillary] Clinton, is saying is that Bernie Sanders is unelectable. 'He just cannot defeat a Republican candidate in a general election.'"
To demonstrate that wasn't the case, Sanders did something more common at a rally for Republican candidate Donald Trump: He read his own poll numbers to the crowd.
Recent public opinion surveys, he said, showed him faring better than Clinton against several top Republicans, including Sen. Marco Rubio (R-Fla.) and Ohio Gov. John Kasich.
"And here is my favorite, because it deals with my good, good friend, Donald Trump," the senator said, prompting laughter from his audience. "Secretary Clinton defeats Mr. Trump by nine points. We beat him by 23 points."
Though Sanders has long criticized the news media for its relentless coverage of the political horse race, he can be forgiven for his newfound interest in polling. Just days before he returned to New Hampshire, a CNN/WMUR poll found him leading Clinton 60 to 33 percent in the state. Hours before he spoke in Wolfeboro, CNN released another poll showing him leading Clinton in Iowa, too, 51 to 43 percent.
Paul Heintz
Students watch Sen. Bernie Sanders Thursday at a speech in Hooksett, N.H.
Sanders' newfound advantage has placed him in the crosshairs of the Clinton campaign. Speaking in Iowa Thursday, the former secretary of state questioned his understanding of foreign policy and described his health-care reform proposal as pie-in-the-sky.
"I'm not interested in ideas that sound good on paper but will never make it in the real world," she said, according to multiple media reports.
Sanders mentioned Clinton several times Thursday, though he took a somewhat gentler approach. Addressing students at Southern New Hampshire University in Hooksett earlier in the afternoon, Sanders said he had known former secretary of state Hillary Clinton for 25 years and had "a lot of respect" for his top rival.
"But we have differences — and the difference is that I think it is just too late for establishment politics and establishment economics given the crises that we face today," he said. "If these were normal times, fine. These are not normal times."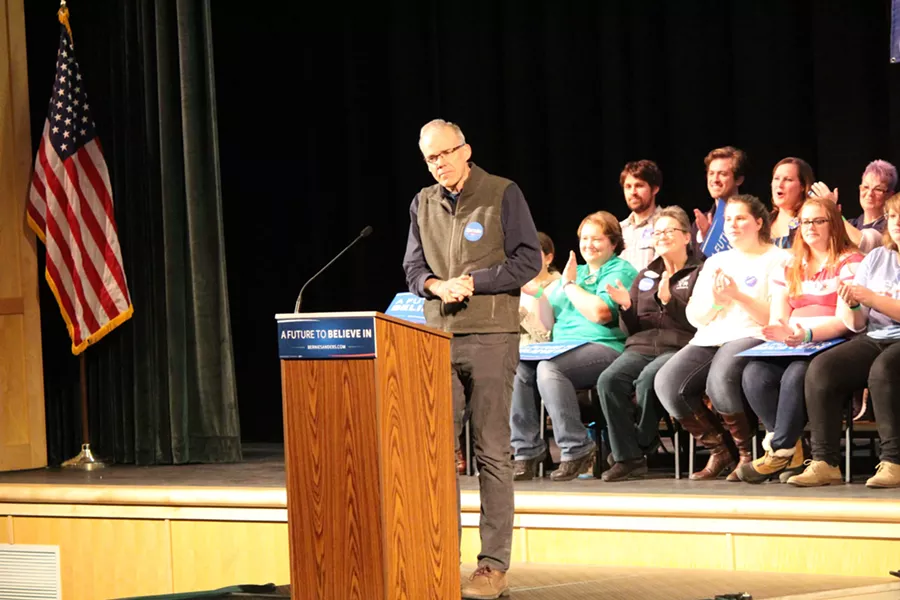 Paul Heintz
Environmentalist Bill McKibben introduces Sen. Bernie Sanders in Wolfeboro.
Sanders elaborated on those differences earlier Thursday at a community center in Peterborough, where he was asked how he would "win the war against fracking."
"First of all, there are pipelines going through New Hampshire and going through Vermont, and they're going through Iowa, among other places. I oppose those pipelines," he said. "Unlike Secretary Clinton, it did not take me a long, long time to know that the Keystone pipeline was a very bad idea. I was onboard against that from day one."
For the most part, though, Sanders kept the focus of his remarks on his own policy agenda. In Peterborough — his first stop of the day — the senator opened by recognizing the sixth anniversary of the U.S. Supreme Court's
Citizens United
decision, which he has long criticized. He also praised the late Doris "Granny D" Haddock, who became a New Hampshire icon when, in her late eighties, she walked across the country to advocate for campaign finance reform.
"Granny D, thank you very much," he said. "The work that you did in your lifetime was not in vain. We will overturn
Citizens United
."
Sanders appeared with another icon in Hooksett and Wolfeboro: environmental activist Bill McKibben, who founded 350.org and teaches at Middlebury College.
McKibben told the students gathered at SNHU that Sanders was "kicking butt" because of the "incredible authenticity of his campaign" — and "because he is offering big solutions for big problems."
During the forum's question and answer period, a young woman stood up and presented Sanders with a stuffed moose.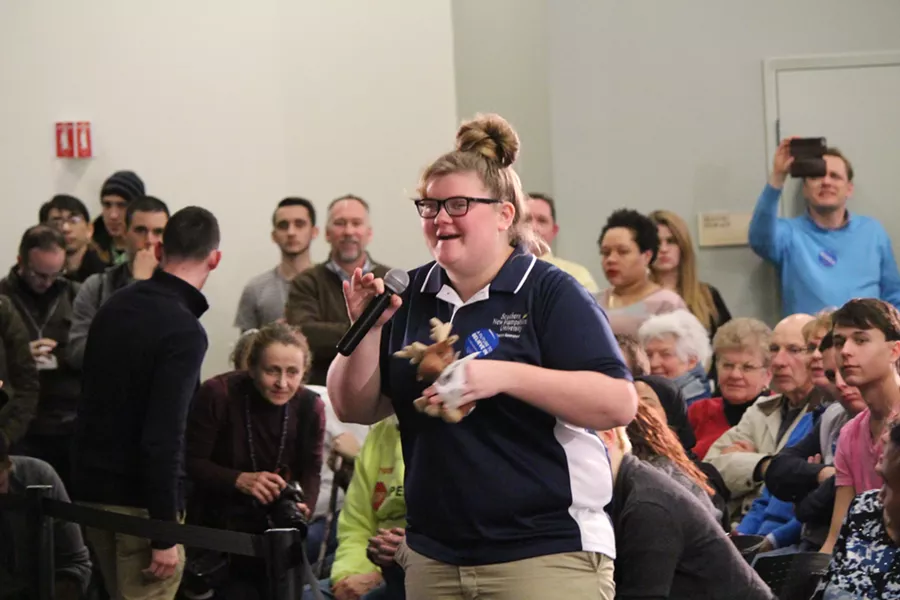 Paul Heintz
A student at Southern New Hampshire University presents Sen. Bernie Sanders with a stuffed moose.
"According to the National Wildlife Federation, about 50 percent of the moose over the last decade in New Hampshire have gone extinct," she said. "So would you take this [moose] as a promise to do anything you can to kind of help us out?"
"Absolutely," Sanders said, taking the stuffed animal from her and adding, "We in Vermont know these things well."
Though Sanders himself mostly avoided taking shots at Clinton on Thursday, his campaign appeared perfectly willing to do so.
After a Clinton adviser told CNN that her negative comments about Sanders were designed to "shake some sense into Iowans," Sanders spokesman Michael Briggs called the remark "a strange way to appeal to Iowans, who already have lots of common sense."
Hours later, Briggs emailed reporters the new Iowa polling results, writing, "At a time when Secretary Clinton's lead is evaporating in Iowa, we understand why her campaign is panicking and saying absurd things."
Briggs also took on David Brock, who runs the pro-Clinton super PAC Correct The Record. Earlier Thursday, Brock criticized a new Sanders ad as insufficiently diverse.
"From this ad, it seems black lives don't matter much to Bernie Sanders," he told the Associated Press.
In a response, Briggs said his boss "doesn't need lectures" from Brock, who he called "a mud-slinging, right-wing extremist."
"It's bad enough that Hillary Clinton is raising millions in special-interest money in her super PACS," Briggs said. "It is worse that she would hire a mudslinger like David Brock. She should be ashamed of her association with Brock."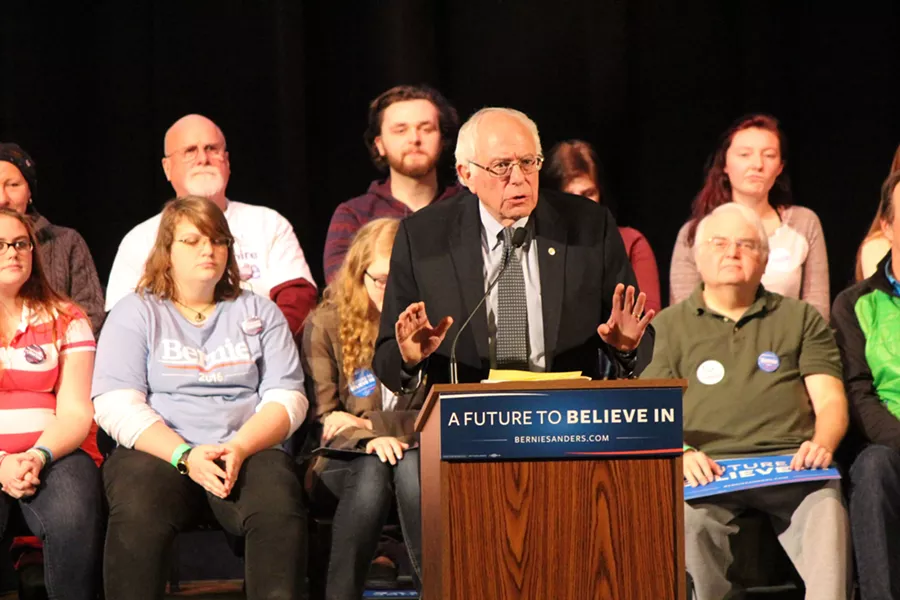 Paul Heintz
Sen. Bernie Sanders in Wolfeboro, N.H.
The Clinton campaign, meanwhile, tried to keep the focus on Sanders' recent foreign policy statements, which it characterized as "concerning." During Sunday's debate in Charleston, S.C., Sanders said the U.S. should "move as aggressively as we can to normalize relations with Iran."
But in a conference call with reporters, Clinton senior policy advisor Jake Sullivan said that would be "a bridge too far."
"This proposal to move aggressively to normalize relations with Iran not only breaks with President Obama's policy, it breaks with the sober and diplomatic approach that's been working for the U.S.," he said. "It would not succeed, but it would cause consternation among our allies."
Clinton press secretary Brian Fallon said the senator's statements would open up lines of attack for Republicans in the general election.
"Sen. Sanders' statements reflect a grave underestimation of Iran and would be concerning for anyone who wants to be the next president, but I think it would be particularly difficult for a Democratic nominee to defend next fall," Fallon said. "Republicans would love to have a debate with someone who thinks we should have warm relations with a major sponsor of terror like Iran."
Mark Davis contributed reporting.