James Buck
Donald Trump at the Flynn
Introduced as "the next president of the United States," Donald Trump sauntered across the stage at the Flynn Center for the Performing Arts Thursday night, flashing two thumbs up at an audience of nearly 1,400.
"Wow, what a beautiful view. Beautiful," he said, taking his place behind a podium at center-stage. "We're in Vermont, where the air is so nice and clean."
Waving white placards and hoisting cellphones aloft, supporters of the real estate mogul and reality television star chanted, "Trump! Trump! Trump! Trump!"
"I got here and said, 'I just wanna breathe that air,'" the candidate continued. "I went outside. There's like 20,000 people. We can't get 'em in. So you are very lucky."
Lucky indeed. After waiting in line for hours, those with tickets to the biggest show in town were asked at the door whether they supported Trump. Those who answered in the affirmative were admitted; others were shown the door.
One ticket holder, Katina Cummings of Waterbury Center, joined a long line that snaked around St. Paul Street at 2:30 p.m., carrying a sign that read, "Refugees welcome, Trump not." When she disclosed to Trump staffers at the entrance that she did not support their candidate, she recalled, "Two of them started to push me out."
Calling those who denied her entry "thugs," she said, "This is a rigged event!"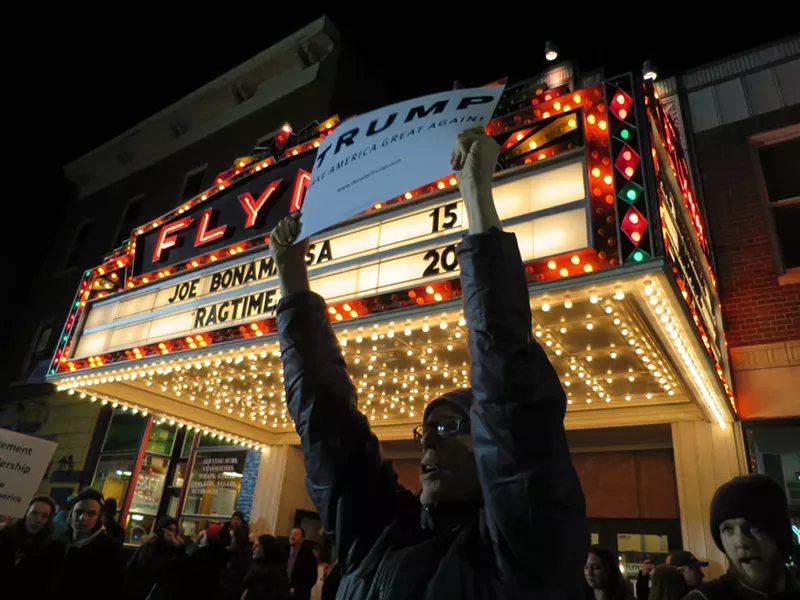 Matthew Thorsen
A Trump supporter outside the Flynn
The sorting and quizzing failed to keep out all the haters. Though his audience appeared largely sympathetic, at least nine groups of protesters interrupted the candidate during his hour-long speech, drawing Trump's ire and that of his fans.
Halfway through his remarks, half a dozen detractors stood up in the balcony and tried to shout him down.
"Get 'em out. Get 'em out," Trump instructed Burlington Police Department officers. "Take them out, please."
As they filed down the stairs and out of the room, the protesters chanted, "Bernie! Bernie! Bernie! Bernie!" One shouted, "Fuck you, Trump!"
"Isn't this more exciting?" Trump asked his audience. "You go to a Hillary [Clinton] thing, it's, like, boring. You go to a Jeb [Bush] thing and you fall asleep."
Nobody was in danger of falling asleep at the Flynn — least of all Trump, who appeared ever more energized with each additional audience outburst.
"Get 'em out. Get them out. Get 'em out," he demanded, as the cops descended upon another protester. "Don't give him his coat. Keep his coat. Confiscate his coat. It's about 10 degrees below zero outside. You can keep his coat. Tell him we'll send it to him in a couple of weeks."
Throughout the Flynn, Trump's fervent supporters hooted and hollered, jeering as the man was hauled out of the theater.
Another protester, Spencer Lewis of Hartland, said he managed to sneak into the event by trading a piece of pizza for a Trump button while he was waiting in line.
"I wanted to see if the xenophobia was for real," he explained.
Was it?
"Oh, man," he said as he was asked to leave the building.
"I knew I was gonna have some in Vermont," Trump said of the interruptions. "If we didn't have that, it wouldn't be Vermont, right? Hey, why do you think the other Republicans are not coming up here, folks? OK?"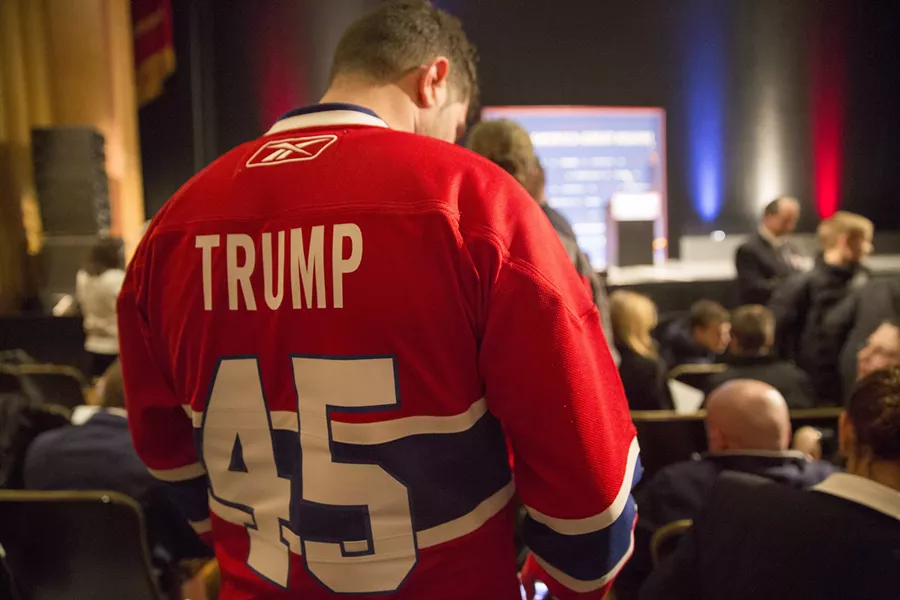 James Buck
Trump supporter Chris Lazaris of Montreal at the Flynn
Indeed, Trump walked into the belly of the beast Thursday, bringing his blood-red campaign rhetoric to deep-blue Burlington. Outside the Flynn, opponents lined the barricades erected on Main Street, condemning the candidate as a bigot and a racist. But inside the theater, most audience members appeared enthralled by his messianic rhetoric and signature braggadocio.
"We used to have victories. We don't have victories," Trump said. "We're going to have so many victories that you're going to be bored of winning!"
"We love you!" a woman yelled.
She wasn't alone in expressing the sentiment. One man, with a big belly, Santa Claus beard and camouflage hat, held up a small sign reading, "U R MY GUY."
"I am the most militaristic person in this room, except for that guy with the hat," Trump said. "Stand up. With the beautiful beard. Stand up."
The man complied with the order and swiveled his sign around so all could see.
"Do I know my people?" the candidate asked. "And I've never met him before. He just looks good to me."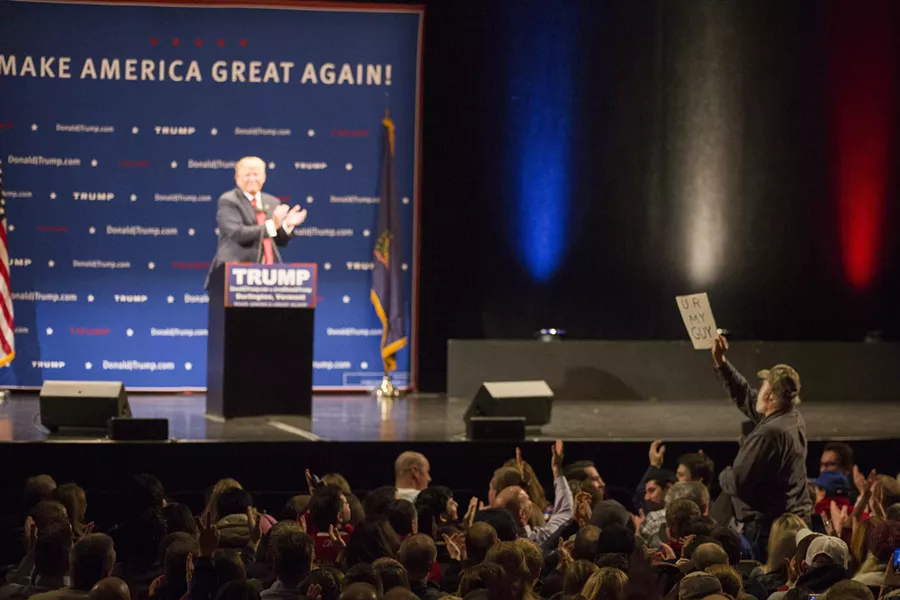 James Buck
Donald Trump applauds a supporter Thursday night at the Flynn
According to Flynn executive director John Killacky, the Trump campaign didn't play by the rules. When he spotted several men guarding a box full of placards, Killacky said, "I was told it was a no-sign show."
"It's true," one responded. "They won't be handed out."
Within 10 minutes, Trump staffers were handing out the signs.
As is typical of Trump's speeches, Thursday's was largely devoid of substance. In its place was a whole lot of bragging about his place at the top of the polls.
"I love ratings," he said. "These other candidates [ask], 'Why are you always talking about ratings?' Because I'm No. 1. If I were No. 2 … we don't talk about the ratings, right? We don't talk about the ratings. But in Vermont, I'm No. 1 by a lot. Thirty-two percent."
Trump spent even more time disparaging his political opponents, particularly those he faces in the Republican primary.
Matthew Thorsen
Protesters outside Trump's rally in Burlington Thursday
Jeb Bush? "No energy."
Rand Paul? "Horrible job he's done with this."
Rick Perry? "He was brutal."
George Pataki? "He had zero [percentage points in the polls]. He had zero! Zero! Zero!"
Trump expressed similar feelings about political pundits, who he called "dishonest people," "brutal" and "terrible." He sounded particularly miffed that one had referred to him as "plainspoken."
"I went to an Ivy League school. I went to the Wharton School of Finance," he said. "I guarantee I have a vocabulary better than all of 'em — certainly most of 'em. I know I have an IQ better than all of 'em. And they say he's 'plainspoken.'"
Trump repeatedly bashed President Barack Obama, calling him "one of the worst negotiators, perhaps, in the history of the world." And he taunted former Maryland governor and Democratic presidential hopeful Martin O'Malley, saying, "It's time for him to get out … He is really bad news."
The Republican was kinder to Sen. Bernie Sanders (I-Vt.) — in a passive aggressive sort of way.
"At least Bernie is getting some action. He gets much smaller crowds than me, but at least Bernie gets some action. Right?" Trump said. "Oh, I would love to run against Bernie. That would be a dream come true."
Sanders, evidently, felt similarly. In a statement released by his campaign Thursday night, the Democratic candidate said, "Donald Trump and I finally agree on something. He wants to run against me. I want to run against him. It would be an extraordinary campaign and I am confident I would win."
James Buck
Young Trump fans
Trump did describe a few policy positions, though he delved into few details. He said he'd halt the outsourcing of manufacturing jobs, allow guns in schools and fight political correctness.
"When it's Christmastime, we're all gonna say, 'Merry Christmas,'" he promised, drawing perhaps the most sustained applause of the night.
And Trump mentioned several times his proposal to seal off the southern border.
"We are gonna build a wall. Don't worry about it," Trump said. "We're gonna build it. And who's gonna pay for the wall?"
"Mexico!" audience members chanted.
"Who's gonna pay for the wall?" he repeated.
"Mexico!" they said.
"Who's gonna pay for the wall?"
"Mexico!"
Several prominent Vermont Republicans attended the event — including Rutland City treasurer Wendy Wilton, Republican National Committeeman Jay Shepard and 2014 Chittenden County state senate candidate Joy Limoge — though not all appeared eager to speak with reporters.
Burlington heiress Lenore Broughton, who bankrolled the conservative super PAC Vermonters First during the 2012 election cycle, sat in a second-row seat, reserved for VIPs. She declined to speak to
Seven Days
, other than to say, "I'm very interested in Trump."
Rep. Kurt Wright (R-Burlington), a supporter of Sen. Marco Rubio (R-Fla.), said he was "here for the show," adding, "I don't agree with everything [Trump] says."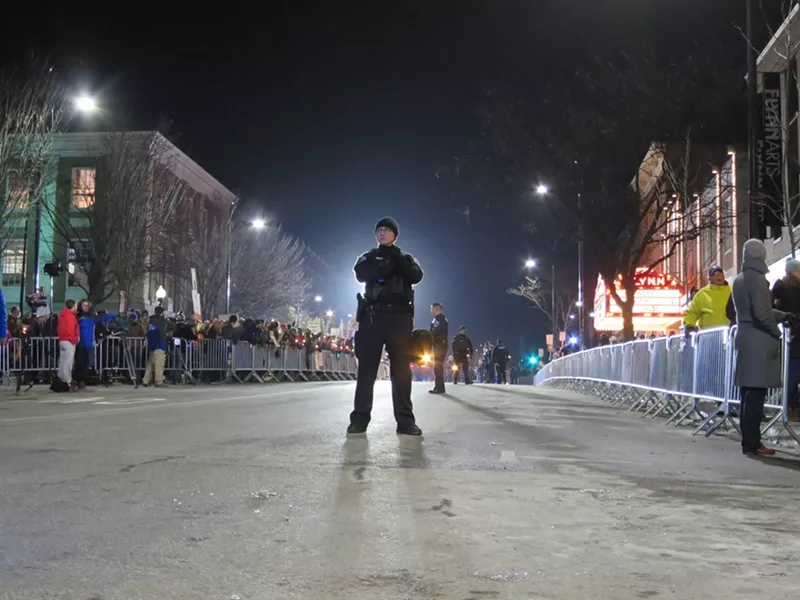 A Burlington Police Department officer on Main Street
Others were more forthcoming.
Marilyn Dunbar, who owns a department store in Swanton and lives in West Chazy, N.Y., said she had waited in line since 10:30 a.m.
"I didn't want to miss history in the making," she explained.
Dunbar said she was inspired by Trump's call to at least temporarily ban Muslim immigrants from entering the country.
"We have to stop it. They have more rights than we do," she said. "They don't like somethin' and we're not supposed to say it or do it. But they don't have to do any of ours. It offends me they walk around [with] their faces covered."
Kevin McGarghan, an operating room nurse from Charlotte, saw it differently.
"The thing that got me probably over the edge was his stance on Muslims," he said after walking through metal detectors manned by the Secret Service. "It wasn't that long ago when the Irish weren't allowed in here, the Italians weren't allowed in the country. It's crazy."
Having worked in the Burlington Police Department when Sanders was mayor, he said he was a proud supporter of his home-state candidate. He decided to bring his wife and three children to the Flynn to witness the spectacle.
"I want to see the train wreck that is the Trump campaign," he said. "I'm just trying to figure out why he's so popular with the views he has."
Three-quarters of the way through the rally, McGarghan stood up and walked out.
Terri Hallenbeck and Alicia Freese contributed reporting.