Jeb Wallace-Brodeur
Sen. Norm McAllister addresses reporters Wednesday after his suspension from the Senate.
As he walked down the Statehouse steps Wednesday and exited the building in which he's served for 13 years, Sen. Norm McAllister (R-Franklin) did not appear eager to chat.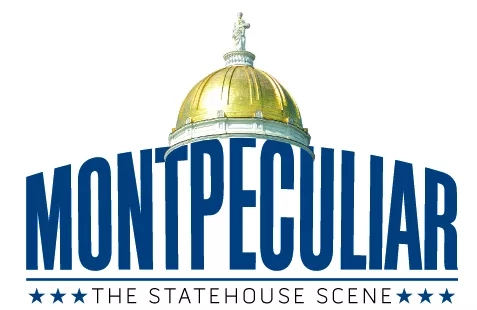 That was understandable. Just moments earlier, McAllister had become the first lawmaker in Vermont history to be stripped of his power to vote in the state Senate.
His colleagues had voted 20-10 to suspend him, pending the resolution of criminal sexual assault proceedings against the 64-year-old farmer
.
"Was this the outcome you expected coming into today?" Vermont Press Bureau reporter Neal Goswami asked as McAllister made his way down the Statehouse driveway toward his red pickup truck, parked 30 yards away.
"I think this was a foregone conclusion before we even started this week," the suspended senator said, pausing in the path as a crowd of reporters and photographers caught up to him.
A green-jacketed doorkeeper from the Statehouse Sergeant-at-Arms' office broke into the scrum to offer his assistance, presumably to help McAllister navigate past the rabid reporters.
"You all set?" the doorkeeper asked.
"I'm all set," McAllister responded. "Yeah, I'm fine. OK. Thanks."
Then the senator did something he's grown quite accustomed to doing
since plainclothes detectives arrested him on the opposite side of the Statehouse last spring
: He talked. And he talked. And he talked some more.
For 15 minutes, McAllister sounded a defiant tone, inveighing against his fellow senators, the press and what he called "out-of-control" state spending. He intimated that he might yet resign, then ruled it out, then suggested he might even run for reelection this fall. He bemoaned the underfunding of the judicial branch, complaining that "child abuse cases ... keep getting pushed off" — evidently missing the irony that he himself has been accused of sexually assaulting a young woman
who has said that she was in her teens when the first alleged incident occurred
.
McAllister, who was unaccompanied by his attorney, even delved into the details of his criminal case, albeit briefly, as he has done previously with reporters. (
Seven Days
staffers, including this one,
have been subpoenaed to testify in the case
, though the newspaper is fighting the request.)
"Did your attorney give you any advice as to whether to speak today?" WCAX-TV's Kyle Midura asked at one point.
"Not to talk to you guys!" McAllister said, bursting out laughing.
But then he kept talking.
It's unclear whether all that talking could prove problematic at his criminal trial, which is scheduled to begin next month, but which is likely to be delayed. In his remarks outside the Statehouse, he appeared to contradict himself on a point critical to the case. Though he
told Seven Days' Mark Davis in October that he had, in fact, had consensual sex with his two accusers
, he denied Wednesday doing so with one of them: the young woman who worked for him at his Highgate farm and, last legislative session, at the Statehouse.
When VPR's Peter Hirschfeld asked whether he had sex with her, McAllister let out a guffaw, saying, "You gotta be kiddin'!"
"It's a real question," Hirschfeld said.
"No," McAllister said. "No."
"With none of the women who accused you?"
Seven Days
asked.
"Listen, we're not going to get into the case, because we're not going to try the case," he said. "That's for my lawyers to point out. OK?"
That didn't keep McAllister from maintaining his innocence.
"I never asked for any of these accusations to be put against me. They happened. They could happen to anybody," he said. "I see it as a travesty that has happened to the state. It's not a travesty that
I
did. It's on them.
They
did it."
Asked several times about his political future, McAllister sounded like a man who had not yet made up his mind. At one point, he spoke of his service in the past tense, saying he "was proud to represent" Franklin County voters. He said he needed to "let the dust settle" before deciding whether to resign. At another point he said, "If I were going to resign, I would've resigned in May." Asked if he might run for reelection this fall, he said, "I'm told I could."
"Any interest?" WPTZ-TV's Stewart Ledbetter asked.
"Boy. We'll see. Maybe. Nothing has changed," McAllister said. "This state is out of control on its spending. This state has — we've got serious problems with education funding. None of that has changed. We've got serious problems with land rights being usurped. We've got serious problems with people's
rights
being usurped — where things are being built in the name of green energy that are gonna disrupt people's lives. Nothing's changed on that."
He talked. And he talked. And he talked some more.
The doorkeeper interrupted McAllister again and asked whether he needed help getting to his truck.
"Nah, I'm fine. I can stand with these guys. I've been with them for how many months now? They're not a threat. They're not stopping me. I could walk through — hell, I could ride home with
him
," the senator said, pointing to a
County Courier
reporter. "But thank you."
Later, McAllister accused another hometown newspaper, the
St. Albans
Messenger
, of "writing things that are not true, to try to turn public opinion against me."
"It didn't work for 'em," he said, insisting that his constituents continued to stand by him. "It didn't work for 'em."
McAllister said that the day's events had left him feeling "drained" and "kind of tired."
With a worried look on his face, Ledbetter said, "There's some concern among some of your colleagues about what you're going to do. Are you going to be OK? You're not going to do anything rash?"
"Rash?" McAllister said. "No, I'm going to clear my name. I'm going to clear my name. This thing has put a sully on me. Unbelievable. I have never done
anything
."
After a quarter of an hour, reporters started peeling away to file their stories.
"I think I've answered every question you guys wanted," McAllister said. "Thanks, guys."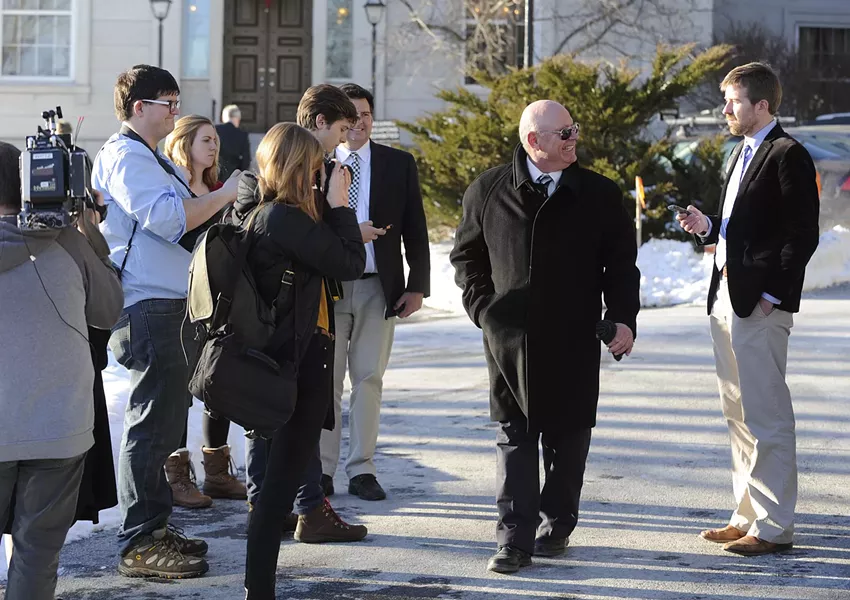 Jeb Wallace-Brodeur
Sen. Norm McAllister smiles at a reporter as he walked to his truck.
He walked down the driveway, alone, to his truck and keyed the ignition. The
Courier
reporter followed him, and the two chatted for several minutes. Sen. Peg Flory (R-Rutland), McAllister's staunchest Senate ally, had arrived at the impromptu press conference near its conclusion.
"Not one of my favorite days at the Statehouse," she remarked to a reporter.
With a tear in the corner of her left eye, the typically stoic senator said, "I worry about Norm."
She lit a cigarette and walked toward McAllister's vehicle. A few minutes later, she returned to her own car to follow him home. McAllister put his truck into gear and pulled out of the parking lot.
He waved to a reporter and drove off.
Correction, January 8, 2015: A previous version of this story inaccurately identified the newspaper for which the
County Courier
reporter worked.