Jeb Wallace-Brodeur
Sen. Norm McAllister defends himself on the floor of the Senate Wednesday.
Updated at 7:49 p.m.
In an unprecedented move, the Vermont Senate voted 20-10 Wednesday afternoon to suspend Sen. Norm McAllister (R-Franklin) from the legislature as he faces trial for sexual assault.
After an hour and a half of intense debate, a tri-partisan majority voted to prevent the Highgate farmer "from exercising any of the powers of his office as a Member of the Senate until all criminal proceedings currently pending against him have been dismissed." The senator will continue to be paid his weekly wage of $694 during his suspension.
Sen. Phil Baruth (D-Chittenden), who authored the suspension resolution, told his colleagues that they must live up to the standards they set for employers throughout the state.
"No other workplace would hesitate to suspend the alleged abuser," said Baruth, the Democratic majority leader. "The question is whether the Vermont Senate, having mandated that the rest of the state act quickly and appropriately in cases just like this, whether we will now find the will to do so in our own house."
McAllister, who was elected to five terms in the House and two in the Senate, was arrested outside the Statehouse last May and
charged with three felony counts of sexual assault and three misdemeanor counts of prohibited acts
. He pleaded not guilty and is awaiting trial.
Authorities have said that the 64-year-old farmer coerced a woman to have sex with him in exchange for rent and attempted to do the same to another. They say he repeatedly sexually assaulted a third woman,
who worked for him at his farm and, last legislative session, as a Statehouse assistant or intern
.
McAllister has maintained his innocence since his arrest eight months ago — and he continued to do so Wednesday. Mere moments before his suspension, he stood up on the Senate floor and, in a three-minute speech, declared that he was "not guilty of anything" and had "not done anything to warrant this."
He continued, "Nobody knows more than me the seriousness of these charges, these allegations. I have people who want to put me in prison for the rest of my life. I'm very much aware of what is at stake."
The "easy route," McAllister argued, would have been to have resigned months ago.
"I've chosen not to take the easy route — mostly because I didn't do anything," he said.
As the roll was called, McAllister sat at his desk and kept track of the tally, scrawling the yays and nays of his colleagues on a sheet of paper. When his fate was sealed, he left the chamber, donned a dark overcoat and walked out the East exit of the Statehouse. Two doorkeepers accompanied him, attempting to give him space, as a phalanx of reporters trailed behind.
Standing in a driveway outside the Statehouse, McAllister paused to answer reporters' questions and ended up giving a 15-minute press conference. Asked his reaction to his colleagues' decision, he said, "Disappointment."
Sen. Norm McAllister addresses reporters outside the Statehouse Wednesday.
McAllister argued that the Senate had set a precedent that would allow a majority "to get rid of anybody for any reason" — even "to suspend some people for a day so that they get the vote the way they want it." He said he would "let the dust settle" before determining his next step, but he suggested that he could still resign or even run for reelection this fall.
"I think everything's in play right now," he said.
Last October,
McAllister told Seven Days that he had, in fact, had sex with the two women who have accused him of assault
, but he insisted that it was consensual.
"After my wife died. Months after," he said at the time. "I've never denied that I had sex with them."
But outside the Statehouse Wednesday, McAllister burst out laughing when VPR's Peter Hirschfeld asked whether he had sex with one of the women, his legislative assistant.
"You gotta be kiddin'!" the senator said.
"It's a real question," Hirschfeld responded.
"No," McAllister insisted. "No."
Jeb Wallace-Brodeur
Sen. Dustin Degree, his head in his hands, Sen. Dick Sears and Sen. Chris Bray listen to the debate over suspending Sen. Norm McAllister.
Since the Senate was established in 1836, no member has been suspended or expelled, according to Senate Secretary John Bloomer.
After McAllister was arrested last May, his colleagues struggled to determine the appropriate action to take.
A leadership panel quickly stripped him of his committee assignments and much of the state's political establishment called for his resignation
.
Over the summer and fall,
Sen. Joe Benning (R-Caledonia) advocated for McAllister's expulsion
. But Bloomer, who serves as the body's parliamentarian,
advised that such an irreversible measure would require public hearings and testimony from witnesses
, potentially jeopardizing McAllister's criminal case.
In December, the Senate Rules Committee settled on suspension,
supporting Baruth's resolution by a 4-1 vote
. The majority leader described it Wednesday as "somewhere in the middle" of the reactions the committee had pondered. He noted that while the Vermont Senate had never before taken such a step, the California Senate had done so in March 2014 when it suspended three members facing criminal charges. Baruth said he had modeled the one-sentence resolution on California's.
Among the many peculiarities of the afternoon debate, which drew a rapt crowd of onlookers, was the role that McAllister himself played in it. As a sitting member of the body, he was entitled to speak in his own defense and cast a vote against his own suspension.
He was joined in doing so by nine colleagues: Sens. Brian Collamore (R-Rutland), Peg Flory (R-Rutland), Mark MacDonald (D-Orange), Dick Mazza (D-Grand Isle), Dick McCormack (D-Windsor), Kevin Mullin (R-Rutland), Alice Nitka (D-Windsor), Bobby Starr (D-Essex/Orleans) and Jeanette White (D-Windham).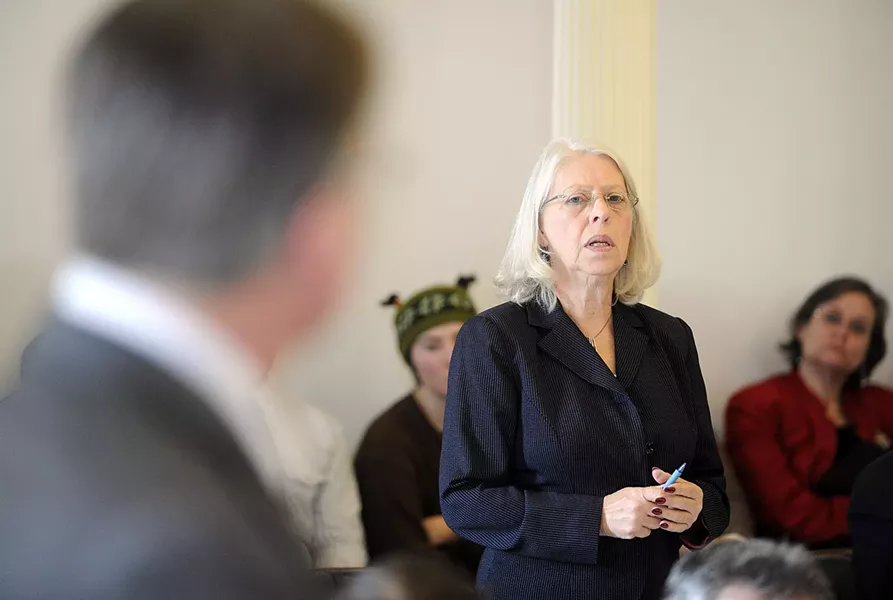 Jeb Wallace-Brodeur
Sen. Peg Flory addresses Sen. Phil Baruth.
Democratic leaders had urged rank-and-file members to abstain from debating the resolution. In the end, only five members spoke: McAllister, Baruth, Flory, McCormack and Sen. Dick Sears (D-Bennington).
Their opinions were divided.
McCormack, one of the longest-serving members of the Senate, argued that it was up to the judicial branch to determine guilt or innocence — not the legislative branch.
"Adjudication is not supposed to be democratic," he said. "Jesus was put to death by the will of the majority. Socrates was put to death by the will of the majority."
But Baruth said that the Senate had the responsibility to act in order to protect those who work alongside lawmakers, such as legislative pages. He said that a teacher or police officer charged with such crimes would be immediately suspended from his or her job.
"It's my personal belief that the number and nature of the felony charges against Sen. McAllister requires us to suspend him," he said. "Period."
Calling it an "ugly" and "uncomfortable discussion," Baruth said that making the right decision was nevertheless "crucial to our future as a Senate."
"The state is watching all of us today," he said. "They want to know if we can be trusted to regulate ourselves — if we can be trusted with the great power we use every day, almost without thinking about it."
Jeb Wallace-Brodeur
Sen. Peg Flory consults with Sen. Norm McAllister.
Flory, who identified herself as a longtime friend of McAllister's, agreed with the import of the Senate's decision, but she saw it in a different light. The Rutland lawyer argued that to suspend the senator prior to the resolution of his criminal proceedings would deny him due process and deny his Franklin County constituents representation in the body.
If McAllister were to resign or be expelled, Gov. Peter Shumlin could appoint a replacement. But, she noted, suspending McAllister would leave Franklin County with just one senator: Dustin Degree.
"People have said we have to do something. And I agree we have to do something," Flory said. "I think we have to do our constitutional duty."
To that end, Flory introduced a substitute amendment that would delay suspension proceedings until the resolution of McAllister's legal battle. The Senate voted 10 to 20 in opposition to Flory's amendment.
Following McAllister's suspension, a spokesman for Gov. Peter Shumlin said he supported the decision.
"He continues to believe that Sen. McAllister should resign so that Franklin County residents can have the representation they deserve in the Senate this session," the spokesman, Scott Coriell, said.
Lt. Gov. Phil Scott, the highest-ranking Republican in the state and a candidate for governor, also supported the move.
"Senator McAllister is charged with serious criminal offenses and, from my standpoint, if it were a law enforcement officer or teacher accused of crimes of this magnitude, they would be placed on administrative leave," said Scott, who presided over Wednesday's debate.
He added that he hoped the Senate "can now return to the issues at hand."
Disclosure:
Seven Days
journalists, including Paul Heintz, have been subpoenaed to testify in Sen. McAllister's criminal case.