Jeb Wallace-brodeur
House Speaker Shap Smith (D-Morristown) begins his final session Tuesday at the Statehouse.
When House Speaker Shap Smith (D-Morristown) gaveled in the 2016 legislative session Tuesday morning, he alluded to the fact that this would be his last year standing at the dais in front of the 150-member chamber. A year from now, he added later, he's likely to be headed down the highway to his job at a Burlington law firm, instead of coming to the Statehouse as he has for the last 14 years.
Smith, who is not seeking reelection and scrapped plans to run for governor after his wife was diagnosed with cancer, acknowledged that the coming session will be different, but he urged representatives to keep their focus.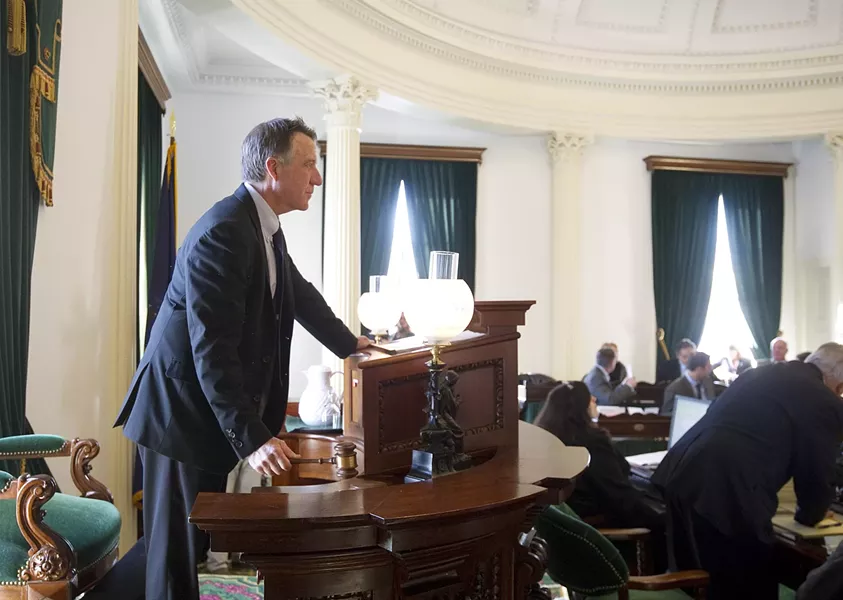 Jeb Wallace-brodeur
Lt. Gov. Phil Scott gavels in the 2016 legislative session
"There is no reason, just because we are in an even-numbered year, to refrain from tackling the thorny issues," Smith told his colleagues, referring to the looming election season. "Let's get to work."
Smith isn't the only state leader starting his last year in office. Democratic Gov. Peter Shumlin, who announced in June that he's not seeking reelection after three terms, delivers his final State of the State address Thursday afternoon. Lt. Gov. Phil Scott, a Republican who is running for governor, gaveled the Senate into its last session with him serving as presiding officer.
In the halls of the Statehouse on Tuesday, two other candidates for governor — Democrat Matt Dunne and Republican Bruce Lisman — mingled with lawmakers and met with members of the Vermont State Employees Association.
For all those changes on the horizon, the 2016 legislative session appears to be very much a continuation of what lawmakers left behind when the 2015 session ended last May.
The Senate began the year braced to address an uncomfortable situation involving one of its own members. In the closing days of the 2015 session, Sen. Norm McAllister (R-Franklin) was arrested on felony sex assault charges. Early Tuesday morning,
McAllister sat in the chamber
as his fellow senators introduced a resolution to suspend him from the body until his case is resolved. A vote on the resolution is scheduled for Wednesday afternoon.
Senate President Pro Tempore John Campbell (D-Windsor) made a brief reference to the issue Tuesday morning after welcoming fellow senators back to what he referred to, perhaps optimistically, as "a short winter session."
"I would ask that, as always, that we treat each other with respect and courtesy — even if our views may not be the same," he told his colleagues.
Jeb Wallace-brodeur
Sen. Chris Bray and Sen. Phil Baruth speak with Sen. Joe Benning
As lawmakers bite into the meat of the four-month-long session, work will focus on familiar issues: How to handle increases in Medicaid spending, how to close a $53 million budget gap, whether to legalize marijuana, whether to require employers to provide paid sick leave and how to curb crisis-level opiate abuse.
The first order of business is to adjust last year's landmark school-district consolidation law. School boards around Vermont are crying foul over the measure's new per-pupil spending thresholds.
Lawmakers are "highly unlikely" to deliver a solution by the time Vermont communities vote March 1 on school budgets, House Education Committee Chair David Sharpe (D-Bristol) told fellow Democrats in an afternoon caucus meeting.
"That's probably not the answer you wanted to hear," he said.
"No," responded Rep. Mike Yantachka (D-Charlotte).
Sharpe's committee began work Tuesday on raising the threshold by 0.9 percent to account for a 7.9 percent increase in health insurance costs school districts are facing. That's not the same goal Gov. Peter Shumlin has, however.
The governor said last month that he wants to repeal the threshold or delay it by a year. At the time, Shumlin said he had reached an agreement with legislators on the plan.
"There is no agreement for the moment and never has been," Sharpe said Tuesday, though he said his committee is also considering Shumlin's proposals.
Added Speaker Smith, "It'll take some time to work at that disagreement."
That means Vermont school boards will be sending budgets to voters designed to meet a threshold that may later change. Smith and Sharpe dismissed the inconvenience.
"It's more important to do something right," Smith argued.
Some legislators will resist making any changes at all. Rep. Oliver Olsen (I-Londonderry) stood in the hallway outside the House chamber Tuesday, poring over information that he said shows the threshold is working to keep school budget proposals in line. Raising or eliminating the threshold will halt what he sees as progress on that front, he said.
Jeb Wallace-brodeur
Members of the Vermont House return to Montpelier
House Republicans spent their first noontime caucus talking money. Rep. Donald Turner (R-Milton) urged his party members to stand together against the use of one-time sources of funding to cover ongoing costs. He noted that the Shumlin administration had proposed using $21 million from one-time sources to cover increased expenses in this year's budget.
"We need to continue that fight," Turner said.
Whether lawmakers will vote in 2016 to legalize the recreational use of marijuana is one of the big question marks of the session, but the issue will definitely get an airing.
A new bill
calling for legalizing the sale of marijuana by July 2017 was sent Tuesday to the Senate Judiciary Committee.
Committee Chair Dick Sears (D-Bennington) said his panel will work on the bill Tuesdays, Wednesdays and Thursdays for at least three weeks, starting next week. The committee will hold public hearings in five yet-to-be-scheduled locations around the state the week of Jan. 18. None of them will be in Montpelier, Sears said.
"Sometimes when you get outside the Statehouse, you hear what Vermonters are thinking," he said.
Sears, a skeptic of legalization, said he won't vote for a bill unless he believes it will quash the illegal marijuana market, though the legislation might still have enough support in the Senate to pass.
It might have a harder time in the House, however.
"It doesn't feel ready to me," Smith said.
Nancy Remsen and Paul Heintz contributed reporting.