ABC/ Ida Mae Astute
Bernie Sanders and Hillary Clinton debate in Goffstown, N.H.
Updated December 20, 2015, at 11:49 a.m.
Sen. Bernie Sanders (I-Vt.) apologized Saturday night for the behavior of campaign staffers
who accessed voter data belonging to rival Hillary Clinton
— but his apology took a little prodding.
Asked about the controversy at the third Democratic presidential debate, in Goffstown, N.H., Sanders at first delivered an extended explanation of the drama that had subsumed his campaign in recent days. He criticized the Democratic National Committee, its data vendor and even the Clinton campaign, which he suggested may have accessed his own proprietary information.
Only after moderator David Muir of ABC News asked whether Clinton deserved an apology did Sanders actually express remorse.
"Yes, I apologize," the senator said, not looking happy about it.
As Muir turned to Clinton for a response, Sanders jumped back in to offer a fuller mea culpa.
"Not only do I apologize to Secretary Clinton — and I hope we can work together on an independent investigation, from day one — I want to apologize to my supporters," he said. "This is not the type of campaign that we run. And if I find anybody else involved in this, they will also be fired."
The mixed response — animosity paired with contrition — was not unique to Sanders.
Before Clinton took the stage at Saint Anselm College, her top advisers appeared eager to fan the flames.
In a statement posted to the campaign's website earlier in the day
, communications director Jennifer Palmieri posed "four questions Bernie Sanders needs to answer" about the data saga and again accused the Vermonter's campaign of "theft." After the debate concluded, campaign manager Robby Mook told
Seven Days
his team would "suspend judgment" until the release of an independent audit — but he didn't sound ready to drop the subject.
"I can't say whether new developments are going to come out or what's going to happen," Mook said.
Onstage, his boss responded much more magnanimously.
"I very much appreciate that comment, Bernie," Clinton said after Sanders apologized. "It really is important that we go forward on this."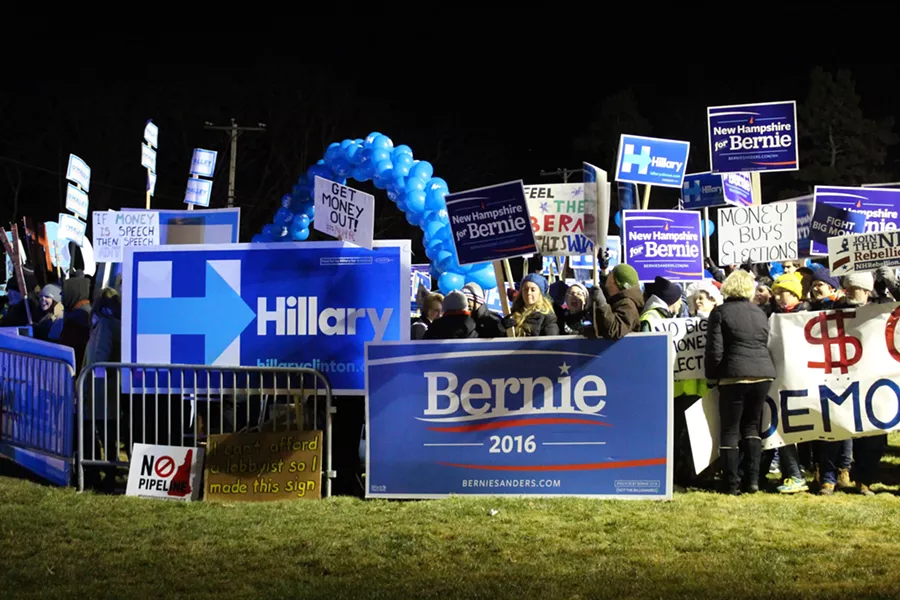 Paul Heintz
Democratic activists outside the Saint Anselm College presidential debate
Around Saint Anselm's compact campus in the suburbs of Manchester, much of the conversation — between supporters, aides and reporters — focused on
the negative turn the Democratic campaign had taken in recent days
. But inside the debate hall, each of the candidates tried to make clear they'd prefer to talk about more substantive issues.
Even former Maryland governor Martin O'Malley, who has struggled to compete with Clinton and Sanders, appeared eager to talk about how they shouldn't be talking about the matter.
"Look, for crying out loud, our country has been attacked!" he interjected, after Sanders and Clinton had largely resolved the issue. "You want to know why things don't get done in Washington? Because for the last 24 hours … we [have been] listening to the bickering back and forth."
For the rest of the debate, the candidates bickered instead about foreign policy, taxes, guns and who disagreed the most with Republican candidate Donald Trump.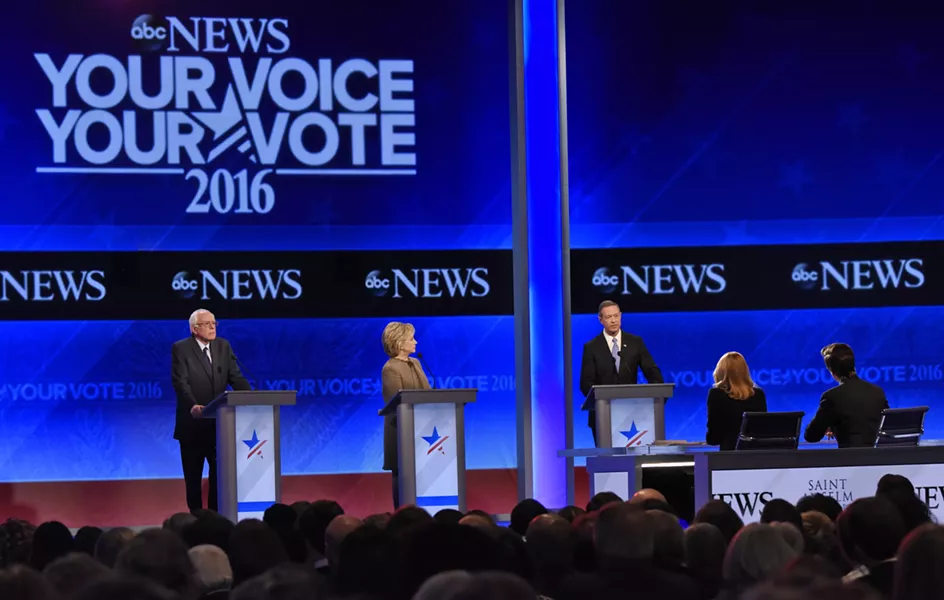 ABC/ Ida Mae Astute
The Democratic presidential candidates debate in Goffstown, N.H.
In the weeks since terrorists struck targets in Paris and California, Sanders has appeared reluctant to allow national security to displace economic policy as the focus of the race. But the candidate seemed more willing Saturday night to articulate his worldview — and to contrast it with Clinton's.
In his opening remarks, Sanders said he supported a "new" foreign policy that "destroys" the Islamic State of Iraq and Syria, but would not "get us involved in perpetual warfare in the quagmire of the Middle East." Barely 15 minutes into the debate, he invoked for the first of several times the sharpest contrast in their respective voting records: "I voted against the war in Iraq because I thought unilateral military action would not produce the results that were necessary and would lead to the kind of unraveling and instability that we saw in the Middle East. 

I do not believe in unilateral American action."
Later, he applied the criticism more broadly to Clinton's record, saying, "Our differences are fairly deep on this issue."
"I worry … that Secretary Clinton is too much into regime change and a little bit too aggressive without knowing what the unintended consequences might be," Sanders said, applying the lessons of Iraq and Libya to Syria. "Regime change is easy. Getting rid of dictators is easy. But before you do that, you've got to think about what happens the day after."
Clinton was prepared to pounce.
"With all due respect, senator, you voted for regime change with respect to Libya," she said. "You joined the Senate in voting to get rid of [the late Libyan ruler Muammar] Gaddafi."
That might be a stretch. While Sanders supported a nonbinding resolution calling for Gaddafi to "resign his position and permit a peaceful transition to democracy," he then criticized President Obama for taking action in Libya "without consultation of the Congress."
But Sanders, inexplicably, did not defend his record. Even after Clinton raised the resolution a second time, he failed to correct her.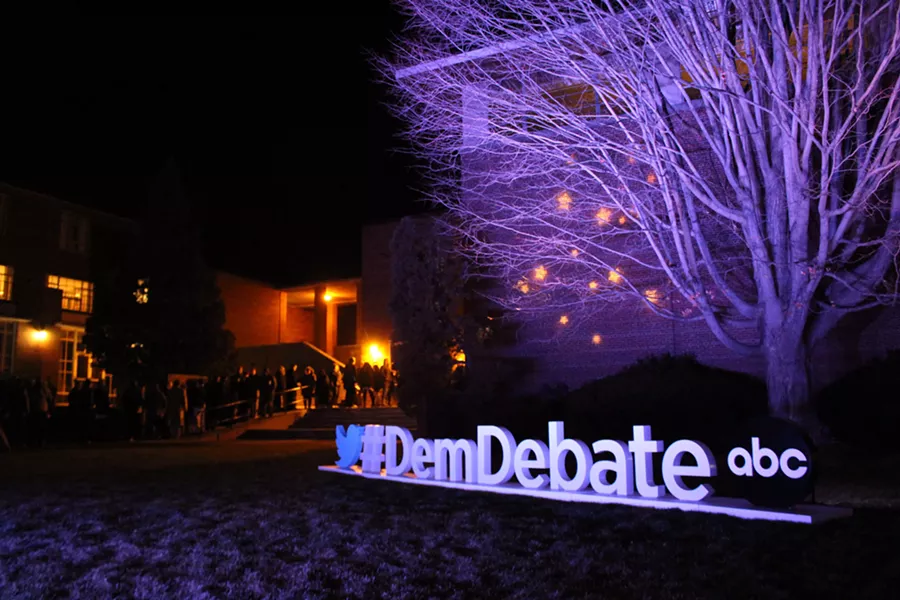 Paul Heintz
A sign at Saint Anselm College
Digs aside, the two leading candidates articulated distinctly different approaches to foreign policy — particularly as they related to the long-festering Syrian civil war. To avoid "perpetual warfare," Sanders argued, the U.S. should focus first on defeating ISIS and "get rid of [Syrian president Bashar al-] Assad later."
To Clinton, it was not an "either/or" proposition.
"Assad has killed, by last count, about 250,000 Syrians. The reason we're in — that ISIS has the territory it has — is because of Assad," she said. "If the United States does not lead, there is not another leader. There is a vacuum."
"Of course the United States must lead," Sanders responded. "But the United States is not the policeman of the world."
Prompted by moderator Martha Raddatz, Clinton tied global terrorism to domestic gun control, arguing that reducing violence required fewer firearms and a greater emphasis on addressing extremism.
"We lose 33,000 people a year already to gun violence. Arming more people … is not the appropriate response to terrorism," she said. "Guns have to be looked at as its own problem, but we also have to figure out how we're going to deal with the radicalization here in the United States."
Asked if he would "discourage people from buying a gun," Sanders said, "It's a free country in which people choose to buy guns … That's the right of the people." But he characterized himself as the candidate best equipped to find consensus on what he called "sensible gun-safety regulations," such as universal background checks and bans on military-style weapons.
O'Malley, who has made gun control a centerpiece of his campaign, opted to attack both Clinton and Sanders on the issue.
"Sen. Sanders voted against the Brady Bill. Sen. Sanders voted to give immunity to gun dealers. And Sen. Sanders voted against even research dollars to look into this public health issue," the former governor said. "Secretary Clinton changes her position on this every election year, it seems, having one position in 2000 and then campaigning against President Obama [in 2008] and saying we don't need federal standards."
O'Malley topped off his attack by alleging that his opponents' "flip-flopping, political approach" had made it easier for ISIS-inspired "lone wolves" to buy assault weapons at gun shows.
"Whoa, whoa, whoa," Sanders interjected. "Let's calm down a little bit, Martin."
"Yes, let's tell the truth, Martin," Clinton agreed.
Asserting that he had sought bans on assault weapons since his unsuccessful 1988 bid for Congress, Sanders snapped at O'Malley, "Excuse me! Do not tell me that I have not shown courage in standing up to the gun people."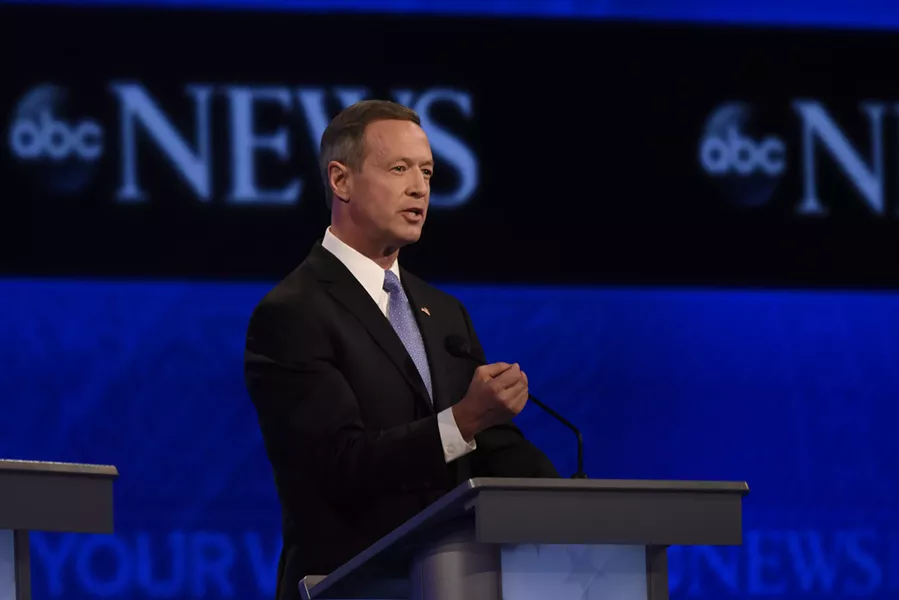 ABC/ Ida Mae Astute
Former governor Martin O'Malley at Saint Anselm College
All three candidates competed to stand up the tallest to Trump, whose call for a ban on Muslim immigration has ignited the Democratic base.
O'Malley referred to the hotel magnate and reality television star as "untried and incompetent," while Clinton accused him of using "bluster and bigotry to inflame people." Remarkably, she praised former president George W. Bush for "reaching[ing] out to Muslim Americans" and called Trump "ISIS' best recruiter."
The terrorist organization, she alleged, was "going to people showing videos of Donald Trump insulting Islam and Muslims in order to recruit more radical jihadists."
For his part, Sanders framed his criticism of Trump in economic terms. Rather than address inequality, Sanders said, the Republican was employing racist language to distract low-income Americans from what ails them.
"So what I say to those people who go to Donald Trump's rallies, understand: He thinks a low minimum wage in America is a good idea. He thinks low wages are a good idea," Sanders said.
The Vermont senator was clearly quite pleased when debate moderators finally turned to tax policy, roughly an hour and a half into the debate.
"Now, this is getting to be fun," Sanders said.
"This
is
fun," Muir concurred. "This is democracy at work."
Turning to Clinton, Muir asked whether she would promise "not to raise taxes on families making under $200,000 a year."
"That is a pledge that I'm making," she responded. "I made it when I ran in 2008."
"A promise?" Muir pushed.
"Yes, and it was the same one that President Obama made," she said. "Because I don't think we should be imposing new big programs that are going to raise middle class families' taxes."
Sanders, who has proposed many such programs, and O'Malley both said they would make no such promises.
"When Secretary Clinton says, 'I'm not going raise taxes on the middle class,' let me tell you what she is saying," Sanders said. "She is disagreeing with [Franklin Delano Roosevelt] on Social Security, [Lyndon Johnson] on Medicare and with the vast majority of progressive Democrats in the House and the Senate, who today are fighting to end the disgrace of the United States being the only major country on Earth that doesn't provide paid family and medical leave."
One could call the $1.61-per-week price tag of his paid family leave plan "a tax on the middle class," Sanders continued, but, "I think, Secretary Clinton, $1.61 a week is a pretty good investment."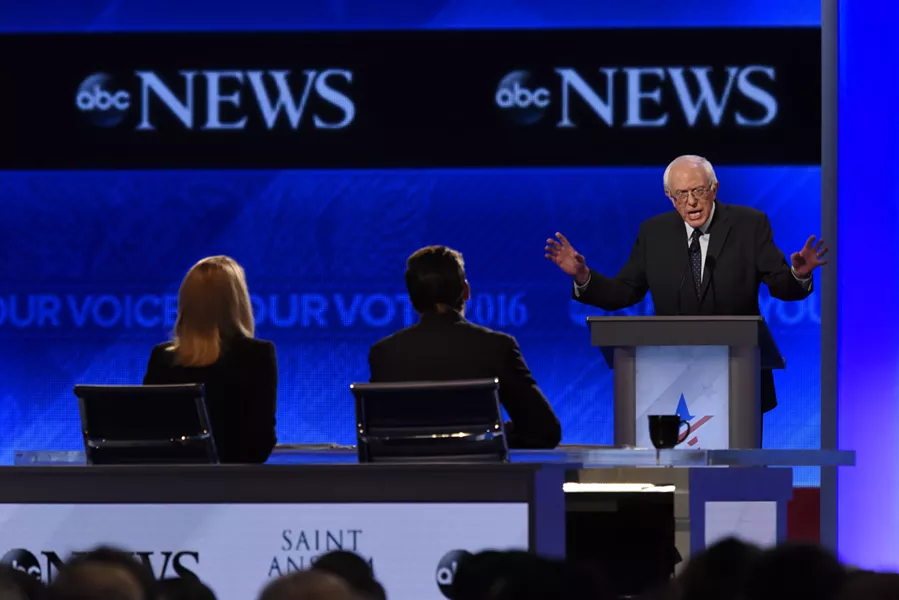 ABC/ Ida Mae Astute
Sen. Bernie Sanders at Saint Anselm College
As she has for months, Clinton criticized the cost of Sanders' education and health care plans.
"Free college, a single-payer system for health — it's been estimated we're looking at $18 to $20 trillion, about a 40 percent of the federal budget," she said. "I think we've got to be really thoughtful about how we're going to afford what we propose, which is why everything that I have proposed — I will tell you exactly how I'm going to pay for it, including college."
To that, Sanders said, "Secretary Clinton is wrong." Replacing premiums and deductibles with a single-payer system, he said, would save Americans money — even though they would face higher taxes.
How much higher those taxes would be remains unclear. Sanders wouldn't say at a debate last month in Iowa — and he wouldn't say Saturday night in New Hampshire. Asked three times by Raddatz, Sanders continued to dodge and weave.
"I can tell you that adding up the fact you're not paying any private insurance, businesses are not paying any private insurance," he said. "The average middle-class family will be saving thousands of dollars a year."
Sanders appeared to have even more fun discussing Wall Street than he did taxes. Muir asked Clinton about a
Fortune
headline from the 2008 campaign that read, "Business Loves Hillary."
"I'm curious: Eight years later, should corporate America love Hillary Clinton?" he asked.
"Everybody should!" Clinton responded, arguing that she would "be the president for the struggling, the striving
and
the successful."
Asked if "corporate America [would] love a President Sanders," the senator took a different tack.
"No, I think they won't," he said, drawing laughter and applause. "So Hillary and I have a difference: The CEOs of large multinationals may like Hillary. They ain't going to like me — and Wall Street is going to like me even less."