Chris Usher/CBS © 2015 CBS Television Network
Bernie Sanders, Hillary Clinton and Martin O'Malley at the Drake University debate in Des Moines
A day after terrorists unleashed a torrent of attacks across Paris, three candidates for the Democratic presidential nomination met on a debate stage in Des Moines Saturday night and bowed their heads in a moment of silence.
The intrusion of tragedy prompted CBS News to flip the script on a forum it had intended to devote to economic policy. For the first half-hour, the candidates parried with one another over terrorism and foreign policy, each determined to appear a credible commander-in-chief.
Paul Heintz
Drake University's Sheslow Auditorium
But the debate soon segued to the domestic policy issues that have so far dominated the race for the Democratic nomination — from tax policy to health care to gun control. The sharpest exchanges came not from disagreements over who could defeat the Islamic State of Iraq and Syria, but over who could rein in the bankers of Wall Street.
Nobody onstage at Drake University's Sheslow Auditorium appeared more eager to change the subject from Paris than Sen. Bernie Sanders, who has spent little time on the campaign trail discussing foreign policy. The Vermont independent spent just 18 seconds of his minute-long opening statement addressing the attacks, calling himself "shocked and disgusted" by them.
Then he pivoted.
"I'm running for president because, as I go around this nation, I talk to a lot of people — and what I hear is people concerned that the economy they have is a rigged economy," he said. "People are working longer hours for lower wages, and almost all of the new income and wealth goes to the top 1 percent."
Paul Heintz
A poster inside Sen. Bernie Sanders' Des Moines headquarters
Outside the auditorium, the tone was unusually subdued for a major party presidential debate. Earlier Saturday at Sanders' Iowa headquarters, in a strip mall not far from the West Des Moines campus, volunteers prepared signs featuring Jean Jullien's now-iconic Eiffel Tower peace sign. At a pre-debate rally for the candidate two blocks from Drake, Sanders' state director, Robert Becker, called for a moment of silence.
"I want everyone to know that our campaign stands very, very firmly tonight behind the people of Paris and Beirut and Baghdad and Sharm el-Sheikh, Egypt," Becker said as he introduced Sanders surrogate Cornel West. "In tonight's debate, there's going to be a lot of discussion about how we move forward in this world, because a lot has changed in the last couple of days."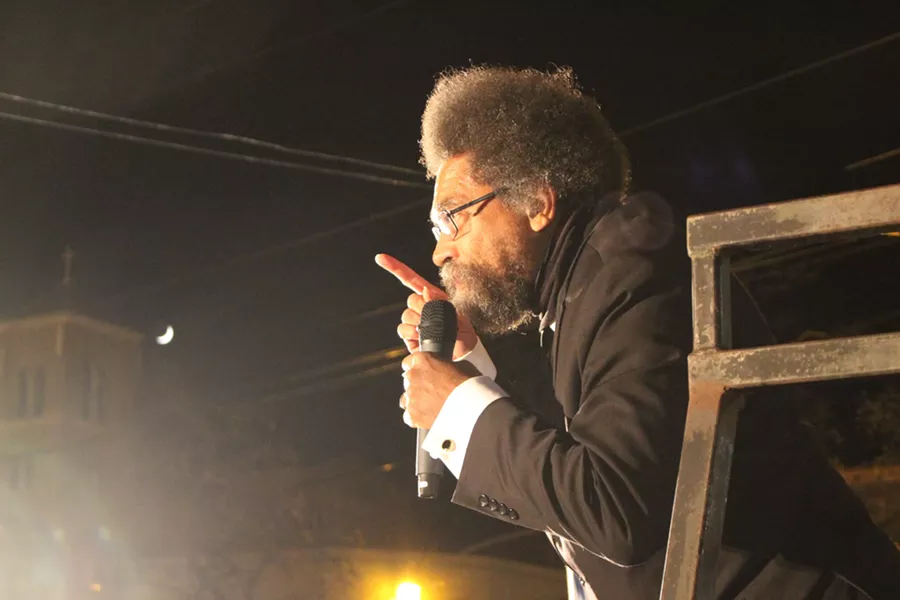 Paul Heintz
Dr. Cornel West speaks at a Sanders rally Saturday in Des Moines.
Inside Sheslow Auditorium, Sanders didn't take long to connect the Syrian crisis to former secretary of state Hillary Clinton's vote for the Iraq War. When Clinton argued that the U.S. did not carry "the bulk of the responsibility" for regional instability, Sanders pounced.
"Well, in fact, I would argue that the disastrous invasion of Iraq, something that I strongly opposed, has unraveled the region completely — and led to the rise of Al Qaeda and to ISIS," Sanders said.
When debate moderator John Dickerson asked if he was making a "direct link" between her vote and the emergence of ISIS, Sanders responded, "I don't think any sensible person would disagree that the invasion of Iraq led to the massive level of instability we are seeing right now."
Throughout the exchange, Clinton appeared focused on demonstrating her depth on international affairs, sprinkling her remarks with references to foreign leaders and foreign capitals. Later, when Sanders suggested that the U.S. military ought to spend less money and focus more of it on fighting terrorism, the former secretary of state cautioned him not to forget about the threats posed by China and Russia.
"We do have to take a hard look at the defense budget," she said. "But we have to also be very clear that we do have some continuing challenges."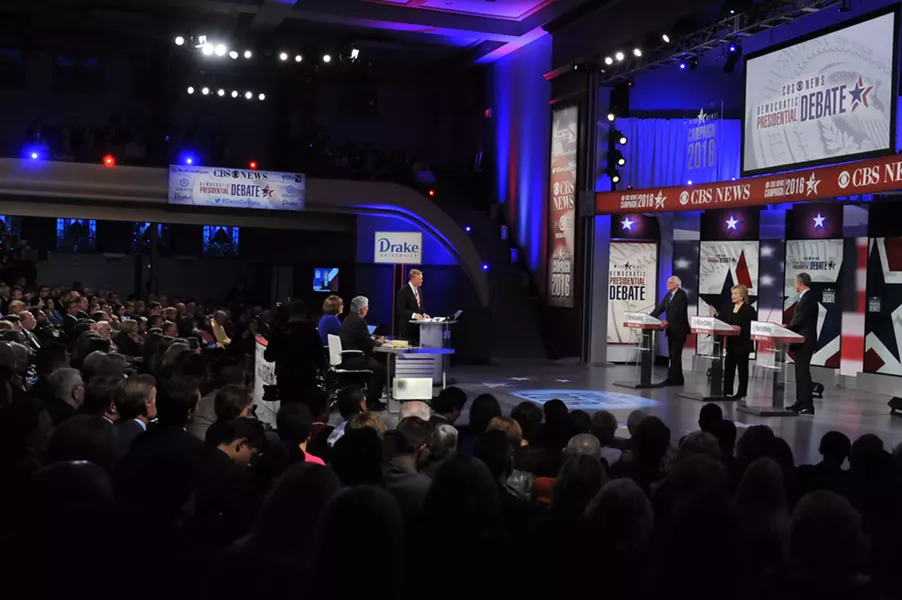 Chris Usher/CBS © 2015 CBS Television Network
Bernie Sanders, Hillary Clinton and Martin O'Malley at the Drake University debate in Des Moines
Sanders hit his stride when the debate shifted to the candidates' domestic priorities — and how they would each pay for them. When moderator Nancy Cordes of CBS pressed him on how high he would raise taxes on the nation's highest-earners, the self-described Democratic Socialist said he hadn't "come up with an exact number yet."
"But it will not be as high as the number under Dwight D. Eisenhower, which was 90 percent," Sanders said, drawing a laugh from Clinton. "I'm not that much of a socialist compared to Eisenhower."
The crowd erupted in applause.
"But we are gonna end the absurdity, as Warren Buffet often reminds us, that billionaires pay an effective tax rate lower than nurses or truck drivers," Sanders continued. "That makes no sense at all. There has to be real tax reform, and the wealthiest and the large corporations will pay when I'm president."
Former Maryland governor Martin O'Malley drew equal amounts of laughter and applause when, answering a question about immigration, he referred to Republican presidential candidate Donald Trump as an "immigrant-bashing carnival barker."
"Yes, we must protect our borders, but there is no substitute for having comprehensive immigration reform with a pathway to citizenship for 11 million people — many of whom have known no other country but the United States of America," O'Malley said. "Our symbol is the Statue of Liberty. It is not a barbed-wire fence."
O'Malley and Sanders, who are both trailing Clinton in Iowa, found common cause on raising the minimum wage. The former Maryland governor highlighted his success increasing it in his home state, while the Vermont senator argued for going further, saying that to do so is "not a radical idea."
"I believe that, over the next few years — not tomorrow — that over the next few years we have got to move the minimum wage to a living wage [of] $15.00 bucks an hour," Sanders said. "And I apologize to nobody."
Clinton disagreed. Citing a recent op-ep by former Council of Economic Advisers chair Alan Krueger calling a $15 minimum wage risky, she said she would prefer to raise it to $12.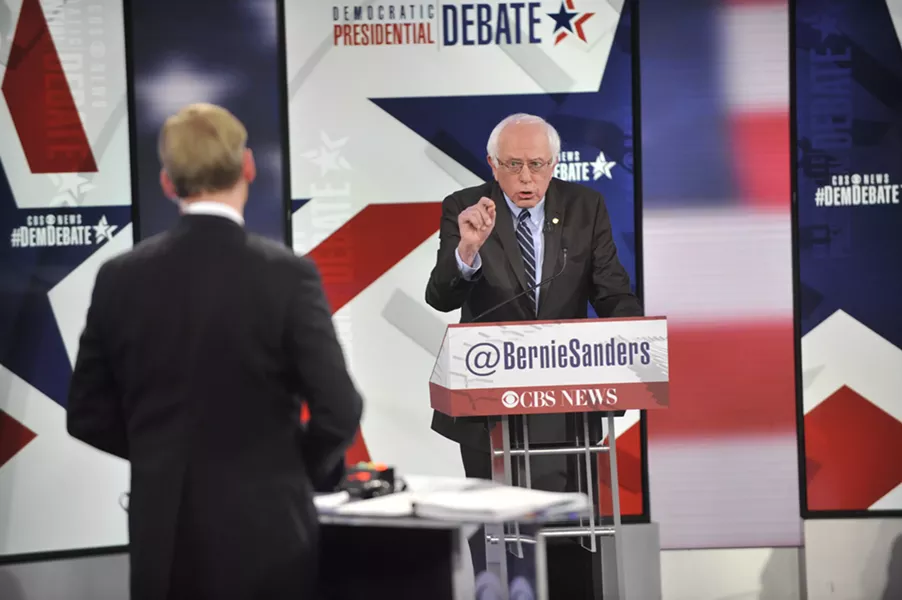 Chris Usher/CBS © 2015 CBS Television Network
John Dickerson and Sen. Bernie Sanders
The biggest fireworks of the night came when Clinton called her plan to take on Wall Street "very aggressive" and Dickerson asked Sanders if he agreed.
"Not good enough!" the senator said, punctuating his remark with a dramatic pause. Noting that Wall Street bankers had donated more to Clinton's campaigns than any other sector had, Sanders questioned the notion that they were doing so out of pure generosity.
"Why do they make millions of dollars of campaign contributions?" he asked. "They expect to get something. Everybody knows that."
After accusing Sanders of impugning her integrity, Clinton linked her Wall Street support to the terrorist attacks of September 11, 2001.
"I represented New York on 9/11 when we were attacked," she said. "Where were we attacked? We were attacked in downtown Manhattan, where Wall Street is. I did spend a whole lot of time and effort helping them rebuild. That was good for New York. It was good for the economy. And it was a way to rebuke the terrorists who had attacked our country."
Clinton regained the offensive when asked about gun rights. As she did during the first Democratic debate last month in Las Vegas, Clinton called Sanders' vote to provide immunity to firearm manufacturers "a terrible mistake."
While Sanders admitted that he now wants to "do more than reverse the immunity," he argued that he and Clinton share similar views on gun laws.
"I have voted time and again … for the background checks — and I wanna see it improved and expanded," Sanders said. "I wanna see them do away with the gun-show loophole. In 1988 I lost an election because I said we should not have assault weapons on the streets of America."
O'Malley, who had previously attacked Sanders over guns, this time trained his fire on Clinton, who he said had been "on three sides of this."
"When you ran in 2000, you said that we needed federal robust regulations," he said to Clinton. "Then in 2008 you were portraying yourself as Annie Oakley and saying that we don't need those regulation on the federal level. And now you're coming back around here. So … there's a big difference between leading by polls and leading with principle."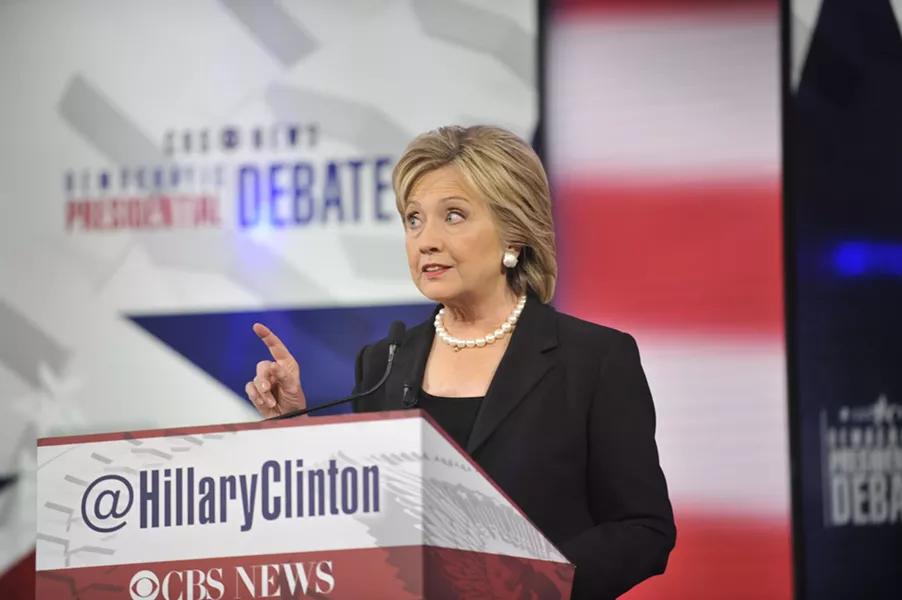 Chris Usher/CBS © 2015 CBS Television Network
Hillary Clinton
At the Las Vegas debate, Sanders made the biggest splash of the night when he said that the American people were "sick and tired of hearing about [Clinton's] damn emails," referring to her use of a private server when she was secretary of state. In Iowa, moderator Kathie Obradovich of the
Des Moines Register
sought to revisit the episode, questioning whether Sanders had since changed his tune.
"That's just media stuff. I was sick and tired of Hillary Clinton's email. I am
still
sick and tired of Hillary Clinton's email," he said, drawing another laugh from Clinton. "The issue is, the problem is, the front pages every day were dealing with that. I didn't know I had so much power, but after I said that, we're not hearing much about [Clinton's emails]."
As he did in Las Vegas, Sanders berated the media for spilling so much ink on the subject and said they should instead focus on the nation's high incarceration rate, income inequality and lack of paid family leave.
"We've gotten off of Hillary's emails. Good. Let's go to the major issues facing America," he said to thunderous applause.
Asked for her response, Clinton said, "I agree completely. I couldn't have said it better myself."
In the closing moments of the debate, Dickerson asked each of the candidates to name a crisis they had experienced and explain how they overcame it. O'Malley gave a somewhat meandering answer touching on his time as governor. Sanders named his term as chairman of the Senate Committee on Veterans Affairs and the legislation he negotiated to reduce wait times at Veterans Administration hospitals.
But Clinton bested them all with her recollection of joining President Obama in the Situation Room when he made the order to kill Osama bin Laden.
"It was an excruciating experience," she said. "It really did give me an insight into the very difficult problems presidents face."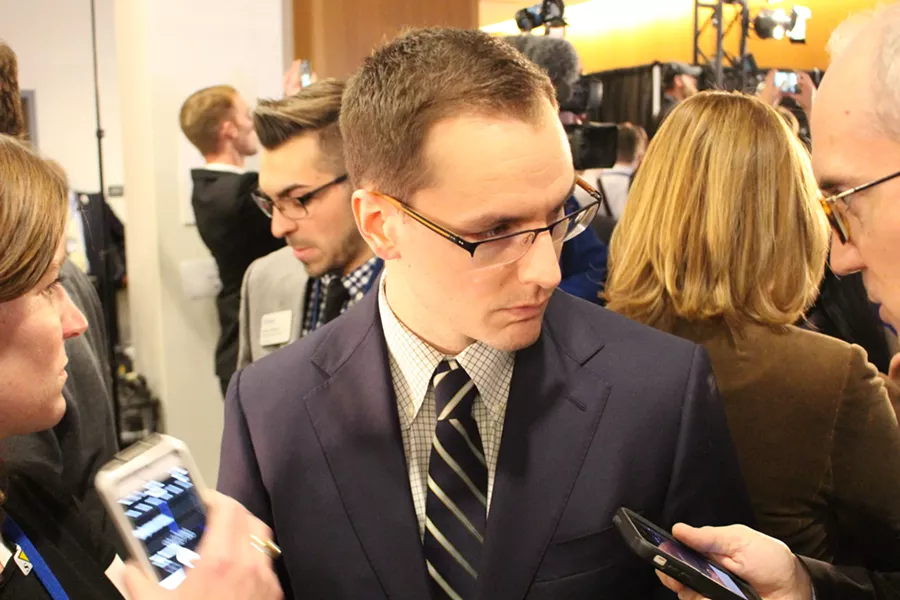 Paul Heintz
Clinton campaign manager Robby Mook
In the spin room after the debate, Clinton campaign manager Robby Mook said that the Paris attacks had "brought back into clear relief … how important our national security will be for our next president." The Norwich native argued that Clinton had "both laid out a clear plan on how to attack [ISIS], but also [showed] the great depth of experience that she has dealing with these issues."
Asked about Sanders' attacks on Clinton's Iraq War votes, Mook said, "I think other candidates came to this debate to make a point or have a moment and try to shift the dynamics of the race. Hillary came to talk about how we make life better for the middle class."
Tad Devine, a senior adviser to Sanders, saw things differently.
"I couldn't be happier," he said. "I think he connected with voters. I think he got his message through. People are hearing that message. It was a great night."
Asked why Sanders didn't spend more time in his opening remarks focusing on the Paris attacks, Devine said, "Because he knew we were about to spend 32 minutes talking about those issues."
According to Devine, "He also wanted people to understand that the message of his campaign centers on rebuilding the middle class of America. He wanted to lay that down right from the beginning to the very end."
Paul Heintz
Sanders senior adviser Tad Devine
Sanders' campaign manager, Jeff Weaver, said he thought his boss "dominated" the debate.
"I couldn't count the number of times I heard one of the other candidates say, 'I agree with Sen. Sanders,'" Weaver said. "Over and over again, that was sort of the refrain in this debate. And that's because he is really driving the debate in this election."