Paul Heintz
Bill McKibben outside City Market
Bill McKibben strolled past City Market's lunchtime crowd Thursday in search of his lawyer. The writer, activist and 350.org founder had come to town to get arrested — by picketing at the Simon's Quick Stop gas station across South Winooski Avenue.
"It's nice to do anything like this on a beautiful day," he remarked, before clarifying that he was not, in fact, a fair-weather arrestee. "We've done it in the rain."
After taking a seat outside City Market, the Ripton resident recalled his August 2011 arrest in front of the White House, which landed him in a Washington, D.C., jail for three days.
"It was pretty grim. To see what people who don't look like me deal with on a normal, day-in, day-out basis was sobering," said McKibben, dressed in a charcoal sweater, white jeans, sneakers and a Red Sox cap. "It was the biggest civil disobedience action about
anything
in about 30 years. And I suppose this will be, perhaps, the smallest. It would be hard to make it smaller."
McKibben was right. His one-man protest would last only about 20 minutes, drawing just a handful of gawkers. But McKibben's goal was to speak to a larger audience — his 164,000 Twitter followers — in order to raise awareness about
a recent Inside Climate News exposé
, which showed that ExxonMobil understood the risks of climate change more than 30 years ago and kept them secret.
A few minutes later, McKibben crossed the street, holding a sign that read, "This pump temporarily closed because ExxonMobil lied about (#Exxonknew) climate." He took up his post at the Mobil station, next to pump No. 4, and faced the traffic flowing by on South Winooski.
Paul Heintz
Bill McKibben approaches Handy's Mobil.
"This is a weird thing to be doing," he remarked.
If McKibben's goal was to block cars from filling up their tanks, his unobtrusive presence wasn't quite doing the trick. Fortunately for him, he had assistance from a smattering of reporters, activists and 350.org staffers who eagerly snapped photos with their smartphones. McKibben himself wasn't above taking a selfie.
"Excuse me," a gas station attendant who identified herself as Lisa said to McKibben. "Can you move a little bit? If people [want to] get gas, it's difficult to get gas."
"Yeah, that's why we're here," he replied. "Just for a moment."
McKibben's lawyer, Robert Appel, introduced the two: "This is Lisa. She works at the shop."
"Lisa, I'm Bill McKibben. We're just going to stay here for a little while. Thank you."
"I'm going to call my boss, OK," Lisa said.
Paul Heintz
Bill McKibben protests at Handy's Mobil.
As McKibben waited for the cops to come, he chatted amiably with reporters.
"Are you, uh, are you aware that you might be arrested?" the
Burlington Free Press
' Joel Banner Baird asked.
"Yes," McKibben said.
"I figured," Banner Baird said.
McKibben explained that he was hoping to raise awareness about the Exxon story because he was worried it would "disappear in the endless clutter."
"I mean there's something ironic about it. I started out my work as a newspaper man, as a young man, you know," the former
New Yorker
staff writer said. "It didn't occur to me that one would have to get arrested to get people to read a newspaper story."
A tinny-sounding cover of the Byrds' "So You Want to be a Rock 'n' Roll Star" played on the station's P.A.
McKibben said he wasn't trying to boycott this particular station, explaining that Appel had handed Lisa $100 earlier to compensate for any lost business.
"It's not their fault ... The only reason we're here is because they have this connection with this big company that's at fault," he said. "The next time I'm in Burlington, this is where I'll stop and get gas."
Paul Heintz
Bill McKibben protests at Handy's Mobil.
By now, David Bowie's "Fame" was playing on the P.A.
A young man named Finnian Peralta approached McKibben, holding a skateboard.
"Hey man, I just wanted to shake your hand," he said.
"Tell me your name," McKibben said.
"Finnian."
"Good to meet you."
"And you?" Peralta asked, evidently unfamiliar with the Middlebury College professor.
"Bill," McKibben replied. "Good to meet you."
Peralta hopped on his skateboard and sped away, prompting a reporter to chase after him in order to get his last name.
"Can't catch me, motherfucker!" he said after the reporter flagged him down.
Asked why he'd approached McKibben, Peralta said, "Because it's fucking awesome. Not enough people do that shit. Not enough people actually get out and stand up for what they believe in — with a sign and actually, like, make themselves heard. And I think that's fucking awesome that he's doing it."
Peralta paused.
"Can I say 'fuck' in a newspaper?" he asked.
"Yeah, in mine you can," the reporter answered.
Paul Heintz
Bill McKibben, Chief Brandon del Pozo, Charlie Handy, Robert Appel
Back at the Mobil, McKibben was still failing to stop the sale of gasoline. A woman driving a blue Volvo station wagon pulled up to the other side of the island and filled her tank, eyeing the scrum of onlookers warily.
Two Burlington Police Department officers and Chief Brandon del Pozo pulled up to the gas station and approached owner Charlie Handy.
"Is he allowed on your property or would you like him trespassed?" Officer J. Namdar asked Handy.
"I would like him removed," Handy said. "I don't want any problems. I mean, if he's acting nicely, I don't want to arrest the guy."
"If he chooses not to?" Namdar asked.
"Then you've gotta— I can't keep him here all night long," Handy said. "Like I said, the guy's not a bad guy. He's doing his point or whatever."
Namdar approached McKibben and informed him he'd be arrested if he didn't leave.
"Understood," he said. "Thank you."
"I will ask you one more time: Will you please leave the property of your own free will?" she said.
McKibben declined. He handed an associate his sign, turned around and allowed Namdar to cuff him.
"Go, Bill!" a woman in the crowd cheered.
"Exxon knew! Exxon lied!" she chanted. Others joined her.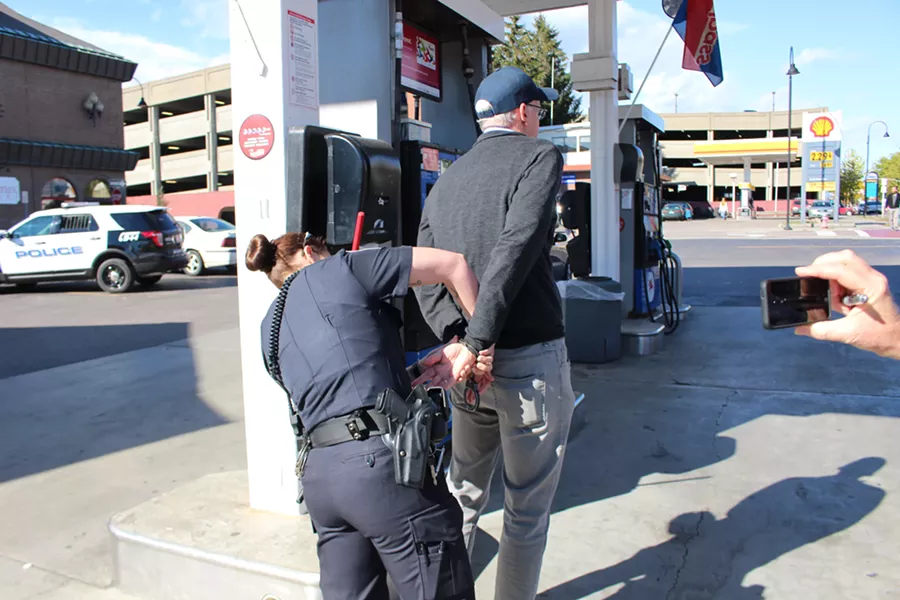 Paul Heintz
Bill McKibben gets arrested.
Namdar walked McKibben to her squad car, emptied his pockets and guided him into the vehicle.
"On we go," he said, peering out the barred window. "I hope people will actually just sit and read those stories."
"Maybe you'll have some time on your hands to read a little bit," a reporter suggested.
"I've already read them," he said.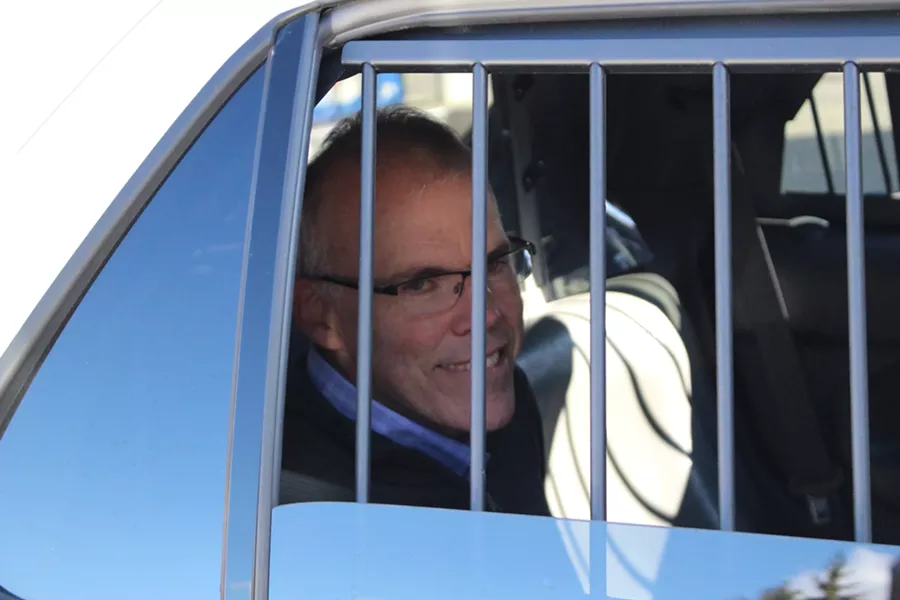 Paul Heintz
Bill McKibben in a Burlington Police Department squad car
After Namdar drove away, Handy reflected on the episode. He said he wasn't too concerned about it and didn't think he'd lost much business.
"I've never heard of him before," he said of McKibben. "He's just doing it to prove a point, the guy."
Handy said he wasn't familiar with the Exxon exposé and never dealt with the company directly. He buys his gas through local fuel distributor S.B. Collins.
"I can sympathize with the guy," he said. "Sometimes these big oil companies do things I don't agree with either."