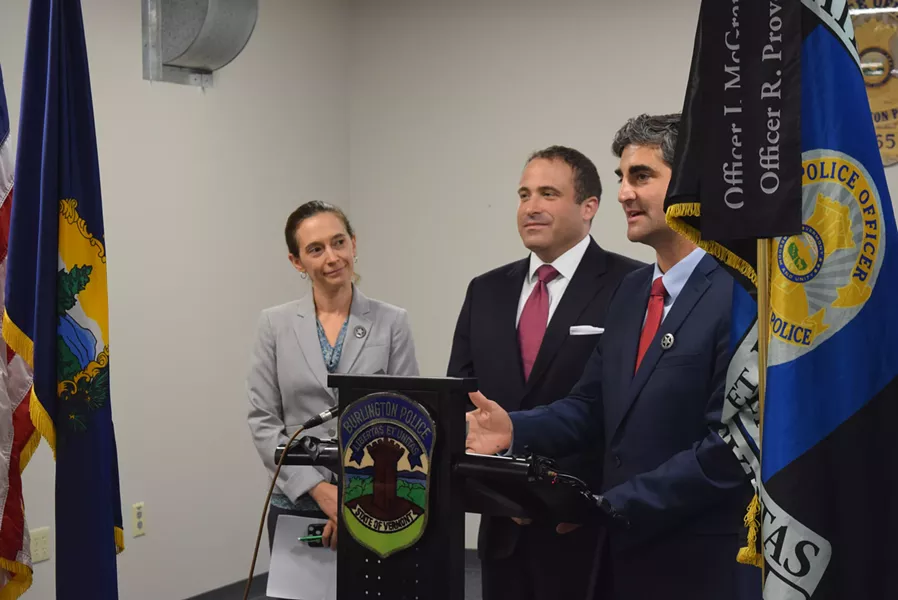 Terri Hallenbeck
Brandon del Pozo (center) appears Tuesday at a Burlington news conference, with Mayor Miro Weinberger and Police Commission chair Sarah Kenney.
When the city of Burlington set about searching for a new police chief, a committee reviewed 20 candidates and zeroed in on four finalists who went through what city officials described as a grueling process. The search team grilled the candidates about their views on such subjects as community policing, diversity and recent high-profile police shootings in Baltimore and Missouri.
Every step of the way Brandon del Pozo scored high marks for his responses. On Tuesday, Mayor Miro Weinberger announced he'd selected the New York Police Department deputy inspector as the next chief to oversee Burlington's 100-officer police force.
What the search team and Weinberger didn't know was that del Pozo had written a
paper published in 2001
that raised the notion that racial profiling in limited circumstances might have a place in police work.
Nor does it appear that the search team asked the veteran officer, who has served in high-level posts, about his views on the
NYPD's systematic profiling of Muslims and the infiltration of mosques following the Sept. 11, 2001, attacks.
As the Burlington City Council prepares to vote Monday on del Pozo's appointment, some are questioning whether he was fully vetted. An online petition is calling on the council to reject the appointment. If approved, del Pozo is slated to start as chief in September, replacing Michael Schirling, who retired in June.
Weinberger said Thursday that he wishes he'd known about del Pozo's racial profiling paper, but that he's unshaken in his support for the 40-year-old Brooklyn native.
"It does not change my sense that Brandon del Pozo would be a good chief," Weinberger said. "He policed diverse neighborhoods for the better part of two decades. I found him very thoughtful and compelling on those issues."
Weinberger defended the city's process of vetting the police chief candidates and said a state police officer who did the background check on del Pozo reported that none of the supervisors, subordinates, neighbors or others he interviewed had a bad thing to say about him.
Del Pozo said Thursday that he's absolutely opposed to racial profiling. He said he wrote the paper in 1999 or 2000, when he was a master's degree student at John Jay College. His professor encouraged him to have it published in the
Queensland Institute of Technology Law Journal
based in Australia, he said.
"At certain times, not using racial profiling might be to neglect certain moral duties," del Pozo wrote in the 36-page, heavily academic paper. "It should remain in the police officer's arsenal of weapons against crime, but be recognized as ungainly, and to be brandished only for compelling reasons."
His paper raised concerns for Allen Gilbert, executive director of the Vermont American Civil Liberties Union, who said Wednesday he was surprised it didn't surface in the interview process. "It really raises questions about what does he see as the role of profiling in police work," he said.
Del Pozo said he didn't think an academic paper he wrote a decade and a half ago would have any bearing on his application for the chief's job, but he's happy to discuss it now that people have expressed interest. "I see it as trying to make sense of what was then and still is a very sensitive topic," he said. "I wanted to attack the issue from every angle and see what I could come away with."
Of racial profiling, he said, "It's bad police work. It alienates citizens. It's ethically wrong and it's illegal."
Del Pozo's grad-school paper surfaced during an internet search and began circulating among Burlington city councilors Wednesday, the day after his selection was announced.
An article posted Thursday on VTDigger.org about the paper stirred interest further
.
Del Pozo said he's written a variety of other articles, including for the Dartmouth newspaper while he was in college. He didn't think any others would generate controversy, though he joked, "I was cursing the internet." In a 1994 op-ed in the
New York Times
, he advocated for gays to be allowed in the military.
City Councilor Max Tracy, P-Ward 2, said a neighbor alerted him to the paper Wednesday. "It's just concerning," Tracy said, though he was unsure whether it would prompt him to oppose del Pozo's appointment.
Council President Jane Knodell, P-Ward 8, said Thursday she's heard from councilors who say they want del Pozo to explain his positions Monday before they vote. "I haven't heard anybody say they'll vote against him, but I have heard concerns," she said.
Knodell said she has heard that del Pozo was busy calling those with concerns Thursday. "I'm sure that'll continue through the weekend," she said.
A petition on change.org started Thursday was pushing for the council to reject del Pozo's appointment at its Monday meeting. Those who distributed the petition did not return a request for comment Thursday.
Del Pozo, an 18-year veteran of the department, has an unusual background for a career police officer. The 1996 Dartmouth College graduate has three master's degrees and is a candidate for a doctorate in philosophy. Starting as a patrol officer in Brooklyn, he has risen steadily through command positions.
He spent two years working for the New York Police Department in Amman, Jordan, collecting security information as an Intelligence Division liaison. Why was he chosen for the assignment? "They were looking for officers who could be trusted and represent the New York City Police Department and work by themselves without supervision," he said.
That division, which had officers in a dozen overseas locations, was the source of some controversy. Online columnist
Murray Weiss reported in 2014
that the division's detectives "are ineffective, often angering and confusing the foreign law enforcement officials they are trying to work with, and are usually relegated to the sidelines because they lack national security clearance."
Leonard Levitt, who writes an online column "NYPD Confidential,"
reported that former police commissioner Ray Kelley acknowledged that the overseas team had not picked up any tips that prevented attacks in New York
.
Del Pozo said his work overseas did not involve gathering intelligence about terrorism networks. Instead, his task was to find out how terrorists got around hotel or train security to carry out bombings. That information helped prevention efforts back home, he said.
Del Pozo said he also never had any connection to the intelligence work done by the controversial Demographics Unit whose existence the department denied until it was revealed in a
2011 Associated Press investigation
. That unit was accused of systematic racial profiling and infiltration of mosques and Muslim neighborhoods.
Several Burlington search committee members say del Pozo wasn't asked for his opinion on that issue.
In an interview Thursday, Del Pozo condemned the practice. "The infiltration of mosques had the effect of destroying the trust of members of that community," he said.
Weinberger said it would have concerned him if del Pozo had been part of that unit, but del Pozo was clear that he had not been involved in that kind of intelligence gathering.
Burlington search committee members did ask del Pozo about bias and racial profiling. Del Pozo said he told them, "Not only does bias in policing impose an unfair burden but it makes police work harder in the long run."
Patrick Brown, executive director of the Greater Burlington Multicultural Resource Center, who served on the search committee, said he came away from the interview process confident that del Pozo would not support racial profiling, but said the prospective chief wouldn't get away with it in Burlington anyway.
Still, Brown said del Pozo should have revealed the racial profiling paper and the mayor's office should have found it.
"The mayor's office probably didn't do enough research, enough background," Brown said. "It might have made a difference early on."
Sarah Kenney, chair of the city Police Commission and a search committee member, said she views del Pozo's paper as a 14-year-old academic exercise that does not reflect the views she heard him express.
"I found he was really willing to engage in a thorough conversation," she said. "He likes to dig into meaty issues. I think that's why he's a good match for our community."
Weinberger said del Pozo did more than denounce racial profiling in his interviews, he offered specifics about how he'd counteract it, such as ensuring that police have relationships with someone on every block and providing mentoring for minority officers. "I thought that was really a detailed example of how seriously he takes community policing," Weinberger said.
City Councilor Dave Hartnett, I-Ward 7, said Thursday he hadn't seen or heard of the racial profiling paper, but del Pozo blew the search committee away with his experience and his ability to articulate issues.
Del Pozo offered an example of his intolerance for police brutality, Hartnett said, by relating that he'd disciplined an officer after a suspect's collarbone was broken during arrest.
Hartnett revealed that the two finalists for the job were del Pozo and Burlington Police Lt. Shawn Burke. Hartnett said he went in favoring the local candidate, but del Pozo swayed him.
"It's always risky when you hire from outside," he said. "We just thought there was a nudge more experience with Brandon. His resume and his interviews were clearly a notch above."