Paul Heintz
Sen. Bernie Sanders marches in the Creston, Iowa, Independence Day Parade.
A day after drawing 2,500 people to a western Iowa convention center, Sen. Bernie Sanders (I-Vt.) engaged in a more familiar ritual Saturday morning: trailing behind tractors and fire engines in an Independence Day parade.
Eleven-hundred miles west of Warren, Vt., Sanders and nearly three dozen supporters marched past low-slung, brick buildings in Creston, Iowa — a railroad depot with a population of 7,887 — and waved to the Union County residents crowding its sidewalks.
"In many ways it's similar," Sanders said when asked how the parade compared to those of his home state. "Very nice people. Yep."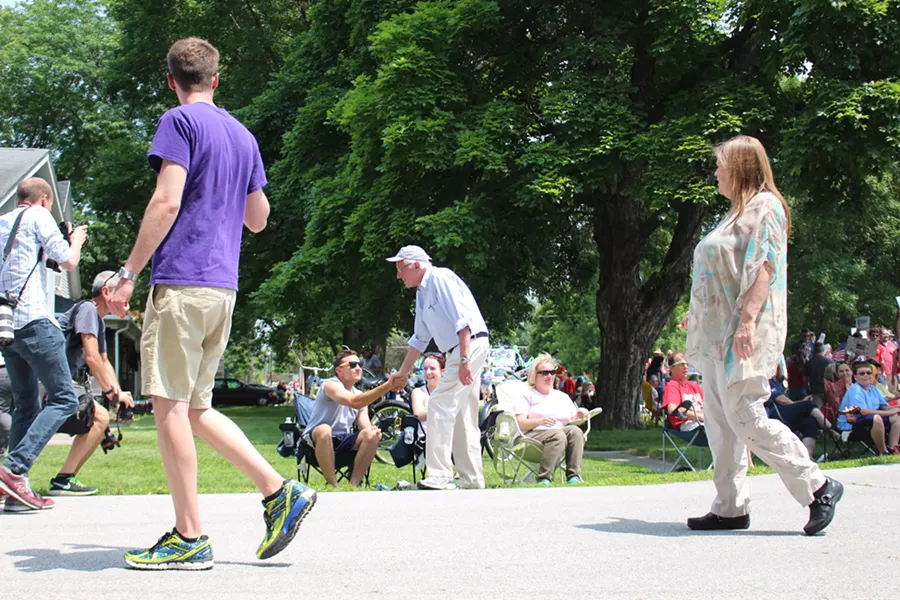 Paul Heintz
Sen. Bernie Sanders and Jane Sanders march in the Creston, Iowa, Independence Day Parade
Walking by his side, the senator's wife, Jane Sanders, said that this was the first year the couple hadn't spent the nation's birthday in the Green Mountains.
"It's different. I mean, everybody knows him there," she said. "But there's a lot more folks that know him now."
Indeed. As Sanders marched by in a blue dress shirt, chinos, sneakers and a New England College cap, several spectators murmured, "Is that Bernie?" Others weren't as enthused.
"Hey! Socialism doesn't work, buddy!" one man yelled from a camping chair set up on a well-manicured lawn. "Give it up!"
Sanders looked straight at him, then looked away, his tight smile unchanged.
The man declined to give his name to a reporter but readily expounded on his economic philosophy.
"Socialism, friend. Socialism. You gotta study it up. Look it up," he said. "Liberalism, progressivism leads to socialism, statism, communism. It's all down the same path. It's a bad road to go. It's Greece and Europe. It's a bad road to go down. These people are ignorant fools, man."
Debra Kaplan
Sen. Bernie Sanders at the Denison, Iowa, Independence Day Parade
For the most part, Crestonians appeared more bemused than offended by the democratic socialist in their midst. Some stood, arms crossed, as Sanders and his followers walked past them. Others succumbed to the handshakes he readily offered.
Mike Peters, band director at Creston High School, jogged up to Sanders and asked for a selfie. The senator complied.
"Ever since I've seen this gentleman on Bill Maher — years, I'm talking, years ago — I've started identifying with the things that he likes to do. He has a vision for what this country needs at this point," Peters said. "Even if he doesn't win, that gentleman's gonna get a message out that's going to affect the campaign."
Debra Kaplan
Sen. Bernie Sanders speaks at the Mid-America Center in Council Bluffs, Iowa.
Sanders' message is most definitely getting out.
During a three-day swing through Iowa's rural, western reaches, he turned out sizable crowds at every stop. Thursday night in Sioux City,
he drew more than 400 people to Morningside College
. Friday afternoon in tiny Storm Lake, he packed the Better Times Café. That evening, 2,500 showed up to hear him speak in Council Bluffs at the Mid-America Center, a convention center across the Missouri River from Omaha, Neb.
"This is by far the largest meeting we have had in the state of Iowa," he said to a roar of approval in Council Bluffs.
Earlier that day, just 850 people turned out to see Sanders' rival for the Democratic nomination, former secretary of state Hillary Clinton, in Hanover, N.H. There, she appeared to acknowledge growing support for the liberal senator from the neighboring state of Vermont.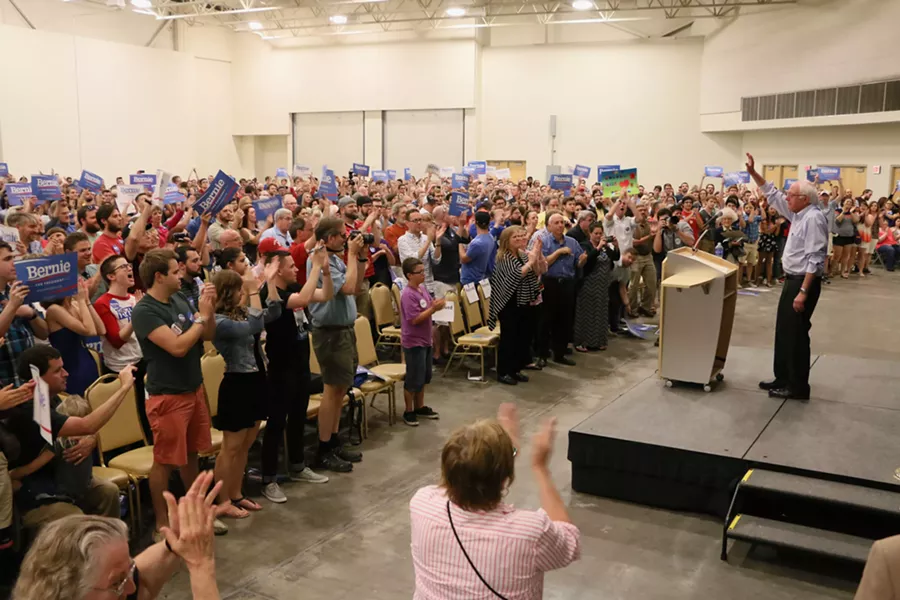 Debra Kaplan
Sen. Bernie Sanders speaks at the Mid-America Center in Council Bluffs, Iowa.
"I take a backseat to no one when you look at my record in standing up and fighting for progressive values," she said in a speech at Dartmouth College, according to multiple media reports.
Asked specifically about Sanders during a stop at the Dairy Twirl in Lebanon, N.H., Clinton said, "We each run our own campaigns and I always knew this was going to be competitive. And I want to have a great debate in the primaries and caucuses around the country, and that is what I am looking forward to."
In Iowa, Sanders' campaign appeared to go out of its way to show that it would compete not only in the state's more progressive corners, such as Des Moines and the Quad Cities, but also in places such as Denison, a city of 8,298 that threw its support behind Mitt Romney in the 2012 election.
Sanders showed up in Denison Friday afternoon for the first of three Independence Day parades on his schedule. He gamely hopped on a 1935 John Deere tractor and mugged for photos before marching down the city's five-block parade route. Ahead of Sanders, Mayor Brad Bonner sat with his wife and three daughters on a red Mustang convertible. Behind him drove a Pizza Ranch delivery car and a maroon pickup truck towing a sign that read, "Protect Life and the Unborn."
"Go get 'em, Bernie!" retired archaeologist Larry Abbott shouted from the sidewalk.
"What?" Sanders yelled back.
"Go get 'em, Bernie!" Abbott repeated.
"Why not?" Sanders said.
Paul Heintz
Sen. Bernie Sanders and Jane Sanders march in the Waukee, Iowa, Independence Day parade.
After Saturday morning's parade in Creston, the Sanders campaign came out in full force in Waukee, 20 miles west of Des Moines. Roughly 130 boisterous supporters showed up to follow Sanders down an endless parade route, from the city's modest center, down long suburban streets, to Waukee High School, a mile and a half away.
They held signs reading, "End the Corporate Oligarchy," "Iowa Bern Stormers," "People, Not Profits" and "Bern Unit." They sang, they chanted, they shouted.
Sanders, who had rarely cracked a smile during his time in the state, appeared enthused.
"There's a lot of support, and I think momentum is with us," he told reporters gathered at the start of the parade route. "We look forward to winning in Iowa, winning New Hampshire — in fact, winning the Democratic nomination. OK?"