Bernard Sanders Papers, Special Collections, University of Vermont Library
A 1983 Burlington Free Press story on Burlington's first gay pride march.
The day after the Supreme Court ruled same-sex marriage a constitutional right, Sen. Bernie Sanders (I-Vt.) assured an audience in Nashua, N.H., Saturday morning that he's no newcomer to gay rights.
Sanders' evidence? His 1996 vote against the Defense of Marriage Act, which defined marriage as "a legal union between one man and one woman" and allowed states to refuse to recognize gay marriages performed elsewhere. The bill was signed into law by President Bill Clinton, husband of Sanders' rival for the Democratic nomination, Hillary Clinton.
"Back in 1996, that was a tough vote," Sanders told his audience,
according to The Hill
. "Not too many people voted against it, but I did."
That was hardly the first time Sanders went to bat for LGBTQ community, according to records of his tenure as mayor of Burlington, which are housed at the University of Vermont Library's Special Collections.
When gay rights organizers planned Burlington's first-ever pride parade in June 1983 — two years after Sanders was elected mayor of the Queen City — they called on the Board of Aldermen to designate June 25 Lesbian and Gay Pride Day.
"This human rights issue is of great importance to our community," the Organizing Committee of the Lesbian and Gay Pride Celebration wrote in a June 6 letter to the board.
Opposition to the proposal was strong — and, in some instances, vitriolic. In its own letter to the aldermen, dated June 16, the Vermont branch of the Maranatha Christian Church argued against such a proclamation.
"We will express our sympathy with the sick humanity that is involved in this sin but can in no way on God's earth and in light of His scripture condone or even sit back and not voice God's word," the church wrote as it requested permission to testify on the matter.
After quite some debate at a June 13 meeting, the board voted six to five in favor of designating the date of the march Lesbian and Gay Pride Day, according to a contemporaneous story from the
Burlington Free Press
. Opponents, such as Alderman Diane Gallagher, a Ward 6 Republican, questioned why the march required official recognition.
"Can't you just go out and have your party and enjoy yourselves and make your point without asking the city to have a proclamation?" she asked.
Sanders indicated at the meeting that he would sign the proclamation, according to the
Freeps
' Scott Mackay.
"In the city of Burlington and in the state of Vermont, people have the right to exercise their lifestyles," Sanders said. "It's an American right, anyone's right to have a march... This is a civil liberties question."
The mayor elaborated on his reasoning later that month in a memo penned on the eve of the march.
"In our democratic society, it is the responsibility of government to safeguard civil liberties and civil rights — especially the freedom of speech and expression," Sanders wrote. "In a free society, we must all be committed to the mutual respect of each others [sic] lifestyle."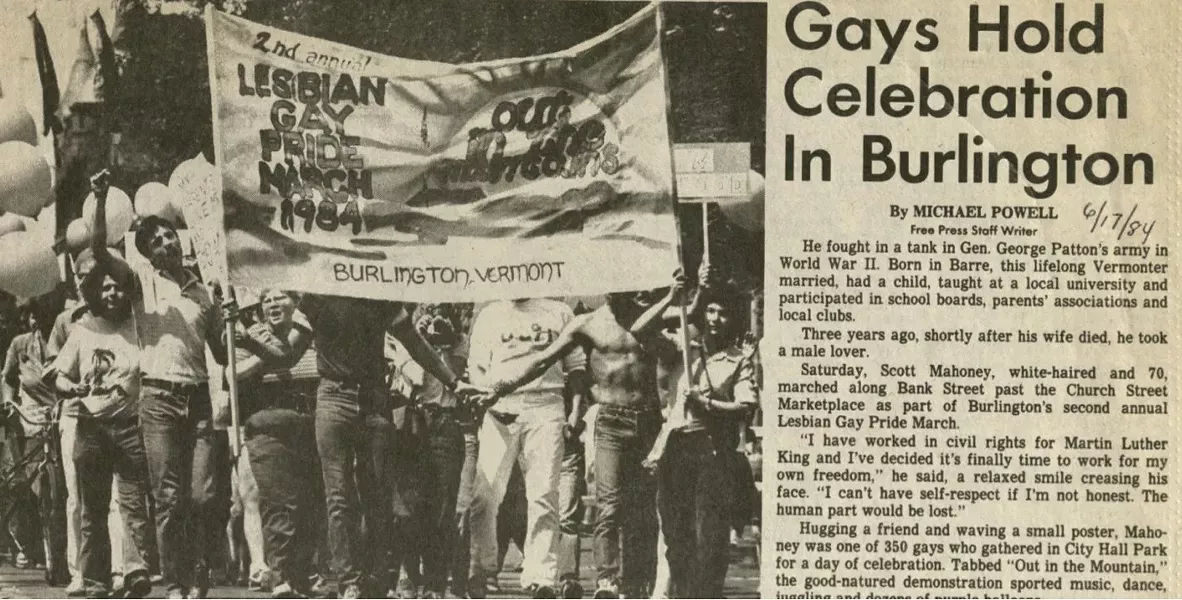 Bernard Sanders Papers, Special Collections, University of Vermont Library
A 1984 story on Burlington's second gay pride march.
Some 350 "laughing, exuberant" people took part in the inaugural pride march, the
Free Press
' William Braun reported at the time.
"Despite a spate of public vitriol over the past week, the parade and the rally that preceded it in City Hall Park were without incident," he wrote. "Heckling along the parade route was practically non-existent."
But not long after the march, according to an undated story from the UVM archives that appears to have originated in the
Vanguard Press
, Burlington resident Maikel Carder was beaten up on Church Street.
"The reason — Carder was confronted by a teenager and accused of being gay. When he refused to back down or turn away, he was beaten unconscious outside of City Hall," the story reads. "The irony is that the 41-year-old knifemaker is straight."
Peggy Luhrs, who helped organize the march, linked the two events.
"It really doesn't surprise me," she said. "We knew that coming out would stir up the homophobes."
Some of them went after Sanders — particularly in letters to the editor published in the
Free Press
.
The mayor's "support for 'gay rights' and the city's support is giving this town a bad name," Burlington's Patrick McCown wrote. Essex Center's Stephen Gons questioned why the city wouldn't designate a day for Nazis if it was willing to do so for gays.
"Come on, Bernie, no one is infringing on any civil rights by not proclaiming a gay rights day," he wrote.
Winooski's Iva Black penned one of the more caustic responses.
"How many of these abnormal, disgusting critters will emerge from their closets, under the guise of aldermen, and Bernie is right is [sic] there too, rubbing his hands with glee and expectation," she wrote in a letter published on the day of the march. "As morals keep slipping, will we eventually celebrate Murderer's Day, Rapist's Day, Alcoholic's Day, Dope Day, Arsonist's Day and Child Molester's Day, or will a greater power give us The Day of Reckoning? Stand up, you weirdos, and give your brains an airing."
Sanders didn't back down. The next year, the Board of Aldermen passed a resolution urging all levels of government to support gay rights, according to a letter in the archives from the Organizing Committee for Lesbian and Gay Pride Celebration, which invited Sanders to speak at its 1984 rally.
On June 22, 1985, Sanders wrote members of the gay community to inform them that the board had passed yet another such resolution.
"It is my very strong view that a society which proclaims human freedom as its goal, as the United States does, must work unceasingly to end discrimination against all people," he wrote. "I am happy to say that this past year, in Burlington, we have made some important progress by adopting an ordinance which prohibits discrimination in housing. This law will give legal protection not only to welfare recipients, and families with children, the elderly and the handicapped — but to the gay community as well."
Bernard Sanders Papers, Special Collections, University of Vermont Library
June 22, 1983 letter from Bob Skiba to Mayor Bernie Sanders
While some publicly eviscerated the mayor, others privately commended him.
"I thank you sincerely for your endorsement of Lesbian and Gay Pride Day in Burlington," Milton's Bob Skiba wrote Sanders in a letter dated June 22, 1983. "Your endorsement gives me more reason to be glad for your re-election."
Skiba wrote that for every person who marched in the upcoming parade, "there will be a dozen who, because of fear, cannot." Such fears, he said, "make us hide what is at the center of our existence as human beings."
"Do we need a Lesbian and Gay Pride Day? When our lives must be a struggle for peace and self respect — yes!" he wrote. "We are here, in Burlington as everywhere. We are your children, your relatives, your friends and co-workers. We are gay. For all who cannot march I thank you."
Reached Tuesday at his home in Philadelphia, Skiba said he did not remember writing the letter, but he remembers the "fear and trepidation" he and other gay Vermonters felt ahead of the 1983 march.
"Amazingly, I lived in Milton and I knew at least a dozen other gay people who lived there who were known in the town and tolerated," Skiba recalled. "People knew who they were and they were fine as long you didn't make a big deal out of it. In a way, having a gay pride day and a march was making a big deal out of it. That was kind of against the rules in rural Vermont."
Though Burlington was more progressive than the rest of the state, Skiba said, "It was the beginning of the AIDS epidemic, so there was real animus toward gay people."
Now a tour guide and curator of Philadelphia's William Way LGBT Community Center, Skiba recalled thinking of Sanders as "this really great socialist mayor."
So will he vote for Sanders for president?
"I certainly have been following his campaign closely," Skiba said, pausing for a moment. "I don't know yet. I have to see how far he goes and whether he — he's kind of a dark horse candidate right now. But yeah, would I vote for him? I'm sure I would."