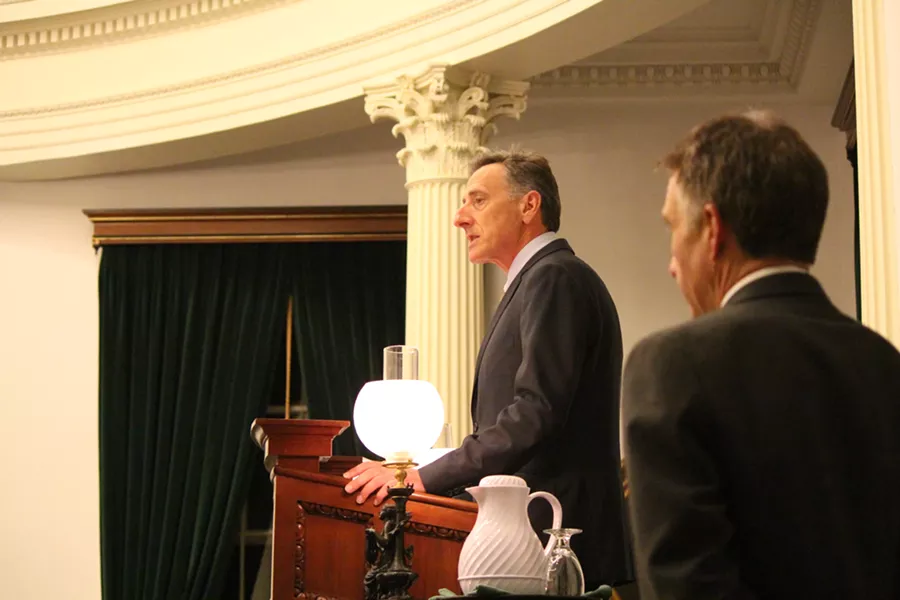 Paul Heintz
Lt. Gov. Phil Scott watches Gov. Peter Shumlin deliver closing remarks to the Vermont Senate.
In the end, Gov. Peter Shumlin blinked.
After weeks spent
castigating the Vermont legislature
for raising too much revenue and cutting too little spending, the third-term Democrat opted Saturday to forgo
a messy veto fight with leaders of his own party
. With just a few concessions in hand, he
sealed a deal with House and Senate Democrats
early Saturday afternoon, clearing a path to adjournment later that night.
In a closing address to the Vermont House, Shumlin put a brave face on a legislative session marked by his diminished influence over a Statehouse in which he has served for decades.
"Thank you for having the courage to come together to solve the problems that Vermonters sent [us] here to do," Shumlin told a partially filled House gallery. "Good work. Drive carefully."
With that, at 11:04 p.m., House Speaker Shap Smith (D-Morristown) gaveled out
one of the strangest sessions in recent memory
.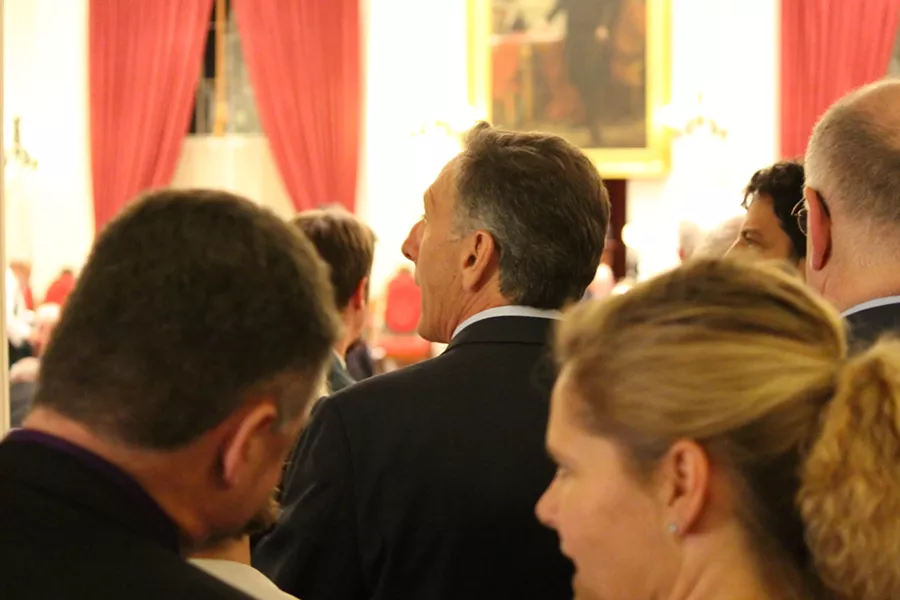 Paul Heintz
Gov. Peter Shumlin enters the House chamber to deliver closing remarks.
An hour earlier, Lt. Gov. Phil Scott reflected on the year's peculiarities and difficulties as he presided over the Senate's final moments before its own adjournment. Among those he cited: the governor's
reelection by legislative vote
in January; the
ousting of a sergeant-at-arms
; and
the sudden death of a senator's husband
.
"We've been through an awful lot, I believe, this year," Scott said.
No event seemed to affect the Senate more than the arrest nine days earlier of Sen. Norm McAllister (R-Franklin), who pleaded not guilty to a slew of sex charges,
was stripped of his committee assignments and refused to resign
.
"Now we have an unprecedented cloud looming over our institution," Scott told his Senate colleagues. "But while we've had our dark moments, we also have a lot to be proud of. And while I don't always agree with everything you've done legislatively, I know and I've watched how incredibly hard you've worked and how difficult the circumstances have been."
In four months of committee hearings and floor debates, the legislature passed bills designed to reform school governance, clean up the state's rivers and lakes, update its renewable energy standards and protect children from abuse. It devoted countless hours to such controversial issues as whether to restrict convicted criminals and the mentally ill from owning guns, and whether to more fully mandate childhood vaccination.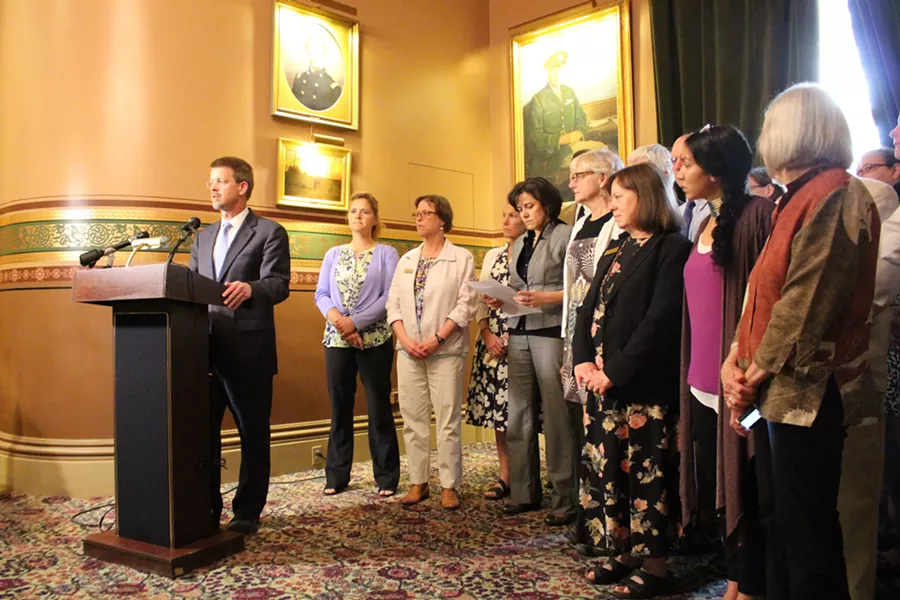 Paul Heintz
House Speaker Shap Smith and his Democratic leadership team discuss the end of the legislative session.
But in the end, the issue many expected to dominate the legislative session went nowhere at all: health care reform.
Even after Shumlin abandoned his plan to pursue a financing package for his long-promised single-payer health care system, the governor pledged to keep the issue front and center this year. In his January budget address, he pitched a $90 million payroll tax that would have brought in another $100 million in federal funding. Much of that would have gone toward better compensating medical providers who treat Medicaid patients.
Legislators never warmed to the idea, but they likewise couldn't agree on a better source of revenue to fund their seemingly limitless priorities. After flirting with an excise tax on sugar-sweetened beverages and several sales tax proposals, the House let a $49 million health care bill become a $20 million bill and then an $8.8 million bill.
When Shumlin, Smith and Senate President John Campbell (D-Windsor) emerged from the governor's office with a final deal Saturday afternoon,
the health care bill was left with just $3.3 million in funding
, all from increased tobacco taxes.
"I've gone through moments of disappointment over the last week in particular," said House Health Care Committee chair Bill Lippert (D-Hinesburg).
His Senate counterpart, Sen. Claire Ayer (D-Addison) sounded even more disconsolate. In recent weeks, she had come to describe the working bill as "keeping the lights on."
"I would say [the final bill] is putting a candle in the driveway across the street," she said. "It's really kind of pathetic."
In an interview with
Seven Days
Saturday afternoon, Shumlin said that nobody should have expected the legislature to take action on anything resembling single-payer this year.
"That horse was dead," he said. "The question was what could we do to advance the ball. I wish that we could have done more. We've got more work to do in the future."
Paul Heintz
Sen. Tim Ashe, Sen. Claire Ayer and Sen. Jane Kitchel review a health care bill.
The biggest impediment to such expensive reforms was the state's $113 million budget gap, which consumed much of the legislature's energy this year. Proposed budget cuts galvanized state workers and publicly funded organizations to take action and protect their appropriations.
Though Shumlin himself
proposed $112.7 million in new taxes
in his January budget, his rhetoric became more and more fiscally conservative as the year wore on. He criticized House and Senate plans that would each have raised roughly $35 million in new taxes, mostly by limiting itemized income tax deductions, and called on both chambers to find $10 million in additional cuts.
By late Friday night, legislative leaders were preparing to send Shumlin a tax bill they fully expected him to veto. But when members of a key conference committee left the Statehouse before midnight without signing it, they provided an opening for negotiations to continue Saturday morning.
The final deal
, reached at 1:50 p.m., didn't look much better for Shumlin than the one many had expected him to veto. Its $30 million in new taxes still capped deductions, but at a slightly higher rate: 2.5 times the standard deduction instead of just two. It also excluded charitable and medical deductions from that cap.
"What I felt very strongly about was that we don't take away charitable deductions, that we don't take away the ability to deduct catastrophic health care costs and that we did it without implementing income tax changes I felt would really hurt Vermont's economy," Shumlin said.
While the tax package extends the 6 percent sales tax to soft drinks and the 9 percent rooms and meals tax to vending machine food, it skips a number of proposed taxes, such as those on candy, bottled water and satellite television. It does not raise marginal tax rates on the highest earners and it does not increase the assessment borne by businesses that don't provide health insurance to employees.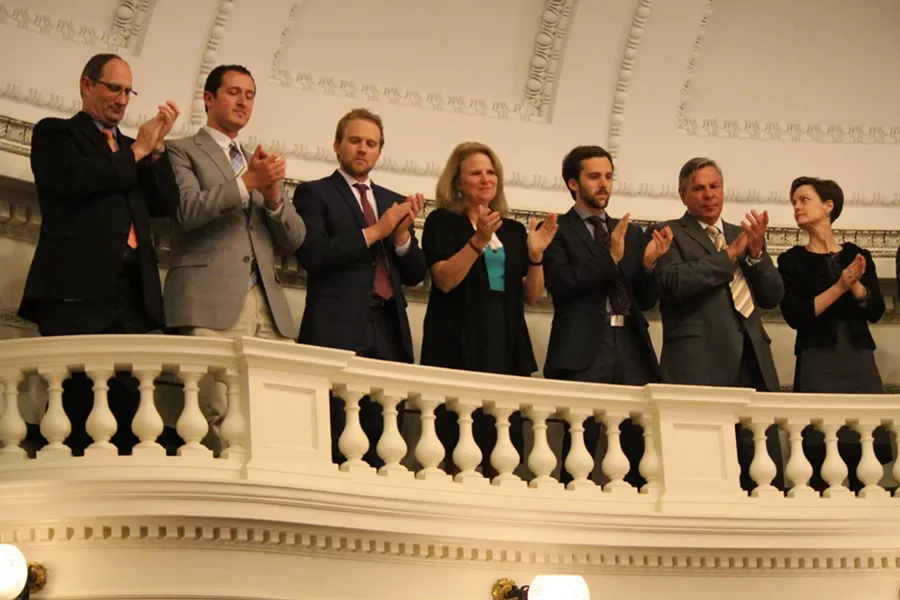 Paul Heintz
Gov. Peter Shumlin's staff applaud him from the Senate gallery.
Though legislative leaders say Shumlin threatened to veto the tax bill in private conversations, Shumlin downplayed the standoff publicly.
"I've watched a lot of ends of legislatures," he said. "This one was no different than any. Both sides in the end come together to do what's right for Vermont."
His decision might also have been right for the Democratic Party and for Shumlin's own political fortunes.
Had he vetoed the tax bill, all sides would have been forced to return to the Statehouse within weeks to continue a fight nobody seemed to be enjoying. While Republicans had pledged to sustain his veto, it's not clear how the governor would have forged majorities to sign off on a new plan.
By the time Shumlin, Smith and Campbell emerged with the deal, even House Republicans were ready to call it quits. By dinner time, they had agreed to suspend the rules to let the budget, tax and health care bills speed through both chambers without delay.
By 11:30 p.m., the Statehouse had emptied out for the year.