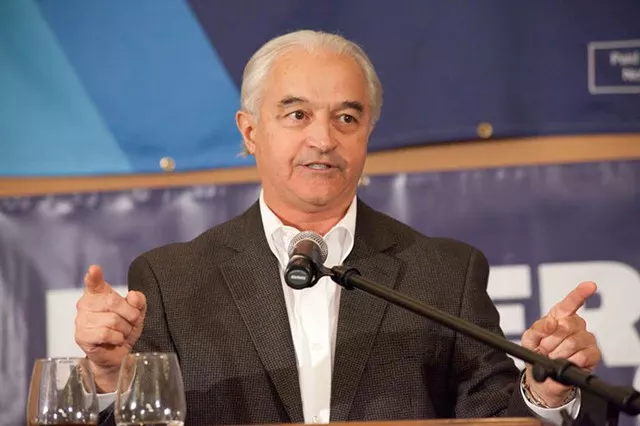 File: Matthew Thorsen
Attorney General Bill Sorrell upon winning reelection in November 2014
In his dealings with top national lobbyists, Attorney General Bill Sorrell has shifted fluidly from the professional to the political to the personal, according to documents obtained through public records requests.
Until last week, the most prominent of them worked for the Washington, D.C., law firm Dickstein Shapiro, which has directly lobbied Sorrell on behalf of AT&T, 5-Hour Energy, Uber and casino magnate Sheldon Adelson. As they sought to influence the AG, those lobbyists gave generously to Sorrell's reelection campaigns, forged close relationships with him, arranged publicity opportunities and paid for his travel.
Last Tuesday, the Philadelphia law firm Cozen O'Connor
hired away 10 members of Dickstein's state attorneys general practice
, including those who have lobbied Sorrell the hardest: Lori Kalani, Bernie Nash, JB Kelly, Milton Marquis and Chris Tampio.
Though the attorneys have frequently lobbied Sorrell and his office, none of them have registered as lobbyists in the state of Vermont.
In correspondence obtained by Seven Days
, it's often difficult to distinguish between the various roles they were playing with Sorrell. When Kalani emailed the AG in April 2012, she was hoping to set up a meeting between Sorrell and Facebook's new state lobbyist "to discuss fostering better communications between the office and Facebook."
But Sorrell appeared distracted. Two weeks earlier, Chittenden County State's Attorney T.J. Donovan had announced plans to run against him. House Speaker Shap Smith (D-Morristown) and then-senator Vince Illuzzi were also mulling challenges.
"I am very busy, trying to juggle getting a campaign up and running and doing my job. I have one serious primary opponent right now with another likely to jump in soon," Sorrell wrote Kalani from his state email account. "Speaking of that, I sent a thank you note to you at the address given me by [the Democratic Attorneys General Association] ... but it came back as undeliverable. Is there a better address?"
The email does not explain why he was sending her a thank-you note, but Kalani was a frequent contributor to his campaigns.
In response, Kalani wrote that she had "been following the news" and was "thinking about how I can help." One way, she suggested, would be for Sorrell to host an event with her client, Facebook, highlighting safe internet practices for children.
"My correct address is below," she concluded. "No need to resend the card if you'd like to save a stamp."
Two weeks later, Kalani wrote Sorrell to request his personal email address, saying she "would like to talk to you about a non work topic."
Over the years, Kalani and her peers have frequently interacted with Sorrell at far-flung conferences held by DAGA and similar organizations, where Dickstein typically hosts a dinner for state attorneys general. At an Orlando event in January 2014, Kalani and her Dickstein colleagues donated $2,000 to Sorrell's campaign. Five days later, Sorrell informed Kalani that he'd signed
a letter
supporting online gambling regulations favored by her client, Adelson, who owns Las Vegas Sands Corp.
"Great seeing you and chatting a bit in FL," Sorrell wrote. "See you soon in NYC."
A week later,
as Seven Days reported last month
, Dickstein flew Sorrell to New York City for a panel discussion it arranged, put him up at a hotel and took him out to dinner. While planning the event,
Nash arranged a publicity opportunity for the AG
.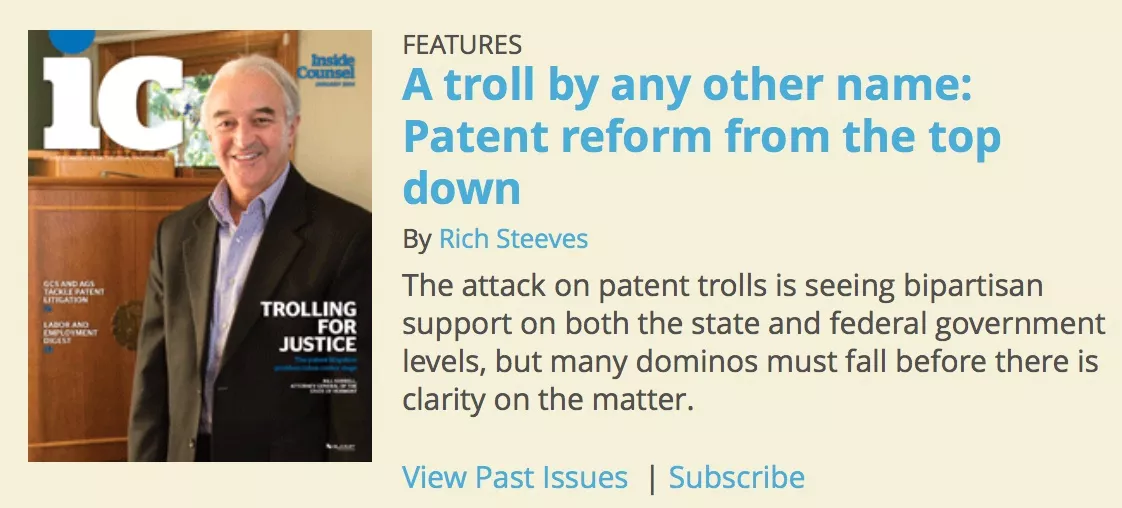 Screenshot
Attorney General Bill Sorrell was featured on the cover of InsideCounsel's January 2014 edition.
"Would you be willing to be on the cover of [the] January issue of
InsideCounsel
magazine, when they publish article on patent troll issue?" Nash wrote. "Please let me know and they will arrange a time for a photo shoot at your convenience."
Sorrell responded: "But Bernie, Might that hurt readership #s?? I'm happy to do this."
Soon after the New York City panel, Kalani and Sorrell traded emails about future endeavors — personal and political.
"I really have to get you and Betsy out to Colorado for some great skiing," Kalani wrote. "Jay is a tremendous skier — you two would have a great time."
"Colorado skiing would be fun!" Sorrell replied. "I will be in DC Monday afternoon-Tuesday early evening, if there's a convenient time I might meet your union friend. Otherwise, another time. NYC was enjoyable. My life stories are nowhere near as interesting as yours!"
Kalani responded by saying that her ski house was "basically booked for the rest of the season," but that she would "look for skiing dates for next year."
"I will check with my building trades contact tonight and see if he is available next week," she wrote, referring to her union friend. "I had fun in NY, as well. It is [n]ice to get to know you on a more personal level."
A former lobbyist for DISH Network, Kalani has worked for several top firms that specialize in influencing attorneys general: Orrick, Herrington & Sutcliffe, another Sorrell donor; Dickstein; and now Cozen O'Connor. She was
featured prominently
in a Pulitzer Prize-winning series by the
New York Times
' Eric Lipton for her work lobbying Sorrell's peers.
In a document obtained by the Times
, Dickstein pitched a potential client by highlighting its "knowledge of and relationships with the AG community" and pledged to "become ... advocates at AG gatherings." The firm is one of the most generous corporate sponsors of DAGA, which spent close to $200,000 on a super PAC created to run pro-Sorrell advertisements during his 2012 campaign against Donovan.
"We are adaptable, and our working relationships within the AG community has [sic] allowed us to maintain credibility for our clients even when new facts emerge that were previously not known," the firm wrote in its pitch.
Its efforts to cultivate relationships appear to have worked with Sorrell.
In a March interview with Seven Days
, he said about Dickstein, "Look, there are some members of that firm who I consider to be personal friends, who come out of the AG ranks."
After the
Times
homed in on Kalani's particularly close relationship with Florida Attorney General Pam Bondi
, a citizen filed a complaint with the state ethics commission asking why Dickstein's lawyers did not register as lobbyists in the state. (Dickstein also
set up an InsideCounsel cover shoot for Bondi.
)
Like Florida, Vermont does not require attorneys representing clients in contested cases to register as lobbyists, according to
the Vermont Secretary of State's lobbying guide
. So Dickstein's work representing 5-Hour Energy after
Vermont sued the company in July 2014
over allegedly deceptive promotional claims would presumably be exempt from disclosure.
But those who contact state officers, such as Sorrell, in order to "influence the substance of law(s) that may be passed or the content of administrative rules or policies that may be adopted, or the manner in which policy may be carried out" must comply with Vermont's lobbying regulations. Kalani's successful efforts to convince Sorrell to sign
the letter
supporting gambling restrictions could qualify as such.
Registered lobbyists must regularly disclose how much they spend seeking to influence state officials and must list all gifts they provide them, such as airfare, dinners and hotel stays. Officials are barred from soliciting such gifts and cannot request political donations from lobbyists until after the legislative biennium ends.
As Seven Days has previously reported
, Sorrell has explicitly solicited airfare and meal reimbursements from Dickstein and Orrick. He has regularly held fundraisers featuring those and other national, unregistered lobbyists prior to adjournment.
It's unclear whether those who lobby the attorney general to file suit must register as lobbyists. If so, former New Mexico attorney general Patricia Madrid and her husband, Mike Messina, would qualify.

The pair met repeatedly with Sorrell on behalf of their client
, Texas law firm Baron & Budd, to convince Sorrell to sue oil and gas companies. After Messina and those associated with the Texas firm donated $10,000 to Sorrell's reelection campaign in December 2013, the AG agreed to file suit. He hired Baron & Budd and two other firms to represent the state, guaranteeing them and Messina's firm 25 percent of any money recovered in the case.
Vermont state law
bars lobbyists and their firms from being paid "compensation that is dependent on a contingency."
Charged with investigating any violations of the state's lobbying rules is the office of the attorney general.
Sorrell, Kalani, Messina and Madrid did not respond to requests for comment.