Paul Heintz
Former governor Jim Douglas and his official portrait, painted by Kate Gridley
Montpeculiar is an occasional feature on life and times in the Vermont Statehouse.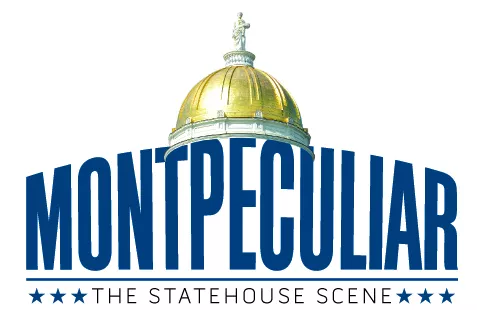 As he has every January for the past five years, former governor Jim Douglas descended upon the Statehouse last week with a small crowd of smartly dressed college kids in tow.
Like a star quarterback returning to his alma mater, the Middlebury Republican gripped and grinned his way through the state capitol, hugging old friends and cracking corny jokes.
"Madame chair-babe!" Douglas exclaimed as Sen. Peg Flory (R-Rutland), the Senate Institutions Committee chair, approached him in the ornate Cedar Creek Room.
"There's a long story," Flory explained to a red-faced reporter before turning back to the governor emeritus. "How are you? It's so good to see you."
"It's nice to be seen, except I keep looking older than the fella on the wall," Douglas said, gesturing to Kate Gridley's portrait of himself hanging just outside the governor's ceremonial office.
"We all are," Flory remarked as she carried on toward the Statehouse cafeteria.
Now an executive-in-residence at Middlebury College, the 63-year-old Douglas was in town Wednesday to guide 22 students in his "Vermont Politics and Government" class through the building in which he served for portions of four decades.
"The first time felt funny," he said of his winter homecoming trips. "It was fairly soon after I left, and I think it's better to keep some distance and not hang around. But I don't know how I teach this course without a trip here."
Douglas and his students were scheduled, as always, to meet with Gov. Peter Shumlin and Lt. Gov. Phil Scott, before dropping into committee rooms and watching the House and Senate in session.
But without any notice, the Republican governor's Democratic successor had canceled on him.
Douglas said he thought the meeting was on until earlier that morning, "When I walked into the building and Mrs. [Elizabeth] Wechsler, the tour guide, said, 'There's been a change.'"
Was the gubernatorial snub related to
Douglas' harsh words in his recently released memoir
that he had "no idea what really motivates" Shumlin?
"I assume it was a scheduling conflict," Douglas said, somewhat unconvincingly. "It
does
happen."
Shumlin's spokesman, Scott Coriell, did not respond to a request for comment.
Paul Heintz
Former governor Jim Douglas in the governor's ceremonial office
In place of the gubernatorial summit, Douglas treated his students to a tour of the relics adorning his old ceremonial office. He deftly ticked off the names of "the old dead governors" whose portraits hang on the room's white walls.
Governor Urban Woodbury, he noted, had lost an arm in the Civil War, and later ran on a ticket with another one-armed veteran: lieutenant governor Zophar Mansur.
"Their slogan was, 'Two good arms between them,'" Douglas said to a few forced chuckles.
"And I suppose I have to mention the lamp," he said, pointing to a 19th century statue of a nude woman, which sits on the governor's ceremonial desk.
"Well!" Wechsler said, laughing nervously. "Better you than me!"
"There was quite a little controversy here," Douglas explained, recalling
an infamous episode in 2004
. "The name of this lamp is 'Greek Slave,' and I decided that maybe that wasn't the best thing to have here. So I asked that it be removed, 'cause I said I didn't want to explain to fourth-graders why there's some naked woman on my desk, OK, with chains."
He continued: "So I had it removed and some of the historians in Woodstock, where the sculptor lived 130 years ago, were offended that I'd moved the sculpture out of the office. And it was a big brouhaha in the press and everything. So — it's obviously here."
"You're never going to live that one down," Wechsler said, tittering.
"No, that's alright," Douglas said. "I'm comfortable with my position."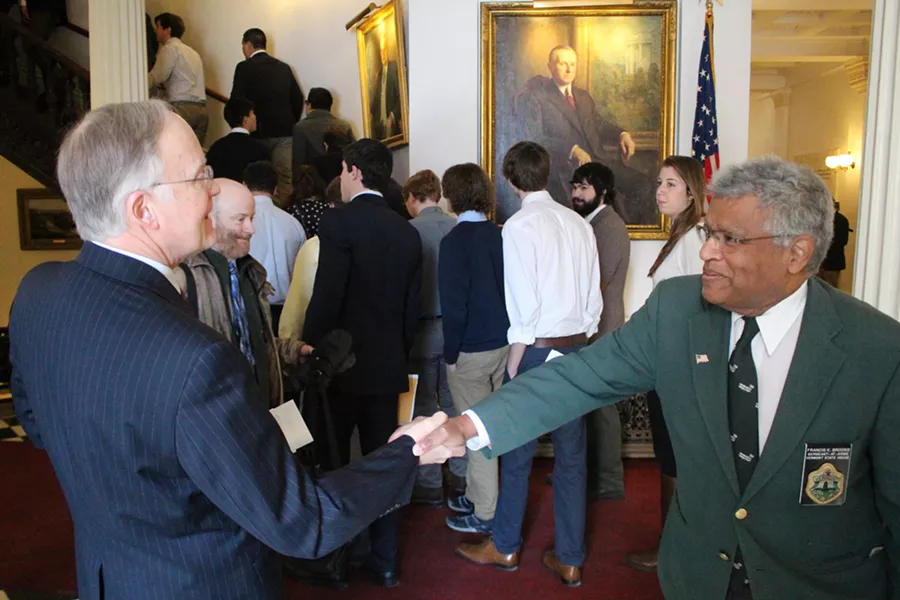 Paul Heintz
Former governor Jim Douglas and Sergeant-at-arms Francis Brooks
As the governor led his students through the building, he occasionally bumped into those with whom he served, such as former representative Francis Brooks, now the Statehouse sergeant-at-arms, and those who served
him
, such as Vermont Chamber of Commerce president Betsy Bishop, his longtime deputy chief of staff. He caught up briefly with Dustin Degree, a former executive assistant who is now a Franklin County state senator.
After filing into the House chamber, the students sat in the tall, red chairs occupied by senators during joint assemblies and listened to Scott deliver a half-hour lecture on his trademark "good-guy" politics. The Midd kids listened somewhat attentively, though a couple pairs of eyelids briefly drooped during the sermon.
During a question-and-answer period, one student asked Scott to "pitch" them on staying in Vermont after graduation. (Only four of the 22 actually hailed from the Green Mountain State, Douglas noted.)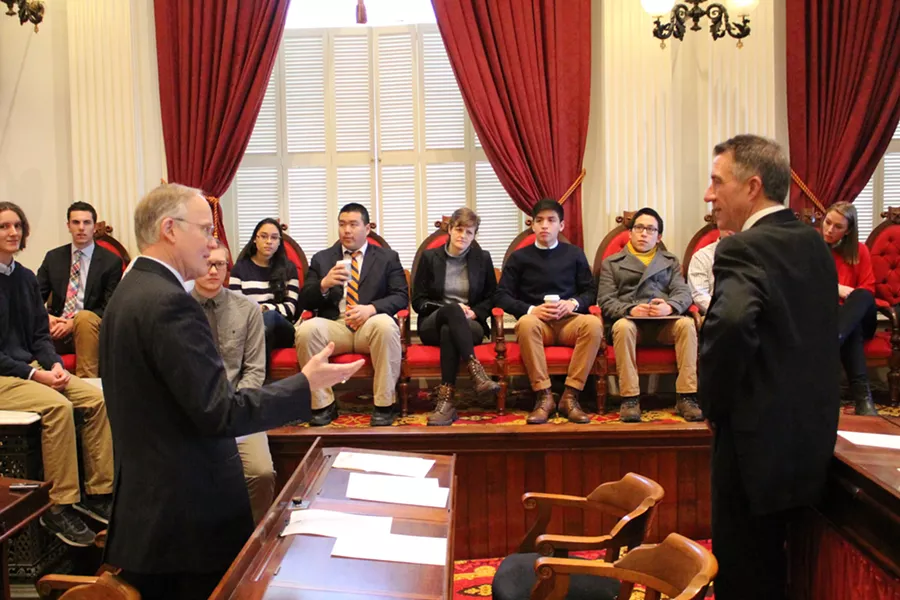 Paul Heintz
Former governor Jim Douglas and Lt. Gov. Phil Scott in the Vermont House chamber
A few minutes later, a square-jawed student who looked like he'd played a game or two of lacrosse, asked much the same question, evidently having spaced out during its earlier incarnation. The student said he'd "invested a lot" in his education and couldn't afford to be a "skilled laborer" — perhaps not realizing he was asking the question of a guy who's spent his life in the construction business.
After Scott concluded his remarks, Douglas showed off his knowledge of the room: how many chairs were in the chamber, how much the chandelier weighed and which desk he and fellow former governor Madeleine Kunin once shared.
Did the students have any questions?
"Where's the super-fancy bathroom?" one asked.