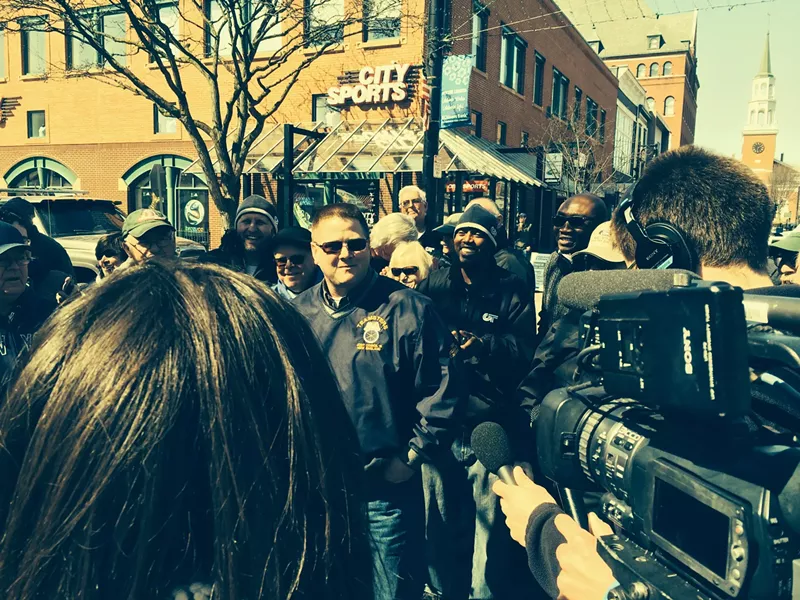 Mark Davis
Teamsters union representative Tony St. Hilaire announces that CCTA bus drivers had agreed to a contract Thursday afternoon. Bus service, idle for two and a half weeks, should resume Friday morning.
UPDATE Thursday 6:30 p.m.


It's officially over.
The CCTA Board of Commissioners this evening unanimously ratified the
three-year contract that drivers approved this afternoon. Bus service
will resume tomorrow after a two and a half week shutdown.
"We're done," Board Chairman Tom Buckley said. "Lets roll the buses.
It's been a long slog."
But it is clear that hard feelings remain.
The board's approval came after union steward Mike Walker delivered a
passionate statement asking the board to remove all CCTA managers.
Walker told commissioners that drivers had issued a unanimous vote of
no confidence in management today for their "totalitarian, predatory
philosophy ... that is directly responsible for the current toxic
environment."
Walker said the union will be on guard against management retaliation
against drivers in the coming weeks and months.
Additionally, drivers' supporters submitted a petition with more than
500 signatures of community members asking for the management purge.
"We respectfully ask for their removal," Walker said. "We will be
holding all of you responsible. We don't want any retaliation. We are
there to serve the public."
Commissioners did not directly respond to Walker, and their few
questions were limited to technical inquires about the fine-print of
the contract.
In an interview afterward, Buckley said there are no plans to fire
management, but noted that the board had created a subcommittee that
will examine the relationship between management and drivers in more
detail.
"We listened to those concerns. Our response is that committee,"
Buckley said. "They will examine the operations in some depth and make
recommendations back to the board."
Management and drivers also agreed to participate in a multi-day
program, recommended by a mediator, to try to foster "a more
respectful and efficient" work environment.
To placate frustrated riders, CCTA is offering free service through
Sunday, April 13.
Drivers will receive two percent annual raises in the agreement.
Currently, drivers with one year of service make roughly $42,500. They
will make more than $45,000 by the end of the contract, before
overtime.
Additionally, CCTA General Manager Bill Watterson said negotiators
reached a compromise on the way in which part-timers can be assigned
work. Current rules, CCTA said, essentially left part-timers with
leftover hours they had little choice in selecting, making the job
unappealing.
"I believe we are better positioned to serve the community," Watterson
said. "We worked together and arrived at a solution. That's going to
be better than what our (current) conditions are."
Watterson declined to comment after the hearing.
The board also said that it deserved some of the scorn that has been
heaped on management by drivers and their supporters.
"Our negotiating team took the heat for what we directed them to do,"
Commissioner Steve Magowan said. "They did not ask for a single thing
that the board hadn't told them to do, and I thank them for their
service. I hope ... that management and drivers can gather together.
Lets just kiss and make up and move forward."
The vote was delayed for nearly an hour after commissioners realized
that they hadn't seen copies of the contract they were to vote on.
With the help of drivers in the crowd, copies of the proposal were
eventually made and distributed.
"I'm not willing to ratify it without seeing it," Magowan said.


UPDATE Thursday 4:20 p.m.
The CCTA strike is over, and buses will be rolling Friday.
The drivers voted 53-6 Thursday afternoon to accept an agreement finalized by their leaders around 3 a.m. after another marathon negotiating session with CCTA management.
"We won this fair contract because of our unity and the tremendous support from our community," drivers spokesman Rob Slingerland said. "This strike was hard on us and on the community. There was a great
deal of self-sacrifice from many people."
The agreement featured one big win for drivers. Their spread time — the span between their first and last runs of the day — will remain capped at 12.5 hours, not the 13.5 management had been seeking.
"They're happy with it — we do what the majority wants — and I'm satisfied with it too," union steward Nate Bergeron said of his fellow drivers. "We achieved our goal on the spread."
But drivers made a significant concession, allowing management to hire up to 15 part-time drivers. For months, the union had fought against bringing any part-timers on board, fearing that it would dilute their ranks and lead to less job security.
"It was a hard pill to swallow," Teamsters union business agent Tony St. Hilaire said during a raucous press conference at Church and Cherry streets, where drivers have picketed throughout the strike. "It's a union; we believe in full-time jobs with benefits. But right now, everybody is going back to work."
CCTA did not immediately comment on the drivers' vote. CCTA's Board of Commissioners, scheduled to meet at 4 p.m., still have to ratify the contract, but drivers said they considered that a formality given that CCTA negotiators also signed off on the deal. They are planning to hold a rally downtown this evening to celebrate.
Drivers will receive roughly two percent raises in each of the contract's three years.
Drivers, who huddled in the VFW Hall in South Winooski Avenue to discuss the contract and vote this afternoon, said they were excited to get back to work providing 9,700 rides a day to students, commuters and low-income residents throughout the region.
"I work for the customers, " Noor Ibrahim said
Earlier Post:
The Chittenden County Transportation Authority bus strike may be hours away from ending.
Drivers are scheduled to meet this afternoon and vote on a contract agreement hammered out by their representatives and CCTA management early this morning after several hours of negotiation.
Officials from both sides have declined to release details of the proposed agreement. CCTA's Board of Commissioners, which would have to approve the contract, is scheduled to meet at 4 p.m. in Shelburne. The meeting was initially scheduled to hear
management's proposals for alternative ways to end a strike now in its third week, including hiring replacement drivers or pursuing legal action.
Statements of support for the tentative agreement began pouring in from Vermont political leaders, who are encouraging an end to a strike that has stranded scores of low-income Vermonters, students and other commuters who take 9,700 rides a day on CCTA buses.
U.S. Sen. Bernie Sanders, who met with union and CCTA management leaders Tuesday, said that he "hopes and expects" that drivers will approve the contract.
"I know this has been a very difficult time for bus commuters in Chittenden County," Sanders said in a statement. "It was clear from my discussions on Tuesday night with both parties that they were close to an agreement and, from what I understand, they have now negotiated a sensible resolution to the part-time and scheduling issues that were outstanding. Long-term, I urge CCTA management to focus on efforts to improve the culture and work environment at CCTA which clearly had reached a low point."
Gov. Peter Shumlin urged drivers to vote yes on the agreement.
"When I met with the drivers and CCTA management yesterday, I heard the drivers' frustration over working conditions and management relations, and I committed to helping in any way I can to help forge a better environment for workers going forward," Shumlin said. "It is now time to set aside differences and approve this compromise agreement to get our bus drivers back on the road."
Burlington Mayor Miro Weinberger sent a similar message.
"I urge the drivers to approve this agreement today so our impacted schoolchildren, families, patients, and neighboring community members can get back on the bus as soon as possible," Weinberger said. "The drivers should vote with confidence that Burlington has heard their concerns about the need to improve workplace culture and is committed to working in the months ahead to ensure meaningful follow-through on CCTA management's commitments to improve that culture."