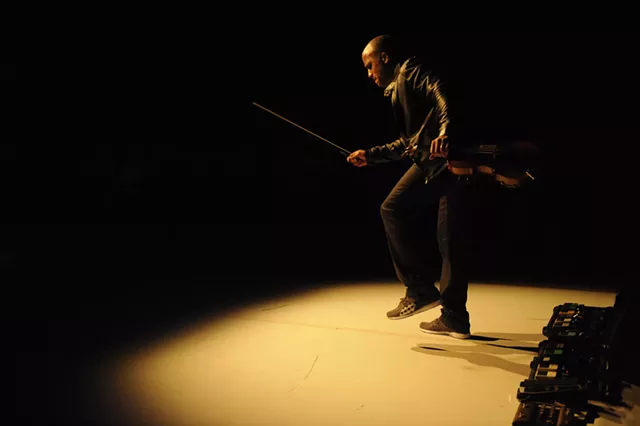 Courtesy of Daniel Bernard Roumain
Daniel Bernard Roumain
The
Burlington Discover Jazz Festival
is back.
From Friday, June 4, through Sunday, June 13, the annual music marathon returns to various locations around the Queen City, centering on the Church Street Marketplace, organizers announced in a press conference on Tuesday. In 2020, BDJF pivoted to a fully virtual experience called the
Burlington ReDiscover Jazz Festival
. This year's edition marks the first major live event to hit the Green Mountains since the coronavirus pandemic decimated the performing arts industry in March 2020.
The festival kicks off on June 4 with an event called 50 Saxophones on the Burlington Waterfront. Led by local funk icon
Dave Grippo
, scores of local sax players will converge for the inaugural event.
While the bulk of BDJF shows will happen on the Church Street Marketplace, green spaces such as Roosevelt Park, Starr Farm Park & Playground and Smalley Park will also host performances. These include sets from
Dwight & Nicole
(Saturday, June 5),
Kat Wright
(Sunday, June 6) and
Matthew Evan Taylor
featuring
JACK Quartet
(Sunday, June 13). An extension of the Flynn's 2020 event series,
Hurly Burly
, the park shows will feature artists performing on makeshift stages wheeled in on the back of flatbed trucks.
Additionally, the entire block of Main Street in front of the Flynn will become a Hurly Burly block party on Saturday, June 12, with performances from
Ray Vega
and his Latin Jazz Sextet, plus psych fusion outfit
Barika
.
Brian McCarthy
and rapper Edwin Owusu (fka
S.I.N.siZZle
), pianist Tom Cleary and Afro-jazz duo
KeruBo
's Irene Kerubo Webster, vocalist
Amber deLaurentis
and cumbia bandleader
Maïz Sandoval
, guitarists
Paul Asbell
and
Mikahely
, and violinist
Daniel Bernard Roumain
with percussionist Gopal Niroula. Dates and times are TBA.
See related PDF