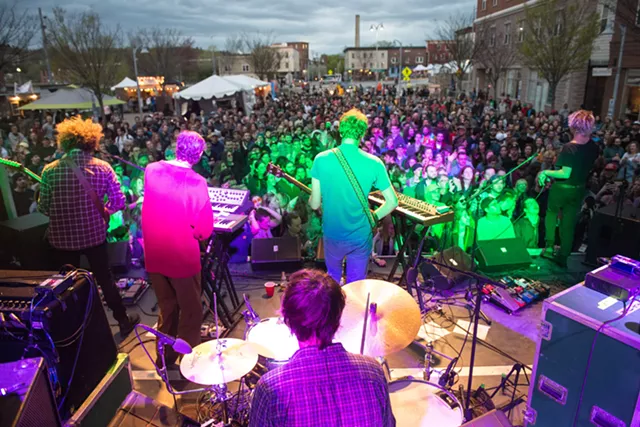 Courtesy of Britt Shorter/Waking Windows
Australian rock band Pond performing at Waking Windows 2017
Waking Windows
has been pushed back to May 2022.
After all but confirming the postponement
in a January email to
Seven Days
, the Winooski-based indie music and arts festival's organizers released a statement on Thursday announcing their decision to not go forward with the event this year due to continued safety concerns around the pandemic. The 2020 festival, which would have marked the event's tenth anniversary, was also canceled because of the coronavirus.
"While we're optimistic for the future, we do not feel things will be drastically different in May 2021 compared to where we are at today," Waking Windows organizers wrote in the statement.
Given that the three-day festival annually draws crowds of up to 8,000 people and typically features more than 150 performers, "it would simply remain impossible to safely host a full-fledged festival experience," the statement continued. Though Waking Windows centers on several large, outdoor stages, the bulk of performances take place indoors, in small businesses around the Winooski traffic circle.
"The next Waking Windows is supposed to be our tenth year," the organizers went on, "and we're going to return with a proper event that we're really proud of [versus] trying to pull anything off that isn't our style or isn't fully safe for folks!"