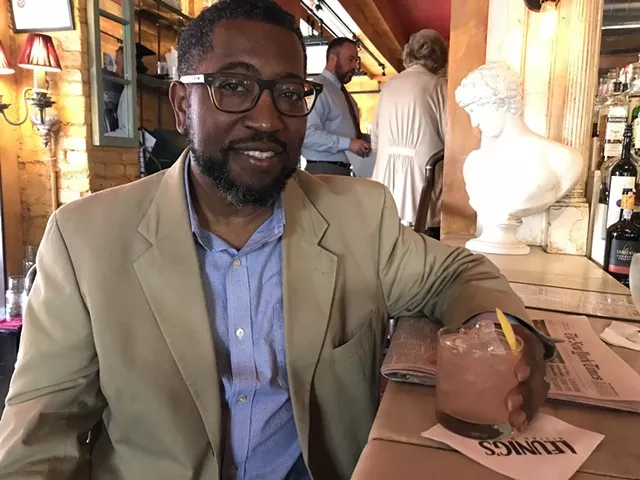 Sally Pollak/File ©️ Seven Days
Major Jackson at Leunig's Bistro
Major Jackson and Daniel Fogel arrived at the
University of Vermont
in the fall of 2002, each moving to Vermont from Louisiana.
Jackson, a poet, was a young faculty member joining the English department from Xavier University in New Orleans. Fogel, a Henry James scholar and university administrator, arrived from Louisiana State University to serve as UVM's 25th president. The two met that fall at an English department picnic, recalled Fogel, who's now a professor in the department.
"I met Major, read some of his poems, and immediately began [working] from the president's office and made sure that we retained him as long as we could," Fogel said.
That effort was successful for nearly two decades: Jackson, 52, will leave UVM at the end of the semester for
Vanderbilt University
, where he'll be the Gertrude Conaway Vanderbilt Professor of English. During his tenure at UVM, Jackson emerged as a prominent American poet of his generation, publishing four volumes of poetry, including this year's
The Absurd Man
, and
editing the 2019 volume of The Best American Poetry
.
In a phone call with
Seven Days
, Jackson said the position at Vanderbilt and moving to Nashville are interesting and appealing to him for a multitude of reasons. Chief among them is the opportunity to work with graduate students in Vanderbilt's acclaimed
MFA creative writing program
, and to teach alongside professors who are poets and novelists he greatly admires, Jackson said.
"I have the privilege of mentoring the next generation of writers at my home institution," he said. "Part of the allure of Vanderbilt is that I get to select students upon admission, and watch them grow under the tutelage of myself and distinguished colleagues until they graduate and hopefully publish."
Jackson's contributions to the cultural life of Vermont extend beyond the classroom and printed page:
A cocktail is named for him
at Leunig's Bistro & Café in Burlington; on Town Meeting Day some years ago, he organized a poetry reading that included then-governor Jim Douglas reading Dante. He's served on the boards of the
Vermont Humanities Council
, the
Vermont Arts Counc
il
and
Vermont Studio Center
in Johnson.
At UVM, Jackson organized the
Painted Word Poetry Series
in collaboration with the Fleming Museum of Art. In June, he
published an essay
in "Literary Hub," titled
Letter from Vermont: Fighting for Black Interior Lives,
that discusses this moment in the nation's struggle for racial justice.
"One hopes this is the blush of some permanent fever for reciprocity and justice," Jackson wrote.
Talking about his advocacy and upcoming move to Nashville, Jackson observed: "Vermont tends towards progressive ideals, which are in alignment with my history as an African American man and a Black writer. My vote counts here, for sure, but let's just say my activism, vote and advocacy will matter even more in a state like Tennessee."
Jackson is part of a long-standing group of Vermont poets who meet regularly at each other's homes to read and discuss work. When he moves to Tennessee, Jackson said, he'll miss "beloved colleagues" and "very solid friendships that have bolstered and supported me."
"The writers here, particularly the poets in Vermont, we've been a close lot," he continued. "We've tended to each other's growth and supported one another."
Vermont itself, which he called a "literary state," provides a strong foundation "to walk on for artists and writers who are typically independent thinkers," Jackson said. "That sense of independence and liberty is part of the foundation of the state."
Discussing Vermont's poetry tradition, he cited in particular Robert Frost, the state's first poet laureate, and Louise Glück, a former Vermonter (and onetime Vermont state poet) who earlier this month was
awarded the Nobel Prize in Literature
. He referred to Aleksandr Solzhenitsyn, the exiled Russian writer who lived in Cavendish and wrote novels and poetry.
"Look," Jackson went on, "[Vermont] has long winters that lend themselves to deep, contemplative thinking. Add to that the social transformation of Vermont in the '60s and '70s and it becomes a refinement, of sorts, of how to exist and lead a life that privileges one's creativity and one's freedom."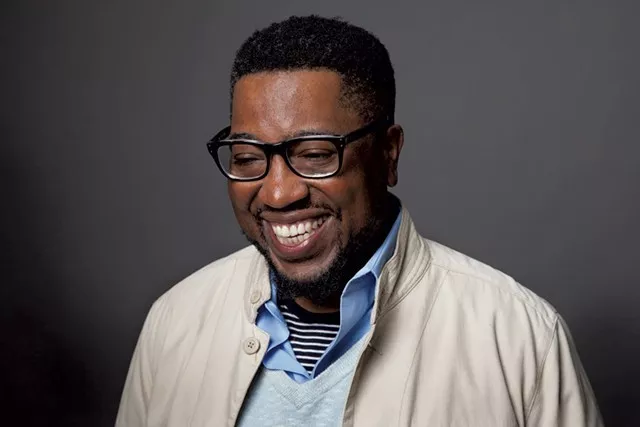 Courtesy photo
Major Jackson
Jackson and his wife,
Didi Jackson
, a poet who will join Vanderbilt's English department, have a house in Rochester. They'll keep that Vermont home and spend summers, holidays and academic leaves there, Jackson said.
"UVM is very dear to me," he said. "It's already difficult to cut those bonds... There's a whole host of alumni for whom I'm very proud of their growth as human beings."
He hopes to return to the university to give occasional lectures. "UVM has been quite central to my life as a writer, as a scholar and as a human being," Jackson said.
At Vanderbilt, his colleagues will include Lorrie Moore, who writes short stories and novels; Tony Earley, also a fiction writer; and the poets Kate Daniels and Rick Hilles. The program's founding director is poet Mark Jarman, whose work was influential to Jackson when he was a graduate student at the University of Oregon, he said.
"I deeply read his work; it has a level of spirituality and faith," Jackson said. "I'm very happy to be associated with [that] group of writers. It's one of the top programs in the country, and I'm excited to be a part of their emerging story."
The move to Nashville is a homecoming of sorts for Jackson, who grew up in Philadelphia. His mother's family is from Tennessee and he spent childhood summers in Nashville visiting relatives.
"I get to move into a different phase of my life as a writer and activist and, maybe even more so [than in Vermont], concentrate my efforts on my creativity," Jackson said.
At UVM, Jackson holds a professorship named for Richard Dennis, the first Black chair of the university's board of trustees. He leaves as a
University Distinguished Professor
, an appointment he received in 2016.
"We're losing an extraordinarily talented person who has become a major figure in American letters," Fogel said. "It's not just Major's poetry, which is very powerful and rich and original, but also the way he talks about poetry. He's an inspirational teacher. His stature in the world is deeply earned."
This article also appeared in the November 28 print issue, headlined "Major Moves."