Alisa Dworsky-Danny Sagan
"Interspace" seen at night
Alisa Dworsky
and Danny Sagan, married
architects
, artists and educators at Norwich University, are participating in an international art festival without leaving home. On the porch of their house in Montpelier, the couple has constructed an installation called "Interspace" that can be seen not only by locals but by anyone in the world who cares to look.
CEC ArtsLink
, an international arts organization with an office in St. Petersburg, Russia, hosts
Art Prospect
, its seventh annual public art festival, from October 15 to 18. Normally an on-site event with physical and augmented-reality installations, the event has perforce gone online because, well — what isn't virtual in 2020?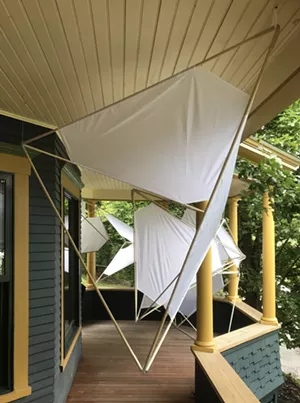 Alisa Dworsky-Danny Sagan
"Interspace" installation by day
As it happens, Dworsky and Sagan know Susan Katz, curator of CEC's festival; she and her Russian husband have a part-time home in Vermont, Dworsky explained. Once it was determined that Art Prospect would be online and global this year, the Montpelier artists followed Katz's suggestion and applied. The organization's focus on public art as social engagement, Sagan said, "is something we can get behind."
The couple's installation joins works by more than 50 artists from 23 cities in 13 countries; it will be shown on the
Art Prospect website
as well as on its Instagram (
@art_prospect
). The festival will also include virtual public discussions.
Sagan and Dworsky's artist statement describes "Interspace" as
"a structure of five-foot-long wood dowels connected as tetrahedrons with surfaces of stretched nylon fabric, forms reminiscent of kites, solar sails, and geodesic domes. The primary feeling is one of lightness, which contrasts with the traditional design of the neoclassical porch. In the placement of this multi-surface installation, our goal is to engage the viewer strolling by, to acknowledge their shifting viewpoints as they move through space."
"Because physical locations [of the festival's artworks] are dispersed, our experiences won't be in a dominant public sphere but on porches, in yards, etc.," she said. "[This installation] is apt because it takes place between the private space of our home and the public."
The video projections on the white nylon depict mundane objects within the home, such as laundry or a cluttered drawer. "These are interspersed with objects that Alisa got from her grandparents — actual treasures," Sagan interjected.
The video's focus moves, but at a slow pan, Dworsky said. Sometimes objects are recognizable and at other times the images become more abstract. Whether orderly or seemingly haphazard, the visual dynamic is a kind of document of "how we interact with our material culture," she said. "As we're less apt to be going out, we're spending a lot of time with our things these days."
The tetrahedral forms in "Interspace" were repurposed from a 2013 installation titled "Inside Out" that was exhibited in Lexington, Ky., and can be seen on Dworsky's website. In that piece, the nylon-and-dowel constructions formed a series of semi-enclosures. "Now the shapes are more independent," Sagan said, "sort of tumbling across the porch."
"It's appropriate that we're adapting what we already have," Dworsky observed.
If it sounds like the intimate aspects of home life will be on display at 31 First Avenue in Montpelier, in fact the nylon surfaces allow for only fragmented images. Viewers looking up from the sidewalk are likely to experience this domestic geometry as elemental sensations of light, color and shape.
"Interspace" will be on view from October 15 through 18, 6 to 10 p.m. Dworsky and Sagan said they will be available on Saturday, October 17, at 7 p.m. to answer any questions.