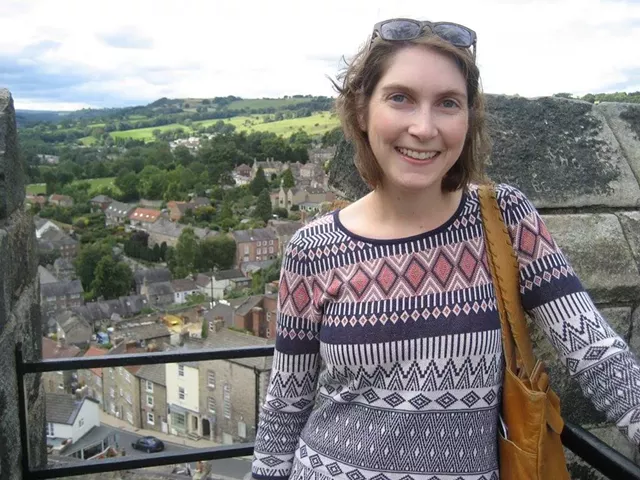 Courtesy of Lindsay Houpt-Varner
The
Rokeby Museum
, a historic farm and Underground Railroad stop in Ferrisburgh, recently hired Lindsay Houpt-Varner as its first full-time director. The Rokeby, which was the home of an abolitionist Quaker family called the Robinsons from 1793 to 1961, is dedicated both to preserving the story of the Underground Railroad and exploring modern-day issues of race and social justice.
Houpt-Varner, who is 34 and has a PhD in early modern British history, comes to Vermont from Carlisle, Penn., after four years at the Cumberland County Historical Society. She studied Quakerism and had worked to preserve another site along the Underground Railroad in Pennsylvania. The Rokeby job, she said, "combined all of the interests that I had been gathering up over the past decades."
The Rokeby, like all Vermont museums, closed during the spring due to the pandemic. It has since reopened in a limited capacity. Museum exhibits are available for viewing, but the historic house is closed to tours, because social distancing is just too difficult, Houpt-Varner said.
But Houpt-Varner said the museum is in relatively decent financial shape, in part thanks to artist Carol McDonald's current multimedia show at the museum, "Mending Fences."
"[The Rokeby] had already made the commitment to the mission prior to George Floyd, to really focus on racism and how the history here could help inform a lot of the things that are happening in our society today," Houpt-Varner said. "I think it's just become even more relevant."
Courtesy of the Rokeby Museum
File: One of the signs posted on museum property along Route 7 in Ferrisburgh
In 2016, then-director Jane Williamson put a Black Lives Matter sign in front of the Rokeby, facing Route 7. The sign was stolen. Williamson put another sign out. It was stolen again.
Ten signs later, Williamson gave up, though the Rokeby continued to host events such as a Black Lives Matter forum the next year.
"I think the message I take away from this is that there's more active racism in Vermont than I knew," Williamson
told Seven Days at the time
.
"I think there's often a tendency to put those rose-colored glasses on and say, 'We were an Underground Railroad site, and they were abolitionists, so everything was perfect.'" Houpt-Varner said. "But the museum doesn't shy away from the fact that it
wasn't
perfect. And in the 19th century, you could be an abolitionist, and you could be part of the Underground Railroad and still have racist tendencies."
Houpt-Varner is white, so while she is now stewarding a part of Vermont's African American history, she acknowledges that she can't fully understand the struggle of Black people in Vermont.
"Oftentimes, I find it's about me connecting with somebody and asking them to speak, and I listen, and the public listens," she said. "I often find myself in the moderating role where I might be curating questions for people, but I'm not leading the discussion."
She also thinks it's important for museums to partner with entirely different kinds of organizations. In Carlisle, for example, the historical society partnered with the local YWCA for a social justice forum.
In addition to continued social justice work, Houpt-Varner would like to further develop the Rokeby's 90-acre farm property and add a trail system.
"One of the things that I'm really keen on doing is getting a five-year strategic plan in place for the museum that will kind of lay out what it is we are," she said. "Not just our mission, but our vision for the site and what we hope to achieve over the next five years, particularly as we start looking post COVID."
The Rokeby is a seasonal museum, and will close in late October. It plans to reopen in May 2021.