Sally Pollak ©️ Seven Days
A StoryWalk post at Leddy Park
A path is for sharing. Along a path in Burlington's
Leddy Park
, trees share the way with a children's book,
Pie is for Sharing.
The pages of the book are displayed on a set of posts at the edge of the path. As you walk the path you can read the book — a combination of activities known as
StoryWalk
.

Pie is for Sharing
, a lovely book written by Stephanie Parsley Ledyard, is illustrated by
Jason Chin
, a children's book artist and author who lives in South Burlington. He encountered his first StoryWalk about a decade ago at a zoo in New York City and has been a fan since.
In a phone call with
Seven Days
, Chin talked about why he likes StoryWalk, including the enjoyment of coming upon one when he's out with his kids.
"I love that it brings books outdoors into an active and more open environment," Chin said. "I like that in that experience, kids are engaging all of their senses. They're moving their bodies; they're running from place to place."
He observed that a StoryWalk book often has a connection to the place where it's sited: a juncture of reading and experiencing.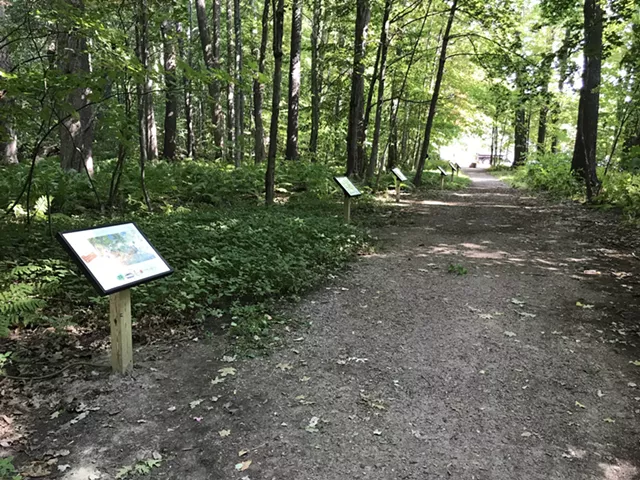 Sally Pollak ©️ Seven Days
A StoryWalk post at Leddy Park
And so it is with the
Pie is for Sharing
StoryWalk. The book, which kids can read in one Burlington park, depicts scenes of kids playing in another. Chin's watercolors are set at
Oakledge Park
, where the children in his illustrations share summer fun — along with a jump rope, a towel, a dog and a pie.
"The characters in the book are friends of ours that also lived in the area," explained Chin, who previously lived with family in a condo near Oakledge Park. "And we'd meet at Oakledge on a regular basis to have picnics or watch the fireworks."
The title page is based on the Lakeside neighborhood, where a central park and playground are surrounded by duplex houses.
Chin donated his printer proofs for the StoryWalk in Leddy Park, a project that was organized by Burlington's
Fletcher Free Library
. StoryWalk will remain at Leddy Park, where the book will change four times a year, according to Gale Batsimm, the library's development manager.
Sally Pollak ©️ Seven Days
A StoryWalk post at Leddy Park
StoryWalk was conceived
in 2007 by Montpelier resident Anne Ferguson, a longtime volunteer at that city's
Kellogg-Hubbard Library
. At Kellogg-Hubbard, a set of StoryWalk posts and pages circulate and can be checked out of the library.
"I think reading is something that should happen all the time, everywhere," Chin said. "It's not something that should be confined to a library space. And this is a very concrete example of how it can be brought out of the library, brought out of your personal intimate space, and be shared."