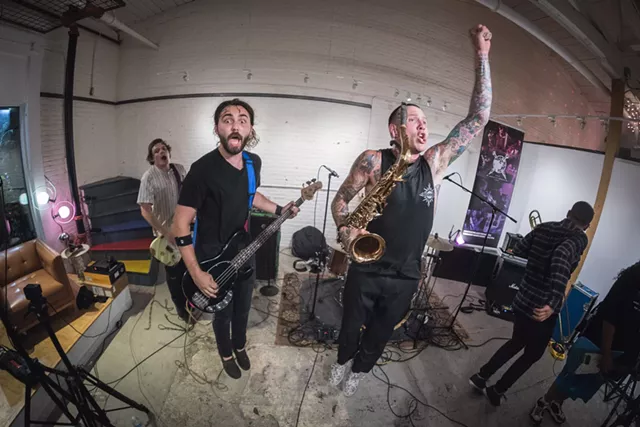 Courtesy of Big Heavy World/Kyle Tansley Photography
Keep Flying performing live at Big Heavy World
Burlington nonprofit
Big Heavy World
has won the
Music Cities Events
award for best global music office. The multifaceted international award presenter, known for staging conferences on the development of municipalities with vibrant music communities, selected BHW for its "unrivaled support for music, musicians and music businesses in [its] city as well as globally," according to a Music Cities Events press release.
The award was announced at an online ceremony early Wednesday morning. Tennessee's Memphis Tourism Music Hub and Australia's Music Victoria were also nominated for the best music office award. Besides being a prestigious acknowledgement of BHW's community work, the award comes with comped admission to future Music Cities Events conferences and a subscription to the Music Cities Community.
"The best part of the experience is knowing that there's a whole system of allies out there, sharing a mission to celebrate and bolster the work of creative people," BHW executive director Jim Lockridge told
Seven Days
by email after nabbing the prize. "The award is an honor for us as an organization, and I hope it brings a tiny sparkle of pride to Vermont as a whole, knowing that volunteers with passion brought some recognition home."
BHW has operated in Burlington for nearly 25 years, manifesting its mission to preserve and elevate Vermont's music communities in various ways. It's hosted live events, allocated free resources for musicians, launched a community radio station (105.9 FM the Radiator), and spearheaded the Vermont Music Archive, an ever-growing cache of Vermont-made music, among other initiatives.
"I deeply respect the Music Cities Events people because they've been champions of the role of music, socially and economically, all over the world," Lockridge said in an earlier interview.