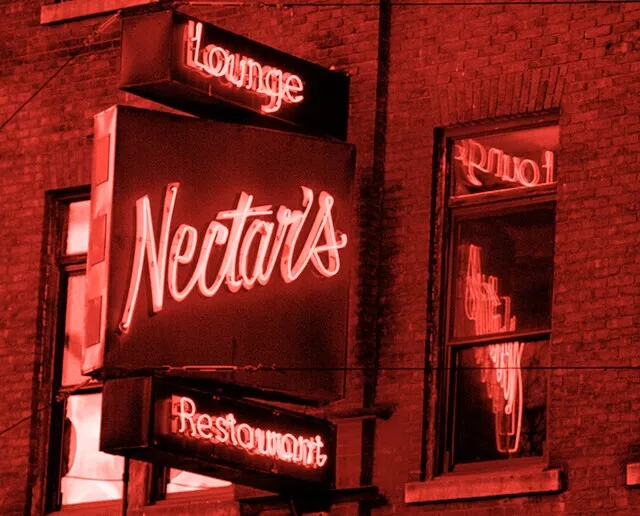 File: Matt Thorsen ©️ Seven Days
Nectar's
If you're strolling through downtown Burlington this evening, wear a friggin' mask. Also, you might notice that certain buildings have a, well, rosier glow than usual.
No, Burlington hasn't opened a new red-light district — though we suppose that's
one
possible solution to the pit debacle that the city could explore. Rather, the buildings bathed in red light are part of a massive North American campaign called #RedAlertRESTART in which live music venues and theaters in more than 1,500 locations across the United States and Canada will be bathed in red light on Tuesday, September 1, between 9 p.m. and midnight local time.
Spearheaded by a coalition of entertainment industry workers called
#WeMakeEvents
, #RedAlertRESTART is intended to raise awareness of and support for the RESTART Act, a bill before the U.S. Congress that would help bail out small businesses crippled by the pandemic.
Small music venues are particularly imperiled as long as they can't host concerts at or near pre-pandemic capacities. In July, the
National Independent Venue Association
(NIVA) estimated that 90 percent of its 1,300 members wouldn't last six months without government assistance. The live concert trade publication
Pollstar
has projected that the live music industry could lose $8.9 billion this year alone. The live events industry as a whole employs more than 12 million people.
"This is an industry that is just decimated," Jason "Liggy" Liggett said. He's the cofounder with fellow lighting designers Kyle Rose and Josh Rowe of the new Burlington collective
Satellite Arts Productions
. They're the folks primarily responsible for painting — er, lighting — the town red tonight.
"We want to raise awareness and make it known what's going on in the industry," said Rowe, who runs
True Hue Concert Lighting
. As the Vermont representative of #WeMakeEvents, he's been coordinating with local venues and city officials to get their "Roxanne" on and put on the red lights.
In the Burlington area, participating venues and arts organizations include Nectar's and Club Metronome, Radio Bean, ArtsRiot, Higher Ground, the Monkey House, the BCA Center and others. While Liggett wouldn't divulge specifics, he said his crew might light up a few other local landmarks as well, guerrilla style.
"It's a solidarity statement," Liggett said.
For more about #WeMakeEvents and #RedAlertRESTART, visit
wemakeevents.org
.