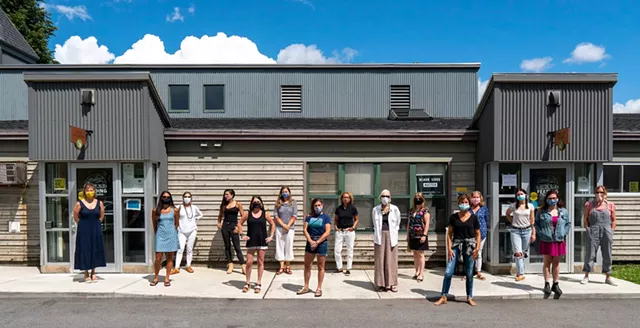 Courtesy of Lennon Mapes
Mission Murals Core Creators at Feeding Chittenden
Recently,
Jill Badolato
was driving past Feeding Chittenden, the food shelf on North Winooski Avenue in Burlington. She was struck by the building's rather drab clapboard exterior.
"I pulled into the parking lot and asked a woman who was walking in if they were repainting it or if it always looks like that," Badolato recalled by phone, adding that she was wearing a mask. "She was like, 'No, this is what it always looks like.'
"I said, 'Wow, I really want to bring a mural or something to liven this up," Badolato continued, noting that the woman in the parking lot was not exactly as enthusiastic as she was. "She was like, 'That'd be great. Whatever.'"
At some point soon, that unknown and unimpressed woman might be in for a surprise.
In the coming weeks, Burlington artist
Abby Manock
is expected to begin work on a 1,614-square-foot mural at Feeding Chittenden. The mural is the inaugural project of a new organization founded by Badolato and others called
Mission Murals
. The volunteer-run collective aims to amplify the missions and messages of Vermont nonprofit organizations through the use of art in public spaces.
When it comes to public art, there are few individuals in Burlington whose brush paints as broadly as Badolato's. During her time as the director of social responsibility and "art instigator" at Dealer.com, she led projects to spiff up silos outside of Dealer on Pine Street, sails at the Community Sailing Center, and a bus for the King Street Center, among many other endeavors. More recent enterprises include helping to spearhead
Anthill Collective
's Above the Radar graffiti festival and myriad mural projects around the Queen City.
Badolato has made a habit of finding ways to put art in unexpected public spaces. Soon, that will include the exterior of Burlington's food shelf.
"It's really the center of the Old North End," Badolato noted of Feeding Chittenden. Especially during the pandemic, she continued, "food security is obviously a pressing need for everybody," That made the location an ideal starting point for her new organization.
Giving Project
, a grassroots network of giving circles throughout Vermont.
"Giving circles are like book clubs for impact giving," Badolato said. She explained that a typical giving circle will consist of a group of likeminded people pooling resources together — say, $200 per person — to give to an organization or cause they believe in. "The idea is that giving together is more impactful than giving alone," she said, citing … well, basic math.
Mission Murals is based on the idea of a giving circle but opens the concept more broadly. Anyone who wants to can
become a supporting member with a financial contribution of as little as $5
.
"I wanted to make it about funding public art projects and have it be an open giving circle where anybody can join," Badolato said. "Most people will think that they're just donating to the organization, but they're technically joining our circle."
While Mission Murals is Badolato's brainchild, the organization is run by a collection of area artists and community-minded movers and shakers called "Core Curators." These include artist and activist
Katharine Montstream
, artist and educator Kia'Rae Hanron, former Green Mountain Power CEO Mary Powell, artist and
Burlington City Arts
assistant director Sara Katz, and
Spectrum Youth & Family Services
director of development and communication Sarah Woodard, among several others.
"I don't want this to be 'The Jill Show,' I want this to be collaborative," Badolato said. "I've done these projects a lot on my own, but … it's better to have the community input. And I have representation throughout the community through this group of Core Curators."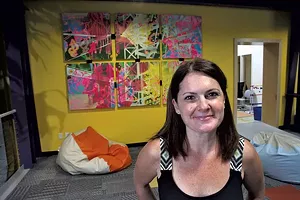 Matthew Thorsen ©️ Seven Days
Jill Badolato
She explained that the Core Curators are responsible for finding and vetting projects around Vermont. That includes identifying nonprofits and artists to work with and determining what should be shown in the murals. In the case of Feeding Chittenden, for example, don't expect to see Manock-style depictions of food.
"I don't want it to be fruit, oranges," Badolato said. "People know what they're there for."
Badolato explained that Mission Murals and Manock, who has lately been living in Brooklyn, are still finalizing the mural concept.
The Feeding Chittenden project comes with a $20,000 price tag — $11,000 for the mural itself, including paint, supplies and hiring Manock, and a $9,000 donation to the food shelf. The Vermont State Employee Credit Union has signed on as an underwriter. Donations are expected to cover the rest.
"Some people might say, 'Don't people need food more than paint?'" Badolato said. "Sure, they do. But maybe they really need both."