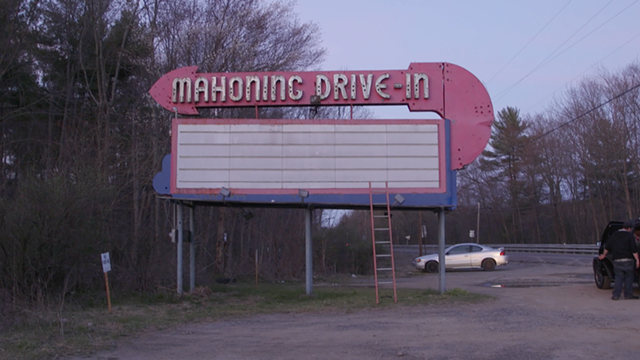 Courtesy of Monelli Films
Where do we find entertainment these days? On our laptops and in our living rooms. The streaming options are overwhelming — and not always easy to sort through. So, in this weekly feature, I review a movie or series that might otherwise be easy to overlook.
This week, I'm complementing my cover story about Vermonters rediscovering the drive-in picture show in the summer of COVID-19 with a review of a 2017 documentary about some folks who were ahead of the curve.
The film
At the Drive-In
Where to see it
Kanopy, Tubi, Amazon Prime Video; rentable on other platforms
The deal
Located in rural Lehighton, Pa., the
Mahoning Drive-In
has been showing movies since 1949. Its single screen is one of the largest CinemaScope screens — designed for the widescreen spectaculars that flourished at midcentury — on the East Coast.
In 2014, the Mahoning was one of many drive-ins threatened by the Hollywood studios' plan to stop shipping out 35mm film prints. Some drive-in owners —
including three in Vermont
— bit the bullet and made the expensive switch to digital projection so they could continue to show new releases. Others closed up shop.
But Jeff Mattox, owner and head projectionist of the Mahoning Drive-In, took a third approach. With the help of two younger drive-in enthusiasts, film booker Virgil Cardamone and manager Matthew McClanahan, he kept right on showing curated 35mm prints on his 1940s projectors, advertising his drive-in as a slice of cinephile history.
Directed by Alexander Monelli, this documentary follows the Mahoning Drive-In over a crucial six-month season in 2016. Even with a staff of committed volunteers, there was no guarantee the theater could survive.
Will you like it?
At the Drive-In
is a movie for people who grasp what's special about watching a vintage film print — complete with scratches and "cigarette marks" — in a setting that has barely changed since the '50s. It's for unabashed geeks and lovers of classic horror movies, grindhouse cinema, cosplay and movie memorabilia. It's for lifelong cinephiles, such as the frequent Mahoning Drive-In customer who spits out detailed film analyses and allusions with blinding speed.
Courtesy of Monelli Films
Patrons dressed for Friday the 13th films at the Mahoning Drive-In
All these types of people appear in the film, congregating at the drive-in for weekend deep dives into zombie cinema, modern classics or the
Friday the 13th
series. The place inspires commitment, some might say obsession. Because the drive-in is so remote, many of the unpaid staffers camp out all weekend in its cinderblock hub. One drives six-and-a-half hours from New Hampshire to run the register at the snack bar.
Monelli clearly spent plenty of time with this colorful crew, and, by the end of the doc, we feel like we know them. Valuable context comes from a visit to the Mahoning Drive-In's original projectionist, who recalls that he was put on the payroll in his teens because the war had kept so many adults overseas.
The drive-in's recent history remains murkier (who owned it before Mattox?), but what matters is that it endures. The theater ran a successful $10,000 crowdfunding campaign in 2019; this coming weekend, August 28 and 29, cult actor Bruce Campbell will be on-site for a sold-out show. It's almost enough to make a person want to drive seven hours for a movie.
If you like this, try...
Going Attractions: The Definitive Story of the American Drive-In Movie (2013; Kanopy, Tubi, Amazon Prime Video, rentable): Vermont's Fairlee Drive-In Theater & Motel and a long-gone Brattleboro drive-in make appearances in this absorbing documentary about the rise and fall of car-centric cinema.
Dead End Drive-In (1986; Tubi, rentable): In this culty Australian futuristic flick, cars are precious commodities, and drive-ins have been converted into concentration camps for wayward punk youths. Hey, it could happen!
Mad Ron's Prevues From Hell (1987; Netflix, rentable): If you have a strong stomach, take a tour through the wild world of grindhouse horror — which once flourished in drive-ins — via this collection of vintage trailers. For a mellower experience, watch the nostalgia-inducing compilation of Drive In Movie Ads on Amazon Prime Video.