Margot Harrison ©️ Seven Days
Essex Cinemas
On Friday, August 28, Essex Cinemas will open its indoor movie theaters for the first time since the March lockdown, with a raft of new safety precautions in place, according to Peter Edelmann, owner of the Essex Experience.
The move follows the reopening this week of select locations of AMC Theatres and Regal Cinemas — national chains with no Vermont presence. "We're watching what they're doing," Edelmann said in a phone conversation.
He plans to start with a week of already released movies and "work out the logistics before bringing a new release in," Edelmann said. That could be Christopher Nolan's
Tenet
— which, after multiple delays, is currently scheduled for a September 3 release.
Meanwhile, on August 22, the Essex Experience began showing outdoor movies on its green, using a drive-in setup with a 40-foot inflatable screen. Kicking off with
Jaws
, the
menu of classic and favorite flicks
is currently scheduled for Fridays and Saturdays through September 26.
Margot Harrison ©️ Seven Days
The drive-in preparing to receive customers at the Essex Experience on Saturday evening
But that may change if the drive-in setup is popular, added Edelmann, who plans to screen concerts, too. The objective is to meet local moviegoers at their current comfort level. "There are people who are comfortable going indoors," he said, "and there are people who would rather stay in the car and be entertained outdoors."
Indoors, the moviegoing experience will change quite a bit. Tickets will need to be purchased at the box office, and customers' names will be taken down — "so, if we needed to, we could do some [contact] tracing," Edelmann said.
In accordance with state regulations, seats will be assigned and distanced, with each auditorium filled to no more than 50 percent of its usual capacity, or a maximum of 75 people. Customers will need to purchase their concessions before entering the theater, and they'll be required to wear masks except when in their seats and eating or drinking. The multiplex has upgraded its HVAC filters, Edelmann said, and installed line spacers and protective shields. (
Find the complete list of COVID-19-related precautions here.)


At the drive-in, patrons can set up a seating area outdoors, but only in front of their cars. They'll have the option of fetching food from the Cinemas' concessions or one of the surrounding restaurants offering takeout. (
More info here.
)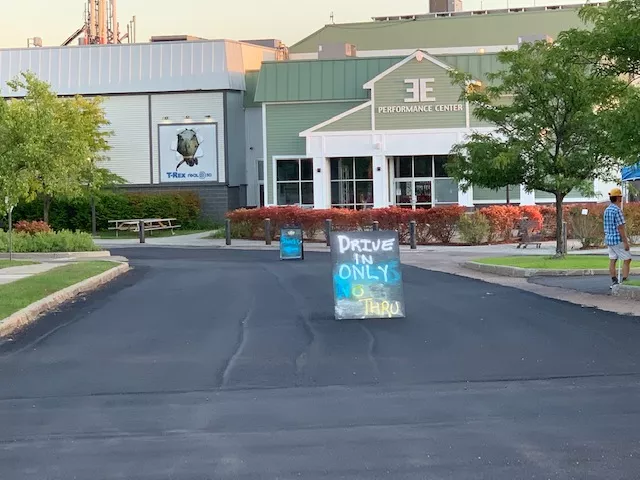 Margot Harrison ©️ Seven Days
Essex Cinemas on a drive-in night
Inside the Cinemas, Edelmann said, he plans to show matinees only on weekends. On weekdays, the auditoriums will offer different forms of entertainment — and education — to a constituency particularly in need of it: schoolchildren.
Edelmann has volunteered the cinemas' space for a K-8 school-day program that will involve both lessons and fun. His own kids inspired the idea, he said, noting, "They're not having a great time with not being able to go to class."
Beth Cobb, superintendent of the Essex Westford School District, explained in an email that Essex Cinemas are one site for a program called
Rec Kids Supported Learning Spaces
, a partnership of the district and Essex Parks and Recreation. The program offers learning spaces, breakfast, lunch and activities to K-8 students on days when they're doing remote learning under the district's hybrid model.
FGB Theaters
, which owns the Capitol Showplace in Montpelier and the Paramount Twin Cinema in Barre, has also announced a reopening date of August 28. The Majestic 10 Cinemas in Williston and Merrill's Roxy Cinemas in Burlington both promise to post their reopening dates "soon." Stay tuned.