Courtesy of Magnolia Pictures
Regina Hall in Support the Girls
Where do we find entertainment these days? On our laptops and in our living rooms. The streaming options are overwhelming — and not always easy to sort through. So, in this weekly feature, I review a movie or series that might otherwise be easy to overlook.
The film
Support the Girls
Where to see it
Hulu; rentable on various other platforms
The deal
Lisa (Regina Hall) is the general manager of Double Whammies, a Texas strip-mall restaurant devoted to "beer, boobs and big screens." She cares a lot about her employees, sometimes to the point of running afoul of the owner, Cubby (James LeGros). On this particular day, a series of mishaps heats things to the boiling point.
A would-be thief is discovered in the restaurant's ventilation shaft. One of Double Whammies' MVPs, Danyelle (Shayna McHale), can't get childcare. Another employee has hit her abusive boyfriend with a car. When Lisa organizes a car wash to fund her legal defense, Cubby wants to pocket the money. Worst of all, perhaps, the restaurant's cable is out. It's up to Lisa to hold this crew together — if she still can.
Will you like it?
I've been wanting to catch this 2018 indie from writer-director Andrew Bujalski (
Computer Chess
) since it was on the program of the Vermont International Film Festival — part of a buzzy festival run that garnered talk of awards for Hall. I wasn't disappointed. Part breezy comedy, part drama with feminist and antiracist undercurrents,
Support the Girls
is more than worth supporting.
The screenplay packs a lot of action into a single day, and some subplots get short shrift. The one involving Lisa's ailing marriage, in particular, feels like it needs fleshing out. But seeing Lisa on the job is more than enough to show us who she is — a cheerleader, a mother hen to her "girls," a hard-ass or a hustler or a company woman when necessary. She's been "fired" multiple times by hothead Cubby and refused to walk away. Yet sometimes she wavers under the strain, wondering if the effort is worth it.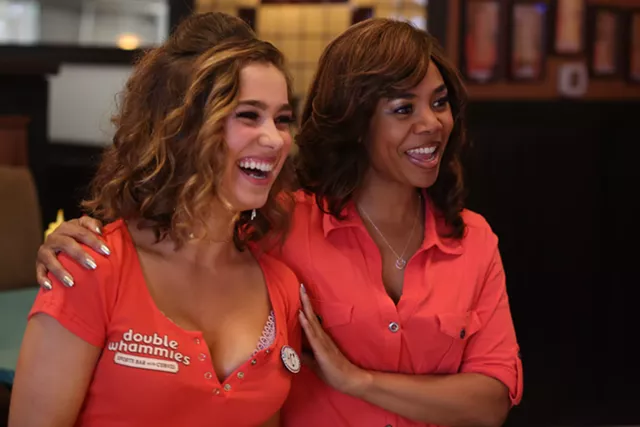 Courtesy of Magnolia Pictures
Haley Lu Richardson and Regina Hall
While Hall's multifaceted performance anchors the film, the supporting cast brings the fun. Haley Lu Richardson plays Maci, an irrepressible bullet of energy whose nonstop party mood rides the line between exhilarating and annoying. McHayle's deadpan, overqualified Danyelle is the perfect foil to her.
Different as they are, these young women do support each other. They reserve their side-eyes for the over-eager trainee (Dylan Gelula) who seems determined to turn Double Whammies into an X-rated establishment.
Courtesy of Magnolia Pictures
Shayna McHale and Haley Lu Richardson
Movies about people doing "shitty jobs" (Danyelle's term) are rare; movies about the service industry are even rarer. A naturalistic working-class comedy with shades of Steven Soderbergh, this is no
Coyote Ugly
. Bujalski doesn't paint Double Whammies as a den of exploitative iniquity, but he doesn't sugarcoat its structural inequities, either. (Cubby has a rule that only one Black server can work per shift.)
Lisa can do only so much good when she doesn't sign the paychecks; among other things, the movie is about her reluctantly facing her limitations. Still, if she were real, you can bet she'd be out there right now finding ways for her laid-off employees to survive the pandemic.
If you like this, try...
Hustlers (2019; Showtime; rentable): Strip-club workers become con artists in a movie that's glitzier and glammer than Support the Girls, but undergirded by the same spirit of solidarity.
Clerks (1994; Cinemax; rentable): Kevin Smith broke into filmmaking with this comedy about a day in the life of two convenience-store grunts.
Compliance (Sling; rentable): Lisa would never make the mistakes of the harried fast-food manager (Ann Dowd) in this film, who receives phone instructions from a self-proclaimed "police officer" to strip-search her employees. Others might, though. A true story inspired this dark tale of the dangers of not questioning authority.